While independent artists have the easiest access to publishing platforms, the same cannot be said about recording studios. Competition has brought down the price to rent a studio, but if you practice recording daily, the easiest way to save money is to set-up a studio at home and use rugs for soundproofing.
Actcut indoors area rug is the best rug for your recording studio as it is thick enough to keep sound from echoing and has pronounced fibers that keep interference from feeding back into the mic. Most importantly, it is cost-effective, so you can order multiple pieces to pad your home studio.
In this article, you will learn about the four best rugs for recording studios, including Persian, synthetic, and kids' room rugs. You will find out what makes each of these options great for your studio to make an informed decision regarding the carpet that fits you.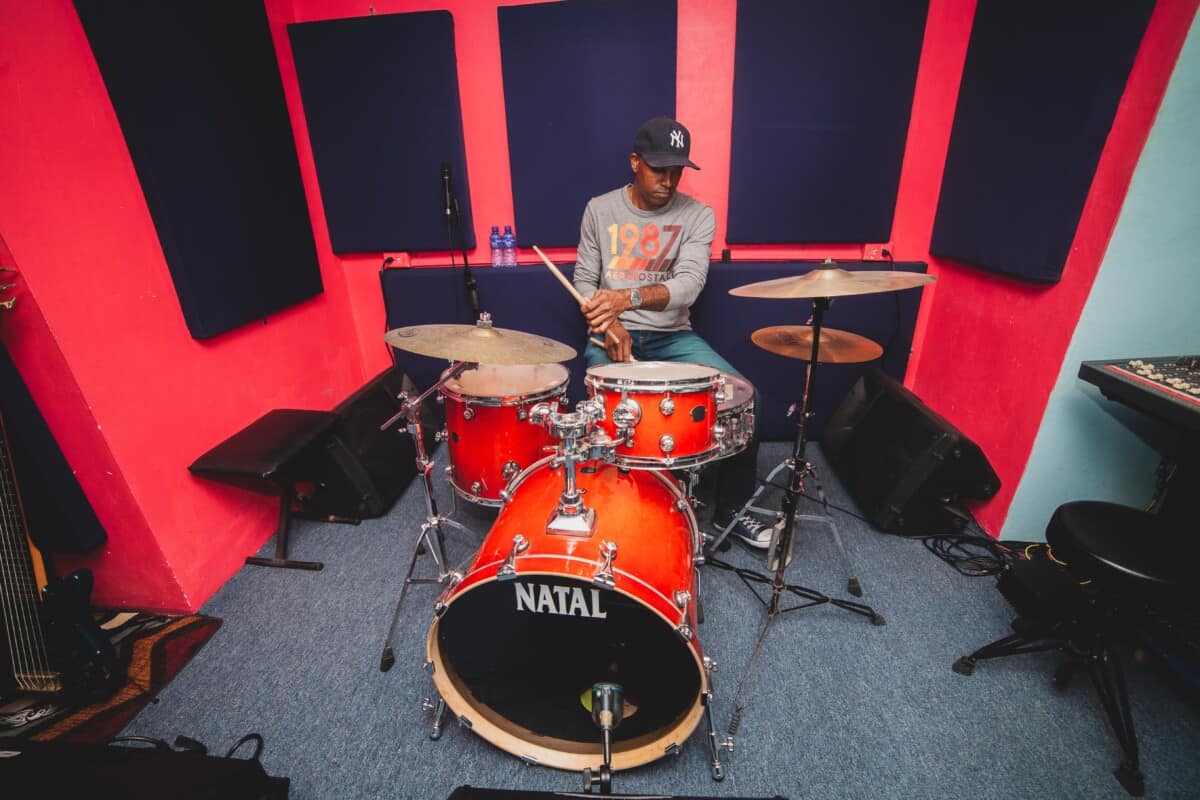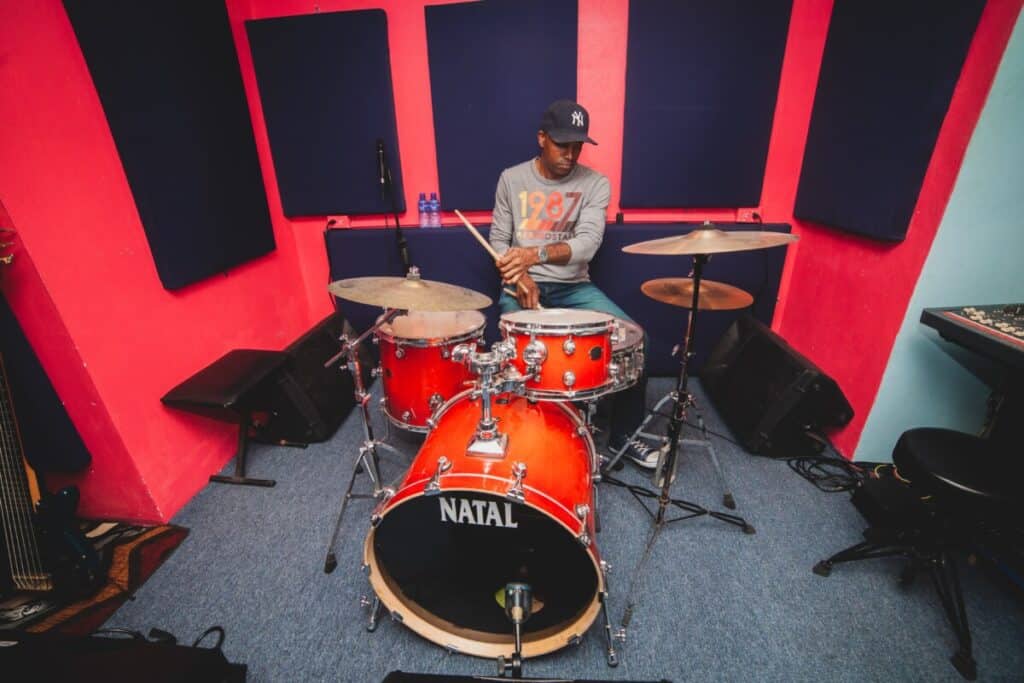 ACTCUT Super Soft Indoor Modern Shag Fur Area Rugs Fluffy Rugs Anti-Skid Shaggy Kids Rug Dining Room Home Bedroom Carpet Floor Mat 4 x 5 Feet, Grey

Size: 4 feet x 5.3 feet. Material: Velvet surface and sponge interlayer, loose and comfortable, the...
The fluffy area rugs are fabricated to assure faux fur skin-friendly to family members, In...
High quality and eco-friendly material feel very soft and comfortable. Rubber spots on the bottom...
Last update on 2023-09-27 / Affiliate links / Images from Amazon Product Advertising API
Suppose your recording studio has significant echo primarily because of its flooring. In that case, this rug can instantly neutralize the issue because of its considerable thickness, which keeps the sound from hitting the flooring underneath as directly.
Furthermore, the rug emulates thick fur, and tufts are pronounced enough that the overall surface area is maximized. As a result, individual tufts can absorb sound and keep it from echoing back to you – and more importantly – the mic.
The construction, albeit with synthetic material, involves multiple layers that bring the overall thickness to 1.7 inches (4.3 cm): a significant leap forward from many soundproofing panels

. It also comes in various sizes with a grey option that is neutral enough to have multi-purpose use. 
If you no longer wish to keep it for soundproofing your home-studio, you can shift this rug to any other area of the house, and it will assimilate just fine. That is an advantage most Persian rugs lack because of their obvious patterns, which don't go along well with most contemporary interiors.
The product is Amazon's choice for soft carpets, and as you know, soft surfaces are preferable for soundproofing

. With over ten thousand reviews on the site, the product carries a 4.2-star global average rating. More specifically, it has a 4.6 out of 5 stars rating for its softness, which you are concerned with as a recording artist. 
That said, you should note that the product's lowest specific rating is for its durability (3.8 out of 5 stars). If you invest in this budget option, make sure it doesn't get exposed to too much foot traffic. That should be easy as a recording studio is more secluded than a living room.
Large Persian Rugs for Living Room 8x11 Red Green Beige Cream Area Rugs 8x10 Clearance Under 100 All-Over Traditional Rugs

Great traditional overall pattern rug for any decor, adds texture to the floor and complements any...
This rug is durable and resistant to soiling, stain, and fading. This rug is water proof and can be...
Feels soft under the foot and vivid colors won't fade over time. This Rug will instantly add fashion...
Last update on 2023-09-27 / Affiliate links / Images from Amazon Product Advertising API
Persian rugs have excellent thread count and sound-absorbing abilities, making them ideal for larger studios. If your studio is larger than a king-sized bed, you should seriously consider a Persian rug. Keep in mind that unlike regular rugs, studio-use of rugs involves throwing them over furniture, covering walls with them, and even having multiple rugs covering all surfaces. This product is large enough to suffice as a starter on this journey to soundproofing.
With this interesting assemblage of features that improve your sound, the product weighs only around three pounds. That means you can shift it depending on the position of your microphone. With the freedom of movement within your home studio, the product comes with limited freedom of movement outside.
You cannot assimilate this rug into your living room or bedroom because of its bold commitment to a traditional pattern. It will look out of place. Once you purchase this rug, you're pretty much committed to using it in your studio.
However, that should not be a hard decision to make, considering the four hundred plus reviews on Amazon. With 4.1 stars out of five, the product holds its own in the market. While it is rated 3.8 out of 5 stars for thickness, it can absorb sound well despite being a little thin thanks to its wool-construction.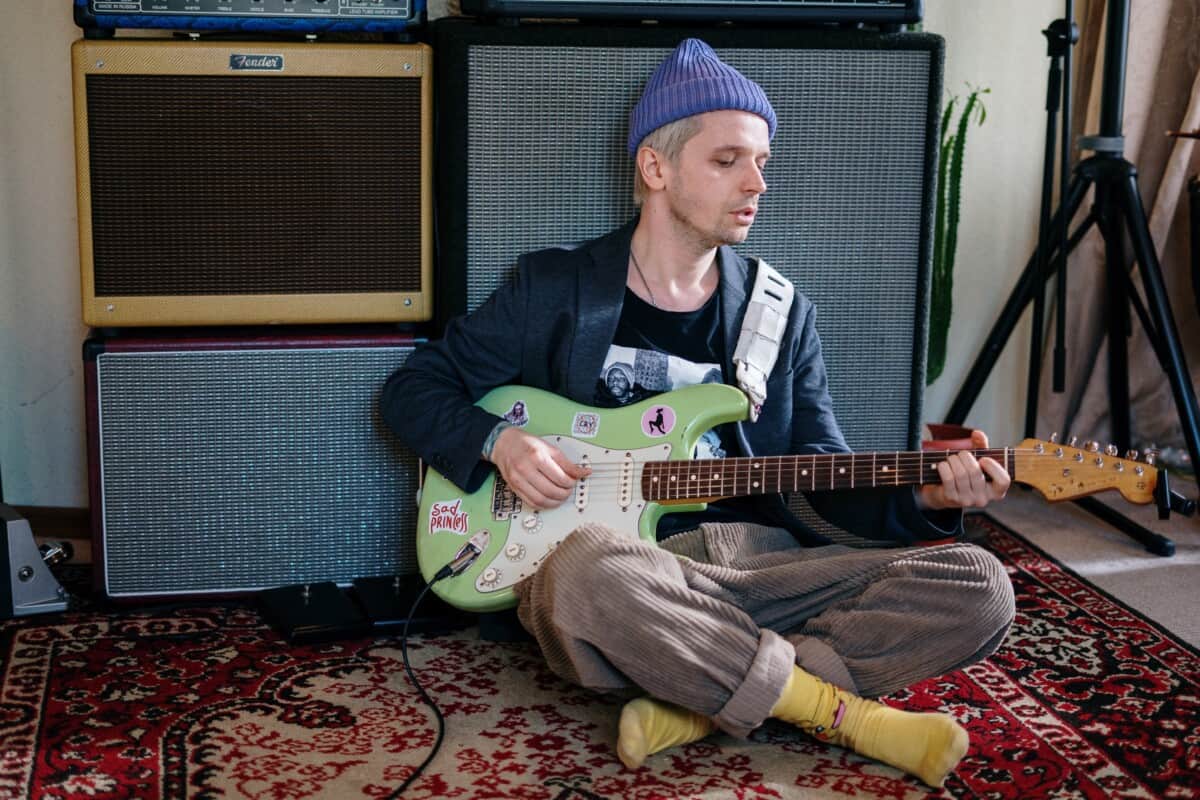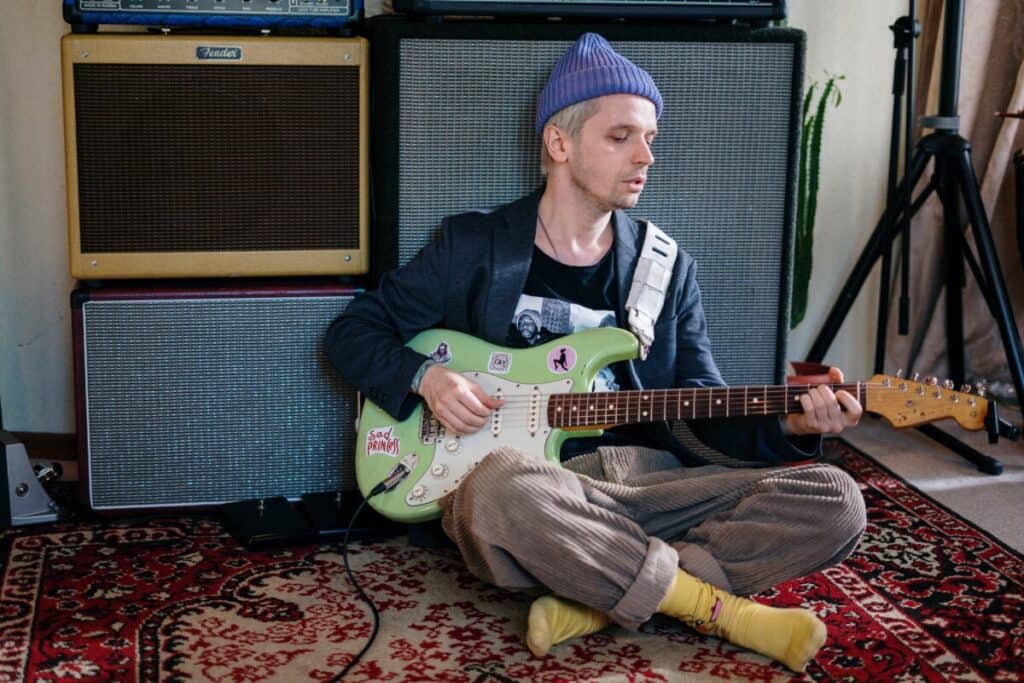 Sale
Persian Rugs 6490 Blue 8 x 11 Abstract Modern Area Rug

Actual Dimension: 7 feet 8 inches width by 10 feet 6 inches length
NON-SHEDDING RUG: Made from 100% polypropylene with dirt-resistant fibers. Abstract patterns in...
MAXIMUM CUSHION: Our colorful area rug 8x10 has a medium pile that delivers cushioned comfort to...
Last update on 2023-09-27 / Affiliate links / Images from Amazon Product Advertising API
This rug is meant to emulate Persian rugs in feel and thickness. As a result, it provides the soundproofing benefits of a studio rug without commanding a handmade Persian rug's hefty price. Furthermore, it has a cool contemporary feel thanks to its abstract design.
As a recording artist, your studio space's aesthetic matters in providing the mood for your music. You may find traditional patterns too restrictive to the free flow of ideas, especially if you come up with original lyrics while jamming. A rug that doubles as abstract art, on the other hand, can help stimulate your creativity while you record.
Moreover, you can always pull the rug out of your studio and into any other space. As long as your décor is modern, this rug will fit right in. Its low cost, cool design, and proper handling have led it to the top of Amazon's charts for the category and where it currently boasts over four thousand reviews.
Across these reviews, customers have given this product 4.7 out of 5 stars; the closest a rug has gotten to five stars with such a volume of orders.
More specifically, it is rated the highest (5 stars) for being stain-resistant. While this may be handy if you drink while you jam, the real value lies in its softness, for which it is rated 4.5 out of 5 stars. Definitely good enough.
Sale
AROGAN Fluffy Rugs for Bedroom Living Room, Shag Area Rugs for Nursery Kids Girls Room, Plush Fur Rug for Playroom Dorm 4x6 Feet, Red

Comfy and Fluffy Rug: The rug features an exceptionally cozy, luxurious faux velvet with high dense...
Multi Purpose Design: This solid color shag rug gives your home a fresh new look. Featuring a plush...
Perfect Gift: Our rug is easy to match your home style, that very suitable as gift for kids,...
Last update on 2023-09-27 / Affiliate links / Images from Amazon Product Advertising API
The biggest mistake you can make in your studio rug purchase is to judge the rugs as if they were meant for ordinary floor-cover. You should tunnel-vision on the rugs' soundproofing value, which seems optimal among fluffy kids' room carpets.
As the rugs intended for children are thick enough to absorb the impact of falls, they are thick and soft enough to keep sound

from feeding back into the microphone. More importantly, you get away with quality soundproofing without paying the premium on high-end soundproofing pads.
With multiple layers, velvet, and sponge, the rug holds enough mass to trap sound and reduce echoes. It also has a pronounced fur-like construction that provides the maximum surface area for the sound to interact with fibers. With that said, the product is relatively new to broad recognition and has mustered only around two hundred reviews. Most of the reviews are positive, and the cumulative average is 4.4 out of 5 stars.
How to Use a Kids' Room Rug for Soundproofing
Below are some tips to make the most of a fluffy rug in your home studio.

Use a glue gun to stick the rug to the hard surfaces closest to the mic. Unless the surface right behind the mic is permeable to sound, chances are it is the likeliest to degrade your vocal quality. While a large space behind you can amplify the echo, your vocal quality is most pronounced when you sufficiently soundproof the area behind the mic with a cut-up rug and the area behind you with more volume of padded material.
Use the rug as a throw blanket. Often, artists forget that studio rugs aren't like regular rugs. You can use them as a throw blanket when you realize that certain chairs, cabinets, and even walls interfere with your recording.
Conclusion
Studio padding has become very accessible and is available at low price-points. However, it is not the best material to cover one's floor. Not only does it make the place uncomfortable to walk or stand on, but it is also impractical. Therefore, you should get yourself a rug with a high thread/tuft count, and with enough thickness, it keeps your floor from echoing back the sound of your music or vocals.
Sources
Was this article helpful?
Recent Posts
link to How To Allow QuickTime To Access Microphone 🎙️  
QuickTime is a vital app for many Mac users, and if you've recently bought a new microphone, you might wonder how to use it optimally. QuickTime cannot record audio content if it doesn't have...
link to How Do I Test My Microphone? 🎙️
Every microphone leaves a unique signature on the quality of its output. If you're a podcaster trying to melt your way into your audience's hearts, a muddy, distorted recording won't cut it....