If you're just starting with guitar, it can be really hard to get your fingers up to scratch. Constant playing and pressure against your strings can cause tears, cuts, and overall a lot of discomfort, especially when you're just getting started!
Many beginners tape up their fingers when playing the guitar to prevent this. It's a great way to protect your fingers a little while longer so that you're not stopping your all-important practice in order to tend to your digits as it can be a real turn-off to playing when you're in a lot of pain!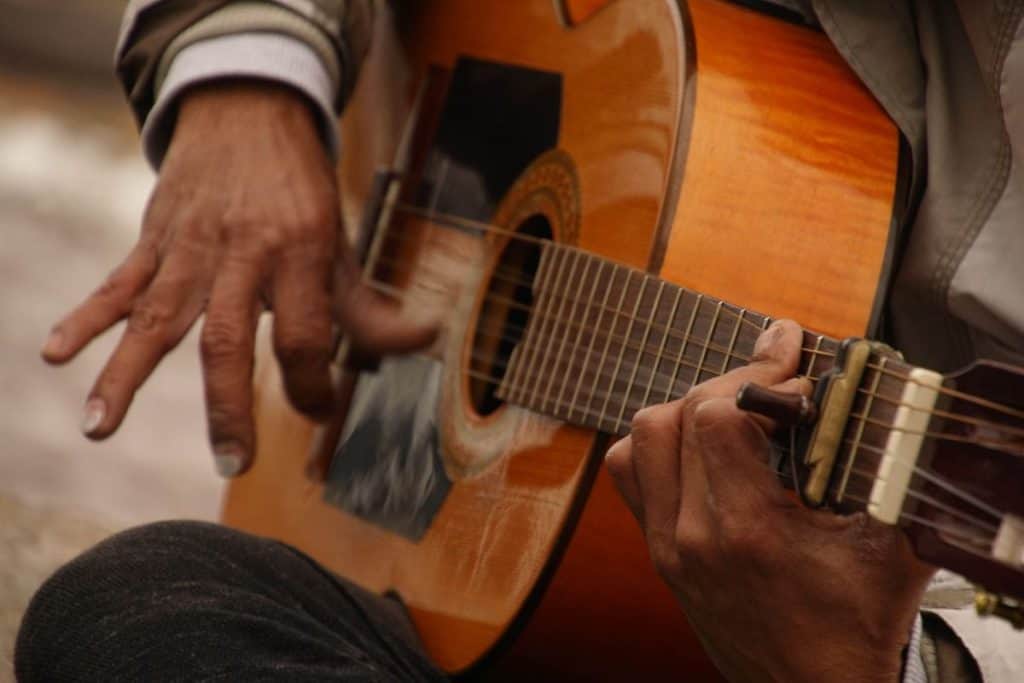 Taping your fingers for guitar can also be great if you tend to pluck your strings and want a more precise, cleaner sound instead of strumming. For professionals, taping your fingers with plectrums or metal finger plucks can help to create a unique sound.
Taping your fingers protects your strumming hand from cuts and damage from the strings. Tape can reduce the friction between your finger and the string, allowing you to pluck at the strings at a faster pace. Nails can also be used when players tape them to pluck at strings instead of using a pick.
Pros And Cons Of Finger Protectors
If you are looking to tape your fingers as a beginner, with the main aim being to protect your fingers from bumps and cuts, there are a few things you should consider.
Whilst there are many pros to taping your fingers, there is also a pretty big collection of cons to it as well…
Pros
Playing Time – You can extend your practice time in the beginning, especially if you are super new to guitar and want to lock it into your daily routine. It can be pretty hard to create a daily, lasting habit when your fingers are too sore to contemplate putting in your practice time!
Style – Different guitarists use different styles. That's why you can see some incredibly high-class performers such as Kirk Hammett playing with tape on their fingers. It's not because they're beginner players, but just because the way that they play their guitars (especially electric guitars) can have a real impact on the fingers. Something like shredding for example doesn't just shred those notes, it also can shred up your fingers pretty quick. 
Temporary Support – If you need some temporary protection, or if you have dry and cracked skin they can be a game-changer, and make sure that your fingers don't get more cut up. For example, by applying some tape to your nail you can save it from wearing away too quickly. If you're using your fingernails when you're playing with things like plucking, taping them can be a good way of stopping them from wearing down. 
Cons
Building Calluses – Building calluses is really important if you are trying to get into the guitar for the long haul. Building calluses unfortunately require you to get your hands cut up for a little bit. If your finger health is normally good, we probably recommend that you don't use taping as a crutch.
Accuracy – Wearing taping or finger protectors for playing the guitar to begin with, can affect your overall accuracy. This can slow down your learning, especially for new guitarists. Having silicon protectors specifically can hinder your progress and keep you in that 'beginner' phase for longer as you don't build up your muscles and feel for the strings.
What Can You Use Instead of Taping To Protect Your Fingers?
There are a few things that you can do with your guitar practice that can lessen the pressure you put onto your fingers without impeding your technique and grip. Let's have a look at them now:
Strings – By simply changing out your guitar strings to lighter, or thinner strings that take less strain to pluck, you can greatly reduce the pressure on your fingers.
Nylon – You can also try out nylon strings for your classical guitar as they are much easier on your fingers as a beginner than steel strings.
Trust The Process – Whilst it can seem frustrating to read if you are having pain that you can manage from your first forrays getting used to your guitar, try to stick it out whilst your fingers grow accustomed to playing guitar and your calluses build up.
How To Tape Your Fingers
Of course, there are still many reasons why you may want to tape your fingers, whether for your technique, for a long show, or after sustained injuries. In any case, you'll want to know the best way to tape your fingers.
Taping your fingers is relatively simple. Just tape up the tips of your fingers with classic masking tape (also known as painter's tape).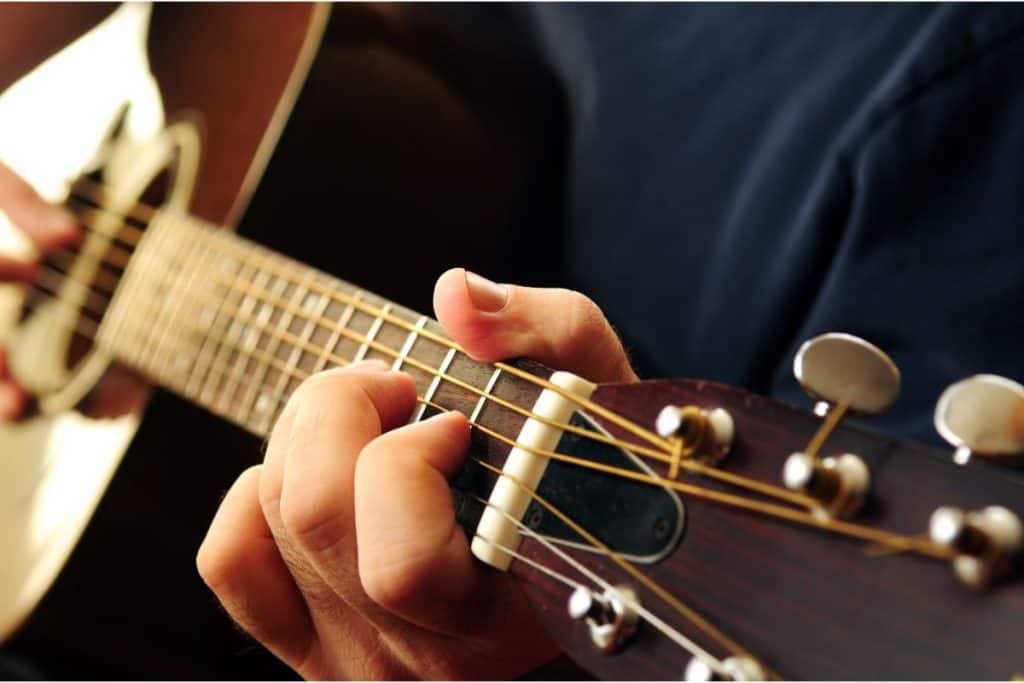 Avoid using something like duct tape or any sort of electrical tape, as this will leave unnecessary residue on your fingers and your guitar.
Start by taping up your 'ball' or tips of your fingers, where you'd put the pressure from a string on. Then, using an 'x' shape, wrap your tape around your top knuckle. Repeat this, overlapping for a few layers so that you can protect your fingers without totally dampening your finger control.
If you want to use taping to attach nails, plectrums or metal ends to your plucking hand, place those on your nails and do the same process, making sure that the tape is tight enough to secure your picks to your nails, and at a length that you find comfortable.
Conclusion
With finger taping, unfortunately, there is a sense of 'no pain no gain' with learning guitar. At some point as a beginner guitarist, your fingers are going to have to go through the process of hardening up in order for your fingers to adjust.
Trust the process, your fingers will get there! Till then, we hope you've learned a bit more about the best ways to tape your fingers in a pinch.
References