Home recording studios have a lot to live up to, and the last thing you want in your audio is background noise or feedback. So whether you're a music producer looking for better vocals or a voice actor seeking the cleanest sound possible, you might be wondering if a vocal booth is right for you.
A vocal booth is unnecessary for home recordings, but it adds a professional element to your audio. Though they can help isolate noise and improve audio quality, they can be challenging and expensive to build. In many cases, a well-treated closet or small bedroom will work just as well.
In the rest of this article, I'll discuss how vocal booths work and why they aren't necessary for everyone. I'm also going to talk about treating your room to get the best vocal quality in-home recordings.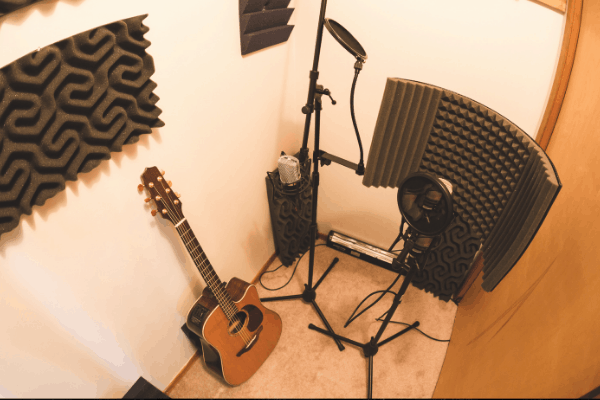 Do I Really Need a Vocal Booth?
Home studios come in a wide variety, from a simple closet booth to an entire basement dedicated to recording. Every home studio is different, as every artist has different needs. However, one thing is consistent: the need for clear and professional sounding vocals.
You do not really need a vocal booth if you are recording on a small scale. Singers and voice artists work well in rooms with sound absorption and don't typically need a separate space to record. However, when in a band setting, a vocal booth would help isolate the singer from the instruments.
While vocal booths are great for professional recording studios or studios with a large band, they don't work for everyone and aren't usually necessary.
Vocal booths are notoriously tricky to build and set up. They take up space in a recording studio, have to be just the right size, and need very detailed soundproofing before they work effectively.
Often, at-home vocal booths also have ventilation problems because the soundproofing leaves little room for fresh air.
Beginners should try to work without them at first and assess the quality of their audio. Chances are, with a few adjustments to your space, you should be able to record vocals well without a dedicated booth.
How Can I Record Vocals Without a Booth?
You can record vocals without a booth, provided you soundproof your space correctly. Without the correct treatment and sound absorption, your vocals will be muffled or echoing, and you'll have a lot of background noise to edit. Acoustic foam panels are the top choice for small spaces.
A vocal booth is a way of isolating vocals while recording. As mentioned above, this is an excellent option for those recording with a band

as it prevents the voice from getting lost amongst the instruments. 
However, there are other ways of making the voice stand out without losing vocal quality, including:
Noise filtering shields
Acoustic foam panels
Portable vocal booths
Each of these is a cheaper and more temporary option for adding sound absorption to your space. However, whichever you choose, you need to consider the room you're in and proper acoustic treatments to guarantee the quality of your work.
Proper Acoustic Room Treatment
Whether or not you use a vocal booth, room treatment is the key. If you have a booth, it needs to be well treated, or the vocals won't be clear.
As most walls in a house are relatively hard and smooth, room treatment is highly useful in reducing background noise. This process is used to neutralize sounds in your space and often includes adding sound panels or carpets to help with sound absorption.
When audio is recorded, sound waves of varying lengths bounce around the room. Depending on the volume and frequency of the wave (lower sounds have longer waves and higher sounds shorter), the audio will echo itself as it bounces off anything it touches.
The more challenging and more solid a surface is, the more sound waves bounce off it and reverberate around the room. On the other hand, if the material is soft or porous, it will absorb the sound and reduce the extra vibrations.
For example, a garage is typically underinsulated, concrete, and very echoey due to its size. It would take a lot to properly treat such a room, including installing heavy curtains over windows and adding a thick carpet.
In contrast, a small room in your home would be easier to treat. In this case, an area rug would help a great deal, and you wouldn't need to spend as much on sound absorption materials.
Once you have your room adequately treated, you can buy a few extras that will go a long way to help isolate vocals for better sound quality. I'll cover my top three choices below.
The most common way to absorb the extra sound in a room is with foam panels.
Panels like these from Amazon.com were created especially for audio recording and take in the excess sound waves produced by audio. They come in various sizes and thicknesses to account for the different audio wavelengths.
Sound panels attach to the walls and ceiling of a room to absorb extra sound and are very easy to install.
Sale
24 Pack-12 x 12 x 2 Inches Pyramid Designed Acoustic Foam Panels, Sound Proof Foam Panels Black, High Density and Fire Resistant Acoustic Panels, Sound Panels, Studio Foam for Wall and Ceiling

【Outstanding Sound Absorption】 - Distinct pyramid 3D acoustic design, these panels increases the...
【Improve Sound Quality & Clarity】These high dense panels can reduce unwanted echoes,...
【Specifications】 - Every package comes with 24 pack set black pyramid shaped acoustic panels...
Last update on 2023-09-26 / Affiliate links / Images from Amazon Product Advertising API
If you don't want to permanently add sound panels to your walls or the panels you've added aren't quite enough, you can make a sort of makeshift vocal booth by using a noise reflection shield, like this one from Amazon.com.
These are highly portable, allowing you to move around the space when needed, and you can even set up multiple for separate vocalists.
Not only does it help with vocal isolation, but it will also help reduce background noise too.
Pyle Mini Portable Vocal Recording Booth - Use with Standard Microphone, Isolation Noise Filter Reflection Shield for Recording Studio Quality Audio - Dual Acoustic Foam Soundproof Panel PSMRS09 Black

DUAL FOLDING SOUNDPROOFING: The folding diffusion shell is a curved metal plates with small holes...
STUDIO QUALITY: Unwanted audio ambience may be generated unexpectedly. But, Pyle vocal booth foam...
ELIMINATES NOISE INTERFERENCE: Shield used to reduce ambient noise, create a closer, drier, more...
Last update on 2023-09-26 / Affiliate links / Images from Amazon Product Advertising API
If you feel you need the added sound quality but don't want to commit to building a vocal booth, this portable sound booth is the perfect solution.
It is lightweight and very portable, along with being highly reviewed and easy to assemble.
Of course, since it uses sound absorption blankets, it will not have the same level of soundproofing as a built-in vocal booth. But it's a fantastic option for less.
Last update on 2023-09-27 / Affiliate links / Images from Amazon Product Advertising API
When You Do Need a Vocal Booth
Of course, there are situations in which vocal booths are necessary. For example, artists who live in boisterous apartments or neighborhoods might need more sound barriers than average.
If you've tried the movable room treatments and are still getting messy sound, you might want to consider an actual booth.
Consider the Size
The size of the booth varies depending on how many vocalists you intend to record simultaneously and whether you are using instruments inside.
The best size for a vocal booth with only one vocalist is 6 x 5 feet (182.88 x 152.4 cm). This will allow for adequate space to move and give the soundwaves enough space to dissipate.
You could build one a little smaller than that, but you would have to soundproof it exceptionally well to keep the extra vibrations to a minimum. The smaller a vocal booth is, the more the sound will reverberate off the walls and create additional noise.
Modular Vocal Booths
There are also modular vocal booths for sale, which would be far easier to set up in your home. These are pre-made and temporary structures, so there's no need to worry about how to soundproof your space or what to do with it when you move.
These are available online from the brands such as:
DEMVOX
Vocal Booth To Go
Acoustic Booth StudioBox
Final Thoughts
While you don't need a vocal booth to record, it is essential to make sure your recording space is treated for sound absorption. You can set up portable blanket stands, insulation, or sound-absorbing foam to create the perfect space to record vocals in your house.
For better sound quality without breaking the bank, consider a noise reflecting shield or portable vocal booth.
Sources
Was this article helpful?
Recent Posts
link to How To Allow QuickTime To Access Microphone 🎙️  
QuickTime is a vital app for many Mac users, and if you've recently bought a new microphone, you might wonder how to use it optimally. QuickTime cannot record audio content if it doesn't have...
link to How Do I Test My Microphone? 🎙️
Every microphone leaves a unique signature on the quality of its output. If you're a podcaster trying to melt your way into your audience's hearts, a muddy, distorted recording won't cut it....