Product photography is vital for promoting any product. Without the right picture, the item you're trying to sell may not look like something people want to buy. One of the most important parts of product photography is lighting, and there are some important rules to follow to light up your studio and get the best possible shot.
Here's how to create the best studio lighting setup for product photography:
Avoid reflections by using even lighting.
Use true product colors.
Overhead lights can help with mood lighting.
Light modifiers will help your shot stand out.
Off-camera lighting is vital.
Reduce shadows to help the product pop.
Use front and back lighting.
Let's discuss each of these setup ideas in more detail to help you get the best possible shot of your product.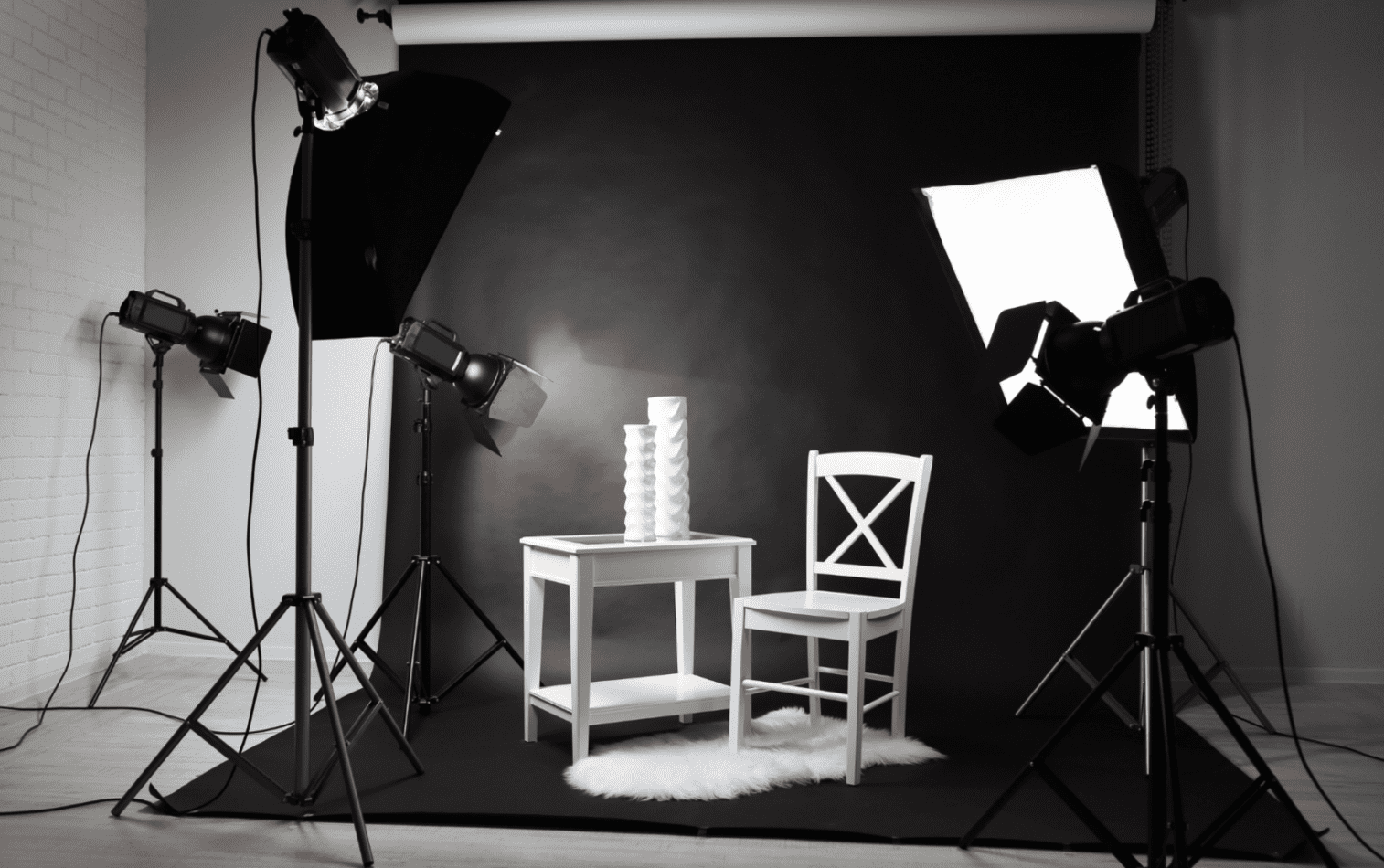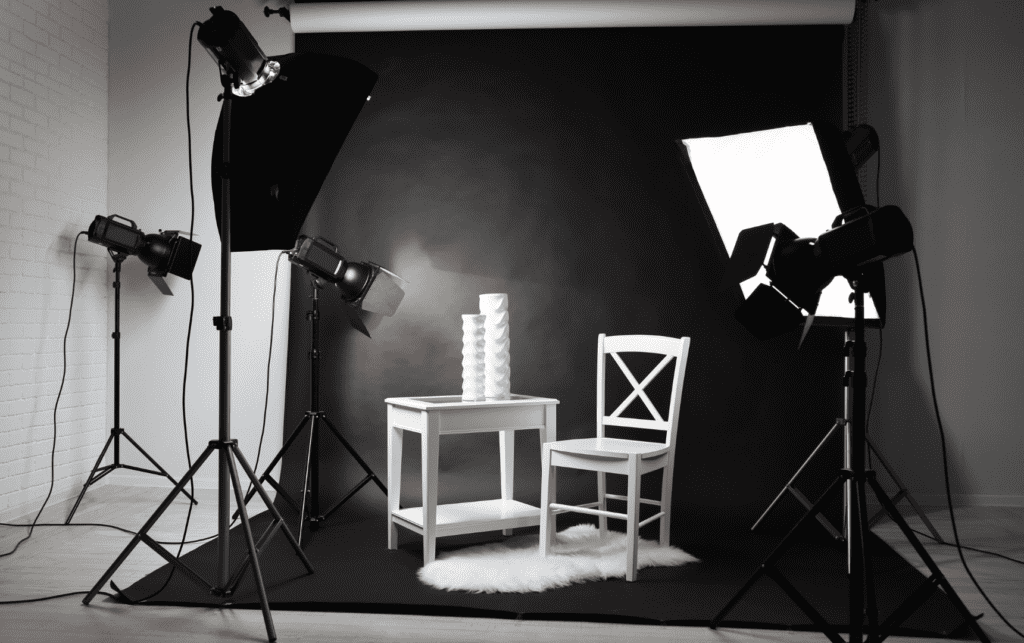 1. Avoid Reflections by Using Even Lighting
One of the biggest issues that product photographers face is light reflecting on their products. While reflections are used positively in many types of shots, they're not popular in product shots. Photographers use reflections to accentuate shots so often that we forget that they can be a distraction.
The goal of product shots is to show off the product as best as you can, and reflections can distract from the product. So, many photographers avoid them when shooting specific products. If your product is reflective, you may need to adjust your lighting to get the best possible shot.
The first step is to keep strong light sources away from the front of your product. Reflections occur where the light comes in contact with the item. So, pay attention to where your light sources are located for these shots.
Light the product to each side evenly to prevent reflections from getting in the way of your shot. Even if there's a reflection cast, it'll be on the side of the product, not the front. Though this may not be ideal, it's still a lot better than blocking the front of the product with a reflection.
You can also remove reflections in the photo editing process. So, do your best to minimize them, then completely remove them later. Fixing larger reflections on the front of the object is a lot more difficult than smaller reflections on the side.
2. Use True Product Colors
One very important part of product shooting is getting the item's correct color. Though it may not seem like color has a lot to do with lighting, that's not completely true. Lighting can make a big difference in what the color of your product looks like in the final shot.
Lighting can affect colors very easily

. The human eye often adjusts to see colors accurately in different lighting, but cameras aren't humans. So, test shots and basic lighting are a must for product shots.
One example of how lighting can change colors in a shot is with photography umbrellas. There are reflective umbrellas with a different color lining inside, which gives off gold and silver hues. It can be a great way to even skin tone when shooting people, but it can be detrimental to your product shot.
A reflective umbrella with a gold interior will create a very warm, serene look for your shot, but it can also give light-colored objects more warm tones. Shooting a wedding dress in gold would do a great job making the picture look warm, but there's a good chance the white dress would appear gold or brown in the shot.
Sure, you can tell potential buyers that the dress is white, but they'll still be looking at a picture of a light brown dress. So, keep the colors as natural as possible to prevent issues with colors coming through inaccurately.
A color mismatch between the picture and the actual product is a turn-off for customers as they may feel misled by the photo. If you plan on using lighting that may change the product's color, make sure you clear it with the company first. Companies often take pride in the colors of their products.
This EMART Black/Silver Umbrella

, available on Amazon, is a great place to start. It's budget-friendly, effective in balancing light, and easy to use. It features a fiberglass frame, nylon body, and stainless steel stick, making it lightweight and portable. You could also get the white version of this umbrella here

on Amazon.
Last update on 2023-09-25 / Affiliate links / Images from Amazon Product Advertising API
EMART Photography Parabolic Umbrella, 71inch/180cm Large Professional Photo Studio Translucent White Umbrella, Big Flash Soft Lighting Shoot Through Umbrella for Camera Video Shooting

[Super Soft Light] Parabolic translucent white umbrella defuses light very well and soften the...
[Sturdy Materials and Construction] The umbrella is firmly supported by 16-rib fiberglass framework...
[Large Size] The center shaft is 71"(180cm) long, 2.5lb/1.15kg in weight. The parabolic umbrella...
Last update on 2023-09-25 / Affiliate links / Images from Amazon Product Advertising API
You could also go for this set of 5 Neewer Light Reflectors

, available on amazon, if you're on a tight budget. You'll get a white, black, translucent, silver, and gold diffuser in one pack, along with a carrying bag to make your job easier.
Sale
NEEWER 43 Inch/110 Centimeter Light Reflector Light Diffuser 5 in 1 Collapsible Multi Disc with Bag - Translucent, Silver, Gold, White, and Black for Studio Photography Lighting and Outdoor Lighting

Translucent surface for softening
Silver for the contrast you look for
Black to block out stray light
Last update on 2023-09-25 / Affiliate links / Images from Amazon Product Advertising API
3. Overhead Lights Can Help With Mood Lighting
If you're working with a dark product, overhead lighting can be a great way to get a moody shot. Overhead lighting has a lot of benefits, but when used with no or little other lighting, it can help show off your product in a unique way.
When overhead lighting catches a dark object, it can help the background of a shot seem darker and almost disappear. When you shoot something dark, light backgrounds can look too fake or draw away from the object. Dark backgrounds are better, but you'll need a way to draw attention to the product and separate it from the background.
Remember that the most important rule for shooting a product is that it stands out from the background. So, you need to use lighting to help with darker colors as they tend to blend together otherwise. So, use an overhead light to focus on the product and allow the background to become unremarkable compared to the product.
Overhead lighting is also a great way to play with shadows. You can focus on the most important side of the product and allow the shadows to conceal the other sides. This method is excellent for products that have labels, such as food or drinks.
In this case, shadows can help you accentuate the product name while simultaneously hiding the nutrition facts on the side of the product. You don't want your picture to include all of the fine print. This information can be covered in the item description or seen in the store.
You can do this for food or drinks, but it'll be especially useful for alcohol. Alcohol tends to advertise with moody shots and often has wrap-around labels that can be hard to hide. So, this setup would work great for showing the label and what's in the bottle while using shadows to cover the side label.
4. Light Modifiers Will Help Your Shot Stand Out
There are many light modifiers out there, but we'll cover the more basic ones in this article. Photography umbrellas and softboxes are always a popular choice to get better lighting

.
Umbrellas make your shot look more natural, and you have more control over the light. Plus, they're portable, so you can easily move them around during a shoot to get the best possible shot of the product.
Photography umbrellas are also cheaper than a lot of other light modifiers. So, you can save some money while still getting a great shot. This way, rather than worrying about lighting, you can focus more on background and camera costs.
Softboxes are slightly different from photography umbrellas in their shape and light strength. However, they're great at providing natural light

because their shape projects a light similar to an open window. They're very useful for shots meant to represent homes or indoor spaces.
Softboxes also limit reflection and glare because the light doesn't directly hit the object. It's projected into the softbox, bounces off the interior, and returns to cover the products. So, reflections and glare are greatly reduced while still providing plenty of light for your shot.
If you prefer a lightbox for your product photography projects, you can't go wrong with this GODOX

Softbox

, available on Amazon. Its silver internal face makes it effective in diffusing light and removing shadows. It has a second diffuser that sits on the edge of the lightbox, making the light-balancing even more fun. It's also lightweight and portable, perfect for location projects and moving around.
Sale
Last update on 2023-09-25 / Affiliate links / Images from Amazon Product Advertising API
5. Off Camera Lighting Is Vital
When photographing products, one light isn't normally enough, especially when the light is attached to the camera. Camera lighting is fine for certain shots, but products often need more than that one light to ensure high visibility and lack of glare.
Besides reflections, there's nothing wrong with straight-on lighting in a shot. However, product lighting is a bit different. That single front light may not be enough to illuminate the entire product.
One fun aspect of photography is playing with shadows, and one on-camera light doesn't allow for variations of shadows since there's only one light source coming from the same place as your shot. So, be aware that shadows may need to be added or adjusted in the editing process after the photo is taken.
Off-camera lighting is vital for unique shots without a uniform composition. Moving around our lighting is something we can take for granted as photographers. Make sure you're giving yourself options by avoiding on-camera-only lighting.
6. Reduce Shadows To Help the Product Pop
While shadows can be fun to play with, they can also distract from the product. Large dark shadows take the focus away from the product. Like we discussed with backgrounds, you never want to distract from the product. Unfortunately, shadows can do just that.
They can also make your product look washed out and prevent it from popping into the picture. Your product could even fade into the background. So, it's vital to only use shadows to enhance the product, not distract from it.
The best way to handle shadows taking over a picture is to use moveable lights. As discussed above, on-camera lighting isn't ideal for controlling shadows. So, it's important to have moveable lights to prevent shadows from controlling your shot.
Having more than one light source

can minimize or even eliminate shadows altogether. How you set up those lights also makes a huge difference in shadows. There's little room for shadows with enough light covering the product from different angles. Sometimes shadows can help your shot, but often with product photography, those shadows get in the way.
Another way to reduce shadows in product photography is to reduce the intensity of the light sources. Intense lights located near the product create dark, distracting shadows. So, remember that brighter doesn't always mean better, even when it comes to product photography.
There are ways to use shadows to your advantage in product photography. For example, shadows can make products look larger and stand out better. But you have to use shadows very carefully to prevent any distraction from the product.
7. Use Front and Back Lighting
Using front and backlighting for pictures can help the product stand out while not allowing shadows to overtake your shot. Front and back lights will meet in the middle of the product creating a three-dimensional look for the shot.
Front lighting allows for one part of the product to be visible while the rest is covered by shadow. While this can be a look you're going for, product shots usually try to show off as much of the product as possible. So, this setup would allow you to show off more of the product.
Front and back lighting should be used carefully as you may run into issues with glare and reflection. However, it can be minimized with proper care and attention to detail. Like we discussed above, lighting that is in front of the product will maximize the possibility of reflections. So, use front and back lighting carefully in product shots for reflective items.
Front and back lighting can also help pull away from a distracting background. Because using a front and back light will help focus on the product, it will be the main focus of the shot. So, if you're dealing with a busy background for your shot, front and back lighting can help you keep your eyes on the product and not the busy background.
Sources
Was this article helpful?
Recent Posts
link to How To Allow QuickTime To Access Microphone 🎙️  
QuickTime is a vital app for many Mac users, and if you've recently bought a new microphone, you might wonder how to use it optimally. QuickTime cannot record audio content if it doesn't have...
link to How Do I Test My Microphone? 🎙️
Every microphone leaves a unique signature on the quality of its output. If you're a podcaster trying to melt your way into your audience's hearts, a muddy, distorted recording won't cut it....