There are three popular ways you can install a new floor: nail down, glue down, or floating. What makes floating floors stand out from other types of installation is that they don't need to be secured to a subfloor with glue or nails. The subfloor is the solid material beneath the floor covering. So, what are floating floors, and are they worth it?
Floating floors are a style of hard flooring specially engineered to be installed with minimal nailing or gluing. Floating floors refers to an installation method and not the floor itself. Typically, this type of hardwood flooring is set up with a series of grooves and tongues, which lets each section interlock together without any actual fastener.
In this article, I'll demystify floating floors such that you'd know the different types, as well as their pros and cons. You'd also learn how to identify them and why you should not nail them down.  Can you install a floating floor over concrete, and what can you put on a floating floor? Find out more in this article, along with other information about floating floors.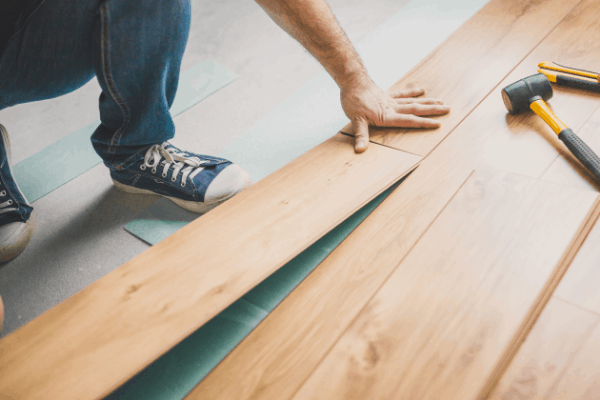 Types of Floating Floors
The mode of installing a floating floor is one feature that makes it loved by many. While the range of materials and style that can be used makes it quite versatile. Here are three common types of floating floorboards to consider:
Engineered Wood Flooring
Engineered wood flooring is a composite wood made of layers of sustainable hardwood, finished. It is designed with a decorative surface layer that is glued over an MDF core or plywood. If you don't want to make use of solid hardwood, engineered wood flooring is a superior alternative.
Laminate Flooring
Another type of finish you can have on a floating floor is laminate flooring. Laminate flooring is a multilayer synthetic flooring fused with a lamination process to give you a smart and stylish finish. Laminate flooring is simply a composite flooring material. They are incredibly durable and perfect for a busy home.
Luxury Vinyl Flooring (LVF)
Sometimes referred to as vinyl plank flooring, LVF usually snaps together board-to-board in a similar way laminate planks do. LVF features tiny tongues and grooves engineered into the boards allowing them to lock together. Some forms of LVF are semi-flexible, while others are rigid.
Pros and Cons of Floating Floor
With different types of floating floors to choose from, in the end, only you can decide whether it is right for you or not. Here are some pros and cons of floating floors.
Pros
Versatility
Floating floors are DIY-friendly and very versatile. As such, its application is limitless. And with the wear layer of floating floors being extremely tough, it makes clean-up easy to maintain.
Easy Installation
Installing floating floors is also very easy. The ends and ends of floating floors are designed such that they snap together. This eliminates the need for nailing or gluing down the floor.
Cost Efficiency
Floating floors are more cost-effective to install than hardwood. Apart from the elimination of buying nails or glues to fasten the floor, floating floors are typically cheaper per square meter than solid hardwood.
Contraction and Expansion
Unlike some flooring that wraps up due to humidity fluctuation, small expansion gaps in floating floors around the perimeter ensure the board has enough space to contract and expand as needed.
Cons
Poor Quality
Unlike other types of flooring, floating floors are not the best quality. Floating floors are susceptible to moisture damage. As such, they cannot be installed in a laundry room. If installed in the basement or on slabs, it should include a moisture barrier.
Time-consuming to install
During installation, floating hardwood floors require a separate underlayment to be added. This can be time-consuming. The underlayment needs to be leveled; else, the floating floor would sound hollow.
How to Know if Your Floor Is Floating?
To know if your floor is a floating hardwood floor, first determine how the floorboards are attached. Another sign you can use to know if your floor is floating is to look for staple holes or nail heads on the floor. If you find any, you likely have a hardwood floor and not a floating floor. Most often, floating floors are not nailed down or glued down.
Another thing to look out for is the grain of the wooden floor. Whether it is an engineered, laminate, or vinyl floating floor, generally, floating floors are factory-produced. Meaning the pattern of the grain of every floating board will match perfectly. If you have natural wood flooring, the grain will never repeat.
Some more expensive floating floors have variations in some of the boards. Nevertheless, there will be some matching patterns. So, don't give up finding the matching pattern until you have examined a large area of the floor. Also, check the floor for dents and scratches. Hardwood floors damage easier than floating floors.
Do Floating Floors Settle Over Time?
Floating floors do settle, but it takes a while to acclimate to the new environment. It may take about 24-72 hours for the floating floor material to adjust to the temperature and moisture conditions of the installation environment. But overall, when it warms up and acclimates, it will settle.
However, if the floating floor is not installed properly, perhaps it was installed over an uneven surface, it will not settle. Floating floors can be installed over almost anything, but every uneven section needs to be addressed first. Else if you install a floating floor on an uneven surface, it will snap and pop as you walk on it.
What Happens if You Nail Down a Floating Floor?
When you nail down a floating floor, you will most likely have a squeaking subfloor. This is because anytime you try to walk on it, the nails will likely loosen from the joists over time. Apart from the squeaking sound, the nails are likely to protrude, which can be quite dangerous.
Not only will the nail become exposed, but it can cause the floating floor to begin to chip around the nail holes. Additionally, when you nail down a floating floor, it will disrupt the natural expansion and contraction process. The only exception is installing the floating floor to a stair when they have to be nailed or glued down.
Can You Put a Floating Floor Over Concrete?
A floating floor can be installed over the concrete subfloor

amongst other surfaces like wood. However, I'd recommend you install a good quality underlayment first. Although installing an underlayment is easy, it needs to be done precisely to avoid wear and tear. 
Some brands of floating floors come with attached underlayment, which makes them quick and easy to install. Underlayment has several uses like being a water barrier, regulating temperature, even out small underfloor imperfection, and ensuring the floor's stability and natural contraction.
What Can You Put on a Floating Floor?
You can put anything on a floating floor from tables to chairs and even a bed. Because a floating floor is not connected to the original flooring doesn't mean it will be shifted or damaged by heavy furniture. Provided the furniture is prepared and moved properly, it would not cause any damage to a floating floor.
Before placing any furniture on a floating floor, it's always a good idea to cushion the furniture's base. This ensures the furniture wouldn't damage the floor. So, install furniture glides such as padded plastic cups or felt pads on the base of the legs of tables, chairs, or sofas.
Conclusion
Are you looking for easy, cost-effective, and stylish flooring for your home? A floating floor is a good choice to consider. Although some floating floors are cheap in appearance and performance, luxury vinyl is fairly premium and they wouldn't compromise the value of the real estate.
Was this article helpful?
Recent Posts
link to How To Allow QuickTime To Access Microphone 🎙️  
QuickTime is a vital app for many Mac users, and if you've recently bought a new microphone, you might wonder how to use it optimally. QuickTime cannot record audio content if it doesn't have...
link to How Do I Test My Microphone? 🎙️
Every microphone leaves a unique signature on the quality of its output. If you're a podcaster trying to melt your way into your audience's hearts, a muddy, distorted recording won't cut it....