Learning how to play an instrument is a very exciting experience – especially when that instrument is the guitar.
Guitars are such versatile instruments, playing the guitar is an excellent way to let your creativity go wild!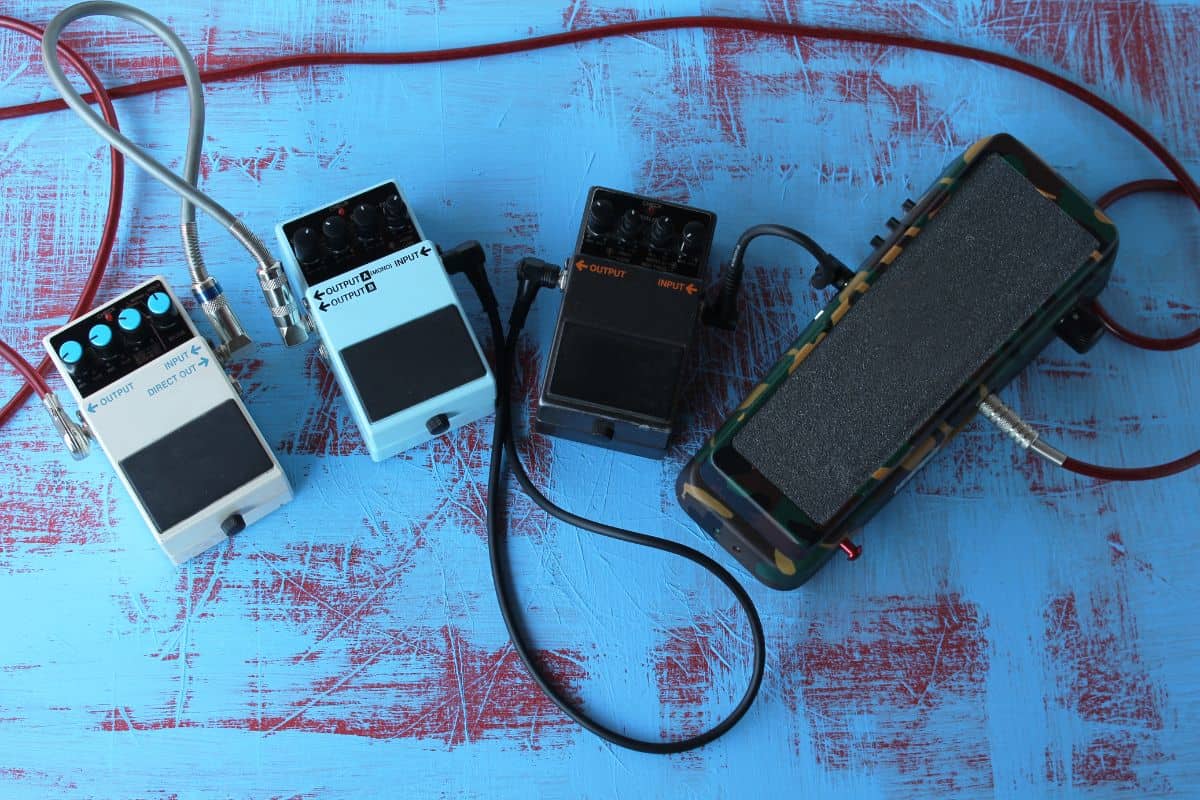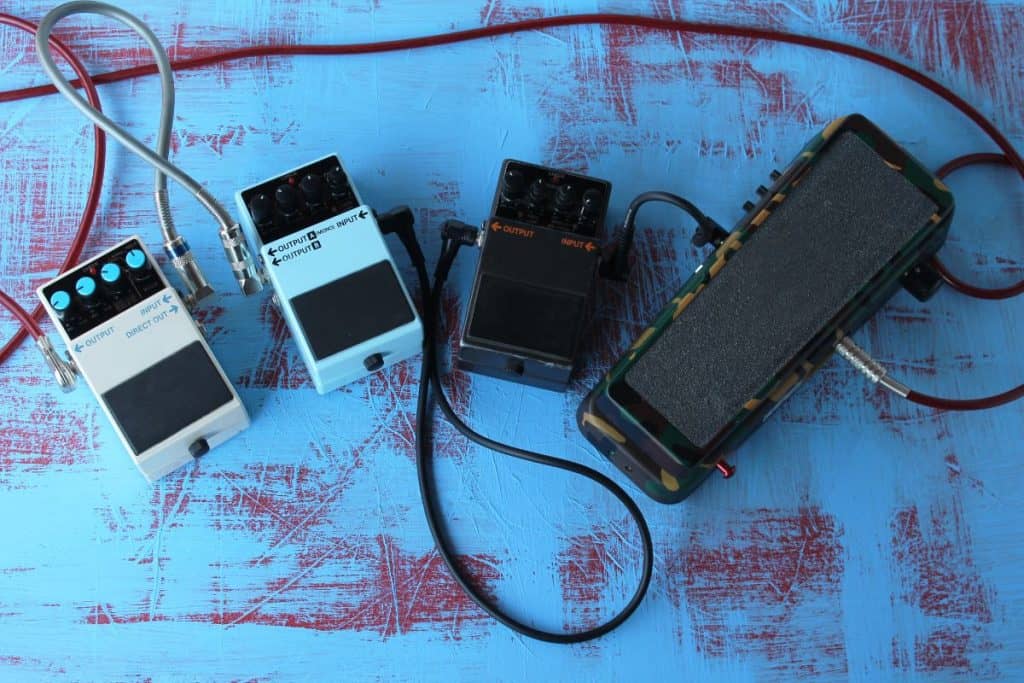 However, if you're new to the wonderful world of guitars, you likely have a lot of questions.
There is a huge among of technical equipment that can be really hard to get your head around. Some of the most common pieces of such equipment are guitar pedals.

Guitar pedals are very important. They can completely alter the tone of your guitar and add textural interest to your practice.
They allow you to stretch your playing even further and explore new styles and techniques.

To learn more about what guitar pedals do, take a look at the info-packed article below.
We cover everything you need to know, from types of guitar pedals to the best guitar pedals on the market today and everything in between! Check it out.
What Is A Guitar Pedal?
Guitar pedals are important pieces of equipment for musicians. They play a vital role in the kind of sound that is produced by your guitar.
In their most simple form, guitar pedals are small metal boxes that you step on to activate.

Once activated, the pedal will work to distort, modulate, reverberate, or alter the tone of your guitar

in some way.
The effect that a pedal has on the tone of your guitar will wholly depend on what type of pedal you use.
Types Of Effects Pedals
There is a huge number of different types of guitar pedals. However, they tend to fit into one (or more) of the categories listed below.
Utility Pedals
Tuner Pedals
Expression Pedals
Volume Pedals
Bugger Pedals
Controller Pedals
Pitch-Shifting Pedals
Synth Pedals
Switcher Pedals
Compressor Pedals
Dynamics Pedals
Limiter Pedals
Octave & Harmonizer Pedals
Noise Gate Pedals
EQ/Filter Pedals
Dynamics Pedals
Expander Pedals
Wah Pedals
Equalization Pedals
Envelop Filter Pedals
Boost Pedals
Preamp Pedals
Gain-Based Effects PEdals
Fuzz Pedals
Distortion Pedals
Overdrive PEdals
Chorus Pedals
Vibrato Pedals
Modulation Pedals
Leslie Pedals
Flanger Pedals
Tremolo Pedals
Ring Modulation Pedels
Phaser Pedals
Delay Pedals
Reverb Pedals
Time-Based Effects Pedals
Multi-Effects Pedals 
Why You Need A Guitar Pedal
If you're a budding guitarist, you will definitely benefit from a guitar pedal.
A guitar pedal can be used to make the sound produced by your guitar significantly better or to add interesting tonal textures.

Either way, guitar pedals will help you take your practice to the next level by giving you more freedom for creativity.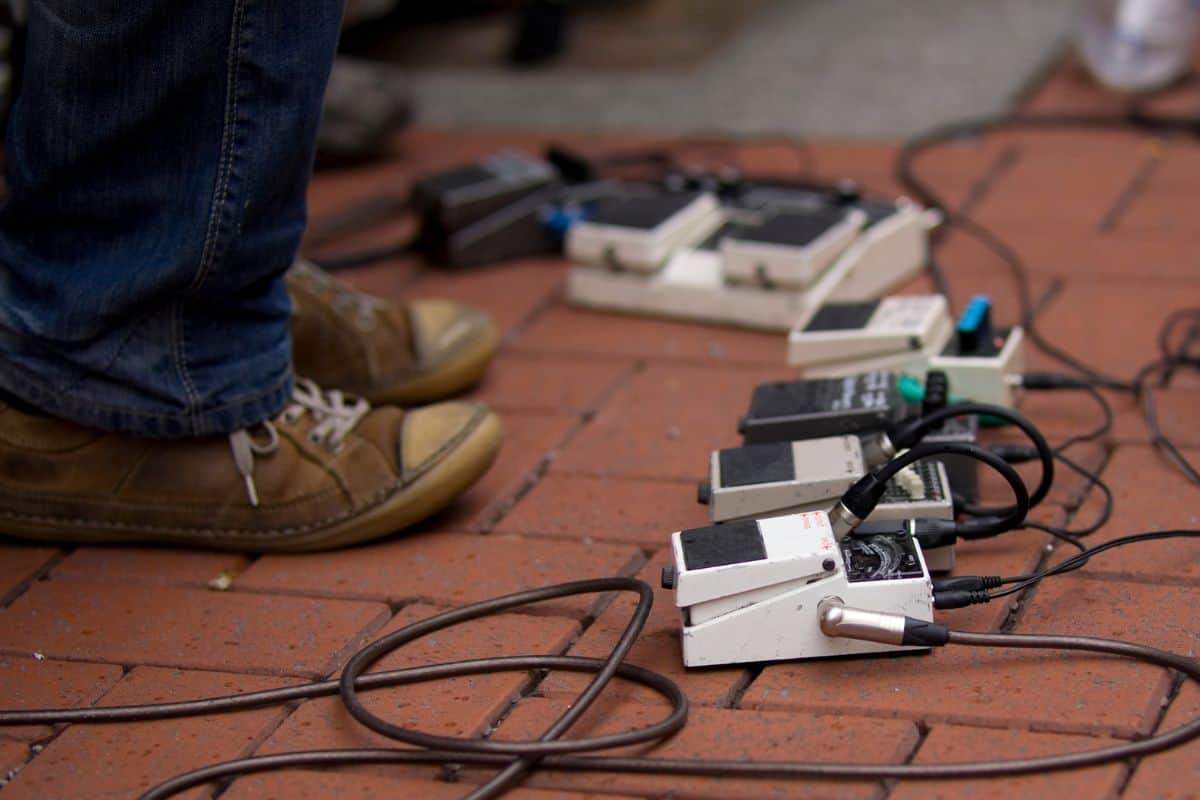 Many artists have used guitar pedals to produce some of their most successful songs.

For example, Nirvana and Prince both were known to use a chorus pedal in the songs Come As You Are and Purple Rain.
Guns N' Roses and Stevie Ray Vaughan used Wah pedals to create Appetite For Destruction and Sweet Child O'Mine.
How To Use A Guitar Pedal
This will largely depend on the type of pedal that you have. However, you can follow our general guidelines to get started!
Step One
Plug the ¼ inch guitar lead into your pedal. Once you have done that, use another lead to attach the amp to the pedal.
Step Two
If you want to add more than one pedal, you should use short patch cables to attach them all.
If you use a long cable, the signal will be weakened. A short cable will ensure the constant signal flow from the guitar to the amp.
Step Three
The order that you palace the pedals in between the guitar and the amp will have a distinct effect on the sound.
To find the right sound for you, you will need to play around with the order of the pedals.
Step Four
You will also need to consider power supplies. Your pedals will require a sufficient amount of power from the mains.
The best power supplies will send electricity evenly to multiple pedals and will prevent any problems from occuring.
Step Five
Turn the pedal on and get started! Don't be shy, the best way to learn is to throw yourself into playing with new equipment and methods.
We recommend playing around with the dials and simply learning on the go. Have fun!
Best Guitar Pedals
If you're looking for a good-quality guitar pedal to get started, take a look at our favorites listed below.
Each one has been hand-selected because of its quality, versatility, and price tag. Check them out.

If you're looking for a versatile pedal that will allow you to flex your creativity, the Donner Triple Looper Guitar Pedal is a great option.
It is super easy to use thanks to the single knob mechanism and it is very easy to read thanks to the bright screen.
Sale
Donner Triple Looper Guitar Effect Pedal with Time Progress bar Display 3 Slots For Saving Loop Tracks

[Looper with Screen] The bright screen shows the current loop mode, time progress and accurate...
[3 saving slots] Donner Triple Looper has 3 slots for saving loop tracks and each can store up to 30...
[One Knob to Rule All] Record/Play/Overdub/Stop/Clear by one single foot switch.
Last update on 2023-09-26 / Affiliate links / Images from Amazon Product Advertising API

Whether you are a total newbie or you're a professional musician, you will have heard about Fender.
They consistently produce top-quality equipment and this pedal is no different!
It is a truly excellent reverb pedal that will be very fun to play with – but it is quite a pricey option.
Fender Marine Layer Reverb Pedal

Hall, room and shimmer reverb types
Reverb trails continue when effect is muted
Led backlit knobs
Last update on 2023-09-26 / Affiliate links / Images from Amazon Product Advertising API

Finally, we have to mention the Ibanez Analog Delay Mini Pedal. This little pedal really packs a punch!
If your pedalboard is getting a bit crowded, but you still want a pedal that provides a true analog delay tone, this pedal is an excellent option.
Ibanez Analog Delay Mini

Delay Time Controls; All-analog Signal Path; True Bypass Switching
Delay Effects Pedal f Electric Guitar with Repeat
Blend
Last update on 2023-09-26 / Affiliate links / Images from Amazon Product Advertising API
Conclusion
Guitar pedals are truly wonderful pieces of equipment. They can really take your playing to the next level and allow you to be more creative with your practice.
We hope that this article helped you understand what guitar pedals do, how to use them, and where to get the best models.
References
Was this article helpful?
Recent Posts
link to How To Allow QuickTime To Access Microphone 🎙️  
QuickTime is a vital app for many Mac users, and if you've recently bought a new microphone, you might wonder how to use it optimally. QuickTime cannot record audio content if it doesn't have...
link to How Do I Test My Microphone? 🎙️
Every microphone leaves a unique signature on the quality of its output. If you're a podcaster trying to melt your way into your audience's hearts, a muddy, distorted recording won't cut it....