Tape machines might be considered vintage music players, but they're great for anyone to have in a home studio. While it is hard, if not impossible, to find new tape machines for sale, there are many used tape machines available – if you know where to look. Tape machines are coming back in style, and you are going to want one in your home studio, but which one should you choose?
The best tape machines for a home studio include the Metaxas and Sins, Revox A77, B77, and PR99, the Akai GX-747 DBX, and the Studer A820. Each one has its pros and cons, from cost to availability, but they all have high quality and great audio, making them an excellent addition to any home studio.
Below is a list of the six best tape machines for your home studio. You will likely need to buy most of them used, and the used ones will require some maintenance and upkeep since they are old, but they will still play music. Read on to find out which tape machine would best suit you and your home studio and some accessories you will need to keep your tape machine running like new.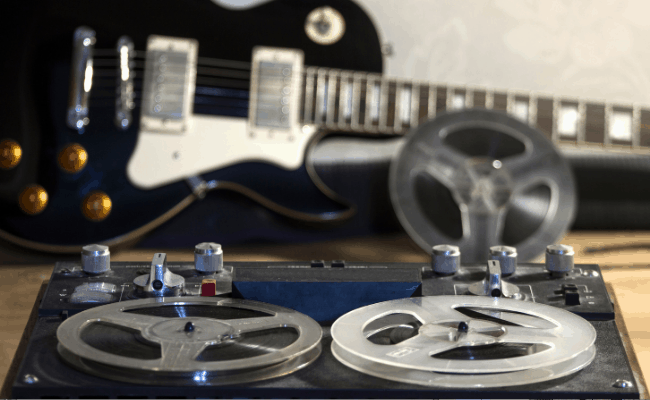 The Metaxas and Sins Open Reel Tape Recorder is a relatively new tape machine, and it's the most modern-looking one on the list. It has a very sleek design with a dark gray base and red reels and knobs.
The tape machine functions as the oldest of tape machines, giving it a vintage feel; however, with new technology, the tape machine should last longer and need less maintenance than the older ones. The Open Reel Tape Recorder is also portable, so it is excellent to move around your home studio.
This tape machine is currently hard to come by and may only be available for preorder in limited quantities. If you think this is a tape machine you will want for your home studio, start researching your buying options soon since it may take a while to get one.
To see the Metaxas and Sins Open Reel Tape Recorder in action, see this video from "hxos plus" on Youtube:
Revox Tape Machines
Revox Tape Machines are some of the most popular for professionals, so they are a great addition to your home studio if you want to have something high-class. These tape machines were created beginning in 1951, but we highlight the three best ones for a home studio below.
Revox A77 Tape Machines
A77 Tape Machines are one of the first machines made by Revox. They are very sturdy but heavy and have a classic look and feel to them, which is perfect if you're looking for a vintage tape machine in your home studio. These tape machines can make and replay tapes using the electronic control system.
The first tape machine in the series, the MKI, had some problems, so they were only made for one year, but they still had a robust sound system. The second tape machine, the MKII, has a reassurance lever in the series but otherwise looks and works the same as the MKI.
The MKIII came out in 1971 and had a change in appearance compared to the first two A77s. The front panel color changed, and the scales on the front panel have lights on this version. The final version, the MKIV, came out in 1973 with new buttons and a new Revox logo.
The A77 tape machine did not change too much over the years, but it is worth getting the fourth model for the most updated version and the most aesthetically pleasing tape machine.
Revox B77 Tape Machines
Unlike the previous series, the B77 series has only had two versions built in 1977. The first version of the B77, the MKI, was very popular as soon as it was released and is a high-end tape machine to have in your home studio.
The second version, the B77 MKII, is the same as the first, but it added a feature to let you control the belt speed.
Revox PR99 Tape Machines
The Revox PR99 came out in 1980 as an alternative to the Revox B77. The first version in the series, the PR99 MKI, has more accessible sound heads, the same mechanical counter as the two tape machines above, and a mounting rack. The second version of the PR99 added a zero locator, a built-in speed switch, and band scissors.
The Revox MKIII is the best version of the PR99 tape machine for a more professional home studio.
The third version of the series looks completely different with new colors and buttons. There is a single output, fewer switches and sockets, and there is no microphone or dubbing.
Akai GX-747 DBX Tape Machine
The Akai GX-747 DBX Tape Machine is one of the most classic machines with a ton of features. It is also one of the most popular tape machines for non-professionals, making it great for your home studio. This tape machine has a LED display, a headphone output, and remote control.
The Akai GX-747 DBX is the newer version of the GX-747, which looks similar to the newer DBX but has a more extensive tape range. It comes in black or silver, but it will need to be purchased used since it is an older tape machine. Still, it has so many features that are perfect for any non-professional studio.
Studer A820 Tape Machine
The Studer A820 Tape Machine came out in 1984, but it is still one of the best out there today. It is a professional-level tape machine that has an elegant aesthetic, is very precise, and has a high-quality sound system.
While the Studer A820 tape machine is considered a professional tape machine, it is excellent for a high-end home studio. It is also great for precise adjustment with any synchronization applications.
Accessories for Your Tape Machine
If you end up with a used tape machine in your home studio, chances are it will need a little bit of love to get it working correctly. Once you have the machine running like almost-new, consider these accessories and replacement items to keep it going for longer:
10" Aluminum Blank Tape Reel to Reel Recorders. They come in five different colors (red, black, blue, silver, and gold), and they will fit the Studer and Revox tape machines listed above.


Last update on 2023-05-30 / Affiliate links / Images from Amazon Product Advertising API

West Coast Replacement Reel Counter Belt. If you need a replacement belt for a Revox tape machine, you'll want to go for this. This replacement belt will fit all three Revox Tape Machines listed in this article (the A77, the B77, and the PR99).


West Coast Resale *New After Market Replacement* Revox A77 B77 PR99 Mk1 G36 Series II III Reel Counter Belt

REPLACEMENT* Revox A77 B77 PR99 Mk1 G36
Series II or III REEL COUNTER BELT
Best Deals By West Coast Resale

Last update on 2023-05-30 / Affiliate links / Images from Amazon Product Advertising API

ATR Magnetics Premium ANalog Quarter Inch Recording Tape. The tape is made in the United States, and it has a high-quality sound like a professional-grade tape but will fit most classic, non-professional tape machines.


ATR Magnetics Premium Analog Recording Tape 1/4" Master Tape - Modern Classic Sound | 10.5" Precision Reel | 2500' of Analog Tape

THE MODERN MANUFACTURER OF TAPE: the only current tape manufacturer in the Western Hemisphere and...
THE CLASSIC SOUND YOU'VE ALWAYS WANTED: straight from our factory to your door
HIGH OUTPUT, LOW NOISE: our tape is in the +6 class which means it gives you the sound and...

Last update on 2023-05-30 / Affiliate links / Images from Amazon Product Advertising API
Final Thoughts
While tape machines may be hard to come by these days, they are a great addition to your home studio. The six tape machines listed above are your best options, though you may need to search for most of them used.
Since you are buying a used and likely old tape machine for your home studio, you may also need to buy some blank tape recorders, a replacement reel belt, and a recording tape to be able to use it in your home studio. Be sure to get one of these great tape machines and accessories to enhance your home studio.
Check out this article about how to make music sound old.

Sources
Was this article helpful?
Recent Posts
link to How To Allow QuickTime To Access Microphone 🎙️  
QuickTime is a vital app for many Mac users, and if you've recently bought a new microphone, you might wonder how to use it optimally. QuickTime cannot record audio content if it doesn't have...
link to How Do I Test My Microphone? 🎙️
Every microphone leaves a unique signature on the quality of its output. If you're a podcaster trying to melt your way into your audience's hearts, a muddy, distorted recording won't cut it....