Portrait photography is all about closeness. Whether you are photographing people or objects, your photographs need a focal length that captures all the minor and beautiful details without creating any distortions in their features or making them blend in with the background. The lighting, depth, sharpness, and color need to be in perfect harmony to get that portrait that leaves everyone in awe—so between the 85mm and 105mm lens, which one is better?
The 85mm lens is better than the 105mm lens because it is lighter, well-rounded, and great for portraits and scenic photography. Most importantly, it's easier on the pocket. Unless you're in a field where an additional f-stop is worth a few hundred dollars, you're better off without a 105mm lens.
In this article, you will learn more about why lenses matter, what the pros and cons of 85mm and 105mm lenses are, and which one you should use. Read on to get a clear picture of which choice fits you best.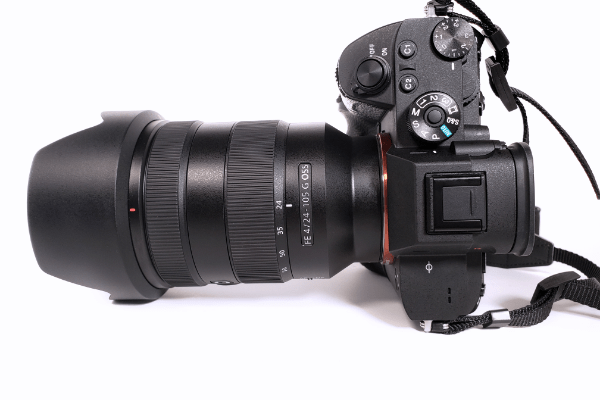 Why Is the Lens Important?
Lenses ultimately become your eye in photography—the connecting piece between you and the subject. Most of the time, you will find yourself confused between three different focal lengths: 85mm, 105mm, and 135 mm. This article will focus on the 85mm lens and the 105mm lens, two closely competitive lenses in terms of features and preference, helping you decide which is better.
85mm Lens: A Brief Overview
For a portrait photographer, the 85mm lens is probably a go-to and ideal choice. This particular lens is excellent for portraits and full-body shots due to its compression and the lack of distortion. With an 85mm lens, the contrast is captured vividly against even backlit backgrounds. 
Even when offering a sharp, wide-angle, this lens does not fail to focus. It has a maximum aperture of f/1.2 and a minimum aperture of f/18. The field of vision is tighter, along with the perfect level of magnification and compression. More often referred to as a telephoto lens, an 85mm removes the distant feel of a wider angle lens. 
Instead, it offers a tighter vision angle, so you do not have to worry about any distortion regarding your subjects' features or visuals. Compared to a wide-angle lens, you risk this distortion. The 85mm lens has a minimum focusing distance of 2.8 feet (85.3 cm); it offers an ideal focal length for general portrait photography.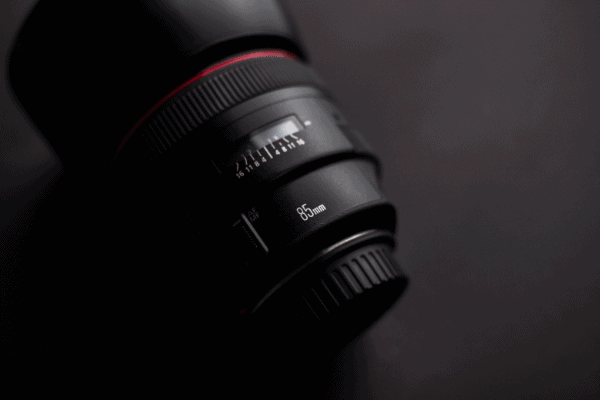 Pros of 85mm Lens
Below are some of the advantages of 85mm lenses, which have made them the go-to for many professional photographers.
Ideal for fashion photographers: If you find yourself often capturing portraits of models while also wanting to blend in wide-angle shots, the 85mm lens offers both. The 2.8 feet (85.3 cm) distance means you do not have to step too far away to get the perfect zoom. Also, you do not have to be too up close and personal with your subject to get the right balance between them and the background.
Depth of field: Due to the aperture range of an 85mm lens between f/12 and f/18, you can achieve an exaggerated depth of field. It also works amazingly well in low light situations. The balance between the focal length and the aperture allows for more light to enter through the lens. So, if your background is backlit, it will still focus on your subject easily, adding to the aesthetic of the dim-lit picture.
Bokeh and compression: This is a popular choice when it comes to these two aspects of photography. With this lens, the background will appear to be closer than it actually is, ultimately creating an illusionary effect that once again allows the subject to stand out. We recommend setting it between f/1.2 to f/2.0 for the maximum impact.
Lighter on the hand: The 85mm lens offers all these features while being easy to carry. Compared to other lenses, it can be maneuvered and carried around easily, which is great for a portrait photographer who might spend a lot of time in different setups with different backgrounds.
Easier on your pocket: The 85mm packs more features and uses in its focal length. Aside from being a better all-rounder, the 85mm lens will cost you a few hundred dollars less than a 105mm lens. So, it's up to you to decide whether a minor improvement is worth the extra money.
Cons of 85mm Lens
While 85mm lenses have various benefits, you will experience the following drawbacks if you rely on them exclusively:
If you are short on space, the 85mm lens is already pretty tight. With that being said, we would not recommend this if you are short on space.
If your apertures are more on the wider side, this lens might have some trouble focusing in this case. The maximum apertures on this lens are shallow, allowing for more light to fall into the scene. This might create a problem in terms of controlling how much light is needed to filter in.
The best 85mm lens for the following brands
Sony
Sony FE 85mm f/1.4 GM Lens
Sale
Sony FE 85mm f/1.4 GM Lens
E-Mount Lens/Full-Frame Format
Minimum Focus Distance : AF 2.79 ft, MF 2.62 ft, Maximum Magnification ratio (x) - 0.13 x, Focal-Length : 85 mm.Angle of view (APS-C) 19°
Aperture Range: f/1.4 to f/16 , Filter Diameter (mm) - 67 mm
Nikon
Sigma 85mm f/1.4 DG HSM Art Lens for Nikon F
Sale
Sigma 85mm f/1.4 DG HSM Art Lens for Nikon F (321955)
The Sigma 85mm 1.4 DG HSM Art is the latest addition to the world renowned Sigma Global Vision Line
It has equipped newly designed hyper sonic motor (HSM) for nimble AF control, 1.3 times better torque of its predecessor
Compatible with the Enthusiast APS-C Nikon D7100, D7200, D500, and D3100, D3200, D3300, D5100, D5200, D5300, D5500 DSLR Cameras. Also compatible with Nikon Full-Frame DF, D600, D610, D750, D800, D810, D4, D5.
Canon
Sigma 85mm f/1.4 DG HSM Art Lens for Canon EF
Sigma 85mm f/1.4 DG HSM Art Lens for Canon EF (321954)
The Sigma 85mm 1.4 DG HSM Art is the latest addition to the world renowned Sigma Global Vision Line
It has equipped newly designed hyper sonic motor (HSM) for nimble AF control, 1.3 times better torque of its predecessor
This lens is compatible with Mount converter MC-11 , so Sony E-mount users can also enjoy this lens with it
105mm Lens: A Brief Overview
The 205mm lens is the sweet spot between the typical portrait photography range of 85mm, 105mm, and 135mm. Also known as the 'sweet spot' between the two extremes. It has a narrow-angle view of roughly 23.38 degrees. 
The 105mm lens gives you that extra step when your 85mm lens might not be the right fit. It has a maximum aperture of f/1.4 and a minimum aperture of f/16, giving a creamier, beautiful bokeh so that the background melts away, leaving your subject as the main attraction. 
This particular lens weighs 4 pounds (1.8 kg), definitely making it one of the heavier lenses in your set. With a wider focal length and a tighter aperture, you can get closer to your subject.
Pros of 105mm Lens
Many fine-art photographers have 105mm lenses in their arsenal despite not relying on them exclusively. The following pros may explain why this is the case:
Depth of field: Being a macro lens, the 105mm has a shallow depth of field. It has a short focusing distance, which improves color accuracy and sharpness, ultimately setting up an ideal blurry background for the subject to stand against.
Minimum focusing distance: Portrait photography is all about getting close without really having to get too close. While the 85mm lens is promising in its zoom, the 105mm lens will get you even closer.
45-degree shots: This is a very narrow advantage, but a benefit nonetheless. A 105mm lens will get rid of any perspective distortion due to its limited focal length. It will also capture a balance between the foreground and the background, something other wide-angle lenses cannot achieve.
Cons of 105mm Lens
While 105mm lenses have their advantages, getting them when you're just getting started in photography might not be a great idea. Here's why:
Size and weight: This macro lens weighs quite a lot, and not all portrait photographers prefer to have a weightlifting workout when shooting portraits. The size and weight of this lens ultimately make it difficult to carry. Combining this with a tripod, it will also tend to take up a lot of space.
You will need a tripod: This is not a deal-breaker because most photographers do have a tripod. However, not everyone loves lugging one around. Moreover, if you are new to the world of portrait photography and you do not have one, chances are, you will need one for this lens.
Minor aperture difference: Compared to the 85mm lens, the 105mm does not have a huge difference when it comes to aperture. The focal length is a plus, sure, but do you need a new lens with a maximum aperture of f/1.4 when a maximum aperture of f/1.2 will do just fine?
The best 105mm lens for the following brands
Sony
Sigma 105mm f/1.4 DG HSM Art Lens for Sony E 
Sigma 105mm f/1.4 DG HSM Art Lens for Sony E Mount with Altura Photo Advanced Accessory and Travel Bundle
INCLUDES: Sigma 105mm f/1.4 DG HSM Art Lens + AirBag Packable Bag and Camera Insert + SanDisk 64GB C10 Ultra UHS-I SDXC Memory Card + Altura Photo Mini Tripod with Pistol Grip + Altura Photo Rapid Fire Wrist Strap + Altura Photo Hard-Shell Case + Altura Photo Cleaning Kit + 3 Sizes MagicFiber Microfiber Lens Pouch
HIGH PRECISION LENS: With a no-holds-barred approach to design, the Sigma 105mm f/1.4 DG HSM Art Lens is a short-telephoto, portrait-length prime distinguished by its bright maximum aperture and advanced optical layout. The fast f/1.4 design greatly benefits working in low-light conditions and also affords extensive control over depth of field for isolating subjects and working with selective focus.
COMPATIBLE with all Sony Mirrorless Cameras (E mount), including a3000, a3500, a5000, a5100, a6000, a6100, a6300, a6400, a6500, a6600 APS-C Cameras, and a7, a7 II, a7 III, a7R, a7R II, a7R III, a7R IV, a7S, a7S II Full Frame Cameras.
Nikon
Nikon AF-S FX NIKKOR 105mm f/1.4E ED Lens with Auto Focus for Nikon DSLR Cameras
Sale
Canon
Sigma 105mm f/1.4 DG HSM Art Lens for Canon EF
Sale
Which One Should You Use?
If you're going to buy only one, then the verdict clearly comes out in favor of an 85mm lens because it will allow you to do more with less. You will often find photographers reaching for this particular equipment without any hesitation because it is reliable in capturing the feel and details one needs when it comes to portraits.
Final Thoughts
Both 105mm lenses and 85mm lenses have their benefits, but the 85mm lens is a better all-rounder.
When you're in fine art photography or are a celebrity photographer, you can splurge on slight improvements that cost (and weigh) significantly more. For now, go with an 85mm lens.
Check out to see which lens is better for portraits between 35mm vs. 50mm in this article here!
Sources
Last update on 2021-10-04 / Affiliate links / Images from Amazon Product Advertising API