When it comes to podcasting, aside from the essentials such as a microphone and whatever you're using to record the episode, headphones are an essential – yet underrated – piece of equipment.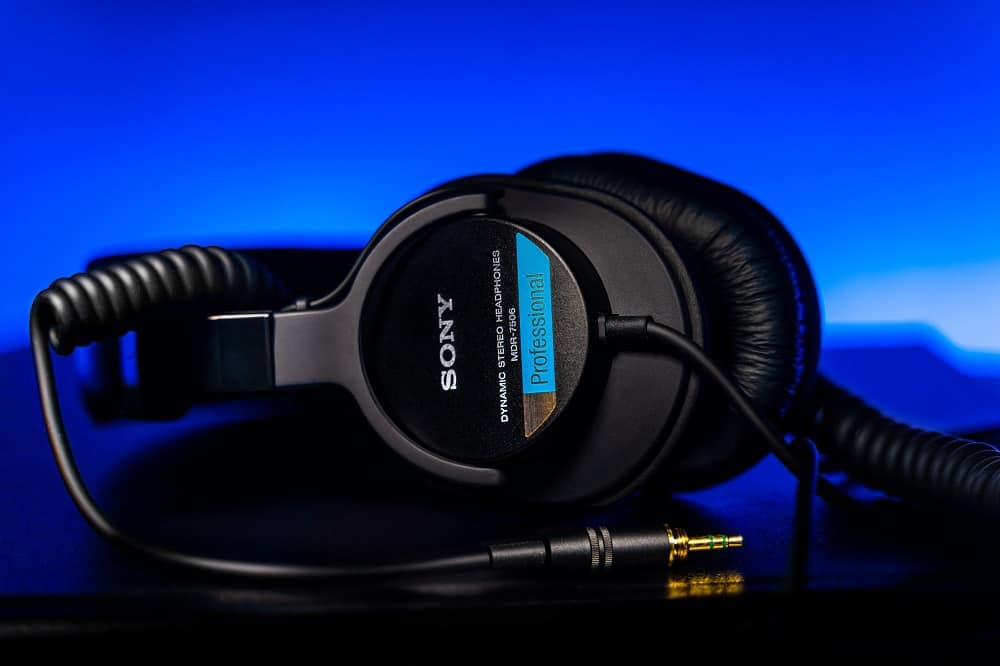 There are several reasons why you should be using headphones for podcast recording: firstly, they'll allow you to hear yourself how others do, so you'll have better control over how you sound.
Secondly, they'll improve your mic technique in the long run, and thirdly, a good pair of noise-isolating headphones will make your editing process a lot easier.
However, you might be wondering where to start when it comes to choosing a good pair of headphones for podcasting. Not to worry, as we've got you covered.
We've scoured the internet for the best podcasting headphones on the market, and have provided you with everything you need to know about them to make your decision easier. At the end of this article, you'll also find a Buyer's Guide and Frequently Asked Questions section.
Sony is one of the most iconic and trusted brands when it comes to sound recording and audio equipment, and the MDR7506 headphones do not disappoint, offering high quality at a reasonable price.
The neodymium magnet provides excellent power-handling, while the 40-millimeter drivers deliver high-quality sound, with a wide frequency response of 10 Hz – 20 kHz, allowing you to enjoy crystal-clear highs, present mids, and an extended low-end.
They also feature a durable, rugged design and convenient folding construction making them ideal for home use and for listening on the go.
The closed-ear design of the MDR-7506s provides excellent noise isolation and comfort during long recording and editing sessions, while comfort is enhanced by the generous headband padding which prevents rubbing and irritation.
The 9.8-foot coiled cord also provides flexibility when working, so you're not constantly removing your headphones and then putting them on again.
Pros
40-millimeter drivers deliver high-quality sound
Wide frequency response of 10 Hz – 20 kHz
Foldable, durable, rugged design
Excellent noise-isolation
Long-lasting comfort
Cons
The earpads are a little bit thinner than other models
Sale
Sony MDR7506 Professional Large Diaphragm Headphone
Neodymium magnets and 40 millimeter drivers for powerful, detailed sound
Closed ear design provides comfort and outstanding reduction of external noises
9.8 foot cord ends in gold plated plug and it is not detachable; 1/4 inch adapter included
Last update on 2022-11-25 / Affiliate links / Images from Amazon Product Advertising API
Bose is the leader when it comes to high-end headphones, and while they do come with a steeper price tag attached, the QuietComfort 35 II headphones boast a noise-isolating technology no other headphones can compete with.
They feature three levels of world-class noise cancellation for a better listening experience in any environment, as well as a noise-rejecting, dual-microphone system for clear sound and voice pick-up.
The QuietComfort 35 II wireless headphones are now enabled with Bose AR, a multi-directional motion sensor that can provide contextual audio based on where you are.
They're also BlueTooth compatible for easy, wireless listening, and have 20 hours of battery life which more than accommodates long editing or recording sessions. There's also Alexa-enabled voice access to music, information, and more, as well as a range of personalized settings.
Pros
Three levels of adjustable noise isolation
Dual-microphone system for clear sound/voice pick-up
Bose AR technology
Bluetooth connectivity for wireless listening
20 hours of battery life
Cons
They're a little expensive compared to other options on the market
Last update on 2022-11-25 / Affiliate links / Images from Amazon Product Advertising API
These Audio-Technica headphones have been praised by top audio engineers and pro audio reviewers alike.
They feature exceptional clarity throughout an extended frequency range, with a deep, accurate bass response and circumaural design contours around the ears for excellent sound isolation even in loud environments.
The 90-degree swiveling earcups allow easy one-ear monitoring during the editing phase, and professional-grade earpads and headband material deliver more durability and comfort, while the folding design allows you to easily pack them in your bag so you can listen on the go.
These headphones are wired, though you have the option of adding a Bluetooth adapter so that you're cable-free, giving you the best of both worlds.
Pros
Exceptional clarity throughout the frequency range
Deep accurate bass response
90-degree swiveling earcups
Foldable, portable design
Option to add BlueTooth connectivity
Cons
Some people complained that these were uncomfortable after hours of listening
Last update on 2022-11-26 / Affiliate links / Images from Amazon Product Advertising API
Designed for professional audio monitoring, these closed, around-the-ear headphones boast an extremely robust construction with collapsible, swiveling ear cups for maximum flexibility. They have a lightweight, ergonomic design and the padded ear cups provide up to 32 dB of passive noise isolation.
The HD230PRO headphones boast extended frequency response and warm, natural sound reproduction. What's more, the ear pads, headband padding, and audio cord are easily replaceable, maximizing durability.
Considering these headphones are under $100, they provide a great bang for your buck, and the quality they offer resembles what you'd expect from a more expensive pair of headphones.
Pros
Collapsible, swiveling ear cups
32 dB of passive noise isolation
Extended frequency response
Easily replaceable components
Warm, natural sound reproduction
Cons
Lacking in bass, making them less ideal for casual listening
Sale
Last update on 2022-11-26 / Affiliate links / Images from Amazon Product Advertising API
A cheaper alternative to the Audio-Technica ATH-M50Xs, the ATH-M30x headphones are proof that you don't need to break the bank to get a pair of high-quality headphones.
These headphones feature circumaural design contours around the ears for excellent sound isolation in loud environments, and they're also tuned for enhanced detail, with excellent mid-range definition, making them ideal for podcasting.
They also feature a durable, collapsible design with the advanced build quality and engineering and 40-millimeter drivers with rare earth magnets and copper-clad aluminum wire voice coils for great audio quality.
While there'll be some difference in quality between these headphones and the more expensive ATH-M50Xs, the gap is not as vast as you'd expect, and the M30xs provide great bang for your buck.
Pros
Great affordable price point
Circumaural design contours for noise-isolation
Durable, collapsible design
Tuned for enhanced details
Cons
Highs and bass suffer slightly
Last update on 2022-11-26 / Affiliate links / Images from Amazon Product Advertising API
Buyer's Guide
Comfort
When it comes to headphones, whether you're looking for work or casual use, one of the most important factors to consider will always be comfort. Nobody wants to wear headphones that apply too much pressure to the ears and even cause headaches.
Pay attention to how much padding the headphones have, as well as the size of the ear cups and the material the headband is made from. Some models will have mounds of plush memory foam on the band and cups, whereas others will cut corners and use cheaper materials.
Sound Isolation
Even in the quietest of places, there can be low-level sounds that audio equipment manages to pick up. A good pair of headphones can make all the difference when it comes to blocking out sounds such as traffic, fans, or any other annoying sounds.
Noise-isolating headphones use physical barriers such as thicker padding to block out background sound.
Today you'll also see a lot of noise-canceling headphones on the market, but be wary of these for podcasting as they use a technology that captures outside noise and inverts it inward to cancel it out, and this can leave you with weird compressed audio.
Frequency Response
Headphone frequency response is the range of sound that your headphones pick up. You'll want a flat frequency response that filters out additional sounds like an increased bass response while providing accurate audio playback.
Look for headphones in the range of 20 Hz- 20 kHz. You won't require a wider frequency range for spoken word, and these will come with a higher price anyway.
Wireless or corded
There are pros and cons to both wireless and corded headphones. Corded headphones don't require charging, whereas wireless ones do, however, corded headphones tend to be restrictive if you move about a lot.
That said, if you're using them mainly in one place and in a studio, this is less of a concern. Wireless headphones allow you ultimate freedom and flexibility, however, you need to ensure that you've charged them up, particularly before long sessions.
Closed-back or open-back
Closed-back headphones are better suited to podcasters, as they feature ear cups that are closed and solid to prevent noise from leaking out – or other sounds drifting in.
On the other hand, open-back headphones allow air and noise to move through the ear cups, which may be great for gaming but less so for recording a podcast.
Price
Generally speaking, the more you're willing to spend on headphones, the better sound quality you'll get. That doesn't mean headphones have to cost the earth, however.
You can get a good pair of headphones regardless of your budget, but for ones that will offer superior noise isolation and audio quality for podcasting, we'd recommend shopping in the $50-$150 range.
Why you should use headphones for podcasting
Still not convinced you to need headphones for podcasting?
Headphones allow you to hear your audio and voice how your audience hears it, which gives you more control over your podcast production.
While you can record a podcast without headphones, you may cause more issues for yourself later down the line when it comes to editing.
Here are three ways headphones help you achieve better podcast audio.
Headphones will improve your mic technique
With headphones you can hear yourself clearly, making it a lot easier to monitor your plosives, popping, and how you say other hard consonants that can have a jarring effect. Even with a pop filter, these issues can occur, so the best way to hone your mic technique is by monitoring your audio.
If you have a guest on your show, headphones are even more important as they can be a big help for nervous guests who have limited experience behind a mic. With a pair of headphones, they can get a better feel for how close they should be to the mic, as well as where their volume level is.
In short, wearing headphones while you record allows you to monitor your mic technique and potentially prevent issues occurring later on – for example, the last thing you want is to listen back to your interview and realize it's unsavable because of an issue that could have been prevented.
Headphones help you notice and reduce ambient noise
Headphones will not only enable you to monitor your mic technique, but they can also improve your overall audio quality.
High-quality headphones will detect more frequencies than the human ear, allowing them to pick up any background noise such as distracting hums, buzzing noises, or other ambient noise you wouldn't be able to pick up, therefore producing cleaner audio.
Even in a sound-proofed studio these subtle buzzes and hums will occur, so headphones are the only way to hear your audio accurately, and if your headphones are noise-isolating, even better, as they'll filter out these annoying sounds that can come from places like your computer fan, air conditioner, or the outdoors.
Headphones can reduce time spent editing
Paired with a quality mixer, using headphones can save you time spent editing in post-production.
Using headphones can enable you to edit audio levels on the front-end of your recording, and, while some sound issues are easy to fix, it's best to prevent them from occurring in the first place if possible.
Benefits of using headphones for podcasting:
Hear how you sound and improve mic technique
Control audio levels
Isolate noise
Cut editing time
Help your guests control their volume levels
Frequently Asked Questions
Do you need headphones for podcasting?
While it's possible to record a podcast without headphones, it makes sense to use them as they can enhance your recording and editing experience in so many ways.
Using headphones allows you to hear your voice the way it sounds to listeners, and this will prevent any surprises when it's time to edit. Basically, headphones allow you to monitor your audio as you record and can help you prevent sound issues in the early stages, to save yourself work later on.
Are open-back headphones good for podcasting?
Open-back headphones can produce a high quality of sound, but they're not necessarily best-suited to podcasting as they run the risk of sound leakage.
If you monitor with open-back headphones while podcasting, your microphone will
likely pick up the leakage from the headphones alongside your live voice.
This can lead to echoing and other undesirable sound effects in your audio recording. Closed-back headphones provide far better protection and sound isolation, so they're definitely the most sensible choice when it comes to podcasting.
Can you use earbuds for podcasting?
While earbuds are better than no headphones at all, they're not really designed for podcasting, and they won't provide the desired level of noise isolation required for producing clean-sounding audio.
Because earbuds go inside your ears rather than over them, the sound from earbuds can leak through your speakers, creating a bleed that your mic can pick up.
They also tend to be lower-quality than closed-back headphones and you'll find it hard to monitor the frequencies of your recording, making adjustments difficult and less accurate.
A pair of quality headphones will help isolate ambient noise and will enable you to easily edit and adjust your audio, plus you won't get the frustrating audio bleed that comes with earbuds.
While earbuds are fine for casual listening, we definitely recommend a pair of quality over-ear headphones for podcasting, as these will give you maximum control over your levels so you end up with a cleaner, better sound quality.
Why do people use headphones when podcasting?
It's simple, people use headphones for podcasting because they provide better control over your audio.
Wearing headphones allows you to monitor your audio levels and improve your microphone technique, and by hearing what is being recorded as it's happening you have complete control over your sound, which can help you remedy things that could become bigger issues later on in the editing process.
You can also better control your volume levels. If you sound too muffled you can simply pull away from the microphone or if you sound distant, draw closer.
Final Say
If you want to produce your podcasts to a professional standard, using headphones is necessary. Headphones are one of the simplest ways to have better control over your audio, isolate any ambient noise, and improve your mic technique.
While earbuds are OK, they won't be nearly as effective as proper, closed-back, noise-isolating headphones. Recording without headphones means you run the risk of causing more issues for yourself – and as a result, more editing work – later on down the road.
Thankfully, there is a wide range of headphones on the market that cater to different budgets.
Whether you're looking for top-end headphones that come with a steep price tag, or more budget-friendly alternatives, there's something out there for everyone, and a pair of quality headphones will make the world of difference to your podcast recording experience.