Music production is technical and rewarding in equal measure. Producers must use high-quality equipment to ensure the recorded audio retains its quality and frequency regardless of where it is played. Although producers prefer using studio monitors, is it possible to produce music entirely with headphones?
It is possible to produce music with headphones, provided you use high-quality studio headphones. Professional studio headphones can help you monitor the audio in different systems to get a feel of how a record would sound when played on various devices.
If you're still reading, chances are you're contemplating using headphones to produce music. In this article, I'll discuss everything you need to know about producing music with headphones, naming some of the best products in the market.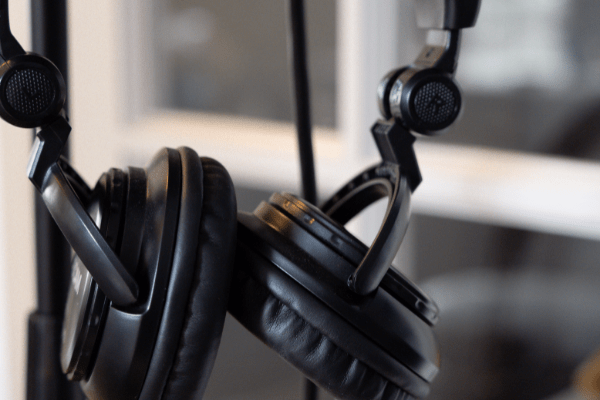 Can You Produce Music Using Headphones Exclusively?
While you can produce music using headphones exclusively, doing so isn't advisable because music production usually has little room for error, hence the need to critically analyze a track during production.
Most headphones tend to be passive, such as home speakers, meaning they receive power from a standalone amplifier.
Studio monitors are widely preferred because they have several power amps in a single unit, meaning the midrange, tweeter (treble), and woofer (bass) cones are individually powered, thus allowing for a more precise, balanced sound.
The use of headphones in music production isn't completely prohibited.
Every now and then, producers need to sample tracks using different devices to feel how the final version will sound. And since headphones and earphones are widely used in listening to music, having a pair of quality headphones can help give you an edge when producing music.
So what if you want to produce music using professional studio headphones? Again, although producing music using headphones exclusively isn't recommended, using professional studio headphones will help reduce the chances of error.
Put simply, if you must produce music using headphones, it's best to use professional studio headphones.
Check out my list of the Best Studio Headphones sub $50.

Challenges of Using Headphones in Music Production
Using headphones in music production comes with its challenges, such as creating an imbalanced sound and suffering from ear fatigue. Let's take a look at some of these challenges right now.
Imbalanced Sound
One great disadvantage of using headphones to produce music is the closeness of the speaker to the ear. To enhance user safety, headphones speakers are more often than not manipulated to avoid sounding too loud.
Most headphones usually have a reduced capacity to play high-frequency sounds (due to ear safety concerns). Since headphones have tiny speakers, they struggle to reproduce low-frequency sounds, instead of boosting bass frequencies.
Ear Fatigue
Another reason why music producers prefer using studio monitors is to avoid ear fatigue.
Remember, music production involves listening to the same audio for several hours on end, and using headphones might make the process fairly uncomfortable, leading to a common short-term condition called ear fatigue.
Most professional studio headphones come packed with comfort-enhancing features that help reduce the chances of gradual fatigue after prolonged listening. Therefore, to avoid ear fatigue or reduce the chances, it's best to use studio-grade headphones if you can't access a studio monitor.
Difficult To Play Loud Audios
With a studio monitor, it is fairly easy to replicate a club or loud noise environment and assess the track's balance, neatness, and clarity.
This is because studio monitors are designed to play out both low and high-frequency tracks, meaning you can edit tracks in both high or low volumes.
Contrastingly, headphones tend to be more rigid when it comes to volume flexibility, and a headphone's loudest volume will not be enough for a producer to detect potential flaws or issues with a raw recording.
Check out my list of the Best Studio Headphones sub $100

.
What To Look For in Headphones for Music Production
Before we take a look at some of the best headphones in the market, it's crucial to know what features or factors you should consider when buying headphones for music production.
Below are key features to consider when shopping for music production headphones.
Proper Isolation
As a music producer, you'll need headphones that don't leak sound to your recording space, which means going for closed-back headphone

designs, specifically, those designed to isolate sound and prevent leakage is highly advisable.
However, if your plan is to create music through electronic sources like samples, loops, and beats, or edit pre-recorded audios, then you can even use open or semi-open studio headphones.
Sonic Neutrality
Studio monitors are usually designed to critically assess sound quality based on the signal they receive, which explains why studio monitors are preferred for music and audio production as opposed to listening to hi-fi speakers.
The idea is to use a headphone that will relay the signals as accurately as possible, which will, in turn, allow you to correct any errors as you balance accordingly. Standard headphones tend to 'flatter' the music, making it sound louder or more balanced in terms of bass and treble.
Luckily, studio headphones are designed to be sonically neutral, which allows you to produce as you would using a studio monitor.
Check out my guide list to the Best Open Back Headphone

What Headphones Are Great for Music Production
Below are some of the best headphones for music production in the market.
The Audio-Technica ATH-M50X is, without a doubt, among the best studio headphones based on sonic performance.
Both audio engineers and reviewers appreciate the headphones' clarity when playing different types of audio. The headphones also feature a unique circumaural

design that strategically contours around the listener's ears for enhanced comfort.
Pros
Comes with earcups that can swivel up to 90 degrees for simplified one-ear monitoring.
Features a unique circumaural design that contours carefully around the ear for increased noise isolation.
Professional-grade headband material and ear pads allow for enhanced comfort.
Great clarity across different frequency ranges.
Cons
Sounds different when played in wireless mode.
Audio-Technica ATH-M50X Professional Studio Monitor Headphones, Black, Professional Grade, Critically Acclaimed, with Detachable Cable

Critically acclaimed sonic performance praised by top audio engineers and pro audio reviewers
Proprietary 45 millimeter large aperture drivers with rare earth magnets and copper clad aluminum...
Exceptional clarity throughout an extended frequency range with deep accurate bass response
Last update on 2023-06-03 / Affiliate links / Images from Amazon Product Advertising API
If your budget isn't an issue and you want a world-class, highly durable set of music production headphones, then you need to not look any further than the Sennheiser Open Back Headphone.
This professional studio headphone by Sennheiser features lower impedance transducers that help reduce harmonic distortion when playing audios of different frequencies.
Pros
Delivers transparent and exceptionally accurate sound for demanding music producers.
Boasts an open-back design that's strong and lightweight for enhanced comfort during use.
The headband is thickly padded to provide hours of comfort.
Dynamic with a balanced and extended high and low-frequency response.
Comes with two detachable cables that ensure signal integrity.
Includes a fairly long 3-meter cable that allows for increased flexibility.
Cons
Costlier than most headphones around.
Sale
SENNHEISER HD 660 S - HiRes Audiophile Open Back Headphone

Reference class open back, dynamic headphone employing new and improved transducers delivering low...
Transducers are hand selected for precise (1 dB) left / right matching tolerance insure exceptional...
150 ohm nominal impedance allows direct connection to home and mobile Hires audio devices. Contact...
Last update on 2023-06-03 / Affiliate links / Images from Amazon Product Advertising API
Sony needs no introduction when it comes to the manufacture of high-quality audio and video devices. And true to Sony's solid reputation, the Sony MDR 7506 doesn't disappoint.
This professional-grade set of headphones boasts a comfortable design and also features 40mm drivers and neodymium magnets that allow for the reproduction of detailed, frequency-sensitive sound.
Pros
Comes with a stereo adapter plug that allows for increased flexibility during usage.
The closed-ear design provides great isolation.
The padded headband and ear cups provide unrivaled comfort even when used for extended periods.
Folding designs increases portability and usability.
Versatile frequency response ensuring users benefit from present mids, extended lows, and clear highs.
Cons
Might require some getting used to, especially for first-timers.
The padded ear cups aren't the most durable.
Sony MDR7506 Folding Professional Closed Ear Headphones Bundle with Stereo Headphone Amplifier with DC 12V Power Adapter and Stereo Aux Adapter (5-Pack) (3 Items)

Bundle Includes: Sony MDR7506 Folding Professional Closed Ear Headphones, Compact 4-Channel Stereo...
Studio Headphones: Neodymium magnets and 40mm drivers for powerful, detailed sound
Comfortable Design: Closed-ear design provides comfort and outstanding reduction of external noises
Last update on 2023-06-03 / Affiliate links / Images from Amazon Product Advertising API
Final Takeaway
If you must produce music with headphones, then it's best to use professional-grade headphones because ordinary headphones don't have the sonic neutrality needed to critique different sound frequencies.
Additionally, standard headphones also have poor noise isolation properties, which can lead to in-studio interferences.
For best outcomes, it is advisable to interchange between studio monitors and headphones when producing music. However, headphones are also sufficient enough to get the music production job done, especially if you use high-quality headphones with production-friendly features.
For more information, check out whether you need a studio to make music.

Sources
Was this article helpful?
Recent Posts
link to How To Allow QuickTime To Access Microphone 🎙️  
QuickTime is a vital app for many Mac users, and if you've recently bought a new microphone, you might wonder how to use it optimally. QuickTime cannot record audio content if it doesn't have...
link to How Do I Test My Microphone? 🎙️
Every microphone leaves a unique signature on the quality of its output. If you're a podcaster trying to melt your way into your audience's hearts, a muddy, distorted recording won't cut it....