Studio headphones offer listeners amazing sound quality and clarity when compared to earbuds or other headphones.
This is because their larger construction and bigger drivers naturally give better sound quality, but they also help isolate exterior noise and interference which makes it much easier to listen to and enjoy music even in disruptive or noisy environments.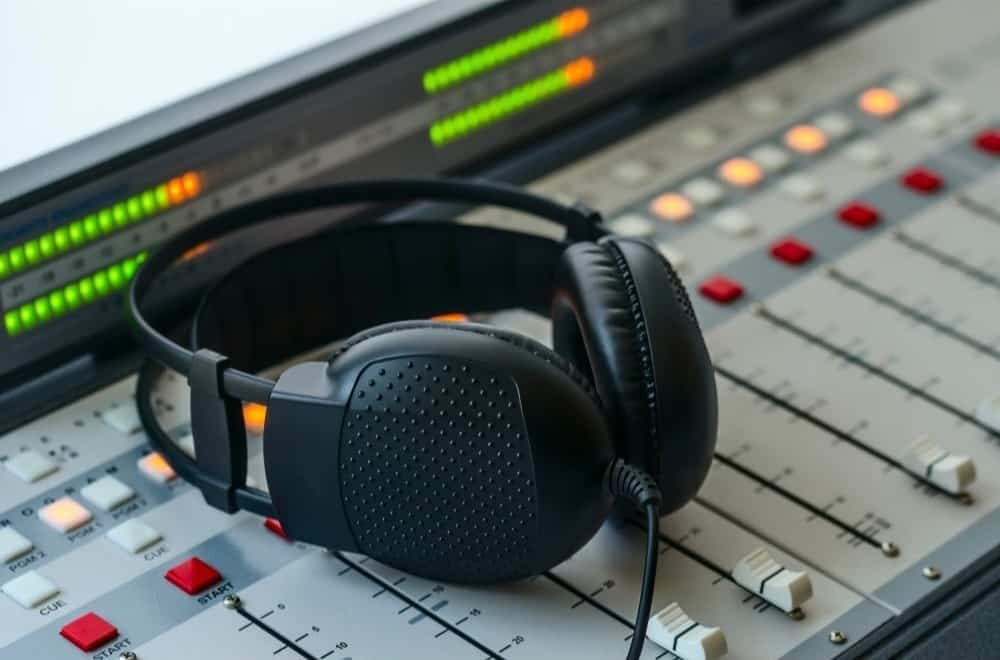 Studio headphones take their name from the professional studio environments they're commonly used in, where it's really important for musicians and recording artists to be able to hear every detail of the sounds they're working on.
Without the additional sound quality and isolation, these headphones provide, their ability to engineer that perfect sound is compromised.
This is the great strength of studio headphones

, and it's what makes them such a popular choice among serious audiophiles or those who travel in noisy, crowded environments such as the city or public transport.
But there are a lot of different headphones out there, many brands offering superb quality and many features that can be confusing. This makes purchasing the right set of headphones quite a difficult task, especially with the unexplained jargon that surrounds these products.
The truth is that earbuds are often flimsy and offer very low-quality capabilities in terms of sound quality, Their portability is their main draw, but studio headphones offer far better durability and capabilities compared to their smaller counterparts, and while they may not be quite as easily concealed, their purpose is to bring superior quality while still being portable enough if needed.
In this article, we're going to look at some of the best studio headphones available for under 50 dollars, many of which come with a surprising number of features.
This price range is definitely among the entry-level when it comes to studio headphones, but these options deliver quality far above their price and often surpass the expectations of such reasonably priced headphones, largely due to their focus on sound quality rather than additional flashy but ultimately unneeded functionality.
We're going to look at what makes these headphones so great for their price, highlighting important features as well as explaining what to look out for in great headphones through the buyers guide at the bottom of this article.
Here we'll look at exactly what makes a great set of studio headphones and also include some additional information through the FAQ where we will address some common questions about these products.
Without any further introduction, let's take a look at the headphones themselves and the core features on offer.

Audio Technica is one of the biggest names in the audio world, so it's no surprise they offer one of the best pairs of entry-level studio headphones available.
These cans offer everything you could need at a very attractive price, including 40mm drivers powered by Neodymium magnets which give superb sound quality, and a 96dB sound sensitivity for superb clarity.
The cushioning of the headband and ear cups are excellent, with ample insulation and comfortable materials making it easy to wear these headphones for several hours without feeling any discomfort at all.
The adjustability is also superb, with maneuverable cups and plenty of headband space for bigger or smaller heads.
They also offer superb sound isolation thanks to their closed-back design, which makes it easy to block out external noise and focus on your audio whether you're in a professional or casual environment, which is exactly what studio headphones need to do.
The connection wire is long and sturdy and the connection is a standard 3.5mm audio jack, with a snap-on adapter for use with instruments and other recording devices, a sign of its intended recording studio audience.
Pros
40-millimeter drivers
Neodymium Magnets
Good cushioning
Good adjustability
96 dB Sensitivity
Cons
Sale
Audio-Technica ATH-M20X Professional Studio Monitor Headphones, Black

Advanced build quality and engineering Designed for studio tracking and mixing
40 millimeter drivers with rare earth magnets and copper clad aluminum wire voice coils
Tune for enhanced low frequency performance
Last update on 2023-09-27 / Affiliate links / Images from Amazon Product Advertising API

Tascam is another very popular and well-known brand, who have a great reputation for producing excellent microphones in particular. However, these headphones also live up to their pedigree as an excellent audio brand, with some amazing features at a truly superb price point.
The first thing you'll notice is that these headphones are a closed-back design which makes their sound isolation superb. There is also ample cushioning on the headband and ear cups which makes them a great and comfortable fit over long listening sessions, which is perfect for recording, commuting, or even gaming.
The design is also foldable which makes them very portable and easy to store which is excellent.
The sound quality is also superb thanks to amazing 50mm drivers which provide rich bass and crisp high tones which never sound tinny, and all this amazing sound is perfectly protected by the sound insulation features mentioned above.
They have a superb 98dB sensitivity which also gives them superb sound quality and a very long cable which is 3.5mm as standard with an additional 6.3mm snap-on attachment for use with guitars or other recording equipment.
The understated nature of these headphones and their classic design make them an amazing choice for entry-level audiophiles or beginner musicians who need no-frills quality audio.
Pros
Foldable
Comfortable Headband and Ear Cups
Rich Bass Response and Crisp Highs
50 mm Drivers
98dB Sensitivity
Cons
Sound isolation could be better
Tascam TH-02 Closed Back Studio Headphones, Black Medium

Foldable design for easy, compact transport
Tightly-stitched, padded headband and ear pads for stylish comfort
Closed-back dynamic design with clean sound, rich bass response and crisp highs
Last update on 2023-09-27 / Affiliate links / Images from Amazon Product Advertising API

The Koss QZ-99 headphones are a very sturdy noise isolating design with solid closed cups and an array of excellent additional features.
The first thing to note is that the sound isolation on these headphones is some of the best available, with a purpose-designed cup shape for defeating and mitigating external audio.
The neodymium magnets provide an excellent sound quality with clean tones and a great frequency range.

The on-ear volume controls make it very easy to adjust volume even while traveling or playing, and there is also a handy stereo/mono switch to allow you to switch seamlessly between the two formats for various situations while playing or recording.
The ear cups are fairly comfortable despite their large size, however, the headband isn't as comfortable with a strangely exposed foam padding that feels scratchy and a little rough around the edges which makes long-term use a little less comfortable than it could be.
The cables are long and sturdy with standard connectors for use with various devices.
Pros
Passive Noise Reduction Design
Neodymium Magnets
On-Ear Volume Control
Stereo/Mono Switching
Comfortable Ear Cups
Cons
Padding could be better on the headband
Sale
Koss QZ-99 Noise Reduction Stereophone, Standard Packaging,Black

Passive Noise Reduction Headphones.Connectivity Technology: Wired
Neodymium Magnet Structures Deliver Outstanding Clarity & Definition
Closed Pneumalite(Tm) Ear Cushions & Extra Secure Headband Seal Ears, Eliminate All Ambient Noise
Last update on 2023-09-27 / Affiliate links / Images from Amazon Product Advertising API

This offering by Samson Technologies is a little different than some of the other headphones in this list as it's a semi-open backed design which has some implications for the overall performance of these speakers.
The noise isolation isn't as comprehensive as some of the other designs which use a full closed cup design, however, the SR850's are lighter and have less ear fatigue than heavier fully closed designs.
The 50mm drivers are superb and use neodymium magnets as you'd expect from a quality brand. The ear cups are well cushioned and while the headband is a little less well protected it's comfortable and very adjustable which makes these a versatile option for all head sizes.
Pros
50mm drivers
High-Frequency Response
Neodymium Magnets
Semi-Open Design for Good isolation and reduction of ear fatigue
Comfortable ear cups
Cons
Headband isn't padded for comfort
Samson Semi Open-Back Studio Reference Headphones, Black, Over Ear (.)

Professional studio Reference semi-open headphones designed for tracking, mixing, mastering and...
Proprietary large 50mm drivers with rare earth magnets deliver an extended frequency response and...
Circumaural, over-ear, design with velour cushioning provides outstanding comfort for long listening...
Last update on 2023-09-27 / Affiliate links / Images from Amazon Product Advertising API

This option from Edifier is another sleek closed-back design with some great features including 40mm drivers and 90dB sensitivity which gives great frequency response and good tonal balance across a wide range of frequencies.
The adjustability is good and the cushioning, particularly on the head cups makes these headphones comfortable for use at home or while traveling.
The downside is that the sound isolation could be better, however, they do come in a few different colors which is a nice touch seldom found among studio headsets.
Pros
Good Adjustability
40mm Driver
90dB Sensitivity
Mid-range frequency response with good balance
Various colors available
Cons
Noise isolation could be better and headband padding isn't great
Edifier H840 Audiophile Over-The-Ear Headphones - Hi-Fi Over-Ear Noise-Isolating Audiophile Closed Monitor Stereo Headphone - Black

Professional sound - 40mm driver units fine tuned for quality sound output in enclosed ear cups
Comfort matters - Ergonomic fit with over-ear design of lightweight body, comfortable soft leather...
Solid Build - Leather headrests with steel reinforced headband for flexibility and durability
Last update on 2023-09-27 / Affiliate links / Images from Amazon Product Advertising API
Buyers Guide
Finding the right pair of studio headphones at the right price is very difficult due to the highly competitive nature of these products. There are a huge array of great well-established brands and upstarts producing some very high quality and affordable studio headphones.

The rise of the Bluetooth headphone has also seen studio headphones become a little less popular making them more accessible.

There is a range of features to look out for in a quality pair of studio headphones, and in this section, we're going to highlight what to look out for so you can get the best product possible.

There's also an FAQ below that answers some commonly asked questions that often confuse people who are new to high-performance audio products.
Sound Quality
The single most important aspect of a good studio-quality headphone is the audio quality and performance.

This is what sets these headphones apart from earbuds or Bluetooth headphones, and makes them a favorite among recording artists and musicians.

The superior sound quality of these headphones is achieved in a few ways, but key things to look out for are a good frequency range, good sensitivity, superior noise isolation, and well-made drivers.

Good frequency ranges start at around 20Hz to 20000KHz, giving a broad range capable of producing a superior and crisp sound, while good sensitivity starts at around 90dB. Closed-back headphones are best for superior noise isolation, and quality drivers will be at least 40mm and typically use rare metals like neodymium to give a quality sound.
All of these features are present on the headphones in this list and make for a great product that will allow you to enjoy music or film in amazing clarity in almost any environment.
Comfort
An often overlooked feature of headphones is how comfortable they are. This is a really important and often overlooked feature of studio headphones.
This style of headphones is typically used for long listening sessions where musicians or audiophiles want to listen to playlists or albums and really indulge in the musical experience, so the comfort the headphones provide is key to allowing for long listening times.
The first thing to note is the adjustability of the headband and ear cups, as this will determine how versatile a headphone is and how easily it adjusts to fit different types of heads.

After adjustability, the padding on the ear cups and headband are really important to note, as these are the parts of the headphone that will be putting pressure on your listener's head. Adequate padding and soft materials make this comfortable but are sometimes lacking which can spoil the whole experience of using headphones.
Finally, the shape of the cups and their ability to fit over or on top of the ear is key. Typically these headphones are over-ear designs, but some may sit on the ear if the cups are too small, which can also be uncomfortable over long listening periods.
Paying attention to these design choices is a great way to judge how comfortable your potential new headphones will be and ensure you can use them for long periods of time quite easily.
Portability
The portability of headphones is a key point, and while they will never be quite as portable as much smaller earbud designs, it's still useful for them to be able to be carried around easily.
Many designs will be foldable, allowing you to easily fit your headphones in your bag, case, or pocket quite easily for times when wearing your headphones around your neck isn't possible.

This makes using your headphones for travel or while out much more practical and allows you to benefit from all the quality of these devices without having to deal with awkward and cumbersome headphones.

Not all designs have this portability, so paying attention to this is key for those customers who value portability and want to use their headphones while traveling.
Noise Isolation
Noise isolation is one of the key advantages studio headphones have over smaller more portable earbuds or Bluetooth headphones.

It's a passive way to reduce or totally eliminate outside noise pollution and interference, meaning your music and audio has the best possible environment to be listened to in, increasing the sound quality of your headphones and giving you a truly impressive audio experience.
This is something that is best achieved with a closed-back design and specially designed cups, however, even semi-closed-back designs will have decent noise cancellation making this a key feature to look out for in a great pair of studio headphones.
Controls

Being able to control your headphones conveniently is an additional tool that is well worth looking out for and makes using your headphones much easier when on the go. Typically controls are placed on-ear or on the wire of the headphones, but not all headphones offer this utility so be sure to check this.
F.A.Q
What is noise isolation?
Noise isolation is one of the most important features of a good over-ear headphone and is arguably one of the benefits of their additional weight and size.
Noise isolation is essentially how insulated your ears are from external sound while wearing headphones, and means that the sound you're actually listening to in the headphones will be clearer and less muddied by unwanted noise.

The result is a much cleaner soundscape, where you're able to fully appreciate what you're listening to.

Noise isolation is often confused with noise-canceling, however, these are two different features. Noise isolation is passive, in that it is achieved simply by the design of the headphones and their cups, which are often shaped and insulated to block external sound, but don't use any actual electrical technology to reduce external noise.
Noise-canceling is active, in that it's a specific technology that is powered by electricity and isn't simply a passive feature. Noise cancellation is often a bit better at blocking out sound but noise isolation still does a superb job at controlling noise and keeping your audio experience high quality and undisturbed.
What are drivers?
Drivers are a key part of the headphone and are what actually turn the digital/electrical signals of your music into actual physical sound. They are essentially the actual 'speaker' component of the headphones and are made up of a few different components.
The magnets are responsible for creating a magnetic field that enhances the sound quality and is often made of rare metals which make the magnets stronger and enhance the audio quality further.
The coils are used to receive the electrical current and actually move the diaphragm which creates the physical sound you hear. Coils essentially turn the electrical signals into actual sound and are often made from various materials, such as HI-OFC or PCPCC.
Finally, there is the diaphragm which produces the sound and is a thin membrane that vibrates to create sound.
What does frequency response mean?
This is the range of frequencies or tones that headphones are capable of producing. A wide range of frequencies means your headphones will be able to accurately create sound at a good quality, depending on the flatness of the response. Generally, variations of around 3dB are considered fine, particularly at this price point.
Was this article helpful?
Recent Posts
link to How To Allow QuickTime To Access Microphone 🎙️  
QuickTime is a vital app for many Mac users, and if you've recently bought a new microphone, you might wonder how to use it optimally. QuickTime cannot record audio content if it doesn't have...
link to How Do I Test My Microphone? 🎙️
Every microphone leaves a unique signature on the quality of its output. If you're a podcaster trying to melt your way into your audience's hearts, a muddy, distorted recording won't cut it....