Open-backed headphones are often used in music studios and offer an increased dynamic range of sound. These headphones have proven to be quite valuable when recording instruments or mixing music. For many, open-back headphones are superior.
Open-back headphones sound better than closed-back headphones because they allow sound to escape more freely. Sounds aren't muffled with closed-back headphones, resulting in a clearer and more immersive listening experience.
Many features and elements work together to give open-back headphones an edge over their closed-back counterparts. Let's look at these characteristics to see how and why they produce better sound than their closed-back counterparts.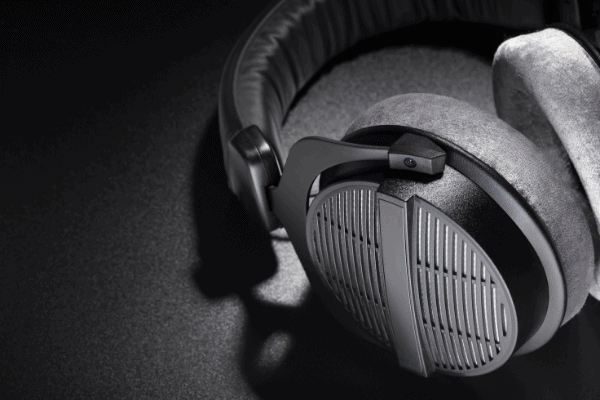 Why Is the Sound Quality of Open-Back Headphones Better?
Headphones date back to the late-1800s and have come a long way since they weighed 10 pounds (4.54 kg) and were used by phone operators. Over the years, headphones' quality became higher, and open-back headphones are an example of this evolution.
Just what is it that makes this particular type of headphones so good? Let's take a look at all the benefits that come together to improve the sound and comfort of open-back headphones.
Open-Back Headphones Have Advanced Drivers
The driver of any set of headphones is the most critical unit because it's what converts electrical signals into the sound you hear. Drivers affect the way sound is presented to users, which is why the quality differs. It is how you perceive the sound and provides you with a sense of where the sound comes from.
You can think of the drivers as small loudspeakers inside your ears. It is made of three parts: the voice coils, magnet, and diaphragm. Manufacturers of open-back headphones have made more advancements when it comes to these drivers. Because the drivers of open-back headphones are superior, they give users better sound quality.
For instance, many designs and technologies are on offer when you buy open-back headphones that you can't get from the closed-back versions. The most significant difference is the enclosure of the drivers, as the design allows for better ventilation of air. When the driver can 'breathe' freely, unaffected by pressure, it results in improved air vibration and improved sound quality.
Check out my list of the Best Studio Headphones

Music Sounds More Realistic Through Open-Back Headphones
When you're listening to music or sounds through an open-back headphone set, you get a more open and natural sound. This makes it feel as if the sounds are all around you, and you can hear more of the details and finer sounds that might be missed with closed-back headphones. Users enjoy this kind of 'escapism' and enhanced experience with open-back headphones that sets them apart from their closed-back counterparts.
We mentioned earlier that you could imagine open-back headphones as small loudspeakers in your ears. That's because, essentially, the headphones simulate precisely that effect. The listening experience isn't exactly the same, but it feels similar in a more natural sense.
Design Allows for Better Sound (and Improved Comfort!)
Closed-back headphones have to make up for unwanted sound resonance, so they come with more material for sound-dampening that completely envelopes your ears. Although this might feel nice at first, wearing the headphones for long sessions will eventually cause heat to build up, resulting in discomfort. Moreover, these extra materials contribute to poorer sound quality.
Open-back headphones don't have these problems. Most of these headphones don't wrap around your ears; rather, they are designed with grills on the back that allow for ventilation to the drivers. This open-air also prevents a build-up of heat or sweat around your ears, providing you with more comfort, especially when you are wearing them for extended periods. Of course, this design means less resonance and, therefore, better overall sound quality.
Who Benefits Most from Using Open-Back Headphones?
Open-back headphones are suitable for anyone who wants to enjoy the crisp and more immersive sound. However, there are a few drawbacks to using these types of headphones.
Anyone who practices sound mixing lacks a soundproof studio or works at home during odd hours stands to gain the biggest benefit from the excellent sound quality provided by open-back headphones. These headphones are superb for this task because they deliver clear and accurate sound.
Closed-back headphones won't let you hear the sound as well as you should, making your mixing job trickier.
They are not good at sound isolation, so if you're watching a movie or playing a video game, you might get distracted by outside noises. They're also more fragile and won't last long if not appropriately handled or stored well during travel.
Because the sound 'leaks' with open-back headphones, they're not suitable for use around other people. Everyone around you will likely hear what you're listening to, which can become annoying for them.
Check out my list of the Best Studio Headphones less than $50.

Features of Open-Back Headphones To Look For
Although all open-back headphones share the same features that make them produce high-quality sound, they're not created equally.
Some are just better than others, and there are a few things you can look out for when buying your headphones to ensure the best experience.
Build Quality
It isn't always easy to determine the build quality of headphones if you're shopping online. In that case, it's best to do research about the brand and read multiple user reviews before purchasing to find out if the products you're considering are built with quality.
If you are shopping in person, get assistance so you can hold the headphones in your own two hands to determine how high or low quality they are for yourself. Take advantage of customer service by asking them to share their product knowledge with you and ask what their favorite headphones are.
Durability
You'll find that most open-back headphones are mostly made of plastic, and that's not necessarily a bad thing. The lightness of plastic helps ensure that the headphones do not burden or weigh heavily on you.
However, if the plastic used in manufacture is inferior, the headphones will be inferior. It is recommended that you look at reviews of the headphones to see if they will last long. If the headphones are reinforced with metal, they should be more durable.
Comfort
Generally, open-back headphones are more comfortable, but some features ensure more comfort. Look out for things such as ear padding that isn't too thick and is oval-shaped. They should give you the best experience. The headband should also be sturdy and have foam

that prevents discomfort.
The headphones' weight also plays a role in comfort, and any models that are about 9 to 12 ounces (255 to 340 grams) are likely to be the most comfortable.
Connectivity
The cables used by your headphones will affect the sound quality. Oxygen-free copper cables are believed to be the best, and you should be sure the manufacturing quality is good. If not, you won't get the kind of sound quality you should.
Impedance
Headphone impedance is a measurement of the power it takes to drive it. Typically, consumer headphones have less than 50 ohms, but if you can find a pair of open-back headphones that offer 200 ohms or more, you'll have a better sound experience.
You'll find that the Sennheiser HD 600

and the Beyerdynamic DT 990 PRO

, available on Amazon, are some of the best open-back headphones on the market. 
Sale
Sennheiser HD 600 - Audiophile Hi-Res Open Back Dynamic Headphone, Black

Lightweight aluminum voice coils ensure excellent transient response.Specific uses for product :...
Neodymium ferrous magnets maintain optimum sensitivity and excellent dynamics
Sophisticated design, elegantly finished in black and gray
Last update on 2023-09-26 / Affiliate links / Images from Amazon Product Advertising API
beyerdynamic DT 990 Pro 250 ohm Over-Ear Studio Headphones For Mixing, Mastering, and Editing

Open over-ear headphones, ideal for professional mixing, mastering and editing
Perfect for studio applications thanks to their transparent, spacious, strong bass and treble sound
The soft, circumaural and replaceable velour ear pads ensure high wearing comfort
Last update on 2023-09-26 / Affiliate links / Images from Amazon Product Advertising API
For more information, check out our review on the Beyerdynamic DT1990 Pro.

Final Thoughts
Open-back headphones can create better quality sound thanks to their design and the technological advances in drivers. The headphones give clearer and more immersive sound experiences, which is great for sound mixers. However, if you appreciate good quality sound and don't have to worry about sound isolation, you'll likely also love open-back headphones.
Sources
Was this article helpful?
Recent Posts
link to How To Allow QuickTime To Access Microphone 🎙️  
QuickTime is a vital app for many Mac users, and if you've recently bought a new microphone, you might wonder how to use it optimally. QuickTime cannot record audio content if it doesn't have...
link to How Do I Test My Microphone? 🎙️
Every microphone leaves a unique signature on the quality of its output. If you're a podcaster trying to melt your way into your audience's hearts, a muddy, distorted recording won't cut it....