There's nothing like bad quality headphones to ruin your favorite songs, and that's not the only problem associated with bad headphones.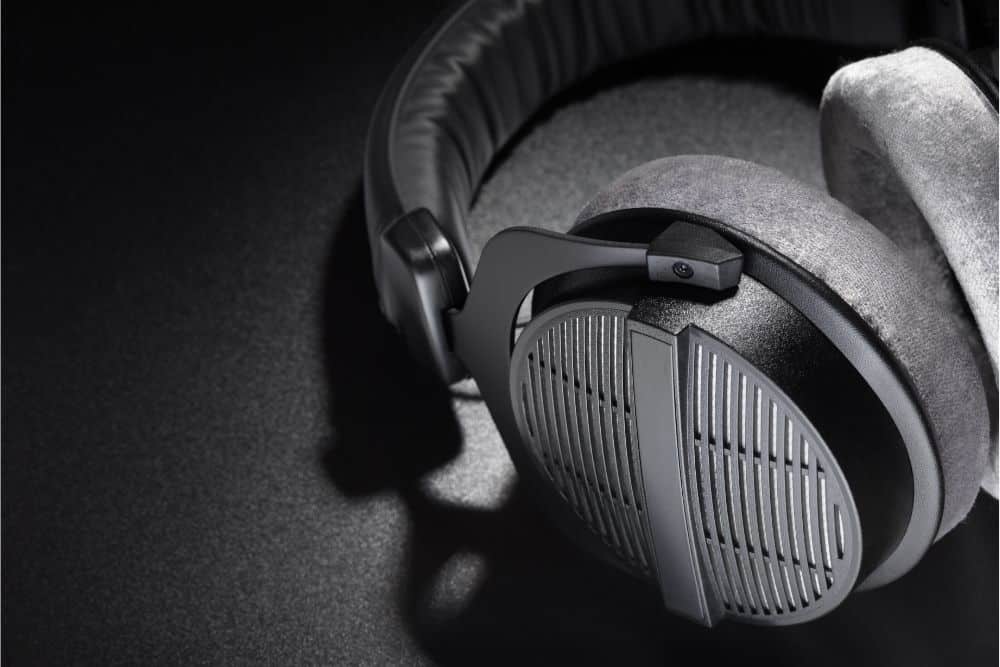 Cheap headphones not only sound bad, but they can also damage your ears and hearing if you're not careful. 
Good quality open back headphones are a game changer in terms of sound quality, and provide you with a comfortable listening experience for long periods of time.
Keep reading to find out more.
The SENNHEISER HD 660 S –  HiRes Audiophile Open Back Headphones deliver exceptionally accurate and transparent sound, with an expressiveness that immerses the listener in every emotion and nuance of the music.
The open-back architecture is strong yet lightweight and allows airflow to the ears, keeping them cool during listening sessions.
Detailed and dynamic, with extended and balanced frequency response, the HD 660 S is exceptionally accurate and musically expressive. 
Pros:
Supreme comfort – Thick headband padding completes the comfort package to provide hours and hours of supreme listening pleasure.
Versatile connectivity – The HD 660 S is supplied with two para-aramid reinforced detachable cables for your convenience.
Exceptional sound – The sound quality of these headphones is designed for the demanding listener, so you can enjoy hours of great music!
Cons:
One customer claimed that the packaging for these particular open back headphones arrived damaged in the mail. 
SENNHEISER HD 660 S - HiRes Audiophile Open Back Headphone
Reference class open back, dynamic headphone employing new and improved transducers delivering low harmonic distortion
Transducers are hand selected for precise (1 dB) left / right matching tolerance insure exceptional accuracy and presentation of stereo spatial characteristics
150 ohm nominal impedance allows direct connection to home and mobile Hires audio devices. Contact pressure: 6.0 N - 1 N
The Beyerdynamic DT 990 PRO Over-Ear Studio Monitor Headphones are ideal for professional mixing, mastering, editing, and listening at home or in the studio!
With its open design, the DT 990 PRO has an airy, spacious sound with a sense of depth and ambiance that complements room acoustics captured in recordings. 
These open-back headphones are perfect for studio applications thanks to their transparent, spacious, strong bass and treble sound.
Pros:
High-quality materials – The soft, and replaceable velour ear pads are built for your comfort.
Light – These headphone's extra lightweight construction makes them very easy to wear for long periods of time.
Versatile – Whether you're tracking, mixing, listening, or even gaming, these open back headphones will deliver sound you can rely on – every time.
Cons:
One customer noted that the cable is hard wired to the body of these particular open back headphones, so you can't swap out the cable.
The Philips Audio Fidelio X2HR Over-Ear Open-Air Headphones are built for quality.
An acoustic open-back architecture eliminates air pressure build-up behind the driver, allowing the diaphragm ample free movement, greatly enhancing sound transparency and smoothening extended high frequencies.
These headphones are made out of premium materials, featuring a lightweight self-adjustable hammock with 3D mesh and genuine leather outer headband.
Pros:
Comfortable – These headphones feature replaceable deluxe memory foam ear-pads with breathable velour finishing to dissipate pressure and heat for longer-wearing comfort.
Double layered earshells – These Philips headphones double layered earshells are engineered to reduce resonance and vibration, bringing you flawless sound with genuine precision and uncompromised detail.
Pre-tilted drivers – The drivers are designed to fit to your ears' natural geometry and immersing you in a truly precise listening experience.
Cons: 
One customer noted that these particular headphones were more delicate than they were anticipating. 
Sale
The Philips Audio Philips SHP9500 HiFi Precision Stereo Over-Ear Headphones feature exquisite open-back, over the ear design for authentic sound!
These over-ear headphones feature breathable ear cushion for longer wearing comfort
The Phillips headphones boast 50mm neodymium drivers that deliver the full spectrum of sound.
Pros:
Comfortable – These headphones feature a double layered headband cushion to ensure your comfort. 
3.5mm headphone jack – These headphones allow for easy removal of cable for switching sources or adding a microphone.
Removable 1.5m cable – These headphones come with a removable 1.5m cable that provides you with the freedom of movement indoors.
Cons:
One customer noted that they had issues getting hold of customer support for these specific open back headphones.
Sale
The Philips SHP9600 Wired Over-Ear Headphones are designed for superior sound quality.
The perfectly tuned 50 mm drivers deliver crisp bass, balanced midrange, and pristine high frequencies.
These open-back headphones can be connected to any source! Immerse in your favorite albums-on your smart device, home setup, TV, or laptop. 
Pros:
Durable – The headband is reinforced with durable steel, which adds just the right amount of tension for a secure fit.
Comfortable – The double-layered headband cushion adds real comfort, while the breathable ear-cup cushions are perfect for long listening sessions.
Perfect fit – The drivers are engineered to fit the ear's natural geometry, ensuring no detail is lost.
Cons:
One customer noted that these particular open back headphones kept falling off their head.
Buyer's Guide
There are a few factors to keep in mind when buying open-back headphones, but it mainly comes down to drivers, size and comfort, and durability. 
Whether you're going to be wearing your headphones for long periods of time or short listening sessions, you should always make sure that you're investing in good quality, comfortable headphones.
There's nothing quite like headphones that make your ears ache after a few minutes to put you off wearing them. That being said, to make sure that you get the most wear and use out of your headphones, then you should make sure that you're opting for a comfortable pair that are made with high-quality materials designed for your comfort.
Read the following factors before going ahead with your purchase.
Drivers
An important factor you'll need to consider when purchasing open-back headphones is drivers.
The driver is the most important feature in headphones because it converts electrical signals into sound. To put it simply, the driver creates the sound you hear. For the best quality headphones, then, the driver has to be of great quality as you get what you pay for.
A driver is usually made up of three components that work together to create sound.
The magnet – The magnet is responsible for creating a magnetic field. The sound quality can be enhanced by the performance of the magnet in the magnetic circuit. Bluetooth headphone driver magnets are typically made out of ferrite or cobalt. 
The diaphragm – This usually vibrates to produce sound waves. A diaphragm is a transducer whose work is to convert mechanical vibrations into sounds. It is typically made of a thin membrane and is suspended at its edges. When a diaphragm is vibrated by electricity, it beats against the air and creates sound waves.
Voice coils – Voice coils perform the role of converting electrical signals into sound. Every time an electric current passes through the voice coils, they move the diaphragm to generate the sound that you hear when you've got your headphones on.
They are usually made from a variety of different materials – not just regular copper wire – for better sound quality. The materials include HI-OFC (a type of oxygen-free copper) and PCOCC (Pure Copper By Ohno Continuous Casting).
For the best sound quality, always make sure that the driver is of good quality.
Size & comfort 
Another important factor you'll need to consider when purchasing open-back headphones is the size. The size of headphones differs between different pairs and brands. While most are supra-aural (covers the ears entirely) some can be qualified as circumaural (covers the ears partially). 
Size doesn't tend to affect the quality of the sound and vocals. However, it does affect the comfort and overall experience. The headphone should have appropriate padding on the ear cups and headband to provide the utmost comfort or longer recording sessions.
Extra stuffed padding is not always a good thing because it can increase the weight of the headphones and become uncomfortable after a short period of time.
Many consumers often assume the heavier the headset is, the more durable it is. This isn't always the case, especially now that the latest technology has improved the design and ergonomics of headphones.
As a result, you should always opt for headphones that are the most comfortable on your head and ears and have minimal weight to them. 
There are some designs that have headbands consisting of only mesh material as opposed to a leather headband which is even lighter. Some headphones boast comfortable foam earpads to ensure your listening experience is as comfortable for as long as possible.
However, the material that you opt for is a personal preference and will likely come down to the budget that you have to spend on a pair of headphones.
Comfort is crucial because it can significantly affect how convenient the headphones are to wear for longer periods of time. For instance, if you're wearing your headphones in the studio, you could be wearing your headset for hours.
If the headset is even slightly uncomfortable, you might not be able to concentrate on getting your job done effectively and to the best of your ability if you're uncomfortable the entire time. After all, no one wants to be in pain because their headphones are pushing into their ears or their head!
As a result, it is highly recommended that you try on a few pairs of headphones and make sure that they are a comfortable fit before committing to buying a pair.
Durability 
When you're purchasing open-back headphones, you should always consider the durability of the product. While you might think this comes down to trial and error, there are ways of finding out whether a product is worth your time and money without you having to take the plunge. 
A good way to gauge whether a product is durable or not is to check the product reviews section. Here, customers leave feedback, good or bad, and give you a better understanding of the product and brand itself.
If a customer has experienced a fault or doesn't think the product is worth buying, it is likely that they will tell you so in the product reviews section. 
In addition to this, the product reviews also indicate whether the company that you're buying from is worth investing in. While problems occur in businesses every day, how a company works to rectify a customer's issue will reveal a lot about them.
For instance, if a customer has claimed in the product reviews section that their experience of the customer service for a product wasn't good, then you might decide that you'd rather invest your money somewhere else.
This will provide you with the assurance that should something happen to your product, you'll be able to rectify the issue with the help of the brand's customer service team. 
As a product that you're investing in and that you want to last, it's important to always make sure that you do your research.
Search online and make sure that you're happy with the product reviews section before clicking 'buy to ensure that you're buying a durable product that is designed to withstand the test of time.
Brand
Another factor that you'll need to bear in mind when purchasing open-back headphones is the brand. 
While you might not be a person who cares about brands, there's no getting away from the fact that when it comes to headphones, you get what you pay for. As a result, it's always your safest bet to go with a reputable brand that has a tonne of high-quality reviews and a loyal customer base.
Iconic brands are living up to the hype for a reason, as no brand can be renowned for good quality without delivering to the masses. While well-known brands might charge you a bit more, they promise consistency and quality. 
The pricing of your headphones generally depends on the brand you choose. While you might associate reputable brands with an expensive price tag, there are several well-known brands with rather affordable headphones that produce brilliant sound. 
You won't want to invest in cheap quality headphones as they break all the time anyway, so there's no point in wasting your money on them. Headphones can sometimes seem to be a disposable commodity to be replaced after short periods of use.
However, if you want a good quality pair of headphones that can withstand frequent use and the test of time, then I highly recommend you invest in some open-back headphones from a reputable brand.
Always make sure that you do your research from the brand that you're investing in and make your choice from there.
Cords and adapters
Another factor that you should bear in mind is any cords and adapters that your headphones come with.
Some headphones come with different types of connectors and adapters that allow them to be connected to different audio sources, meaning that you don't have to buy additional equipment to get the most use out of your headphones. This can be incredibly convenient but isn't necessarily essential.
The cords are longer on some headphones because these are designed for studios where you may need to spread it over a long distance. A length of 3 feet should be good enough for most situations, but it is always worth checking the cords and adapters that your headphones come with. 
Warranty
An important factor that you should always bear in mind when purchasing open-back headphones is the warranty.
The warranty covers you should anything go wrong with your headphones. A standard warranty usually lasts for a year, but this length of time can differ depending on the company.
Some companies even offer a multiple-year warranty, so it's worth checking to ensure that you've got the cover that you want for your open-back headphones.
It is important to note that a warranty can be void if you purchase a product from an uncertified seller. If in doubt, make sure that you check the manufacturer's description for more information about the warranty of your headphones.
Always do your research and make sure that you're happy with the conditions of the warranty before going ahead with your purchase.
Frequently Asked Questions 
What does open back headphones mean?
Open-back headphones allow air to pass through their ear cups from the rear of the speaker driver. This means that resonances and low-frequency build-up caused by the rear enclosure escape and aren't a concern. 
Many pairs of expensive good quality headphones have open-backs as it allows them to sound more natural and clear.
Can others hear open back headphones?
Yes, typically speaking other people will be able to hear what you're listening to when you're using your open-back headphones. However, this is what makes them such a great option for mixing and mastering in the studio.
In addition, because open-back headphones can't block outside noise that well, you'll hear everything going on around you. 
If you're looking for headphones that block out the sound around you, then closed-back headphones are probably a better option for you.
Last update on 2021-10-04 / Affiliate links / Images from Amazon Product Advertising API