Ring lights are the perfect lighting solution for vloggers and makeup artists. They produce a soft light that looks phenomenal on camera, especially for shooting videos. But do ring lights work outside?
Ring lights do work well outside. They can be used as fill lights or as standalone lights to achieve natural-looking results. They can also brighten dark shadows in direct sunlight. However, most ring lights can't get extremely light. So, they work best for shooting close-up videos at night.
This article will explain a few things that you should know about using ring lights outdoors. Check all of them to improve your vlogs and photography skills.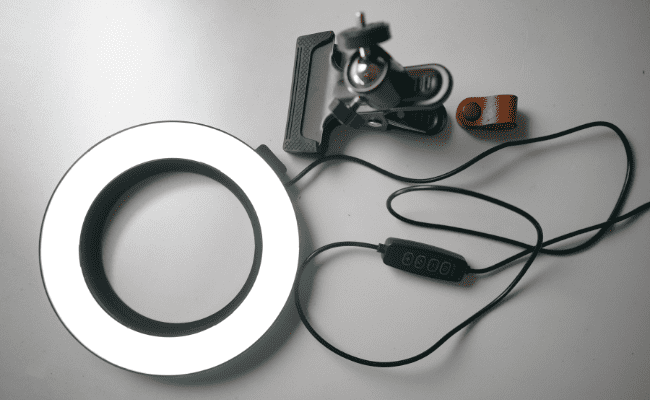 Things To Know Before Using Ring Lights Outside
Using your ring light outside is a viable option if you don't have a more powerful studio light.
If you're shooting a close-up portrait

, ring lights will do just fine in any weather.
But there are a few caveats that you should know about using ring lights outdoors. Let's go over some of them.
Ring Lights Work Best at Night
Let's start by saying that the sun is bright. Extremely bright. It has an overall global mean rate of 105 lumens per watt

.
Even the strongest ring light can't get nearly as bright. But things change when you're shooting at night.
There's no sun to overpower the little ring light. The soft yet powerful ring light can easily illuminate your shooting subject.
Of course, there's still moonlight. But unless you're directly under a full moon, it won't affect your results. Also, in that case, the ring light is a perfect fill light to balance dark shadows.
Remember that ring lights are direct, so you should keep the light close to what you're filming.
If you're recording a vlog using a handheld camera at night, a small ring light will do a tremendous job.
If your ring light is too large for that, get the UBeesize Selfie Ring Light

(available on Amazon.com). It also has a tripod stand and phone holder, so it's the perfect all-in-one kit for amateur bloggers.
Sale
Last update on 2023-12-02 / Affiliate links / Images from Amazon Product Advertising API
Ring Lights Are Very Good in Cloudy or Overcast Weather
When the sun isn't blasting your face, a ring light can add some much-needed brightness.
Cloudy or overcast weather is the worst for any shooting. I'm speaking from experience because overcast weather ruined my road trip photos a few years ago.
So, you can add the perfect amount of brightness using a ring light. Again, the ring light works best when it's close to what you're shooting.
If you're shooting someone far away from your camera, you can still use the ring light.
Use the sun as your main light and the ring light as a fill light. Even better if you have multiple ring lights.
Take your time to position everything to get the perfect shot.
Recording a vlog selfie-style using a ring light is the best way to shoot when the sky is filled with clouds. Add some illumination to those gloomy days!
Most Ring Lights Can't Get Very Bright
Ring lights use an array of LEDs to illuminate a close-up subject. But standard LEDs aren't the brightest type of light in the world.
Ring lights, in particular, are designed to be used indoors for portrait shots. That's why vloggers, makeup artists, and gamers use them.
The main culprit of using a ring light outdoors is that it doesn't get particularly bright.
If you know anything about shooting movies at night

, you'll remember that the crew uses extremely powerful lights.
Your average ring light can't do anything in these conditions.
So, you must know your equipment before you go to shoot outdoors. There are some things that your ring light just can't do.
For example, you can't illuminate a faraway subject using a simple ring light. But you could use it for any close-up shot, no matter what the weather is or if it's day or night.
Use Ring Lights as a Fill Light
Since a ring light isn't extremely bright, it's the perfect fill light.
In a nutshell, a fill light

is used to reduce your shot's contrast ratio and balance out the dynamic range.
If you're shooting outdoors, your main light is most likely the sun.
Put the ring light on a tripod, and place it somewhere in the grass or on the street. Try to get it as close to your subject as possible without getting the light in the frame.
The result is a well-balanced photo. The shadows on your subject won't be nearly as dark, and you can edit the image more easily.
It's even easier to use a ring light as a fill when you shoot at night. Combine it with high-quality main and backlights, and you'll have professional shots in no time.
You can combine your ring light with the Neewer 2-Pack Dimmable Light

(available on Amazon.com). You get two powerful tripod-mounted lights at an affordable price. Plus, they come with colorful diffusers.
Neewer 2-Pack Dimmable 5600K USB LED Video Light with Adjustable Tripod Stand and Color Filters for Tabletop/Low-Angle Shooting, Zoom/Video Conference Lighting/Game Streaming/YouTube Photography

Video Call Lighting: With adjustable brightness from 10% to 100%, get soft and even lighting on a...
USB-Powered Light: Keep the LED light powered via a USB wall charger (5V 2A) or USB power strip. For...
Optional Color Filters: Included 8 filters with 4 colors (white, yellow, blue, red) give you the...
Last update on 2023-12-02 / Affiliate links / Images from Amazon Product Advertising API
Use a Ring Light as a Camera Flash at Night
Most ring lights support two modes: continuous and flash.
Use the flashlight mode to shoot in complete darkness outside. Even better if you combine the ring light with your phone or camera's flash.
I should probably mention that ring flashes

have been around for decades. This type of flashlight can light up your frame evenly.
If you've ever shot using a flash in complete darkness, you'll know what the photos look like. You get overexposed highlights while the shadows are nearly black.
Using your ring light in addition to a camera flash will help you get better photos. Try it and see for yourself.
BONUS: Ring Lights Are Perfect for Macro Photography
When you're shooting macro photos, you have to get very close to the subject. And you'll need a ton of light. Otherwise, your camera will cast a shadow.
The sun isn't enough for macro photography. But a ring light is.
Ultimately, how good a macro shot looks depends

solely on how good your lighting is.
As you can probably guess, you can't use a powerful main light that sits far away from your subject for macro photography.
Since ring lights are used for close-up shots by default, using them for macro won't be a problem.
You'll get even illumination on your subject. You won't get an unnatural reflection on smooth surfaces like you do when using a camera or phone flash.
Here are the steps on how to get a perfect macro shot using a ring light:
Use a macro lens on your camera or turn on macro mode on your phone.
Attach the ring light to your camera. If that's not an option, put it close to your subject.
Turn the ring light on. Use the continuous mode.
Get the camera close to your subject and adjust the focus.
Turn the brightness on your ring light up or down based on what you see in the viewfinder.
Take the shot.
You'll get excellent results almost every time with a ring light.
For more information, check out which is better for streaming between ring lights and key lights

.
Final Thoughts
You can use a ring light outdoors. The only downside is that it can't get extremely bright. But you can still use it as a fill light even in the midday sun.
Ring lights are best at illuminating close-up subjects. If you shoot many portraits and macros, you'll appreciate the convenience and even illumination that only a ring light can provide.
Sources
Was this article helpful?
Recent Posts
link to How To Allow QuickTime To Access Microphone 🎙️  
QuickTime is a vital app for many Mac users, and if you've recently bought a new microphone, you might wonder how to use it optimally. QuickTime cannot record audio content if it doesn't have...
link to How Do I Test My Microphone? 🎙️
Every microphone leaves a unique signature on the quality of its output. If you're a podcaster trying to melt your way into your audience's hearts, a muddy, distorted recording won't cut it....