Rings lights have taken the video production and photography worlds by storm. They bring attention to your attractive features and drown out the background noise to create a stellar appearance. With video conferences on the rise, you've probably wondered which lights would make the best impression.
Ring lights are good for Zoom calls because they highlight your face rather than the background. They provide warm light to enhance the appearance of your eyes and facial structure, which is why high-end vloggers and video producers use them. Ring lights are affordable, easy to use, and video ready.
Throughout this article, you'll also learn the following info about using ring lights for Zoom calls:
Several benefits associated with using ring lights for video calls
How you can create the ultimate setup with any ring light
Tips to avoid common mistakes that ruin their effectiveness
Should You Use Ring Lights for Zoom Calls?
Whether you're chatting with friends and family or joining a business call, Zoom has become a leading video conference service. Optimal lighting can prevent all sorts of issues, and it's not too hard to perfect. Ring lights make a massive improvement, so let's explore five reasons that they're good for Zoom calls below.
They make your skin look clear and glowing. According to Men's Journal, one of the main reasons so many people reach for ring lights in professional settings is because they enhance your skin's appearance. The ring shines the outside of your face rather than the center, preventing glares in the process.
They add warmth to the picture frame. Most artificial lights are bright and white, but ring lights bring a natural look to the conference call. Using a ring light for Zoom calls will make you look like you're on a pro-level photoshoot rather than sitting at home in your pajamas.
They remove distractions from the video's background. Ring lights focus on your face rather than everything behind you. Most light bulbs illuminate everything in the picture frame, bringing attention to furniture, pets, and everything else sitting in the background. By using a ring light, you'll be the center of attention.
They make you look more professional. You've already read the focused warmth and attention provided by ring lights, but there's a level of professionalism displayed by these unique lights. Whether you're working with colleagues or friends, everyone can appreciate ring light setups.
They're perfect for illuminating your eyes. Your eyes show your intention and attention, so why not have them focused? They should be the highlight of the frame. Traditional bulbs brighten and glare at your face, making your eyes hard to see. Ring lights bring a natural glow, similar to sunlight.
As you can see, ring lights are perfect for Zoom lights. They're easy to use, and you can upgrade your online appearance instantly. If you've never used high-end lighting or you want a few tips to improve your ring lights for Zoom calls, proceed to the next section.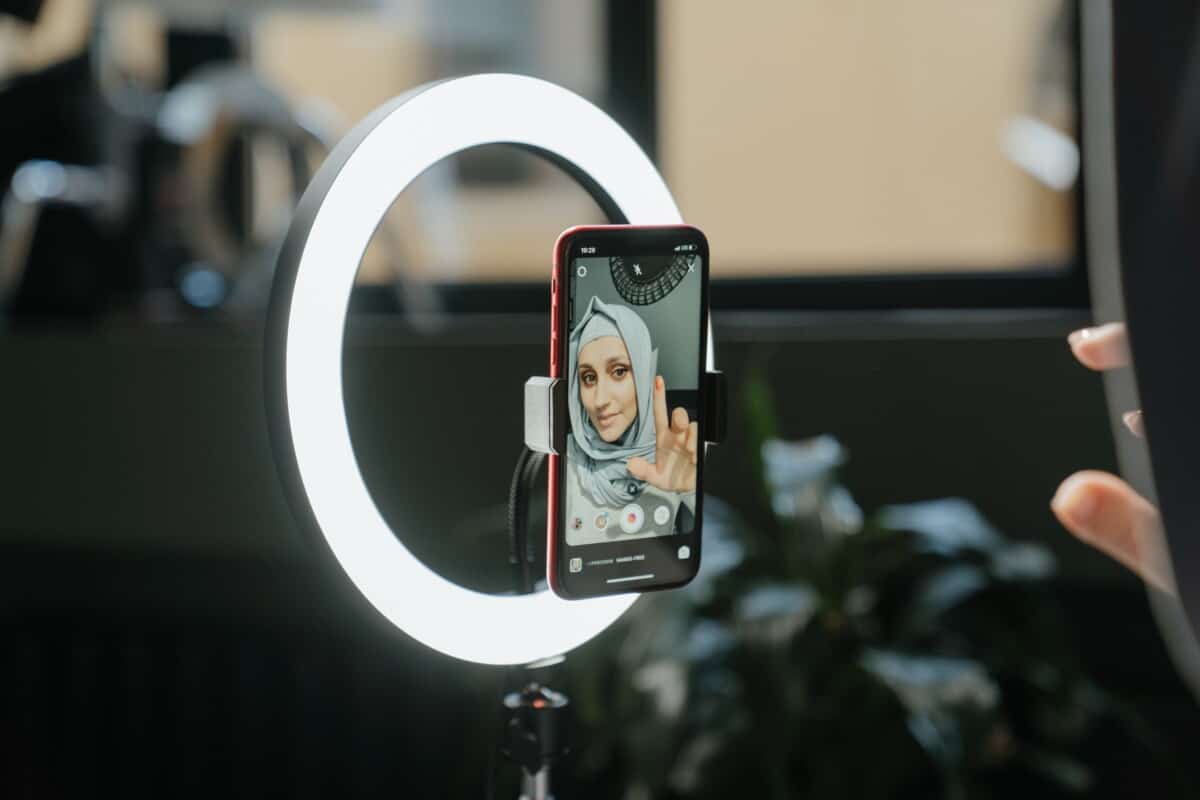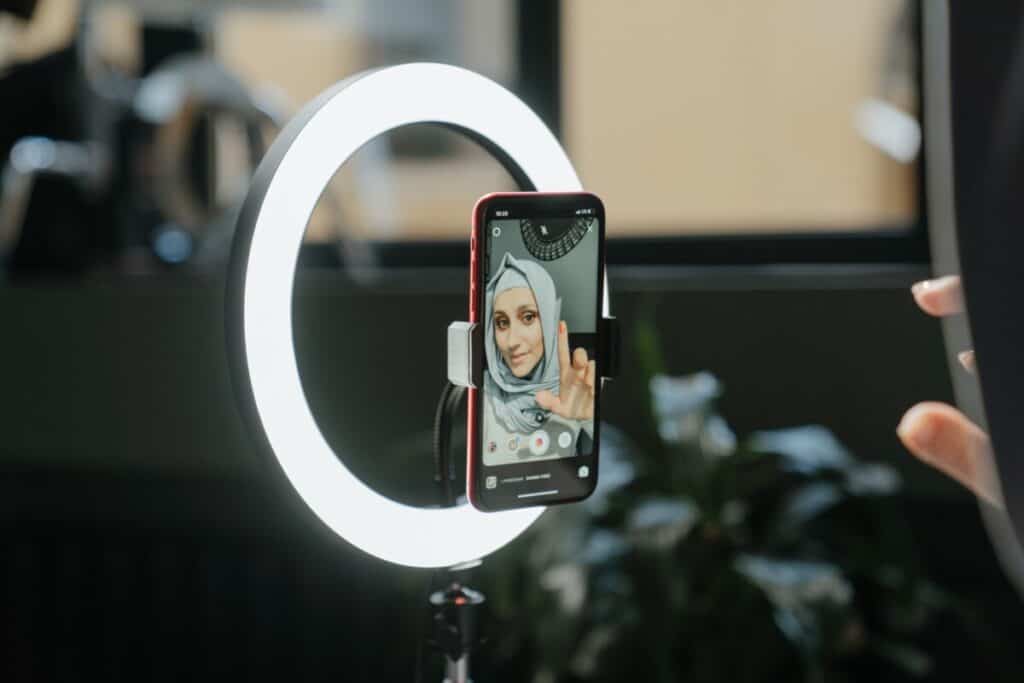 How to Set Up a Ring Light for Video Chats
Soon, you'll understand why ring lights are the best choice for Zoom calls. Without a glare or complicated installation process, you can keep a professional appearance around the clock. A couple of the steps are optional, so feel free to customize it as you please.
Without further ado, here are the four steps to set up a ring light for online video chats:
Decide if you want a clamp-mounted or free-standing ring light. Clamp-mounted ring lights hook onto the edge of your desk, computer, or another nearby surface. Free-standing ring lights have a base that you can place anywhere within the recommended distance. Both options are excellent, but you should decide which fits your preferences.
Place the light between 2 to 3 feet (61 to 91 cm) away from you. Logitech explains that your ring light should be around 3 feet (91 cm) away from your face. If it's too close, your face will be illuminated and glaring (and you'll have a difficult time seeing the screen). If it's too far away, you won't notice the previously mentioned benefits.
Adjust the ring light's direction while looking at the camera. Some people prefer to keep the right light rounded on the edges of their face, while others leave the ring light off to the side to create a glow as if they were sitting by a window. Turn on your camera, activate the ring light, and adjust it until you enjoy the results.
Perform a test video with a friend or family member. While this step isn't mandatory, it's a good idea to test your ring light with a friend before bringing it to a professional setting. You wouldn't want to turn on a video meeting on Zoom and look like you were staring directly at a floodlight.
With Zoom calls becoming more popular and relevant daily, it's essential to create an ideal lighting setup. Almost any professional filmmaker will tell you that lighting changes everything. You might not want the high-end Hollywood (expensive) setup, but you could add a budget-friendly ring light to enhance your video quality.
One budget ring light we highly recommend is Mactrem 6″ LED Ring Light that you can plug in and use straight away.
Sale
Last update on 2023-12-08 / Affiliate links / Images from Amazon Product Advertising API
Fixing Common Mistakes
As with any filming, photography, or tech-related subject, there are bound to be a few mistakes. Fortunately, ring lights make it easy for you to handle business effectively. You don't have to spend hours making the perfect setup like you would with the most floor or ceiling lamps.
Below, you'll find the three most common mistakes people make with ring lights and how you can fix or prevent them from happening.
Too Much Brightness Is Bad
Have you ever accidentally turned the flash on with your camera? That bright, annoying, almost painful glare is what your audience will see if you have a bright ring light. Consider reviewing the lumens to determine how bright it will be or get an adjustable ring light.
DIY Video Studio

suggests keeping other lights (including windows) out of the picture frame to reduce excess brightness.
Wide Ring Lights Can Be Ineffective
As you look through the countless ring lights, you'll notice that they come in different shapes and sizes. Instead of picking the first one that you come across, try to figure out how it'll work with your face. The closer the light is, the brighter and narrower the ring will be.
Ultra-wide ring lights might be ineffective for Zoom calls since you can't adjust the distance too much (especially if it's a clamp ring light).
Unstable Ring Light Can Ruin the Quality of Your Recording
Typing, leaning, and moving your monitor shouldn't shake the ring light. Clamp lights are susceptible to excess movements on unstable desks or tables. A shaky light will ruin the picture-perfect image you're trying to achieve. A wide base or heavy-duty clip will work wonders to stabilize the ring light.
There are a couple of other inevitable mistakes, but that's why you should practice step #4 in the previous section. Testing your setup will improve the results when using it in a live Zoom call.
For more information, check out whether ring lights ever burn out.

Conclusion
Ring lights are very useful for all camera recordings. Whether you're chasing the attractive glow or you want to drown out the background of your recording, they're an excellent addition to any Zoom call.
Here's a quick recap of the post:
Ring lights don't cause harsh glares on screens or other surfaces.
You can choose the light's brightness and color for most ring lights.
Make sure the light isn't too close or far from your face.
Don't forget to purchase the right size.
Compare clamp ring lights and free-standing lights.
Check out to see how ring lights compare with key lights here!

Sources
Was this article helpful?
Recent Posts
link to How To Allow QuickTime To Access Microphone 🎙️  
QuickTime is a vital app for many Mac users, and if you've recently bought a new microphone, you might wonder how to use it optimally. QuickTime cannot record audio content if it doesn't have...
link to How Do I Test My Microphone? 🎙️
Every microphone leaves a unique signature on the quality of its output. If you're a podcaster trying to melt your way into your audience's hearts, a muddy, distorted recording won't cut it....