Ring lights and LED panels help enhance photography quality and bring more color and aesthetics to video and picture output. However, both the ring light and LED panel differ in their working mechanism and eventual results.
Ring lights offer softer intensity, more focus on the subject, and an easier camera setup. As a result, they're best for portrait photos or videos. LED lights give greater light concentration and a wider area of focus. Thus, they work well with landscape shots.
In this post, I'll expand on the differences between ring lights and LED panels to help you determine which is better for you. I'll share the known pros and cons of each so you can make an informed choice.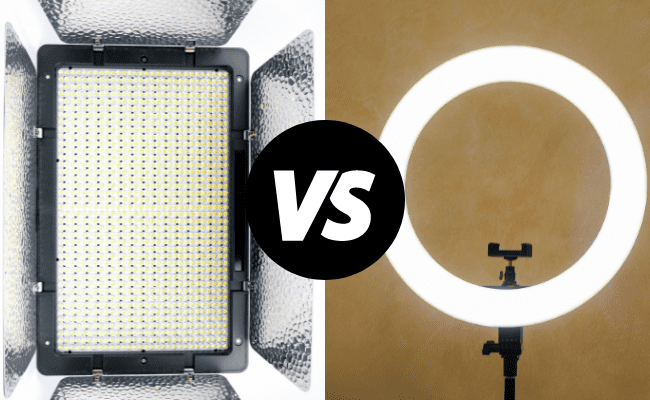 Differences Between Ring Lights and LED Panels
Whether the ring light or the LED panel is the better option for you depends on what you intend to use the lights for. Both types of lighting function best under different circumstances and use. You need to understand the ring light and LED panel and the respective use-cases that they are best for.
Ring Light
Just as the name suggests, the ring light is a lighting device in circular form with a large hollow space in the middle, taking the shape of a "ring." It can be in a single fluorescent lamp or several LED lights connected, all in circular form.
The large hollow space is a good place for creators to place their cameras when shooting pictures or videos. Thus, you can set your smartphone or laptop webcam in between the light during a "Zoom call." It's equally perfect for taking high-quality modeling shoots.
The ring format allows for even illumination on the object of focus.
LED Panel
LED stands for light-emitting diode, which is a light-emitting system similar to fluorescent. The LED panel then is a group of LED displays arranged in the form of a panel. This panel is often shaped either square or rectangular.
The LED panel gives illumination to video or photo shoots just as ring lights do.
Depending on the purpose of the shots, creators often use more than one unit of the LED panel.
Why You Need a Ring Light or LED Panel
You may have noticed the footage or pictures posted by models, YouTubers, and others are of higher quality than ever before. Some may think the jump in quality is due to the use of expensive cameras or other high-end equipment, but that's far from being the case.
Increasingly, photographers, YouTubers, and other creatives that produce videos and photos are adopting camera lights during the shooting process – and with good reason. These off-camera lights can significantly enhance the output of your shoot, helping to make shots dynamic and colors "come alive."
With such lights, it doesn't matter if you take the shot in a dark room or under direct sunlight; they'll still be effective. Not to mention, they're incredibly affordable, especially when you consider the value they offer.
Two of the most popular types of lighting among creators are the ring light and the LED panel. There is some sort of contest between both types, with many asking which is better.
Pros of the Ring Light
Ring lights have some features that make them great. These include:
Absolute Focus on the Object
By design, the ring light focuses the beam on the object it's specifically directed at. Doing so minimizes the "noise" in the background and, in the process, enhances the appearance of the final product, be it a photo or video.
This absolute focus on the object and less emphasis on other particulars make the ring light ideal for make-up pictures. Also, if you are a video blogger who sits and speaks to the camera, you'll find the ring light a valuable addition to your camera setup. You can put your video camera in between the lights to boost the resulting footage.
Lower Light Intensity
The lighting produced by ring lights is not usually strong in output, which has many benefits. As a video blogger, you'll discover the lights have a gentle effect on your face. Furthermore, unnecessarily strong lighting can distract the audience or even distort the quality of the output if it's a photo.
Absence of Shadows
Because of their circular shape, ring lights tend to capture the entirety of an object with their lighting. As a result, there are no shadows on the object, which can bring about poor image production. This becomes an even bigger challenge if it's portrait photography for a model.
Enhanced Camera Setup
Ring lights also enable the user to set up the camera more easily. You can conveniently station the camera between the rings, creating a situation where the cameras work well in sync with the lights.
In addition, ring lights such as the Neewer LED Ring Light (available on Amazon.com) are equipped with smart technology that enables you to change colors and adjust brightness and intensity.
Neewer 14-inch LED Ring Light with Stand and 2.4G Wireless Remote, 30W 3200K-5500K Makeup Ringlight with Soft Tube/Phone Holder/Ball Head for Vlogging Selfie Video Shooting, Support USB Charge
KIT INCLUDES: (1)14inches Outer Diameter 30W LED Ring Light with USB Charging Port, (1)61 inches Light Stand; (1)Soft Tube, (1)2.4G Wireless Remote Control; (1)Cold Shoe Ball Head Adapter, (1)Power Adapter with US Plug, (1)Smart Phone Holder, (1)Carrying Bag for Ring Light Panel
BI-COLORS & DIMMABLE: Bi-color temperature ring light variables from a Warm 3200K to a White 5500K freely without orange color filter. Brightness can be changed from 0% to 100%. Achieve cold white light or warm light to hide blemishes and change skin tones quickly and easily. LED SMD design and 240 pieces beads offer more light for your camera photography, vlogging, live streaming, Facebook Live, Youtube, beauty makeup, salons, selfies and videos; Designed with excellent heat dissipation
2.4G WIRELESS REMOTE CONTROL AND SELFIE REMOTE: 2.4G Wireless remote control for convenient access to brightness and color temperature settings; Selfie remote makes you selfie more easily
Last update on 2022-12-07 / Affiliate links / Images from Amazon Product Advertising API
The Godox 12inch LED Ring Light (also available on Amazon.com) provides all the same benefits, but it's ideal for desk setups.
Last update on 2022-12-07 / Affiliate links / Images from Amazon Product Advertising API
For more information, check out my article about whether ring lights are good for Zoom.
Cons of the Ring Light
Some of the features of the ring light make it less than ideal for many users. The downsides of the ring light include:
Low Intensity Might Mean
The relatively low intensity of the ring light means it's not good enough for some types of shots. For instance, ring lights may perform poorly in outdoor photos and videos, especially if there is still some sunlight.
Poor for Landscape Photography
The combination of low intensity and too much focus on a particular object makes the ring light less ideal for landscape or non-portrait shots.
Pros of the LED Panel
The LED panel offers users the following advantages over and above the ring light:
Higher Intensity
The lighting produced by the LED panel is often of stronger intensity than the ring light. Not only that, the LED panel offers flexibility as users can adjust the intensity to create their desired output.
Furthermore, they often have a wider area of focus, rather than just concentrating on a single object.
Great for Landscape Photography
LED panels do more for landscape photography than ring light. Producing stronger lighting into a broader space means that they are best if you want to capture larger areas such as a room, making them ideal for your home studio.
Do you do product reviews? Then, the LED panel is excellent for you.
IVISII G2 Pocket RGB Camera Light (available on Amazon.com) comes with the ability to create lighting effects and is one of the best you can get.
Sale
IVISII G2 Pocket RGB Camera Light,32Wh Built-in 4300mAh Rechargeable Battery 360°Full Color Gamut 9 Light Effects,2600-10000K LED Video Light Panel with Aluminum Alloy Body, Adjustable Tripod Stand
【Video Conference Light】The video conference lighting come with Adjustable Tripod Stand is equipped full color gamut, two-color temperature lamp beads - high quality, high lumen, and high definition lamp bead. The light is softer, uniform, with more realistic colors which is good Laptop light for video conferencing.
【Portable Pocket Video Light】11.3oz(weight) ,5.6inch*3.1inch*0.6inch(size), compact and lightweight for carrying even in pocket. As a multifunctional mini photography fill light, it is perfect light for video conferencing,video shooting, interview, live streaming,YouTube, studio lighting.
【Camera light for photography】Hue adjustable is 0-360 full color gamut; Color saturation is adjustable from 0%-100%; Brightness is dimmable from 0%-100%; Color temperature is dimmable from 2600K(warm) to 10000K(cold); Built-in LCD display for accurate readings, makes your work more effectively.
Last update on 2022-12-07 / Affiliate links / Images from Amazon Product Advertising API
Cons of the LED Panel
The LED panel also has some significant downsides, which include:
Shadows on Images
If you attempt to use LED panels on portrait photos, be ready to get some shadows and dark sides in your output. The lightning from the LED panel is designed to beam straight at the object. This is contrary to the ring light, which shines the light around the object.
Poor Camera Positioning
LED panels don't allow for as easy a camera setup and other equipment as the ring light.
Unlike the ring light, where there's a space between the lights to station your kit, any time you want to use the LED panel with your camera, you need to place them side-by-side.
Choosing What's Right for You
There are many factors that you can look at when choosing between ring Lights and LED panels. But the most crucial thing to consider is your purpose in using the light.
As it were, neither option is explicitly better than the other; but one will offer you more benefits based on what you use it for.
In general, if you do portrait photography for modeling, video blogging, YouTube videos, and other purposes, then the ring light might be the best bet. Whereas the LED panel is best for landscape as well as outdoor photography.
Final Thoughts
The ring light and LED panel work well for different lighting needs. When choosing between the two, simply consider what your needs are for using the light, and it should be easy to get the one best suited for you.
Sources