Modern music recording uses a wide variety of tools and equipment. Having a MIDI controller is essential for the modern recording studio, whether it's in your home or dedicated studio space. There are dozens of keyboard MIDI controllers on the market in every price range, but how do you know which one is right for you?
A MIDI controller needs at least 25 keys, or two octaves, to be useful. The average number of keys is 49, or four octaves. However, the type of music you play, whether you need your controller to be portable, and how much space you have in your studio will impact how many keys are right for you.
While there are plenty of features to consider when choosing a MIDI controller, the number of keys you need is a great way to start narrowing down your search. Read on to learn more about what to keep in mind when you're picking the key size of your controller.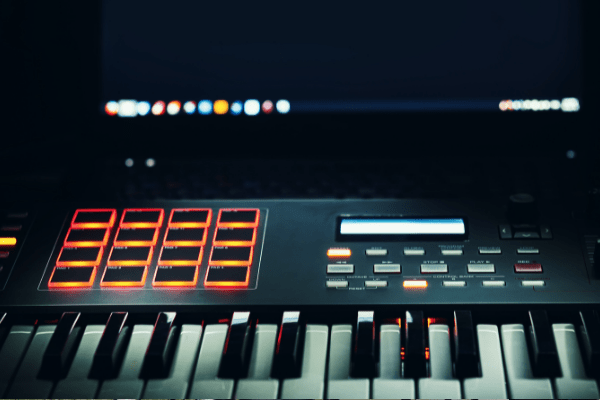 Factors To Consider
Picking a MIDI controller is a lot like choosing an instrument; there are benchmarks for quality, but the best fit for you might not be the best fit for another musician. Your MIDI keyboard should have at minimum two octaves

to give you enough range. Beyond that, the number of keys is flexible. But what are the other factors you should consider?
Is 25 Keys Enough for a MIDI Controller?
To determine the best fit for you, think about your needs in the following areas:
Portability.
Studio space.
How you play.
What part of the music you need the keyboard for.
Musical considerations.
Each of these five factors impacts how many keys your MIDI controller should have to give you the best studio experience.
Portability & Durability
The first factor to consider is how mobile you need your MIDI controller to be. If you're going to set it up in your studio and never move it again, you have a lot more flexibility than if you plan to take it on the road with you for live shows.
The more keys your controller has, the heavier it'll tend to be. What the keys are made out of will also impact the weight. Thicker, heavier keys will add heft, but they tend to be more durable than lightweight plastic keys.
If you need a portable and durable keyboard, you might want to opt for 49 or fewer keys to keep the controller size down. If you're less worried about the durability but need it to be super lightweight, a 25 key controller will do the trick.
The AKAI Professional USB MIDI Controller

from Amazon.com is a good choice for a 25 key controller. It's an affordable and durable option, yet with velocity-sensitive keys. It's just over a foot long (0.3 meters) and only weighs one pound (0.45 kilograms), so it's incredibly portable. There are octave-up and octave-down buttons on the side to help you expand your range if you're performing live and need more than two octaves.
Last update on 2023-09-26 / Affiliate links / Images from Amazon Product Advertising API
Studio Space
Related to portability is the amount of studio space you have. Even if you aren't planning to take your MIDI controller on the road, size is a factor you need to consider. For smaller studio spaces where work surfaces are hard to come by, a full-size 88 key keyboard might not be realistic.
The amount of other gear you have to fit into the studio is also pretty important. If you have a lot of instruments and components, you might not want to use four feet of your space on one keyboard, especially if it isn't your primary input device.
Alternatively, if you don't have a lot of gear and plan to use your MIDI controller for a great deal of your music-making, a bigger keyboard makes better sense. The way you use your controller in the studio is a good way to gauge what size it should be.
One-Handed or Two-Handed
The last space-related factor to consider is how much space your hands take up when you play. If you use the keys as a secondary tool to your computer set-up, a smaller octave range could work fine for you.
On the other hand, if you're a keyboardist or pianist and you often play with both hands at once or primarily use the MIDI controller rather than your computer, a larger octave range would serve your needs better.
If you're looking for a mid-size MIDI controller that feels closer to a real piano, the Nektar 49-Key MIDI Controller

from Amazon.com is a good option. This controller mainly focuses on the keys, which are longer and wider than other MIDI controllers. The additional features are off to the side rather than across the top, which leaves more vertical space for the keys as well.
Nektar, 49-Key Midi Controller (SE49),Black white Grey

All the features and expressive control you need to start making music with your computer, and at a...
Nektar DAW integration for most popular DAWs
Comprehensive MIDI functionailty. Compatible with all MIDI music software applications
Last update on 2023-09-26 / Affiliate links / Images from Amazon Product Advertising API
Leads or Rhythm
The role your MIDI keyboard plays in your setup is also something to consider. If you're using your MIDI controller to lay down bass lines or other rhythm lines, then you probably don't need more than two octaves at a time.
If you're using the MIDI for the lead track or melody, limiting yourself to two octaves could be frustrating. You can always electronically switch the octave up or down in the computer. But if you're regularly crossing more than two octaves as you play, making that switch quickly becomes cumbersome. This can interfere with your recording process and make the studio experience frustrating.
Octaves & Other Musical Aspects
The most important factor to consider is your music. Your MIDI controller should help you make the music you want. Depending on your skill level with keyboards, having multiple octaves could be a help or a hindrance.
Accomplished pianists might be more comfortable with a full 88 key controller, but a producer with more experience using electronic music equipment might only use one or two octaves at a time. Your MIDI controller should support your strengths and help you overcome your weaknesses.
You also need to balance the number of keys with the number of other features you want your controller to have. For example, if you're using your MIDI controller for live shows and you need it to play more than one type of instrument, use a controller with more octaves so that you can range-split. This lets you set a few octaves to one instrument, like a bass line, and the other octaves to another instrument, like a drum kit.
The Novation 61SL MIDI Keyboard

from Amazon.com is an excellent compromise. It has 61 velocity-sensitive, weighted keys which cover 5 octaves. In addition, it's got an eight-track pattern sequencer, an arpeggiator, and scale modes. It brings the touch and feel of a high-quality synthesizer to the functionality of a high-end MIDI controller that lets you do more on the instrument than on the computer.
Last update on 2023-09-26 / Affiliate links / Images from Amazon Product Advertising API
Final Thoughts
The number of keys your MIDI controller should have is a very personal decision. The type of music you're recording, your skill level as a pianist, and the size and shape of your required keyboard are all factors to weigh when choosing how many keys you want on your controller.
As long as you have at least one octave, you can use your MIDI controller for anything at all. Luckily, there are plenty of keyboards on the market so you can choose the one that fits your needs best, whether that's 25 keys or 88 keys.
Check out whether you can produce music on a Google Chromebook.

Sources
Was this article helpful?
Recent Posts
link to How To Allow QuickTime To Access Microphone 🎙️  
QuickTime is a vital app for many Mac users, and if you've recently bought a new microphone, you might wonder how to use it optimally. QuickTime cannot record audio content if it doesn't have...
link to How Do I Test My Microphone? 🎙️
Every microphone leaves a unique signature on the quality of its output. If you're a podcaster trying to melt your way into your audience's hearts, a muddy, distorted recording won't cut it....