Smartphones and tablets make huge advances in technology every year with better cameras and higher audio quality for microphones and speakers. You may find yourself wondering if you can make music on your smartphone as easily as you can listen to it. Can you use your smartphone as a MIDI controller?
You can use your phone as a MIDI controller via specific apps compatible with your Digital Audio Workstation (DAW). You also need to transfer the digital data from your phone to the DAW, the method of which differs depending on your device OS. But doing so means sacrificing quality over flexibility.
Read on to learn how a MIDI Controller works, how your phone can replace its functions, and what benefits or shortcomings it offers you. You'll also learn the steps to turn your phone into a MIDI Controller.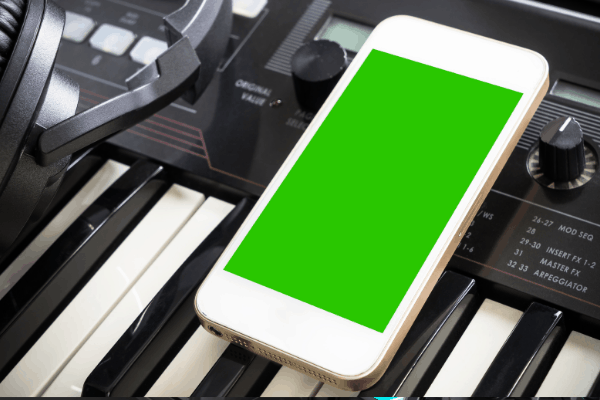 How Do You Use a Phone as a MIDI Controller?
The first step to understanding how to use your phone as a MIDI controller is to understand what a MIDI controller is and its functions in digital music.
MIDI stands for Musical Instrument Digital Interface.

You use a MIDI to input musical data into your Digital Audio Workstation (DAW). Essentially, you're playing music on your MIDI controller, and the controller is translating that music into digital data that you can then record or play from your DAW.
MIDI controllers often look like keyboards. Keyboards are a useful shape for a MIDI controller because they lay out musical notes in a logical way that's easily translated between musical instruments. They're also responsive to pressure and rhythm. If you press a key harder on a keyboard, that translates to a louder sound, for example.
When you use your phone as a MIDI controller, it'll most likely use a keyboard shape as well. It's a recognizable way to translate music visually, so many MIDI apps for smartphones use the image of a keyboard as their interface.
For professional recordings or performances, you're better off using a regular MIDI keyboard or device. However, using your phone as a MIDI controller is a great way to introduce yourself to making digital music. A smartphone is versatile and powerful enough to deliver all of the basic functions of a beginner's MIDI keyboard.
Check out my ultimate guide to the Top 49-Key MIDI Controller Keyboards

Hooking Up Your Phone as a MIDI Controller
To use your phone as a MIDI controller, you'll need a MIDI application of some sort—but that's just half the equation. Once you have a way to create music on your phone, you also need to move that data from your phone to your DAW.
Most apps will move the data from your phone to a computer. However, more complex apps can send the digital information to an audio interface instead. This is uncommon and requires more complicated cables, depending on your audio interface and the phone's connection port.
To connect to an audio interface, you'll need at least one adapter, but it'll differ dramatically based on the interface complexity and the rest of your system. For the sake of simplicity, this article will focus on connecting your phone to a computer to use it as a MIDI controller.
When connecting your phone to a computer, you can use either a wired or wireless connection. For a wired connection, you'll need to connect your phone to the computer via a USB cable. Most charging cords will work for this.
Once your phone is physically connected to the computer, open your DAW and select your phone as the MIDI controller. Then you're ready to start making music.
Wireless Connections
To connect your iPhone or iPad via wifi, you'll need to use a separate computer program. It's not enough to have both devices on the same wifi network (though they do need to be on the same wifi network). For Mac computers, there's a built-in app called Audio MIDI Setup.
Launch Audio MIDI Setup to get started. Next, click "Window" and then "Show MIDI Studio." Hit the network button, which has a small globe icon. This will open a new window. On the left side, under "My Sessions," hit the plus button to start a new session. Check the box next to your session.
This should bring up any available MIDI controllers. Select your phone from the list and hit "connect." This will create the link between your phone as a MIDI controller and your DAW.
For Windows computers, you can use the Bonjour service through iTunes. You may need to install an additional driver as well. Bonjour will bring up the same menus as the Mac Audio MIDI Setup app.
Once your phone is connected, you can open your MIDI app on your phone and start creating your next masterpiece.
Benefits of Using Your Phone as a MIDI Controller
The benefit of using your phone as a MIDI controller is the increased versatility it gives you compared to a standard keyboard MIDI controller. Different MIDI apps offer different ways of visualizing and conceptualizing sounds and rhythms.
The simpler apps offer the image of a keyboard that you can play the way you would a standalone MIDI, but a host of more creative apps also exists. Some let you select chords rather than individual notes or choose from sounds that go beyond traditional instruments.
Because most smartphones have touch screens, these MIDI apps give you more control options in a limited amount of space. Different finger motions and screens let you adjust volume, rhythm, and instruments in a few inches. The same breadth of controls in a separate MIDI device would take up significantly more space.
Drawbacks of Using Your Phone as a MIDI Controller
While smartphone MIDI apps are a convenient and versatile tool, they have some drawbacks. The first is quality. You can do a lot with a smartphone MIDI app, but smartphones weren't made to be MIDI controllers.
Features that make physical MIDI keyboards more appealing include the dynamics of touch. When you strike a keyboard key on a decent MIDI keyboard, the amount of pressure you put on the key will translate into the volume of that note in your DAW. Having that level of control at your fingertips saves you a lot of time adjusting your levels in the DAW.
The size of a MIDI keyboard also makes it more appealing than a MIDI app. It's harder to play multiple notes at once on a digital keyboard on your six-inch-long phone screen than it is to play those same notes on a standard-size keyboard.
The Worlde 25 Key Portable USB MIDI Controller Keyboard

from Amazon.com is the best of both worlds. It has a standard 2-octave piano keyboard and controls for a drum machine, an arpeggiator, and fixed chords. It's sensitive to the pressure and velocity you use on the keys, and it has eight additional rotary knobs to which you can assign functions.
This MIDI keyboard is an affordable and versatile introductory MIDI controller that gives you the expansive features of a smartphone MIDI app with the ease and comfortable use of a traditional MIDI keyboard.
Last update on 2023-09-26 / Affiliate links / Images from Amazon Product Advertising API
Final Thoughts
Using your phone as a MIDI controller is an exciting new way to make digital music. Whether you're producing, mixing, or recording something brand new, you'll need a MIDI controller of some kind to make it happen. When the smartphone in your pocket is capable of so much, using it as your MIDI controller is a no-brainer.
While smartphone MIDI controller apps give you exciting versatility, there are advantages to using traditional MIDI keyboards. For an easier time cleaning up your tracks in the DAW, a MIDI with piano keys and velocity-sensitive controls is a better choice.
Check out whether MIDI files are convertable to MP3

.
Sources
Was this article helpful?
Recent Posts
link to How To Allow QuickTime To Access Microphone 🎙️  
QuickTime is a vital app for many Mac users, and if you've recently bought a new microphone, you might wonder how to use it optimally. QuickTime cannot record audio content if it doesn't have...
link to How Do I Test My Microphone? 🎙️
Every microphone leaves a unique signature on the quality of its output. If you're a podcaster trying to melt your way into your audience's hearts, a muddy, distorted recording won't cut it....