Villageguitars.ca was the website for a boutique guitar shop and concert venue in Saskatoon, Saskatchewan. Homestudioexpert.com, a website with advice on how to build a home studio, recently acquired Villageguitars.ca.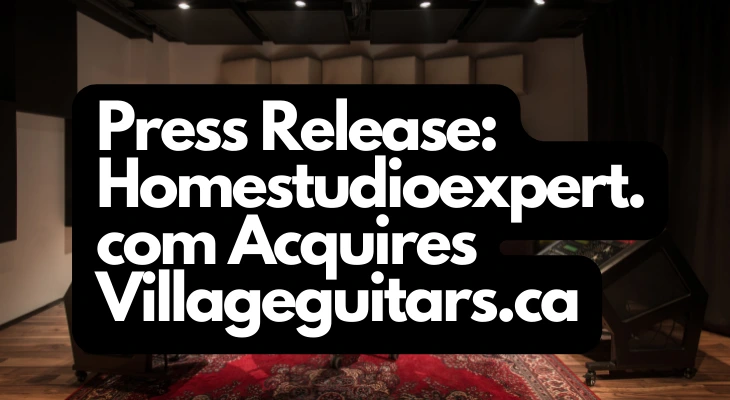 What Did Villageguitars.ca Do?
Village Guitar & Amp Company used Villageguitars.ca to promote its services and venue. The specialty guitar shop was located in Saskatoon, Saskatchewan. The shop sold, repaired, and refurbished guitars and other instruments. The space was also used as a venue for concerts and private events.
The website contains information on upcoming events, including live shows and performances. Fans of Villageguitars.ca could also buy t-shirts and rewatch musical performances uploaded to the shop's YouTube page.
Dan Canfield opened Village Guitar & Amp in 2011 after finishing luthiery training in Michigan. Canfield specialized in the construction and repair of stringed instruments and used his passion to launch a guitar shop. The small shop fixed and sold guitars during the day and transformed into a music venue at night.
The business appears to have stopped updating its website in 2016 and ceased posting to its social media pages the following year. The website sat dormant and was recently acquired by Homestudioexpert.com.
What Does Homestudioexpert.com Do?
Homestudioexpert.com is an informational blog dedicated to helping people interested in setting up their own home studio. Visitors can receive expert advice on setting up a space in their home for audio and music recording, video recording, video streaming, podcast recording, and photography.
Homestudioexpert.com offers unique insight into the steps needed to create a home studio. Some of the main considerations when creating studio space include:
● Selecting where to set up the studio
● Choosing the right soundproofing material
● Comparing and buying equipment
● Setting up your gear for optimal results
A home studio makes sense for those who spend a lot of time recording. Whether you want to record music or video, having a dedicated space can save time and boost your creativity. You gain a space where you can devote as much or as little time as you want to your craft without interference from others.
Instead of needing to drive to another location, you can simply walk to your studio. You save time and the need to book studio time, which could even lead to lower costs. Your equipment is stored in one place and ready to use whenever you feel the need to record.
Yet, setting up a home studio also comes with many challenges. You need to ensure that you choose the right space, as some areas of your home may be more difficult to soundproof and isolate. You may also have better acoustics in certain areas of your home. Other considerations include setting up your equipment to prevent unwanted audio distortions.
Visitors can explore these types of topics on Homestudioexpert.com. The site recently acquired Villageguitars.ca and other sites to reach a larger audience and help more people. The acquisition of Villageguitars.ca is a natural fit, as both sites include a strong connection to the world of music.
Learn More
To learn more about recording studios, check out:
To learn more about video recording and streaming, check out:
HomeStudioExpert.com has also acquired the following domains:
To learn more, visit Homestudioexpert.com

Was this article helpful?
Recent Posts
link to How To Allow QuickTime To Access Microphone 🎙️  
QuickTime is a vital app for many Mac users, and if you've recently bought a new microphone, you might wonder how to use it optimally. QuickTime cannot record audio content if it doesn't have...
link to How Do I Test My Microphone? 🎙️
Every microphone leaves a unique signature on the quality of its output. If you're a podcaster trying to melt your way into your audience's hearts, a muddy, distorted recording won't cut it....