While having a good camera is the first step to shooting high-quality videos, it's just as important to have the right lens for the job. Since you're unlikely always to be filming in perfectly-lit settings, your lens has to be able to perform just as effectively in low lighting. Although there are countless lenses to choose from, some stand out from the pack.
The five best lenses for low light video recording that offer wide apertures that allow for clear images in low lighting are:
Canon EF 50mm f/1.4 USM
Sigma 18-35mm f/1.8 Art DC HSM
Nikon AF-S FX NIKKOR 24-70mm f/2.8 E
Canon EF 24-70mm f/2.8L II USM
Rokinon Cine DS DS35M-C 35mm
This article will provide basic information and pros and cons for five of the best low light lenses for video recording. Keep reading to find the lens that is right for you.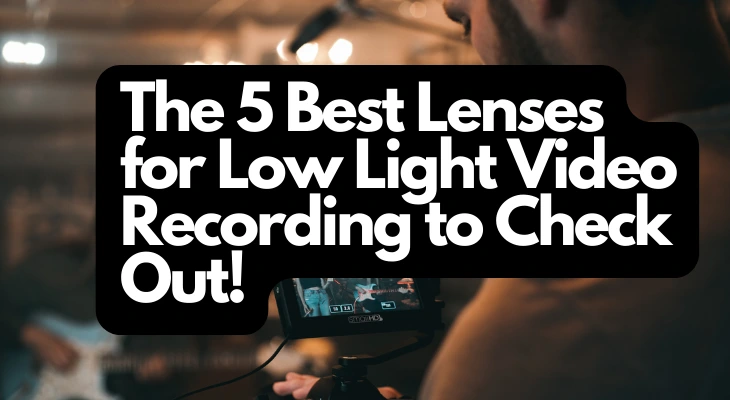 Any discussion about low light video lenses has to include the Canon EF 50mm f/1.4 USM, known to photography aficionados as the "nifty fifty." This nickname technically applies to any fast 50 mm lens, explains

Expert Photography. Other hallmarks of a nifty fifty lens include a wide aperture and a relatively short focal length. These lenses are the closest you'll get to recreating the human eye, which is why they're so popular with photographers.
Sale
Canon EF 50mm f/1.4 USM Standard and Medium Telephoto Lens for Canon SLR Cameras, Fixed

Standard focal length 50 millimeter lens is effective in a multitude of shooting situations and...
Elements, Groups: 7 by 6, Diaphragm: Blades 8, Filter Thread: Font 58 millimeter. Minimum focusing...
An f 1.4 maximum aperture provides clear imaging in low light situations and shallow depth of field
Last update on 2023-09-26 / Affiliate links / Images from Amazon Product Advertising API
This popularity means that even if you're getting into photography, you might already have this in your kit. Many photographers consider them an essential tool in their arsenal, especially since they're lightweight and relatively inexpensive compared to other lenses. Furthermore, Canon may arguably be the most well-known camera company globally, so many budding photographers should turn to the brand for their lenses.
Performance in Low Light
This camera performs well in low light due to its wide aperture, which lets light into the sensor. The more light allowed in the sensor, the better the lens performs in low lighting. The American Academy of Photography states that a standard 50 mm lens will let in roughly five times more light than the average consumer zoom lens. This makes the Canon EF 50mm f/1.4 USM perfect for capturing videos and photos in low lighting. 
The Canon EF 50mm f/1.4 USM works well with both indoor and outdoor low light photography. It's a favorite for capturing wedding videos, street photography, and portraits because it provides crisp, clear images with minimal distortion. This lens also does well with night photography, as you'll likely never have to use the flash to capture clear images and videos.
Pros
This lens is so popular for many other reasons than its excellent performance in low lighting. Photographers also cite these reasons, among others, for purchasing:
You can see what you shoot: Since 50mm lenses mimic normal human vision, you're able to take videos or photos of exactly what you're seeing. With other lenses, you may have trouble fitting everything you want into the shot. Creating a composition that resembles the way we see daily is a lot more straightforward, which can be very helpful when you're shooting on the go or in challenging low-light environments.
It offers great color quality: Users not only compliment how clear images are with this lens but also how great the color contrast is. This is due to its super spectra coating, which helps to create a balanced color. You're also unlikely to experience much ghosting or flare effects. Whatever the subject of your video is, it should appear fairly true to life.
It's affordable: While no lens that's great for low-light video is exactly cheap, the Canon EF 50mm f/1.4 USM is one of the more affordable options. It's a proven sound investment for photographers of any skill level for how well it has performed over time.
It's light and durable: This lens is great for traveling due to its lightweight and sturdy build. Users report that it can survive quite a few tumbles around a camera bag.
Cons
While this lens is pretty much universally liked, there are, of course, some negative aspects of purchasing a slightly cheaper lens. These include:
Inconsistent autofocus accuracy: Digital Camera World states that this lens's autofocus accuracy is hit or miss, particularly when shooting at the lens's most shallow depth of field. It may also not be as quiet as in other models. Other sources claim that the autofocus works perfectly fine, however. 
No lens mount options: The Canon EF 50mm f/1.4 USM only supports Canon EF lens mounts. If you plan on using an existing mount you already owned, you'll need to factor a new mount into your budget.
Find out more on how to professionally light your video studio at home here!
This lens is becoming increasingly popular for low light photography for a good reason. Digital Camera HQ recently rated

it their best overall lens for low light, beating out many more expensive lenses. This may be partly because the Sigma 18-35mm f/1.8 Art DC HSM is the first lens offering f/1.8 aperture through such a large range of zoom lengths. It also performs consistently well at each of these lengths, from 18mm to 35mm. 
Sale
Sigma 18-35mm F1.8 Art DC HSM Lens for Canon, Black (210101)

F1.8 maximum aperture
F16 minimum
Ring-type ultrasonic-type AF motor with full-time manual focusing, 72mm filter size
Last update on 2023-09-26 / Affiliate links / Images from Amazon Product Advertising API
While this lens isn't necessarily cheap, many argue that it can essentially do the work of three different lenses. Stark Insider argues

that this one lens does the work of 18mm, 24m, and 35 mm lenses on its own. This not only frees up room in your camera bag but also saves you money. Given that the lens produces images worthy of those costing two to three times as much, it's safe to say that it is a good investment. 
Performance in Low Light
Like the Canon EF 50mm f/1.4 USM and all lenses that perform well in low-lighting, the Sigma 18-35mm f/1.8 Art DC HSM has a very wide, fast aperture. However, this lens is somewhat of a "technological marvel

," according to Photography Life, as it is the first zoom lens to offer an aperture like this. Being able to shoot at this aperture at different ranges makes this lens perfect for low light video, as you'll be able to capture high-quality images without continually resetting. 
This lens is perfect for artistic cinematics, including night time photography. It's known to take beautiful night sky images due largely to its Hyper Sonic Motor-enabled autofocus. This autofocus makes capturing low light videos even easier since you'll be able to keep up with the movement in front of the camera without worrying about losing a lighting source or risking blurry images. There is also a full-time manual focusing override, however, if you'd prefer this option.
Pros
In addition to its quiet, accurate autofocus and fast aperture, the Sigma 18-35mm f/1.8 Art DC HSM boasts these further features:
Super fast zoom: The Sigma 18-35mm f/1.8 Art DC HSM may be one of the fastest zoom lenses on the market – and Zoom lenses are not normally fast. When combined with its incredibly accurate autofocus, you won't have to worry about missing out on an important shot.
Superior image resolution: Super Multi-Layer Coating minimizes lens flare and reflections. The lens itself is designed to produce incredible images, with low dispersion glass and an aspherical lens that reduce chromatic aberrations, curvature, and distortions.
Light and strong body: This lens is made of Thermally Composite Material, making it durable and resistant to the elements. Whether you're shooting landscapes or portraits, it should stand the test of time.
Cons
It's hard to find complaints from the Sigma 18-35mm f/1.8 Art DC HSM owners. Two minor drawbacks include:
Vignette and barrel distortion: While this lens consistently provides a clear image, when the aperture is wide open, some mild distortion may occur.
Restricted zoom range: As displayed in the lens's name, the zoom range is restricted to 18-35 mm. Accordingly, it may not be able to serve as the only zoom lens in your collection.
Check out my picks for the Best Filmmaking Camera for Video Recording on a Budget
Described as the workhorse of professional photographers, the Nikon AF-S FX NIKKOR 24-70mm f/2.8 E is used worldwide for many different types of photography. It can handle almost any type of shot, from landscapes to zoomed-in shots of people favored by event videographers. Nikon improved on previous models with this lens, which arguably offers the company's sharpest mid-range zoom.
Nikon AF-S FX NIKKOR 24-70mm f/2.8E ED Vibration Reduction Zoom Lens with Auto Focus for Nikon DSLR Cameras

Fast f/2.8 constant aperture with an electromagnetic diaphragm
Sensational image quality and sharpness with virtually no distortion, Focal Length Range : 24 to 70...
Minimum Focus Distance : 35 to 50 millimeter focal length : 1.2 feet (0.38 meter) from focal plane;...
Last update on 2023-09-26 / Affiliate links / Images from Amazon Product Advertising API
The biggest draw of this lens for photographers, however, is its vibration reduction. When filming a video or taking a photo from a moving vehicle, you can switch the setting to Active. This allows the vibration reduction to compensate for any camera shakiness. Even better, this vibration reduction is available across the entire zoom range of the lens. This makes it ideal for videography in any setting.
Performance in Low Light
While the Nikon AF-S FX NIKKOR 24-70mm f/2.8 E's aperture may be less wide, it is still fantastic for a zoom lens and takes extremely high-quality photos and videos. When combined with the lens's incredible image stability, PCMag suggests

that anyone recording in areas where flash photography is not allowed should consider switching to this lens. After all, a photo or video being light enough to see doesn't matter if the image captured is blurry. 
Pros
The vibration reduction is the most impressive feature of this lens. In addition to incredibly clear photos and videos, it also offers:
Fast, quiet zoom: With 9 rounded diaphragm blades, the Nikon AF-S FX NIKKOR 24-70mm f/2.8 E's zoom operates both quickly and quietly.
Versatility: This lens operates efficiently at both extremely long and extremely short focal lengths. It can easily take the place of two or three other lenses, making it both cost-effective and a great way to reduce the size of your camera bag.
Fluorine coat: This coating covers the lens's front and rear glass, offering protection from dirt and other debris. As a bonus, it also makes the lens easier to clean.
Check out why we think the Nikon D3200 is great for YouTube videos here!

Cons
Even the workhorse of lenses is bound to have a few negatives. Commonly cited problems include:
Bigger and heavier: With the Nikon AF-S FX NIKKOR 24-70mm f/2.8 E's durability comes some extra weight. This lens is around two pounds, which can start to feel quite heavy after hours of filming.
High price: While definitely not the most expensive on the market, you'll likely pay over a thousand dollars for this lens. This increased price does come with the incredibly desirable vibration reduction, however.
Although this is the second Canon lens on this list, I probably would have included a dozen more. Canon excels at low-light lenses, and the Canon EF 24-70mm f/2.8L II USM is no exception. This lens is the second version of their famous L-series, refined for even better photos and videos. This revamped lens includes AF algorithms and a USM motor to make focusing more accurate and smoother than ever.
Canon EF 24-70mm f/2.8L II USM Standard Zoom Lens

24 70 millimetre focal length, 38.4 112 millimetre equivalent focal length on Canon APS C cameras
F2.8 constant maximum aperture; F22 minimum, ring type ultrasonic type AF motor with full time...
82 millimetre filters, closest focusing distance: 0.38 meter/1.25 feet
Last update on 2023-09-26 / Affiliate links / Images from Amazon Product Advertising API
Like the Nikon I covered early, this lens is considered a workhorse or jack of all trades for general photography. The focal length range is considered the sweet spot for many photographers, perfect for portraits, landscapes, and event photography. This camera is especially great for weddings, as its fast focus allows you to switch from close-ups to group shots in a matter of seconds.
Performance in Low Light
The Canon EF 24-70mm f/2.8L II USM's fixed f/2.8 max aperture makes it possible to take incredibly clear photos and videos in the darkest settings. Popular with photojournalists and sports photographers working in dark environments, this lens will work equally well in low-light event venues or outdoors at night. It also offers great contrast and reduced chromatic aberration.
Pros
As with all Canon lenses, you can expect superior quality. This lens also offers:
Robustness: The Canon EF 24-70mm f/2.8L II USM offers some of Canon's best weather-sealing technology, argues Digital Camera World. This is attributed to its fluorine coating, which repels moisture and grease to protect the lens from the elements. 
Greater sharpness: The redesign of this lens introduced a new optical design with three aspherical lens elements to reduce color blur, fringing, and distortion. Combined, this leads to incredibly sharp images.
Cons
While this lens has been redesigned, not every kink has been worked out. Owners have mentioned dissatisfaction with two major things:
Lack of image stabilization: There is no specific image stabilization mechanism within the lens. Canon explained that it was impossible to add this feature without compromising the image's quality or size.
High cost: The Canon EF 24-70mm f/2.8L II USM is relatively expensive. While it's a good investment, this might not be the best lens for non-professional photographers. 
The Rokinon Cine DS DS35M-C 35mm is the only lens on this list advertised primarily for its ability to take cinematic quality videos. In fact, the lens was designed for video and film applications. You'll see this intentionality in many of its specs, like the de-clicked aperture ring that allows for quiet adjustments during the filming process and how the aperture and focus scales are located on the side of the lens for easier access.
Rokinon Cine DS DS35M-C 35mm T1.5 AS IF UMC Full Frame Cine Wide Angle Lens for Canon EF

Full frame coverage with aperture range of T1.5 - T22
New DS line that is color matched with other Rokinon DS lenses and have unified gear and aperture...
63.1 degrees angle of view on full frame cameras & 40.8 degrees angle of view on APS-C
Last update on 2023-09-26 / Affiliate links / Images from Amazon Product Advertising API
This lens is not on this list just because it's easy for videographers to use, however. It also offers incredibly sharp, contrast-rich, color-neutral images. UMC coating suppresses ghosting and lens flare, in addition to improving light transmission. Three different elements work together to reduce chromatic aberration and distortion, guaranteeing an excellent resolution at both the center and periphery of the lens.
Performance in Low Light
The wide, adjustable aperture makes this lens perfect for filming in low-light settings. The de-clicked aperture ring also allows for greater control over the focus placement, allowing your artistic vision to shine. Most importantly, however, is the fact that this lens was designed for beautiful cinematics. While photos can be staged to have perfect lighting, videography always involves darker spaces. This lens is purpose-built to combat this problem.
Pros
In addition to providing stunning, cinematic shots, this lens also offers:
Reasonable price: Perhaps the best thing about the Rokinon Cine DS DS35M-C 35mm is its price. Whether you're a professional photographer or an aspiring filmmaker, this lens isn't an unrealistic purchase. When you factor in the quality of the product and the cinematic content it can produce, this lens is quite the bargain.
Durability: This lens's body is made of hard plastic, which makes it lighter but durable. It can handle being tossed around a bit, which is great if you're filming on the go.
Cons
Reviews of this lens frequently mention these complaints:
Mild distortion: As with other lenses on this list, when the aperture is fully open, slight distortion or smooth edges may occur. Most users say this is relatively mild, however, and not a serious cause for concern.
Not beginner friendly: Although this lens has a beginner-friendly price tag, it's not easy to operate if you're not used to manual focusing. If you're set on auto-focus, this lens is probably not for you.
Final Thoughts
The key to a lens performing well in low-light videos is a wide aperture. The wider the aperture, the more light is allowed into the sensor, which improves image quality even in dark settings. Other factors, like motion stability, also play a role. Any of these lenses will serve you well in low-light environments, so make sure to decide what type of content you're trying to film as well as how much you're willing to invest in a new lens.
Sources
Was this article helpful?
Recent Posts
link to How To Allow QuickTime To Access Microphone 🎙️  
QuickTime is a vital app for many Mac users, and if you've recently bought a new microphone, you might wonder how to use it optimally. QuickTime cannot record audio content if it doesn't have...
link to How Do I Test My Microphone? 🎙️
Every microphone leaves a unique signature on the quality of its output. If you're a podcaster trying to melt your way into your audience's hearts, a muddy, distorted recording won't cut it....