When you're making a film on a budget, it's very easy to get distracted by all the hype around the latest and greatest camera technology, even if it's not in your price range.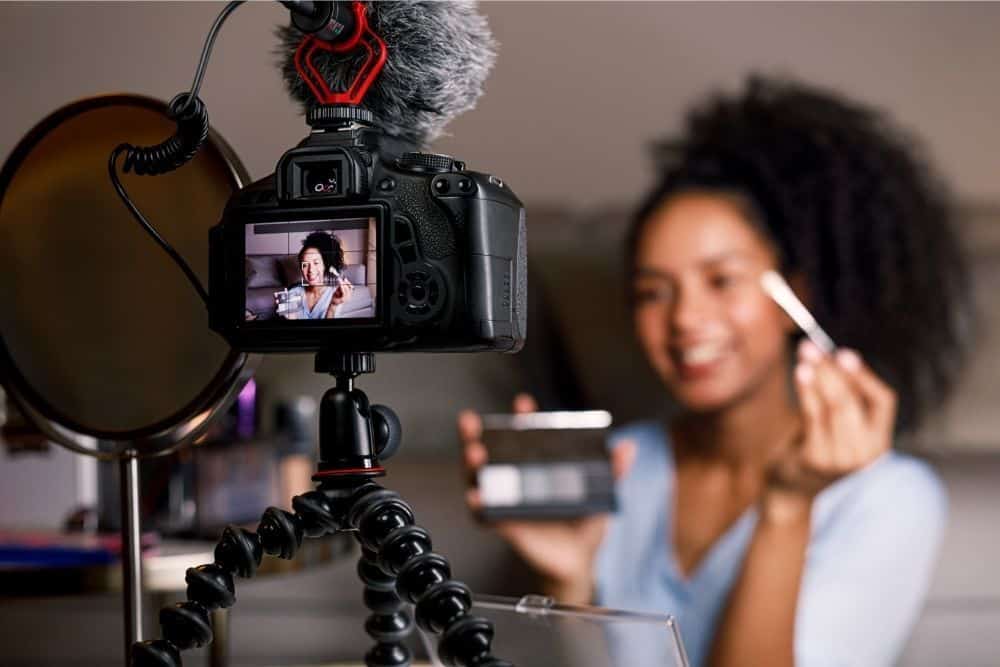 However, the most affordable cameras are still able to capture high-quality footage and are worthy rivals to their more expensive competition.
Below, you'll find five of the best affordable cameras on the market right now, as well as a handy buyer's guide.

Small and compact, the Sony A6400 is packed with video features and has a weather-sealed body that is a considerable upgrade from a Sony A5100 or Sony A6100. It can shoot in 4K up to 30 FPS and in 1080p up to 120 FPS.
Like all Sony cameras, the Sony A6400 has autofocus speed (with the latest autofocus technology) and impressive accuracy.
It also utilizes the classic Sony combination of 425 phase-detection and 425 contrast-detection points, and the addition of real-time autofocus tracking in video mode only enhances this.
With the Sony A6400 you get access to Sony's full catalog of picture profiles such as HLG (HDR), S-Log2, and S-Log3 that give you a more dynamic range. If you wish to color grade your footage in post too, these picture profiles make it easy to do so.
However, the LCD screen is difficult to see in bright light, and the camera doesn't have built-in image stabilization.
Also, the A6400 still uses the much-criticised Sony NP-FW50 battery so the battery life on this camera isn't great.
Still, its autofocus capabilities, low light performance, and video specific features make it one of the best cameras for filmmaking.
Pros
Great ISO range: With its APS-C CMOS sensor, this camera is one of the best low light cameras in its price point.
Easy to shoot time-lapses: The built-in intervalometer lets you shoot time lapses without the need to download additional apps.
Full selection of picture profiles: The inclusion of HLG (HDR), S-Log2, and S-Log3 gives you a greater dynamic range.
No 4k recording limit.
Cons
Inconveniently placed SD Card slot: Because the SD card slot is at the bottom of the camera, it makes accessing it while using a tripod a bit of a pain.
Additional crop: When shooting in 4K there is an additional crop (~1.05x in 24 FPS and ~1.2x in 30 FPS)
Last update on 2023-09-25 / Affiliate links / Images from Amazon Product Advertising API

The Sony A6100 is very similar to the A6400 with only slight differences. However, all Sony Alpha APS-C cameras use the same sensor so the image quality, video quality, and video frame rates are the same.
Therefore, the Sony A6100 shares the same advanced autofocus system as the more advanced Sony Alpha APS-C cameras, but it does not have eye autofocus.
The body is also made of plastic, doesn't have any weather protection, and has no picture profiles, which is probably the biggest letdown when it comes to filmmaking with this camera.
However, it does have a great ISO range and excellent autofocus with the hybrid 425 point AF phase-detect and contrast-detect autofocus system. Sony's E Mount ecosystem also makes upgrading to a more advanced full-frame or APS-C sensor camera easy.
Pros
Impressive shooting speed: The A6100 has up to 120 FPS shooting speed at 1080p.
No 4K recording limit.
Ultra-HD: The A6100 is able to shoot crisp, ultra-HD 4K video.
Microphone input: At 3.5mm, the A6100 has a standard microphone input.
Cons
No built-in stabilization: Unlike other cameras on the market, the A6100 has no built-in stabilization.
No flat picture profiles: A lack of flat picture profiles gives you limited options when filming.
Sony Alpha A6100 Mirrorless Camera with 16-50mm Zoom Lens, Black (ILCE6100L/B)

World's fastest AF at 0 02 sec W/ real-time AF & Object tracking
Wide 425-phase/425-contrast detection AF points over 84% of sensor
24 2MP APS-C Exmor sensor w/ front end LSI and ISO up to 51 200
Last update on 2023-09-25 / Affiliate links / Images from Amazon Product Advertising API

The newest pocket gimbal from DJI, the DJI Pocket 2 is an upgrade to the original model, and these new additions elevate it to one of the best 4K video cameras out there.
With the DJI Pocket 2 you can shoot in 1080p at up to 240 FPS, which is double the slow-motion frame rate of the previous model. There have also been changes for the better when it comes to the proportions of the camera.
The wider 20mm equivalent lens is an upgrade over the 26mm lens of its predecessor, and the sensor has increased from 1./2.3 inches to 1./1.7 inches.
The 20mm equivalent lens and 2 different zoom options (4x and 8x) gives you more options when it comes to focal lengths. The DJI Pocket 2 can also now take 64-megapixel photos, and the autofocus has been upgraded to Hybrid AF 2.0.
You can now shoot in 4K or 2K at up to 60 FPS with the DJI Pocket 2, which is very impressive! The DJI Pocket 2 also has a dedicated slow-motion mode that lets you shoot up to 240 FPS in 1080p. An attachable mini control stick also gives you more control while you shoot, making for a more precise experience.
The DJI Pocket 2 now has DJI's DJI Matrix Stereo. This set of four microphones on the handle will record sound dynamically depending on the direction you're shooting in, and if you zoom in or out.
What you can hear in a film is just as important as what you can see, so this innovative audio solution definitely makes the DJI Pocket 2 worth considering.
What's most impressive about the DJI Pocket 2 though, is how much of an improvement it is from the previous model, especially with the wider lens and improved audio quality. This shows that DJI was really paying attention to customer feedback.
If you're looking for a small filmmaking camera that can easily fit in your pocket, look no further than the DJI Pocket 2. However, you can't change lenses with this camera and it's not the best camera for photography.
Pros
Good 4K: Given its small size, the DJI Pocket 2 has impressive 4K, 2K, and slow motion video frame rates. You can even shoot slow motion in 4K up to 60 FPS, which is a rarity for most budget cameras.
Three-axis stabilization: This three-axis stabilization eliminates shaky footage.
Impressive intelligent modes: The DJI Pocket offers intelligent modes such as FaceTrack, Timelapse, and Panorama.
Additional accessories available: To customize your set up, DJI offers additional accessories such as a wireless microphone transmitter and Do-It-All Handle.
Cons
Registration required: To use the camera you have to connect it to your cell phone and go through the DJI registration process.
Not weatherproof: Don't let its appearance fool you – this camera is not weatherproof.
Can't record for long periods of time: The DJI Pocket 2 is not designed to record for long periods of time in a single shot.
DJI Pocket 2 - Handheld 3-Axis Gimbal Stabilizer with 4K Camera, 1/1.7" CMOS, 64MP Photo, Pocket-Sized, ActiveTrack 3.0, Glamour Effects, YouTube TikTok Video Vlog, for Android and iPhone, Black

POCKET-SIZED: DJI Pocket 2 weighs only 116 g and offers up to 140 minutes of battery life. It fits...
MOTORIZED STABILIZATION: A 3-axis gimbal stabilizes the camera for smooth video on the move. This...
HIGH IMAGE QUALITY: An upgraded 1/1.7-inch sensor captures images with 64MP photo and 4K video. A...
Last update on 2023-09-25 / Affiliate links / Images from Amazon Product Advertising API

One of the first things you'll notice when you get your Panasonic GH4 out of the box is how well it's made. It's a mirrorless camera, but it looks and feels like a classic DSLR with a sturdy weather-sealed magnesium body.
This extra bulk makes the camera easier to handle when shooting. The screen also fully articulates, making maneuvering the camera in different positions a doddle.
While this is a Micro Four Thirds camera, it still has professional filmmaking capabilities, such as the ability to record in Ultra HD 4K at 30/24 FPS and Cinema 4K at 24 FPS. With the GH4 you're also able to film in slow-motion frame rates up to 96 FPS at 1080p.
The GH4 also has a good battery life and is not prone to overheating.
However, the autofocus system lets the GH4 down. It uses a contrast-based autofocus system that is a lot slower than the phase-detect autofocus systems found in Sony cameras. Therefore, if your filmmaking uses a lot of autofocus, this may not be the camera for you.
Pros
Conveniently placed SD card slot: With an SD card slot placed on the side of the camera, it's easier to change the SD card when you're using a tripod.
HDMI output: This allows you to record directly to an external recorder at a 4:2:2 sampling rate, which is considered the professional standard.
Full selection of picture profiles: A full selection gives you a greater dynamic range and makes color grading your footage easier.
Decent slow-motion frame rate: With a slow-motion frame rate of 1080p at up to 96 FPS this is pretty good.
Cons
Poor low light performance: Footage in low light situations appears grainier than it does on other cameras.
Limits to slow-motion frame rate: The slow-motion frame rate only goes to 96 FPS which is considerably lower than other cameras.
No in-body image stabilization.
Sale
Panasonic LUMIX GH4 Body 4K Mirrorless Camera, 16 Megapixels, 3 Inch Touch LCD, DMC-GH4KBODY (USA Black)

Professional photo performance with exceptional moiré suppression
Operating temperature:0 degree to 40 degree (32 degree F to 104 degree F); 4K 24p cinematic video...
High speed 49 area auto focusing in photo or video, perfect for hybrid photography
Last update on 2023-09-25 / Affiliate links / Images from Amazon Product Advertising API

Starting off with a Canon camera is a smart move as Canon offers one of the best selections of native lenses on the market for filmmakers. This not only makes it easy to find lenses for how you work, but the famous Canon colors are a great starting point to capturing footage.
The dual pixel autofocus in 1080p is decent and outperforms other cameras, resulting in adequate video quality.
However, the camera has quite a plasticy build and while the ergonomics are alright, there aren't that many buttons or dials on the camera which makes quickly changing settings difficult.
There is only one exposure dial too, so to switch between aperture and shutter speed you need to go through the menu system.
Although you can shoot 4K with the M50, it's difficult to use and the camera does not have in-body image stabilization. Also, in 4K video mode, the dual pixel autofocus is disabled, leaving you no choice but to use its mediocre contrast autofocus system.
When you're shooting in 4K you can see the autofocus pretty clearly trying to find the focus point which hinders the video quality.
As for slow-motion film rates, you can shoot up to 60 FPS but it lowers the resolution to 720p.
Pros
Easy to use: The M50 is incredibly easy to use and gives you 1080p footage that looks great.
Smaller sensor: The APS-C size CMOS sensor is smaller than sensors on other cameras.
Great colors: You can count on Canon to capture amazing colors.
Dual-pixel autofocus: In 1080p video mode, the dual-pixel autofocus shoots decent video.
Cons
Poor ergonomics: The plasticky build doesn't make this camera the most comfortable to hold.
Dual-pixel autofocus not available in 4K: The resolution drops when filming in dual-pixel autofocus.
Recording limit: You can only record for 30 minutes with the M50.
Sale
Canon EOS M50 Mirrorless Vlogging Camera Kit with EF-M 15-45mm Lens, Black

Dual Pixel CMOS AF for fast, accurate autofocus that helps you get the photo you want right as the...
241 Megapixel APS C CMOS sensor and the DIGIC 8 Image Processor delivers incredible color, clear...
Vari angle touchscreen LCD has a flexible tilt range ideal for high angle and low angle shooting,...
Last update on 2023-09-25 / Affiliate links / Images from Amazon Product Advertising API
Buyer's Guide
As you can see, there is a lot to consider when buying an affordable filmmaking camera. You have to take into consideration not just price but other important factors like the quality of the footage, and how easy and convenient the camera is to operate.
But what else should you consider when buying a camera? If you're new to filmmaking, below I've listed a few features to keep in mind when buying an affordable filmmaking camera.
Easy to Use
When buying a camera, it's important to consider how easy it is to operate and how confident you'll feel using the camera. Of course, part of buying any new piece of equipment is figuring out how to use it and you won't have that knowledge right away.
But you at least want a camera that is user-friendly and has an interface that is easy to learn from.
Pay attention to how easy the controls are to use, and if important settings can be changed with buttons, switches, or menus. You should also consider if the camera has a touchscreen that works well, or an accessory shoe for a microphone or light to go.
Lastly, is the camera ergonomic? If you're holding your camera for long periods of time, it should at least be comfortable.
Lens
You should also take into consideration how far the camera zooms out (wide angle) and zooms in (telephoto). Wide-angle is important as it lets you get close and makes handheld filming easier. To compare, find out what the 35mm equivalent is. Under 30mm is good, but under 25mm is great.
When buying a camera, look into the optical zoom range, as digital zoom doesn't matter all that much.
If the zoom range isn't very wide on the camera you want, check if the manufacturer makes wide-angle or telephoto adaptors to fit to the front of the lens.
It's also important to consider how close the camera can focus and what the widest aperture is. A low number like f/2 or f/1.7 lets more light in so you can use the camera in darker conditions and achieve shallow focus effects.
Image Stabilization
Image stabilization makes pictures less shaky, but it's not a necessity if you're going to use a tripod or a good camera support. However, image stabilization is very important for handheld shooting.
The most effective stabilization combines lens-based optical stabilization and sensor-based in body image stabilization (IBIS).
Recording Format
You should always make sure the camera records in a format that your editing program can handle.
Mostly you'll only really need 1080p HD for most uses, but filming in 4K also has advantages. It often looks even better when downsized to 1080p and lets you crop (for example, from a mid-shot to a closeup) when you edit.
Some cameras can even record higher quality video like 10 bit and 4:2:2. These take up space and can be quite taxing for your computer but make correcting and adjusting easier when you edit.
Sensor Size
Larger sensors are usually better up to a point. The big sensors found in HDSLRs, mirrorless cameras and large sensor video cameras generally work better in low light, and let you achieve shallow focus effects.
They also allow you to use smaller apertures without your images getting softened by diffraction.
Mirrorless cameras and DSLRs are available in three main sensor sizes. These are full-frame, APS-C and Micro Four Thirds (MFT). These are the smallest sensors, found in more compact and convenient cameras but these do not work so well in low light.
APS-C is roughly the same size as 35mm movie film frames that work well for shallow focus and low light.
But 'full frame' cameras offer the best low light performance (and ultra-shallow focus), but they're expensive and have bigger, heavier lenses.
Sound
When buying a camera it's worth considering the quality of the built-in microphone, as well as checking if there's a headphone socket so you can listen to the sound while you film. You should also check if you can plug in a separate microphone.
FAQs
What type of camera should I get as a beginner photographer?
I would recommend a camera that is budget-friendly and not too expensive and is suited to your ambitions. As your expertise grows, you will want to challenge yourself and will become more ambitious, so you should upgrade your camera as you evolve as a filmmaker.
Refer to my buyer's guide and remember to pick a camera that is user-friendly and easy to use!
What are good online resources to learn about filmmaking and photography?
Skillshare has excellent tutorials on everything from filmmaking to photography, and also how to use editing programs like Adobe. A big part of the filmmaking process is editing after all. It's how you further refine your project and piece all the footage together. Programs
Was this article helpful?
Recent Posts
link to How To Allow QuickTime To Access Microphone 🎙️  
QuickTime is a vital app for many Mac users, and if you've recently bought a new microphone, you might wonder how to use it optimally. QuickTime cannot record audio content if it doesn't have...
link to How Do I Test My Microphone? 🎙️
Every microphone leaves a unique signature on the quality of its output. If you're a podcaster trying to melt your way into your audience's hearts, a muddy, distorted recording won't cut it....