Nikon has many great cameras out there, and when it comes to making youtube videos, you have to make sure you have the right one. The Nikon D3200 is a great model, but is it good for making YoutTube videos?
The Nikon D3200 is good for youtube videos; it shoots 1080p HD video, has a mic jack, live view mode, and an LCD screen. Furthermore, it has automatic ISO and focus and will produce sharp and bright footage. Since the camera is a bit expensive, the ideal consumer will be professional YouTubers.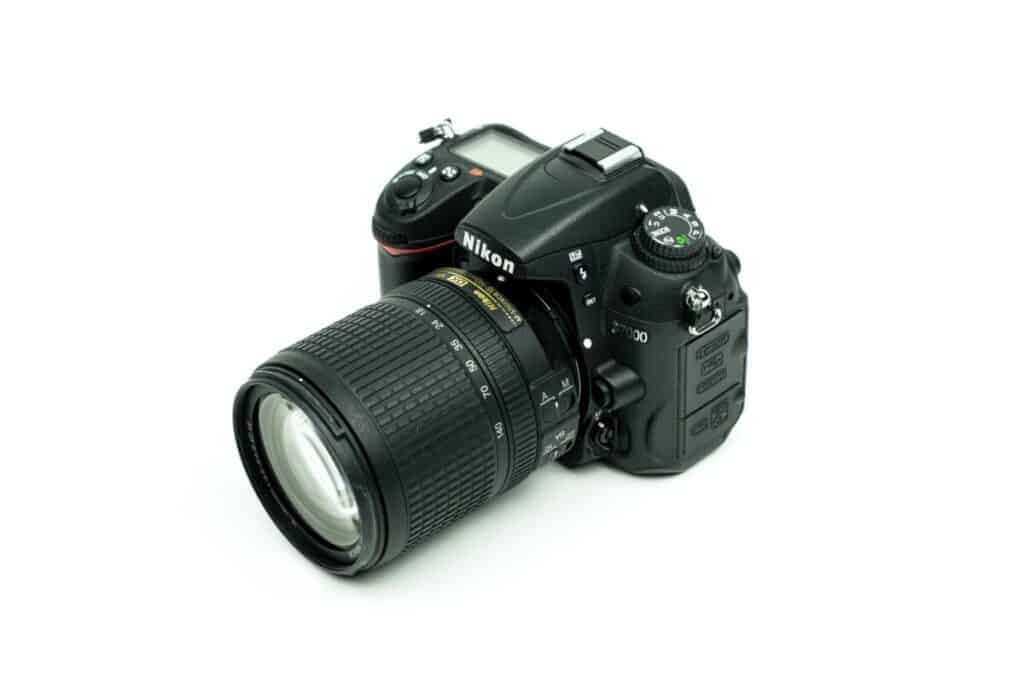 Pros of the Nikon D3200
The camera has a mic jack: The Nikon D3200 has an audio jack, which is very helpful when recording videos. You can plug in an external audio device (such as the Rode VideoMic Go) to increase the sound quality.
Can shoot 1080p high definition video: Something that makes this camera great for video is that it can shoot high-definition video at 1080p at 30 frames per second.
Live view mode: A big benefit of this particular model is that it has a live view mode. While you are recording, you can press a button to raise the mirror to see what is in the frame.
LCD screen: The Nikon D3200 has an LCD screen, which will be great for playing back your video.
The camera has a powerful CMOS sensor: This model has one of the most high-quality CMOS sensors of cameras of this level. The sensor will help to capture sharper and richer video.
The camera has full-time autofocus: A critical feature to have when recording video is autofocus. This model has great full-time autofocus that will ensure you are always in focus.
Sale
Last update on 2022-10-05 / Affiliate links / Images from Amazon Product Advertising API
You cannot monitor the sound on this camera while recording: One downside about this model is that you cannot use headphones to monitor the sound like other cameras. 
Expensive for beginner/hobbyist YouTubers: This particular model costs around $550. While this is a great deal compared to the average price of cameras, it is a lot of money to pay if you are a beginner YouTuber. 
Check out my picks for the Best Camera for Filmmaking or Video Recording on a Budget!
Should You Get This?
Before you invest in equipment that is over $500, you should consider whether you need it or not. There are many different good-quality video cameras for under $400, so maybe take a step back for a second and evaluate your youtube career's status.
If you have a big budget, are planning to grow your YouTube career, and truly enjoy shooting videos and unleashing your creativity, then this would be a good camera for you.
Secondly, if your YouTube career is already off the ground and you are either popular or making money from it, this will be a great investment.
Lastly, if you enjoy shooting pictures on top of video, then the D3200 will be suiting since it is also a fabulous camera for photography.
On the other hand, if you are just getting into YouTube and are new to the whole video-making process, we would recommend starting with something cheaper, such as the 4K Camcorder Video Camera Vlogging Camera Recorder.
This camera is also great for shooting videos such as vlogs or handheld candid footage since it is light and easy to carry. You will not need a tripod to get different footage with this camera.
If you want to see how well this camera shoots video, check out the link below. The YouTube video is shot with the Nikon D3200 and beautifully displays the clear and sharp footage it can produce:
The Nikon D3200 Is Light and Easy to Carry
What makes this model great for not only still footage but vlogging is that it is lightweight and easy to carry around. You can easily record good-quality footage while walking.
Furthermore, since it is a small camera, it can easily fit in your backpack, which will be great for travel YouTubers.
The Nikon D3200 Has Autofocus and Auto ISO
Some camera models require you to set up the focus and ISO manually before shooting. Manuel settings can be a problem since natural sunlight can easily change (and make the shot brighter or darker), and if you move a certain way, you will be out of focus.
Fortunately, the Nikon D3200 has autofocus and auto ISO. Even if the sun changes or you move around a bit, the camera settings will keep up with the environment and produce natural-looking footage.
The Nikon D3200's Video Quality Review
The Nikon D3200 produces very good quality video because it can shoot 1080p high-definition video at 30 frames per second, has good video image detail with clear color and modest motion artifacts.
This Nikon camera will be sure to boost the quality of your youtube channel since it has excellent video specs. Furthermore, the powerful CMOS sensor will increase video quality by creating more rich and sharp footage.
The D3200 video quality uses progressive frame recording, with a choice of three video resolutions: 1920 x 1080 Full HD, 1280 x 720 HD, and 640 x 424 SD.
Check out this article about exactly what frame rate you need for recording YouTube videos.
It Has a Live View Mode
One of the most annoying things is when you shoot your twenty-minute video, and you play it back to realize you have been out of focus the entire time. This problem will never happen with the Nikon camera since it has a live view mode. This feature is incredibly helpful when filming youtube videos.
It is expensive for beginners. Many YouTubers are part of the community simply as a hobby. Or, you are a beginner looking for a camcorder that will produce a higher quality video. Even though the Nikon D3200 is on the lower end of the price bracket for digital cameras (usually they can fall anywhere between $100 to $2000), $550 is still a lot of money to pay, especially when it isn't for your job.
Auto ISO may overexpose on some occasions. Some photographers have noticed a small downside; the Nikon D3200 may overexpose in bright settings when using the auto ISO feature. Overexposure will be something to watch out for in your live view mode. You can always manually override the auto ISO and adjust it yourself.
Frequently Asked Questions
Does it shoot in slow motion? Yes, the Nikon D3200 does shoot in slow motion. The camera can shoot at 60 frames per second and creates beautiful, smooth, and clear slow-motion footage. This feature will be fun to play around with and can add a unique feel to your youtube videos.
Will I need a tripod? No, you will not need a tripod. The camera has a VR image stabilized lens. This type of lens will minimize the camera shake and provide sharp shots without using a tripod or flash system. However, it is good to keep in mind that using tripods will always increase your video's quality, and if you can afford one, they are always handy to have in your collection.
What are the different resolutions I can shoot in? There are three different resolutions you can shoot in with this camera. There are 1920 x 1080 HD, 1280 x 720 HD, and 640 x 424 SD. You can also edit the length of the video in the camera after you shoot it.
Sale
Last update on 2022-10-05 / Affiliate links / Images from Amazon Product Advertising API
Final Thoughts
The Nikon D3200 has many great features for filming youtube videos. With its 1080p high definition video, live view mode, mic jack, and autofocus, you will be getting sharp images and good sound. On the other hand, the camera costs around $550, which is quite expensive.
If you are a professional YouTuber or want to increase your audience, this camera will serve you well. If youtube is just a hobby for you, this camera may be out of your price range. Consider checking out the 4K Camcorder Video Camera Vlogging Camera Recorder for a cheaper option.
Sources