Which kind of photographer are you, one who's happy to grab snapshots, or do you aspire to capture artistic shots? The type of photographer you are defines the type of camera you choose. For ease and convenience, point and shoot vs. bridge cameras have got it covered, which begs the question: which is better?
For compact size, point and shoot cameras are best but many models struggle to snap a decent shot in low-light conditions. However, point and shoot cameras are perfect everyday snapshots. Bridge cameras have greater zoom capability and larger sensors for defined, in-focus, more artistic photography.
Read on to see our assessment of point and shoot cameras vs. bridge cameras, plus discover some of the best-rated cameras within each category.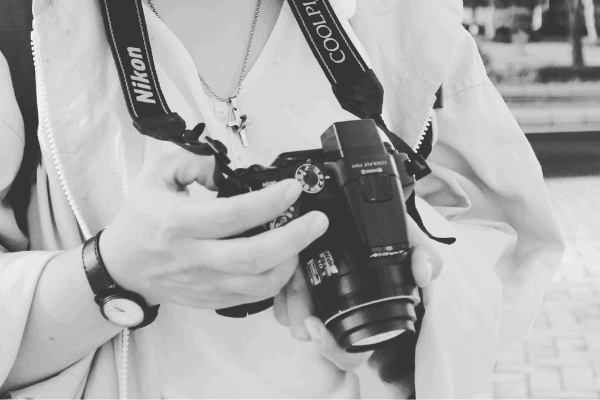 The Point & Shoot Camera: Basic Overview
The classic point and shoot camera, also referred to as a compact camera, is most likely the first camera anyone encounters. As their name describes, they're compact—slip them into a pocket or bag, and off you go. They also deliver good quality images and are easy to use.
Their defining characteristics are:
Compact size
Portability
Design/aesthetic
Fixed, non-interchangeable lens
Compact cameras are all-rounders, representing a compromise between features and price. However, there are compact cameras that compete with pro-level cameras and even top the price of leading DSLR cameras, as the Leica Q2

does. Point and shoot cameras tend to have an LCD screen and shooting modes. 
Because of the extensive range in price and build quality, we can't generalize with point and shoot cameras by saying they're only for beginners or suggest they lack lens or sensor quality. While many compact cameras have small digital image sensors, which compromises functionality in low-light settings and produce noise in images, there are point and shoot cameras of superlative quality.
Price is a distinguishing factor reflecting whether your point and shoot will be a flimsy piece of plastic that produces lousy pictures or an ideal camera that snaps sharp photographs you'd like to stick in your album.
Point and Shoot Camera Recommendations
Fujifilm XF10 Digital Camera - Black

24.2MP APS-C CMOS sensor
3.0-Inch" (Approx. 1, 040k-dot) Color LCD Touchscreen, aspect Ratio 3: 2
Standard output Sensitivity of Iso200 - Iso12800. Extended output Sensitivity of Iso100 - Iso51200
Last update on 2023-09-25 / Affiliate links / Images from Amazon Product Advertising API
For a mid-range compact camera, Fujifilm XF10 has desirable features. It comprises a 24.2-megapixel sensor and a 28mm f/2.8 fixed focal length lens. It has a super-slim build, various modes for setting according to location, but no LCD viewfinder. With the fixed focal length, you'll have to be light on your feet to frame the shots you want up-close.
Sale
Canon PowerShot G1 X Mark III Digital Camera - Wi-Fi Enabled, Black (2208C001)

24.2 Megapixel CMOS (APS-C) sensor.
3x zoom Lens (24-72mm) with optical image stabilizer.
Dual pixel CMOS AF with phase-detection.
Last update on 2023-09-25 / Affiliate links / Images from Amazon Product Advertising API
Proving that compact cameras have a fantastic range and can produce great shots, the Canon PowerShot G1X Mark III has an APS-C sensor, 24.2 million megapixels, and boasts a lens with focal length ranging from 24-72mm at F/2.8-5.6. It shoots video in full HD and has a continuous shooting speed of 7 frames per second. These stats put it on a par with DSLR and mirrorless cameras.
Pros & Cons
| | |
| --- | --- |
| Pros | Cons |
| Affordability Lightweight and compactEase of useLCD screen Automatic shooting modes | Small sensorsLimited zoom rangeLimited F/stop rangeLack of viewfinder in some models |
Bridge Camera: Basic Overview
At the midway point between point and shoot cameras and DSLR sits bridge cameras. While they look like a DSLR, they have the ease of point and shoot and, likewise, a fixed, non-interchangeable lens. Bridge cameras have advanced features, like manual controls to alter ISO, shutter speed, and aperture if you want to advance your photographic skills.
Their defining characteristics are:
Massive zoom capability
Auto and manual shooting modes
Fixed lens
1/2.3-inch to a 1-inch sensor (depending on model)
Distinguishing bridge cameras from compact cameras is the powerful zoom. You can take your shots from the wide-angle, 24mm option or stretch your focal length to bring distant horizons or objects closer with an optical zoom capability of 2000 mm. It's the zoom that makes these cameras less compact than your put-it-in-your-pocket point and shoot.
To adjust for the large zoom size, manufacturers of bridge cameras compromise with sensor size. The majority of bridge cameras have a sensor size of 1/2.3 inches. It's this feature that limits the bridge camera's photographic quality. Small sensors place megapixels closer. The effect of closely placed megapixels is visual noise appearing in photographs. On the other hand, some bridge cameras have 1-inch sensors and a more limited zoom range.
Will you snap artistically pleasing, crisp, in-focus images with a bridge camera? You will achieve high-quality photos, but once the zoom is fully extended, anticipate flatter images with some softness. However, if you want more than your regular point and shoot to add diversity and reach to your camera adventures, bridge cameras' zoom capability and range of focal lengths are desirable features for many.
Bridge Camera Recommendations
We've picked out two rated bridge cameras to compare against similarly priced point and shoot cameras.
Nikon COOLPIX P950

COOLPIX P950 offers 16. 0 Megapixels of resolution
COOLPIX P950 features an 83X optical zoom/166X Dynamic Fine Zoom
Built-in Bird and Moon modes along with scene modes for simple shooting
Last update on 2023-09-25 / Affiliate links / Images from Amazon Product Advertising API
We rated this camera as one of Nikon's best COOLPIX models, and it's making another appearance as one of the best bridge cameras. It has a massive zoom range, including 83X optical zoom plus a Dynamic Fine Zoom of 166X. It also shoots 4K HD Full Resolution video, has image stabilization, and many other useful features like switching between manual or autofocus. Like it's point and shoot cousins, it has a 1/2.3inch sensor.
Panasonic LUMIX FZ1000 4K Point and Shoot Camera, 16X LEICA DC VARIO-ELMARIT F2.8-4.0 Lens, 21.1 Megapixels, 1 Inch High Sensitivity Sensor, DMC-FZ1000 (USA BLACK)

Big sensor quality: Large 1-inch 20.1MP MOS sensor for improved low light capture and large sensor...
4K video & Photo: 4K 30P video with hybrid photography 8MP video frame grabs as photos.
Leica DC lens: A bright and ultra-sharp Leica DC lens 25-400 millimeter (16x) F2.8-4.0 and macro...
Last update on 2023-09-25 / Affiliate links / Images from Amazon Product Advertising API
Remember that small-sensor issue we were talking about? It's not a problem with the Panasonic FZ1000, as it has a 1-inch 20.1-megapixel sensor. This feature means you can expect reliable performance in low-light settings and background defocus effects with its F2.8-4.0 range. The compromise comes in the zoom range, which is 25-400, but this is more than ample for most everyday use.
Add the Leica DC lens to the list of standout features the Panasonic FZ1000 offers. A range of shooting options include a flip-out LCD viewfinder, 4K HD video, and optical image stabilizer to reduce blur.
While you're debating which camera type will best suit you, here's a recap of the pros and cons of bridge cameras.
Pros & Cons
| | |
| --- | --- |
| Pros | Cons |
| Massively powerful zoom lensesRange of focal lengthsEase of use with automatic modesOpportunity for manual settings | Non-interchangeable lensSmall sensor sizeImage qualityLimited f-stop range |
How Point & Shoot Cameras Compare to Bridge Cameras
Depending on which model camera you look at, there are minimal differences between point and shoot cameras vs. bridge cameras. Here are the two major differentiators:
| | |
| --- | --- |
| Point and Shoot | Bridge |
| Limited zoom range | Massive optical zoom |
| Compact design | Bulkier design, like DSLR |
Point and shoot cameras are defined by their design, compact size, limited zoom range, and ease of use. In contrast, bridge cameras offer powerful zoom capability. We don't want to risk over-generalizing since there are top-end cameras in each classification capable of producing more than your average, everyday snapshot.
Depending on the model you purchase, you can expect some truly spectacular shots. So, how can you decide which is the best camera for you? Let's look at factors to consider when choosing your next camera.
Which Should You Choose?
Specifications you should consider when picking out the best camera for your budget are:
Lens. Look for a lens that offers a range of depth of field to assist in low-light settings and sharp, vibrant images.
Zoom. Not everyone requires a powerful zoom. A range from 24mm-200mm will cover your needs in most situations.
Megapixels & sensor. For better resolution images that are sharp, prioritize more megapixels and larger sensor sizes.
Image stabilization & auto-focus speed reduces blur, especially when the zoom is extended. Auto-focus is a must for many photographers as it ensures a snapshot is sharp.
Low-light functionality reduces noise on the final exposure, and for many people who tend to shoot inside with low light conditions, low-light functionality makes a significant difference.
Final Thoughts
When deciding which camera to buy, first establish the kind of photography you'll most commonly do. For wildlife or sports photography, a bridge camera's powerful zoom lens, Image Stabilisation, and features are perfect. For everyday snapshots and portability, compact point and shoot cameras are best.
Sources
Was this article helpful?
Recent Posts
link to How To Allow QuickTime To Access Microphone 🎙️  
QuickTime is a vital app for many Mac users, and if you've recently bought a new microphone, you might wonder how to use it optimally. QuickTime cannot record audio content if it doesn't have...
link to How Do I Test My Microphone? 🎙️
Every microphone leaves a unique signature on the quality of its output. If you're a podcaster trying to melt your way into your audience's hearts, a muddy, distorted recording won't cut it....