Abbreviations in the photography world and the arrangement of letters, like SLT and DSLR, signify fundamental variations in the way a camera functions and the benefits each model has. Supposing that you're shopping for a new camera, we want to ensure you understand how SLT cameras compare to DSLRs.
SLT cameras versus DSLR cameras, how can you know which is better? SLT cameras have faster auto-focus than DSLR because the fixed semi-translucent lens lets light pass continuously onto the camera's sensor. But this lens affects SLT camera efficiency in low-light conditions, and it's tricky to clean.
In this article, we assess the differences between SLT and DSLR cameras. We also discuss the advantages and drawbacks of SLT versus DSLR so that you can make an informed decision about what your next camera will be.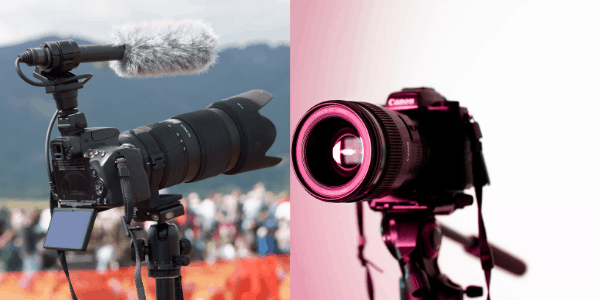 SLT Cameras: A Basic Overview
When Sony introduced its Alpha series of Single Lens Translucent cameras (SLT), it created a camera model that differs from DSLR in one critical way. Before we dig down into the finer aspects of camera performance, let's go back to camera construction basics.
Cameras require light to enter through the camera lens, which focuses available light onto a digital image sensor. The sensor records the visual data that a photographer tweaks by adjusting ISO, shutter speed, and aperture. In-camera autofocus technology uses data flooding through the lens and landing on the camera's sensor to focus the image so it's crisp where it needs to be.
In SLT cameras, unlike DSLR cameras, there is a translucent, static lens (pellicle mirror

) that disperses light to two components simultaneously. These two parts are the digital image sensor and the phase-detection autofocus sensor. It's critical to understand that the dispersion of light reduces the amount of light that strikes the image sensor.
The static pellicle mirror (translucent lens) and continuous light flow to the sensor increase SLT mechanism speed and provide advantages. One advantage of the fixed translucent lens is the camera performs quicker. A further advantage is the camera's auto-focus runs constantly. There's no moving mirror to block light momentarily, so, as a good friend, autofocus should always be there for you.
Another element of all cameras is the viewfinder. Sony SLT cameras use electronic viewfinders (EVF) that give a photographer the information they need to adjust settings to suit the scene. In SLT cameras, the EVF's dynamic range is not always proportional to the sensor's capacity. In other words, the two don't always correlate. There can be disagreement between what the photographer sees on the EVF and what lands on the sensor.
A further drawback of SLT cameras comes in the refresh rate of the viewfinder. It relies upon the sensor's ability to produce a good exposure, so in low-light situations, the relay time between image, senor, and EVF can drop to four frames per second. It is this lag that causes SLT cameras not to have a real-time view at high shooting speeds.
Pros
Here are the advantages of an SLT camera:
Uninterrupted feedback via viewfinder means photographers can adjust settings according to 'live' information in situations with a consistent source of light.
Continuous AF detection ensures the camera works consistently to focus on the shot.
Minimized lag between shutter and picture capture allows photographers to shoot pictures faster than DSLR systems that require a reflex mirror.
Static pellicle mirror reduces vibration at the point of shooting.
Cons
Despite their advantages, SLT cameras have their drawbacks:
The pellicle mirror (translucent lens) splits light between sensors—the dispersion results in up to 1/3 stop loss of light at the digital image receptor. The effect also presents as a 2-stop loss of light in the viewfinder. In plain English, SLT cameras underperform in low-light settings.
The pellicle mirror (translucent lens) gathers dirt and dust. It's also a fragile component, which makes it difficult to clean. Consequently, image quality may suffer.
The mirror (translucent lens) has to be kept perfectly clean. A dirty mirror can cause image interference or affect the camera's sensor.
Let us now go over the SLT camera's chief competitor.
DSLR Cameras: A Basic Overview
DSLR cameras, unlike their SLT cousins, use a reflex mirror or prism to convey what enters through the lens to the viewfinder and digital image sensor that's responsible for capturing an image accurately. In comparison to SLT cameras with their fixed translucent lens, a prism or mirror has to swing out of the way of the path of light at the moment of pressing the camera trigger.
The prism or mirror has to move so that the image lands upon the sensor. As soon as the mirror or prism swings out of the path of light, the viewfinder temporarily goes dark. Given the movement time, there is a momentary delay between when the shutter's released and the image lands upon the film or sensor. Any movement within this break can result in a blur because since the camera's autofocus system is denied the ability to maintain focus.
An experienced photographer should be able to compensate for this split-second break and capture a sharp, focused picture.
Pros
Here is the summary of the advantages of DSLR:
Optical viewfinders provide real-time information of the setting so a camera can compensate for scene characteristics with accuracy. The feature is known as TTL, Through The Lens, and is why DSLR cameras are known for their accuracy.
Functionality in low-light settings ensures photographers can reliably set-up their camera and trust that what they see in their viewfinder.
Easier to maintain the mirror/prism, which makes the camera less susceptible to gathering dust or dirt.
Larger sensors
Cons
The downsides to DSLR are minimal, but here they are:
Shoots fewer FPS in continuous shooting mode due to the moving mirror part, which, though not for all models, means the cameras are not so efficient at shooting fast-moving subjects.
Moving parts can result in vibration once the trigger is released and the mechanism moves so that the exposure can be recorded.
How SLT and DSLR Compare: Key Differences
Here's a summary of the differences between SLT and DSLR:
| | |
| --- | --- |
| SLT | DSLR |
| Pellicle mirror | Pentaprism/ pentamirror |
| Constant light to the sensor | Pathway of light temporarily obstructed by the movement of prism or mirror |
| Static translucent lens | Moving mirror/prism |
| Increased AF speed | AF speed affected by temporary obstruction after pressing the trigger for exposure |
| Electronic viewfinder | Optical viewfinder (TTL) |
SLT vs. DSLR: Which Should You Get?
In a side-by-side comparison of Nikon, Canon

, and Sony's flagship cameras, there is variation in the FPS that each camera delivers in continuous shooting mode. The Sony a99 II

(Up to 12 fps at 42 MP) or the more affordable Sony a7R III

(Up to 10 fps at 24.2 MP), against Nikon's Z6

(12 FPS) and Canon's EOS R

(8 FPS at 30.3 MP).
The only manufacturer that produces SLT cameras is Sony, so the debate between SLT versus DSLR doesn't hinge on your preference for either camera type. A switch to SLT requires a switch to Sony, which some photographers aren't inclined to do.
We conclude that SLT cameras are preferable for sports, fast-action, and shooting video thanks to its continuous AF functionality.
Sony a99II 42.4MP Digital SLR Camera with 3" LCD, Black (ILCA99M2)
Up to 12fps at 424MP continuous shooting with AE/AF tracking, World's first 79 hybrid AF...
Operating temperature:0°C - 40°C (+32°F - +104°F)C.424MP full-frame sensor w/ no low-pass filter...
High bitrate XAVC S5 , S-log, slow/quick frame rates6, 4:2:2 HDMI out, 4D Focus hybrid phase AF w/...
Last update on 2023-12-08 / Affiliate links / Images from Amazon Product Advertising API
Last update on 2023-12-08 / Affiliate links / Images from Amazon Product Advertising API
Nikon Z6 Full Frame Mirrorless Camera Body

Large, full frame Z mount for Revolutionary optical performance
Nikon-designed 24. 5MP backside illuminated image sensor
273-Point on-sensor Phase detect AF system
Last update on 2023-12-08 / Affiliate links / Images from Amazon Product Advertising API
Sale
Canon EOS R, Vlogging and Content Creator Camera 4K UHD, Digital Single-Lens Non-Reflex AF/AE, 0.76 Magnification, OLED Color Electronic Viewfinder, CMOS Sensor, Mirrorless, Full-Frame (Body Only)

FULL-FRAME CMOS SENSOR & DIGIC 8 30.3 MP IMAGE PROCESSOR: Ensures crisp photos and high-resolution...
DUAL PIXEL CMOS AF: Features an impressive 5,655 manually selectable AF points** and delivers sharp...
RF MOUNT COMPATIBLE: The EOS R camera is designed to work effortlessly with RF lenses; it maintains...
Last update on 2023-12-08 / Affiliate links / Images from Amazon Product Advertising API
Final Thoughts
Picking up an SLT camera means you're committing to Sony's Alpha series of cameras. At their top specification, these cameras beat DSLR on several factors. For TTL optical viewfinders and performance in low-light settings, a DSLR will outperform an SLT camera and produce pristine images, no matter your subject.
Sources
Was this article helpful?
Recent Posts
link to How To Allow QuickTime To Access Microphone 🎙️  
QuickTime is a vital app for many Mac users, and if you've recently bought a new microphone, you might wonder how to use it optimally. QuickTime cannot record audio content if it doesn't have...
link to How Do I Test My Microphone? 🎙️
Every microphone leaves a unique signature on the quality of its output. If you're a podcaster trying to melt your way into your audience's hearts, a muddy, distorted recording won't cut it....