If you're thinking about starting your own web stream, you've probably wondered whether it's best to invest in a DSLR camera or a webcam. There are multiple reasons why people choose one or the other — each has its benefits and drawbacks. How can you make the right choice?
To make the choice between a DSLR or webcam for streaming, consider how much you're willing to spend and how much picture quality matters. DLSRs provide superior image quality and freedom for adjustments. Webcams are cheaper, easier to use, and take up less space, but offer lower image quality.
Making the right choice is all about the size of your budget and how much effort you're willing to put into the quality of your stream. This article will walk you through all the things that you need to consider to make the best purchase for your specific needs.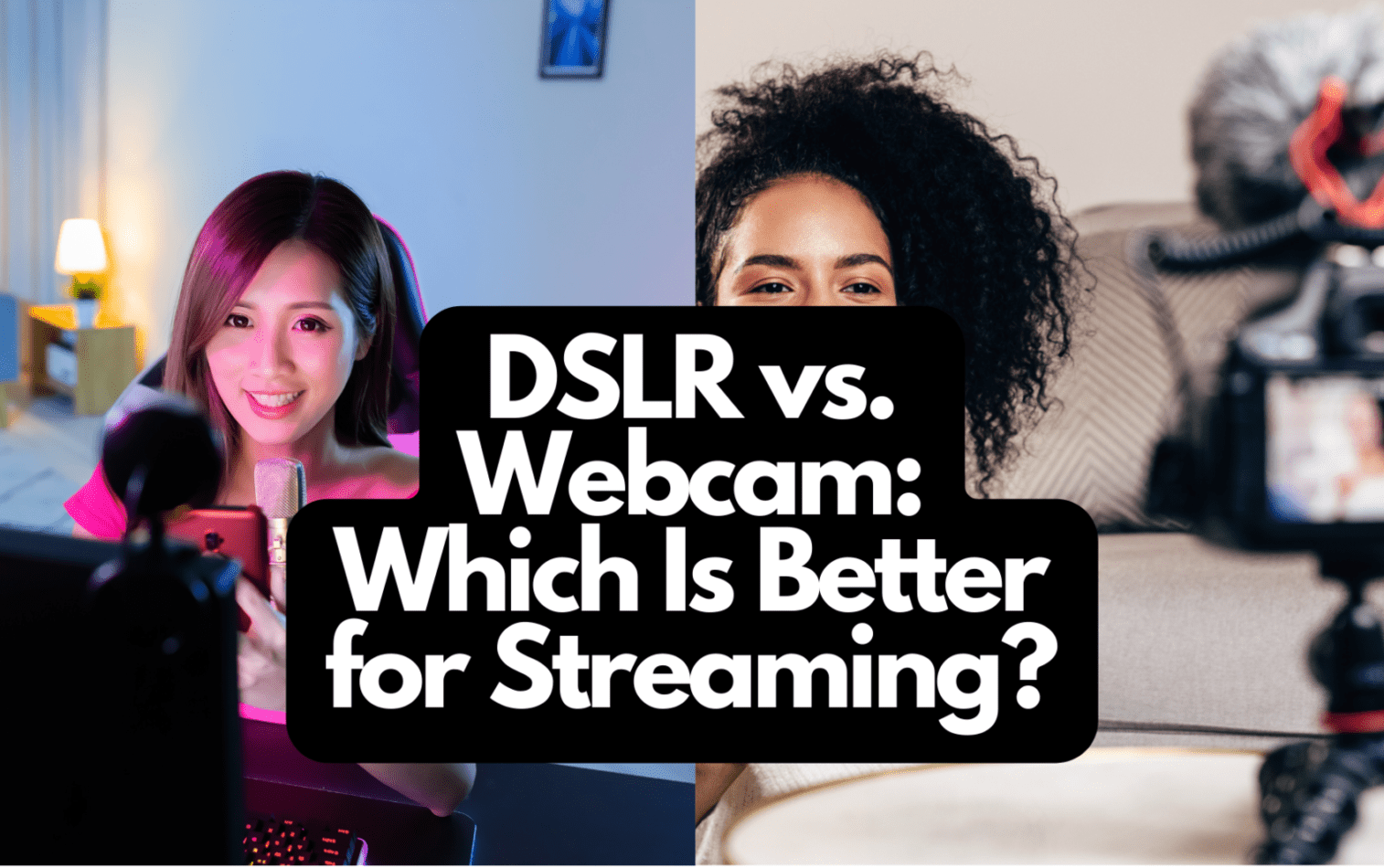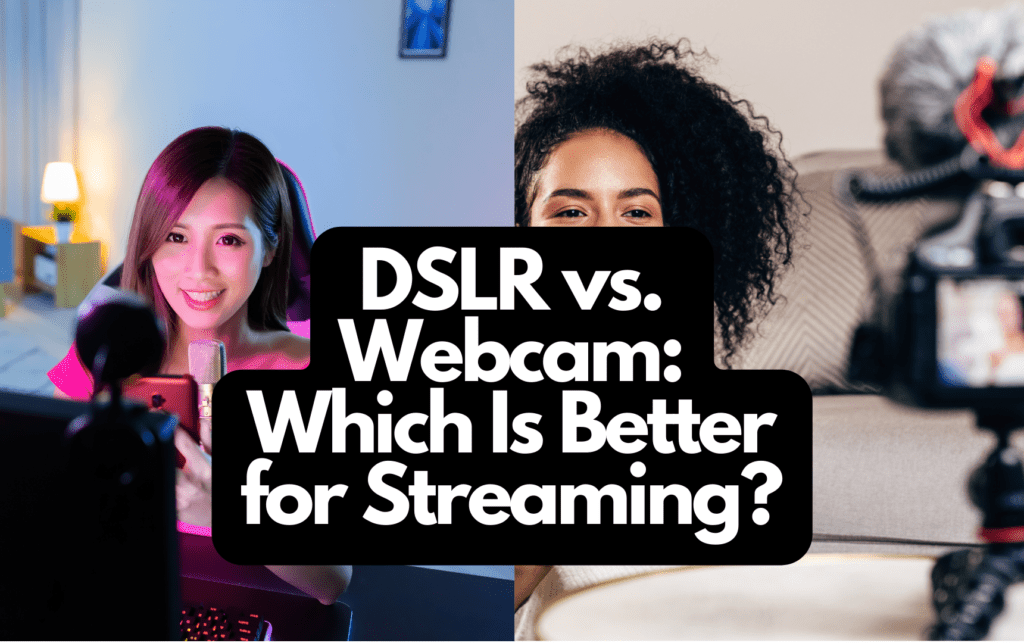 Should You Get a DSLR or a Webcam for Streaming?
For quality streaming, choose a DSLR. On a budget? Go with a webcam. DSLRs offer great image quality and more control in how the stream turns out — but they're bulky, expensive, and there's a learning curve. Webcams don't provide high-quality video, but they're small, cheap, and easy to use.
In this section, we'll closely compare the benefits and drawbacks of using a DSLR

or a webcam for your streaming needs to help you make the right choice.
Are DSLRs Better for Streaming?
DSLR cameras are better for streaming if you want professional-looking videos, more control over the final image, and the freedom to shoot in poor lighting. Additionally, DSLRs double as a photography camera. However, DSLRs take up more space, cost more, and may be difficult for novices to use.
If you're a video or image enthusiast, then you should probably go for a DSLR camera.
However, if you're not sure if spending the extra money and effort will be worth it, consider the pros and cons of using a DSLR for streaming.
Benefits of DSLR Cameras
The major benefits of using a DSLR

for your streaming include:

Better image quality. DSLRs pack a more advanced mechanism. They reflect light from a lens into a mirror and then an image sensor. The image processor converts that into the appropriate format. This allows for superior overall image quality.

Great for low lighting. DSLRs have very large sensors, which allows them to capture more light. This means you'll be able to use them in dark environments. If you're picturing a dramatic setup with dim lights, then you pretty much need a DSLR or something similar.

More control over your image. DSLR cameras allow you to manually adjust settings like shutter speed, ISO, and aperture. If you want your camera to be optimally adjusted for your setup, these details matter.

Interchangeable lenses. DSLRs allow you to switch lenses at any time. Specific lenses can get you more depth of field, wide-angles, different shutter speeds, and other tweaks.

A lot of available extra gear. DSLR lets you add plenty of upgrades and quality of life improvements to your setup. Besides switchable lenses, there is a wide selection of mounts, flashes, triggers.

Can also be used as a regular camera. If you buy a DSLR for your streaming setup, you're also getting an excellent camera for typical photography use. If you like taking pictures, then you'll be getting a lot of use out of your DSLR.
Drawbacks of DSLR Cameras
The potential drawbacks of using a DSLR for your video streaming include:

Prone to heating. DSLRs aren't always designed for continuous use, and it's possible to wear out their mirror due to overheating. This issue can be solved by buying a mirrorless camera, which we'll discuss in the next section.

More expensive. DSLR cameras are more complex machines and thus more expensive. A budget but reliable DSLR won't go under $300.

Difficult to use. DSLRs are photography cameras, and they come with a myriad of options to adjust your image. If you haven't had experience with one, you might feel a little overwhelmed at first. In any case, the learning curve will be steeper.

Not always compatible. Before buying a DSLR, you'll have to make sure it's compatible with the software you'll use to link it to your computer.

Might need extra gear. Just buying a DSLR will often not be enough. You'll probably have to buy an adequate lens for your needs and a proper stand. If your computer isn't powerful enough, then you'll need to buy a capture card. All those expenses add up to the final cost.
Product Recommendations
If you've decided on a DSLR for your streaming needs, here are a few of my recommendations for a quality camera:
Canon EOS REBEL SL3

: Canon's EOS line on Amazon.com is a favorite for many vloggers and streamers. It has extremely fast autofocus and comes with software to turn it into a webcam. You can also directly connect it via HDMI.
Canon EOS RP Full-Frame Mirrorless Interchangeable Lens Camera + RF24-105mm Lens F4-7.1 is STM Lens Kit- Compact and Lightweight for Traveling and Vlogging, Black (3380C132)

Compact, Lightweight and High-Quality RF Lens with a Versatile Zoom Range of 24-105 millimeter
Optical Image Stabilization at up to 5 stops of shake correction
Maximum Magnification of 0.4x and Minimum Focusing Distance of 0.66 feet in Auto Focus.
Last update on 2023-12-08 / Affiliate links / Images from Amazon Product Advertising API
Canon EOS 5D Mark IV

: With a full-frame lens and a range of professional features, this is the top choice for the job (available on Amazon.com). You'll be able to record 4k video at up to 120 frames per second.
Canon EOS 5D Mark IV Full Frame Digital SLR Camera Body

New 30.4 Megapixel full-frame CMOS sensor for versatile shooting in nearly any light, with ISO range...
4K Motion JPEG video (DCI cinema-type 4096 x 2160) at 30p or 24p; in- camera still frame grab of 4K...
Superb Dual Pixel CMOS AF for responsive and smooth AF during video or live view shooting; LCD...
Last update on 2023-12-08 / Affiliate links / Images from Amazon Product Advertising API
Canon EOS 4000D

: This affordable camera on Amazon.com is perfect for those who want to get into DSLRs without breaking the bank. You'll be able to shoot at 1080p at up to 30 frames per second.
Canon EOS 4000D DSLR Camera w/Canon EF-S 18-55mm F/3.5-5.6 III Zoom Lens + Case + 32GB SD Card (15pc Bundle)

This Jerry's Photo DSLR Camera Package Includes Transcend 32GB High Speed Class 10 SD Memory Card...
Canon EOS 4000D DSLR Camera Body (International Version/ No US Warranty )- 18.0MP APS-C CMOS...
Canon EF-S 18-55mm F/3.5-5.6 DC III Zoom Lens - EF-S-Mount Lens/APS-C Format, 28.8-88mm (35mm...
Last update on 2023-12-08 / Affiliate links / Images from Amazon Product Advertising API
For more information, check out some of my other articles:
Are Webcams Better for Streaming?
Webcams are better for streaming if you need a compact, easy-to-use camera that won't hurt your budget. While webcams cannot produce the impeccable image quality of a DSLR, many newer models offer decent-quality video. However, you'll have far less control over how the video appears.
Webcams are small, affordable devices that can be attached to your computer without any extra setup. Naturally, they won't give you the professional, high-quality look that DSLRs can reach.
But that's not the point of a webcam

. The advantage of webcams is that they can give you decent-looking videos for very cheap. If you're on a budget, you probably can't spend more than $500 on a camera, especially if you also need to buy lighting gear and a microphone

.
That's why webcams are a great choice for many people, especially if you're starting.
Benefits of Webcams
The benefits of using a webcam for video streaming include:
Low budget. Webcams are single-function devices, and they don't aim too high. Since they don't have fancy components or settings, they'll always be much cheaper than DSLRs.

Easy to use. Most webcams are made to be plug-and-play. They are ready to be used right after connecting them. At most, you'll need to install a driver, which will usually come with the device.

Don't take up space. Webcams have a very small footprint. They usually sit at the top of your monitor and don't occupy any extra space. If they come with a tripod, these tend to be small.

Great compatibility. Good webcams are compatible with all major programs and operating systems. And if they aren't, then it's usually displayed on the box.
Drawbacks of Webcams
While there are many benefits to using a webcam, there are also some drawbacks, including:
Worse image quality. Because of their size and low cost, webcams simply can't output the same image quality as a DSLR. Some of them can reach high resolutions, up to 4K. But things like dynamic range and color depth will be lacking when compared to DSLRs.

Limited adjustments. Webcams will have little if any image adjustments. If you're having issues with your lighting or want to change how your stream looks, there's not much you'll be able to do on the hardware side.

Bad for low lighting. Because they are so compact, webcam sensors can't get very wide. This means it won't be able to capture as much light and thus will perform poorly in dimly lit environments.

They are single-use. Webcams are good for streaming and video calls, but not much else. You obviously won't be able to use it as a photo camera.
Product Recommendations
If you're in the market for a quality webcam, then consider a few of the following recommendations:
Logitech StreamCam

: As you might have guessed, this camera from Amazon.com is made specifically for streaming. It's reasonably priced and can capture video at 1080p at 60 frames per second. Also, it comes with a handy, versatile mount.

Sale
Logitech StreamCam, Live Streaming Webcam, Full 1080p HD 60fps Vertical Video, Smart auto Focus and Exposure, Dual Camera-Mount Versatility, with USB-C, for YouTube, Gaming Twitch, PC/Mac - White

CONNECTS WITH USB-C: The webcam uses USB Type-C to ensure efficient video transfer speeds; Get a...
SMART AUTO-FOCUS: AI-enabled facial tracking in Logitech Capture delivers accurate focus and...
VERSATILE MOUNTING OPTIONS: Get the perfect angle, every time; Flexible mounting options include...
Last update on 2023-12-08 / Affiliate links / Images from Amazon Product Advertising API
Microsoft LifeCam HD-3000

: You won't find something better than this at this price. The pick for those on the tightest budgets (available on Amazon.com).

Microsoft LifeCam HD-3000

True 720p HD video - Post true HD video to online video sites.
16:9 widescreen - For cinematic video recording.
TrueColor Technology - Automatically delivers bright and colorful video, in virtually all lighting...
Last update on 2023-12-08 / Affiliate links / Images from Amazon Product Advertising API
Logitech C922 Pro Stream

: With great autofocus and image correction, this is an excellent mid-range webcam. One of the most popular webcams out there.
For more information, check out some of my other articles:
Are Mirrorless Cameras Better for Streaming?
You might have heard about DSLR mirrors wearing out after recording for long sessions. This is a reason why many streamers opt for mirrorless cameras

instead.
Mirrorless cameras are just as good as DSLRs for streaming but can be more durable. Streaming for many hours can wear out DSLR mirrors over time. Mirrorless cameras don't have mirrors, so they can easily stand long sessions. However, their autofocus isn't nearly as good.
Mirrorless cameras are very similar to DSLRs. DSLRs cameras have been around since the 1990s, so there's a lot of gear and options for them. Meanwhile, mirrorless cameras are a more recent technology and have slightly less gear available for them.
The main difference is in how you picture the image on your camera. DSLR has a mirror that reflexes light into an optical viewfinder, which lets the user literally see through the camera's lenses.
Mirrorless cameras, as their name suggests, lack that mirror. Light goes straight into the digital sensor. You use an LCD to see through the lenses. They sport the same sensors as DSLRs, so they're on equal footing in terms of image quality.
But here is the key difference for streamers: filming for several hours on a DSLR can wear out its mirror in the long term. Buying a mirrorless camera avoids that issue entirely. They are made for long filming sessions.
Here are other differences that matter when it comes to streaming:
Autofocus: DSLRs use a technology called phase detection, which allows them to have fast and accurate autofocus. Mirrorless uses contrast detection for autofocus, which is significantly slower.

Size: Because of their simpler mechanism, mirrorless cameras tend to be smaller. This can be an advantage if you have a small desktop.

Cost: The technology for mirrorless cameras is newer, so they tend to be more costly. However, they're starting to catch up with DSLRs in terms of value.
The Panasonic LUMIX GH5

on Amazon.com is an excellent mid-range choice for a mirrorless camera. It lets you record 1080p video at up to 180 frames per second and has great image stabilization.
Panasonic LUMIX GH5 4K Digital Camera, 20.3 Megapixel Mirrorless Camera with Digital Live MOS Sensor, 5-Axis Dual I.S. 2.0, 4K 4:2:2 10-Bit Video, Full-Size HDMI Out, 3.2-Inch LCD, DC-GH5 (Black)

Professional photo and video: 20.3 Megapixel micro four thirds sensor with no low pass filter to...
Splash or Freeze Proof Design: Freeze proof to 10 degrees the durable magnesium alloy body...
Dual image stabilization: 5 axis dual image stabilization corrects all lenses, including classic...
Last update on 2023-12-08 / Affiliate links / Images from Amazon Product Advertising API
If you want something more affordable, take a look at the Panasonic LUMIX G7

also available on Amazon.com. It has excellent 4k recording capabilities inside a compact frame.
Sale
Panasonic LUMIX G7 4K Digital Camera, with LUMIX G VARIO 14-42mm Mega O.I.S. Lens, 16 Megapixel Mirrorless Camera, 3-Inch LCD, DMC-G7KK (Black)

Professional photo and video: Performance: 16 megapixel micro four thirds sensor with no low pass...
4K video Capture: 4K QFHD video recording (3840 x 2160) with 3 unique 4K ultra HD video pause...
Intuitive Controls: Easily control aperture and shutter settings with the front and rear dials while...
Last update on 2023-12-08 / Affiliate links / Images from Amazon Product Advertising API
Are Camcorders Better for Streaming?
Camcorders might not be what you came for, but they are worth introducing as a third option.
Camcorders are the most convenient option for streaming. DSLRs can have heat issues after long sessions, but camcorders are built to record video for many hours. They don't have as many customization options, and their lenses don't get as wide, but it's the top choice for streaming for most people.
Camcorders are built from the ground up for recording video. This makes them perfect candidates for streaming.
DSLR may have trouble with overheating and shutting down after long sessions. Camcorders, on the other hand, have no limits for recording for many hours.
Lenses in camcorders aren't as wide as those in DSLRs and mirrorless cameras, at least not until you get to the very high end. This means you won't have as much freedom with lighting, and image quality might not be as high.
However, camcorders are easy to set up, have great image stabilization and fast autofocus. Depending on who you ask, they are overall the best camera for streaming.
Regarding cost, there's a huge margin.
You can go for a mid-range camera like the Panasonic HC-V770

on Amazon.com. This camcorder will give you great image quality plus several features aimed exclusively at recording.
Panasonic Full HD Video Camera Camcorder HC-V770, 20X Optical Zoom, 1/2.3-Inch BSI Sensor, HDR Capture, Wi-Fi Smartphone Multi Scene Video Recording (Black)

20X Optical Zoom: Long 20X zoom draws in the scene from far away; Compatible with Remote Pan Tilt...
HDR Movie Feature: Exclusive high dynamic range feature suppresses blown highlights and blocked...
Wireless Twin Camera: Wirelessly connect your smartphone's video camera as a sub-camera for a...
Last update on 2023-12-08 / Affiliate links / Images from Amazon Product Advertising API
If you can spend more, go for the ZeeTech Canon Vixia HF G50

also available on Amazon.com. At this price point, you're getting image quality on the same level as similarly priced DSLRs. The wide lens allows you to record in low light conditions, and it offers some customization.
Canon Vixia HF G50 UHD 4K CMOS Sensor Video Camcorder with 32GB SanDisk Memory Card + UV Fliter + ZeeTech Accessory Bundle

Canon Vixia HF G50 UHD 4K Camcorder (International Model) - 1/2.3'' UHD 4K CMOS Sensor, Record up to...
The VIXIA HF G50 camcorder features a Genuine Canon 4K-compatible 20x Optical Zoom lens. It offers a...
This VIXIA HF G50 camcorder incorporates Canon's DIGIC DV 6 Image Processor, which is integral to...
Last update on 2023-12-08 / Affiliate links / Images from Amazon Product Advertising API
Final Thoughts
Whether you're a new streamer or want to step up your gear, you've likely considered both a DSLR camera and webcam.
DSLRs provide higher quality results and are more professional. However, they're also more expensive, difficult to use, and may require extra gear. Webcams, on the other hand, provide decent quality video, are compact, and are easy to use — but the picture quality is lacking compared to a DSLR.
You might also consider mirrorless cameras and camcorders.
Now that you know what to expect from a DSLR and webcam, you can pick up the device that works best for you.
Sources
Was this article helpful?
Recent Posts
link to How To Allow QuickTime To Access Microphone 🎙️  
QuickTime is a vital app for many Mac users, and if you've recently bought a new microphone, you might wonder how to use it optimally. QuickTime cannot record audio content if it doesn't have...
link to How Do I Test My Microphone? 🎙️
Every microphone leaves a unique signature on the quality of its output. If you're a podcaster trying to melt your way into your audience's hearts, a muddy, distorted recording won't cut it....