Noise pollution very often finds its way into our homes in the form of electronic noise, people talking, dogs working, and a host of other sounds. You can reduce noise through simple measures such as choosing suitable rugs. But what kind of rugs are best for soundproofing?
Thick, cut-pile rugs are best for soundproofing. Wool and jute rugs are better at absorbing sound compared to other materials as they're thicker. You should also look for carpets made with felt or soft, fluffy materials.
This article explores the types of rugs best for soundproofing. It also considers other ways to soundproof your room, including using felt mats, draperies, and stuffed furniture.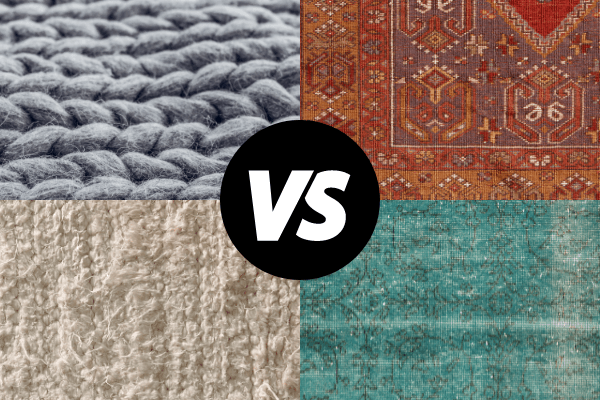 Which Rug Will Help With Soundproofing?
Cut-pile rugs will help with soundproofing. They're best at absorbing sound as they offer more surface area to pick up sound. Rugs made from wool, jute, fur, and felt will also capture sound. More oversized rugs will cover more surface area, allowing them to absorb more sound.
Selecting the right rug for sound absorption helps to understand the science behind it.
How Do Rugs Absorb Sound?
Rugs can absorb sound because they have plenty of fibers and an open-cut weave. Each fiber absorbs sound, so the more fibers a rug has, the more sound-absorbent it'll be.
Additionally, rugs provide an extra layer between a bare floor and a room, adding more barriers for the sound to travel through.
For more information, check out the most ideal flooring for home recording studios.
What Are the Best Rugs for Absorbing Sound?
Some of the best rugs for absorbing sound are the Koeckritz Cut Pile Indoor Rug, the nuLOOM Rigo Hand Woven Jute Rug, the Lochas Luxury Velvet Shag Rug, and the Safavieh Hudson Shag Rug.
We'll talk more about these rugs in detail below. These rugs are all available to order online from Amazon.com.
The Koeckritz indoor rug is a thick cut pile rug that you can place in different areas to add comfort and reduce sound. Here are some of the pros of this rug:
Budget-friendly option.
Comes with a bound edge, making it more durable.
Features a stain protection coating, making it easier to clean.
The manufacturer offers custom cutting, so you can select the direction of rugs.
Last update on 2022-12-07 / Affiliate links / Images from Amazon Product Advertising API
This jute rug is excellent for absorbing sound and adds a warm touch to any room. Here are some of the stand-out features of this rug:
Made with natural, renewable materials that are non-toxic.
Comes in a wide variety of sizes and shapes; you can choose a round, rectangular, oval, or square rug.
Not as thick as other sound-reduction rugs, so it doesn't add extra weight or warmth to a room.
It's essential to vacuum this rug regularly to keep it clean, but putting it in a vacuum machine can damage its fibers.
Sale
nuLOOM Rigo Hand Woven Farmhouse Jute Area Rug, 5' x 8', Natural
100% Jute; made in India
The perfect combination of style and durability; our jute rugs bring home effortless sophistication - perfect for your living room, dining room, kitchen, or hallway
Sleek and functional 0.35" pile height allows for convenient placement in entryways, underneath furniture, and will not obstruct doorways
Last update on 2022-12-07 / Affiliate links / Images from Amazon Product Advertising API
The Lucas Luxury Shag Rug is a thick, cut pile rug available in various colors. Because it is made of thousands of fibers, it is excellent at absorbing various types of sound. Here are the pros of this rug:
Comes with non-slip dots that allow it to adhere to a range of surfaces.
Made with synthetic materials which stop it from shedding.
Easy to clean and lift stains.
LOCHAS Luxury Shag Area Rug Modern Indoor Plush Fluffy Rugs, Extra Soft and Comfy Carpet, Geometric Moroccan Rugs for Bedroom Living Room Girls Kids Nursery, 5x8 Feet Champagne/Brown
Extra Soft Area Rug: The area rug is incredibly soft and features a top layer of fluffy material with sponge interlayer, which is softer and more luxurious underfoot; Its comfy fabric is very family-friendly and ideal for bedroom, living room
Large Size and Modern Design: Our generously sized rug is 5 feet x 8 feet and provides excellent touch feeling; Each rug prints with a morocco pattern in modern design, to create a peaceful atmosphere for your master bedroom, home office, or dining room
Thousands of Non Slip Dots: Our fluffy carpet is back with thousands of non slip grip dots that help hold in place on wooden or other floor, and hold up even with kids and pets; This fluffy carpet is a great decor for the kids bedroom, nursery and dorm
Last update on 2022-12-07 / Affiliate links / Images from Amazon Product Advertising API
This is a plush, versatile rug that will suit a variety of rooms. Here are the stand-out features of the Safavieh Hudson Shag Rug:
Features 2-inch (5 cm) pile fibers that can capture and stop sound.
You can select from a range of different designs to suit your home's decor.
The manufacturer offers virtual consulting, which will help you choose the style of rug that best suits you.
SAFAVIEH Hudson Shag Collection 6' x 9' Ivory/Grey SGH376A Moroccan Non-Shedding Living Room Bedroom Dining Room Entryway Plush 2-inch Thick Area Rug
[NON-SHEDDING]: Expertly machine-woven from enhanced soft synthetic durable fibers that have a virtually non-shedding pile for ultimate convenience
[PLUSH & COZY]: Features a 2-inch thick pile height for just the right amount of cozy cushioned softness underfoot
[TRENDY STYLE]: Design beautifully enhances any room of the home, from the living room, dining room, bedroom, entryway, nursery, kid's room, playroom, dorm room, study, or home office
Last update on 2022-12-07 / Affiliate links / Images from Amazon Product Advertising API
For more information, check out the most ideal rugs for recording studios.
Other Ways You Can Soundproof Your Room
If you don't want to swap out your current rugs, you can make them more effective at soundproofing by placing a rug mat under your rug to absorb sound.
You can also use overstuffed furniture or draperies to reduce sound. You may also try using spray foam to fill gaps sound is moving through.
Use Rug Pads
Rug pads are placed under rugs and provide an extra layer of sound absorption. The best rug pads for sound reduction are thick pads made from memory foam.
You can also find rug pads made with eco-friendly materials that are excellent for sound absorption.
There are several other reasons you should consider installing a rug pad:
They add weight to your rugs, making them more comfortable to walk on.
They prevent rugs from slipping.
They can act as an extra layer of protection for your floors.
The best rug pads from Amazon.com for sound absorption are:
Sale
Gorilla Grip Felt and Natural Rubber Rug Pad, 1/4" Thick, 5x7 FT Protective Padding for Under Area Rugs, Cushioned Gripper Pads for Carpet, Runners, Hardwood Floors Protection, Slip Skid Resistant
The Original Cushion + Grip : unlike other brands that only have felt, our rug pads also feature a durable rubber backing; constructed with ultra thick condensed needle punch felt, this rug pad is built for increased durability; naturally dense fibers seamlessly grip the underside of your rug; designed to not break down like other rug pads and made to last for years
Slip-Resistant Natural Rubber Backing: ultra durable natural rubber underside helps prevent rug bunching and sliding, even over frequently visited areas of your home; the ideal option for homes with kids and pets; also makes cleaning easier, no more struggling to vacuum while your rug is slipping and sliding
Thick and Soft Cushioning: thick cushioning adds extra comfort helping to make rugs cozier and softer under foot; incredibly plush, pad makes even the thinnest of rugs feel extra comfortable and plush; available in .25 inch and .13 inch thickness options to add extra cushioning to a variety of spaces; plus, pads also help to reduce noise in busy areas
Last update on 2022-12-07 / Affiliate links / Images from Amazon Product Advertising API
Sale
Puroma Non-Slip Area Rug Pad, 8 x 10 Ft Extra Thick Rug Pads Protective Cushioning Pad for Hardwood Floors, White
Anti-slip Protection: Puroma rug pads can keep your rugs in place, preventing accidental tripping hazards caused by carpet moving when you are walking, or children are playing. Please place the carpet pad on a flat, clean, and dry floor.
Floor Protection: Ultra-thick cushion provides an important protective layer against the surface of the wooden floor, avoids scratches caused by high heels and sharp objects, prevents daily wear and tear of the carpet, and reduces noise.
Thick and Durable: Puroma non-adhesive rug pads are made of premium materials, which are durable and can extend the life of the carpet. Our pads can provide extra cushioning for the carpet and improve your home comfort.
Last update on 2022-12-07 / Affiliate links / Images from Amazon Product Advertising API
Use Bean Bag Chairs or Overstuffed Furniture
If your rug doesn't trap the noise, the furniture can act as the next barrier to sound. Couches and chairs which are stuffed with soft materials like foam and batting will absorb sound well. You may even place bean bags in areas in the room where sound is most likely to travel.
Draperies
Draperies or heavy curtains placed at windows can stop noise from traveling upwards. They're made from heavy materials like velvet, satin, and polyester. These curtains will also reduce the number of echoes and noise within a room.
However, it's important to remember that it may also add more heat to a room when a curtain is heavier.
Here are some of the best curtains to reduce and absorb sound from Amazon.com:
These curtain panels are made with heavy polyester. Their weight and shape make them highly effective at absorbing sound.
Here are the pros of the Nicetown curtain panels:
You can hang them in different styles using different curtain hooks.
They're machine-washable and are easy to maintain.
They have triple weave technology, which offers 90% blackout.
NICETOWN Light Reducing Curtain Panels Window Draperies - (Grey Color) 52x84 inch, 2 Pieces, Insulating Room Darkening Drapes for Bedroom
READY-MADE: Set includes 2 curtain panels, each panel measuring 52" wide x 84" length with 7 back loops. Quality fabric without liner feels soft and heavy. Thread trimmed and wrinkle-free, both sides are the same color.
SERVE WELL: Impedes 90% of light and UV rays (Dark color curtains work better). Due to the innovative triple weave technology, Perfect drapery option for anyone seeking to block daylight, take a nap or keep sun glare off your TV.
ENERGY SMART: Triple weave fabric balances room temperature by insulating against summer heat and winter chill. Protect your furniture, floors, and artwork from the ravages of the sun, the drapes will pay for themselves off over time.
Last update on 2022-12-07 / Affiliate links / Images from Amazon Product Advertising API
Made with polyester, these pocket-friendly blackout curtains block out noise, sound, and UV rays. Here's what you should know about these curtains:
Easy to install, easy to maintain, and machine-washable.
Triple weave fibers, which add to their blocking effectiveness.
Available in a range of colors and sizes.
Sale
Rutterllow Room Darkening Blackout Curtains for Bedroom 2 Panel,Grommet Top(42x63 Inch, Black)
Package Includes: Sold as 2 panels, measures 42" wide X 63" long each. Total 84" x 63".
Grommet Top Design: RUTTERLLOW grommet blackout curtains have 6 shiny grommets, 1.6" inner diameter each, fit standard size curtains rod, look great when you hung on coordinating metal rod.
Functions: RUTTERLLOW blackout curtains can block out 50%-95% sunlight due to different colors (Dark color works better than light color). As a barrier, our blackout curtains' quality is heavy enough to insulate your home against outside thermal energy in summer. On the contrary, keeps outside cold away from your warm house. Also, our curtains can reduce the noise from outside to provide you a better environment to work or sleep.
Last update on 2022-12-07 / Affiliate links / Images from Amazon Product Advertising API
If you want sound-absorbing curtains but are looking for natural materials, try these linen blackout curtains. Here are the stand-out features of these draperies:
Designed to reduce noise, light and block out UV rays.
Effective at keeping warm air in a room during winters and out of a room during summers.
Available in various colors and lengths, letting you match them to your room's decor.
Linen Blackout Curtain 96 Inches Long for Bedroom / Living Room Thermal Insulated Grommet Linen Look Curtain Drapes Primitive Textured Burlap Effect Window Drapes 1 Panel - Ivory
STANDARD SIZE: Sold per single panel in package, panel measures 52 inches wide by 96 inches long, each faux linen curtain panel has 8 gorgeous copper metal grommets, inner rim of grommet is 1 5/8 inch which fit the rod up to 1 1/2 inch, slides smoothly back and forth
LIGHT BLOCKING: This elegant window panel is crafted from rich faux linen textured fabric, inner woven construction features natural blackout effect, definitely block out 85% or more sun light and prevent harmful UV ray, this opaque piece totally darken your room, reduce the noise and gives you 100% privacy
ENERGY EFFICIENT: This magic window covering is perfect on thermal insulated, energy saving and balance the temperature. Efficiently prevents cold or heat transfer from outside, blocks drafts in cold months and keeps warm air out in the summer. Great for letting you sleep sweetly on weekend mornings and vacation days
Last update on 2022-12-07 / Affiliate links / Images from Amazon Product Advertising API
Use Spray Foam
Spray foam is an excellent insulator but may also absorb sound. Closed-cell spray foam can effectively absorb noise, especially when you use it to fill small cracks and gaps. You can use spray foams on walls and floorboards.
A popular spray foam is the Loctite Tite Foam Insulating Sealant from Amazon.com, as it's a closed-cell and has UV protection.
Sale
Loctite Tite Foam Gaps & Cracks White Insulating Foam Sealant 12 fl oz, 1 Can
Expands To Fill: Loctite Tite Foam Gaps & Cracks fills, seals, and insulates effectively around gaps and cracks up to 1 inch in size
Premium Durability: Polymer foam based on purified and concentrated ingredients withstands harsh UV rays for long-lasting results
High Density Foam: Offers high density with a uniform cell structure for durability and overall insulation for your remodeling needs
Last update on 2022-12-07 / Affiliate links / Images from Amazon Product Advertising API
Conclusion
The best rugs for soundproofing are cut-pile rugs made with thick, plush material. Thick rugs contain a larger number of fibers that can trap sound.
However, if you don't want to swap out your current rugs, you can use rug pads, place heavy furniture in your room, or use heavy draperies. These will still help keep sound in your room to a minimum.
Sources