Professional soundproofing is great for listening to music, keeping noise out of a room, and recording live performances. However, some homeowners prefer DIY soundproofing to cut corners and save money. While both options are great, you might be wondering if you should opt for pro-level soundproofing.
Professional soundproofing is worth it because it limits vibrations, resonance, treble, and bass from entering or leaving the room. Soundproofing often includes acoustic caulking, insulating foam panels, bass traps, increased wall density, and textured paint. It often costs up to $2,800 per room.
Throughout this article, you'll learn whether or not you should get professional soundproofing, how much it usually costs, and what to know before making your decision.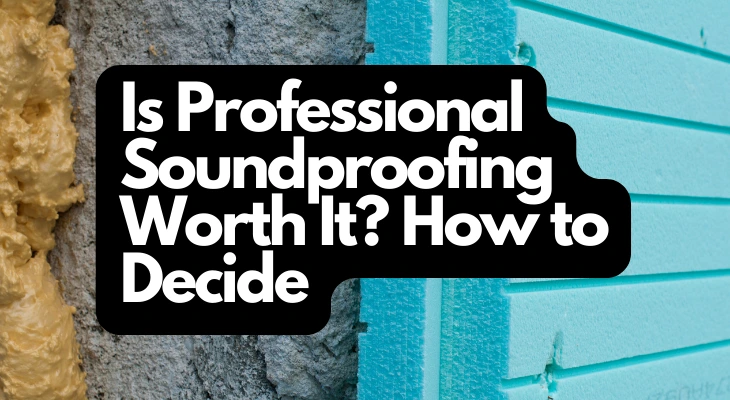 Should You Get Professional Soundproofing?
Most people should consider professional soundproofing because it offers unparalleled insulation to sound waves leaving and entering the room. It consists of quite a few modifications, but you'll truly enjoy the experience. Many people use professional soundproofing in their entertainment rooms, recording studios, and more.
Ask yourself the following questions if you want to know if professional soundproofing is worth it:
Do you own the place or have permission to soundproof it? If you don't own the house or apartment, it'll be difficult to convince the landlord. Professional soundproofing often requires moving parts of a wall and modifying the studs. Those who own their property can head to the next question.
Do you have the budget for pro soundproofing? Angi claims professional soundproofing can cost between ~$1,000 to ~$2,800 per small room. You can do a high-quality DIY soundproofing job for half of the price. However, you won't receive warranties, guarantees, and pro-level installation.
What are you soundproofing the room for? If you only want a little bit of soundproofing for better sleep, you could get away with DIY soundproofing. Again, your budget might say otherwise. But if you want to soundproof a room for professional music recording or podcasts, expert soundproofing is an excellent choice.
Is it already partially soundproofed? If the room has foam panels or dense walls, you can add soundproofing rugs, curtains, and textured paint without professional assistance. However, a room or home that doesn't have any soundproof materials is a primary candidate for professional soundproofing.
What do you want as part of the soundproofing job? If you only want panels or paint, you can likely DIY the project. That being said, those who want isolation clips and brand-new soundproof walls should go the professional route. You could also choose pro soundproofing out of convenience and peace of mind.
The best way to know if professional soundproofing is worth it is to weigh the cost versus what you get out of it. In the following section, we'll explain how much you'll pay for professional soundproofing compared to DIY soundproofing examples.
How Much Does Pro-Level Soundproofing Cost?
Professional soundproofing costs between $1,000 to $2,800, depending on the size of the room, the materials used, and more. If you only want to soundproof a small room, you'll likely spend closer to the $1,000 mark. However, high-end soundproofing for a home theater could cost close to $3,000. Remember, the location and local demand heavily impact the price.
If you want to try DIY soundproofing instead of paying a few thousand dollars, it'll likely cost around $500 to $1,000 per room. Here's a list of what you'll need:
Soundproofing acoustic panels: These dampen and absorb sound waves going to the walls, floors, and ceiling.
Acoustic glue and caulking: Use this to mount the panels and seal the spaces around nearby windows.
Bass traps: Place these in the corners of the room to prevent bass vibrations from echoing or going into a nearby room.
Isolation clips and resilient channels: Install these on the studs to limit vibrations and sound waves.
Dense soundproof blankets, curtains, and rugs: Place these throughout the room to retain as much sound as possible.
Textured acoustic paint: This adds texture to the exposed walls, preventing the sound waves from going into neighboring rooms.
If you have to choose one of these items, try the Donner Soundproof Panels

(available on Amazon). Each panel measures 12' x 12' x 2", providing sound absorption through varying groove depths. You'll receive 12 panels per pack, which covers up to 144 square feet. They also offer 1-inch panels if you don't need as much density and thickness.
Last update on 2023-09-27 / Affiliate links / Images from Amazon Product Advertising API
What Is Professional Soundproofing Good For?
Professional soundproofing is good for recording music at home, creating a podcast studio, and designing an entertainment room. It's also good for listening to music or keeping noise out of a space. If you're on the fence, it's a good idea to familiarize yourself with everything high-end soundproofing has to offer.
Here's a list of five things professional soundproofing is good for:
Home theaters: People often soundproof home theaters because it helps maintain the sound quality. Thin walls remove sound waves from the space, sending them into nearby rooms. However, you can soundproof a home theater to ensure optimal resonance, sustain, and clarity for your movies.
Recording studios: Recording studios need as little white noise as possible. Fans, speakers, talking, and other noises coming from outside of the room can affect the recording quality. Professional soundproofing ensures you won't accidentally record anything that wasn't in the room or building.
Music rooms: You don't need to be a professional musician to enjoy professional music quality. High-end soundproofing is a top-notch way to make sure you get the best sound quality every time you head into your music room. You can add massive speakers with subwoofers that won't vibrate the neighboring room.
Graveyard shift workers: If you're tired of hearing your roommates or neighbors when you're sleeping during the day, professional soundproofing can be the best decision you've made this year. You can sleep as if it's nighttime. Most people rely on soundproofing for music, but graveyard workers appreciate the silence all too well.
Podcast rooms: Podcasting is becoming increasingly popular. Not only are there more podcasting platforms than ever, but they're becoming more accessible. If you want to upgrade your podcast, eliminate white noise, and improve sound clarity, professional soundproofing should be the first thing you consider.
Another reason to consider professional soundproofing is that it provides comfort in your home. Not only does it maintain your privacy, but it also offers a bit of temperature insulation. Professional soundproofing changes everything from the tape and caulking to the insulation and padding.
How Long Does It Take to Soundproof a Room?
It takes between five to ten days to soundproof a wall. The timespan depends on how many renovations are needed, the quality of the materials, and how much work is being done. Furthermore, shipping delays and labor can increase the period of time, making you wait up to two weeks to soundproof a small room.
According to New England Soundproofing

, most professional soundproofing jobs take about ten days for an 8' x 10' wall. In other words, you might have to spend over a month soundproofing a full room.
However, there are numerous variables that can make the job go much quicker. For example, brand-new homes are quicker to soundproof because the company doesn't have to remove old walls.
On the other hand, soundproofing a room by yourself could take one day or one year. It all depends on how much you want to deaden the sound. For example, if you only use acoustic caulking and sound insulation panels, you can finish the project in one weekend. However, you'll spend a lot more time adding new rugs, isolation clips, wall density, etc.
Try some of these tips to quicken the installation process (whether it's professional or DIY):
Remove all of the furniture from the room before modifying anything.
Use quick-drying adhesives for the sound insulation panels.
Measure the room and order the materials beforehand rather than gathering them as you go.
Soundproof the entire room at once rather than one wall at a time.
Professional soundproofing is much more detailed than it might seem. It's far more than adding a few foam pads and calling it a day. Most experts modify the adhesives, walls, windows, curtains, doors, floors, carpets, and more. All of these projects take a lot of time, but they're more than worth the wait and effort.
Can You Put Professional Soundproofing on a Shared Wall?
You can put professional soundproofing on a shared wall, though it won't be as effective as soundproofing both sides of the wall. One-sided soundproof typically includes acoustic panels, proper furniture placement, and bass traps. However, some professionals can change the paint and glue to provide additional soundproofing.
Soundproof Central

suggests adding extra drywall on your side of the wall. Not only will this limit the noises coming into the room, but it also means your neighbors don't have to hear your speakers. If you don't want to add more drywall, you can use acoustic paint on your side of the wall to disperse the sound waves.
Another option is to layer foam panels along the entire wall. You need to cover every square inch of the shared wall for the best results. Even a two-inch gap between the panels will prevent them from absorbing the sound waves. The thickness and density of each panel are important too. Consider panels that are at least one inch thick.
Finally, cover the empty spaces on the walls with posters and other wall decorations (if you don't have foam insulation panels). Furniture and wall hangings make a massive difference in terms of sound dampening and sound wave absorption. If you have speakers, mount them one to two inches from the wall to limit the vibrations and wobbling issues.
Whether you're soundproofing a shared wall or an entire room, read on to know the final considerations when it comes to professional soundproofing.
What to Know Before Professionally Soundproofing a Room
Before deciding to professionally soundproof a room, you should know that soundproofing could affect the home's value, interior brightness in the room, and temperature insulation. Additionally, it's important to keep in mind that professional soundproofing prices vary based on numerous factors. Get multiple quotes before choosing which company is right for you.
So, what do you need to think about before choosing professional soundproofing?
Professional soundproofing could raise a house's value. If you live near a busy highway or sell your house to someone who wants a home theater, you're bound to get more bang for your buck. Soundproofing is an excellent way to provide privacy and isolation in growing, bustling cities.
It could darken the soundproofed room. Professional soundproofing often includes blocking the windows with dense curtains. It also requires soundproof texted paint and black soundproof panels. However, there are many ways to illuminate a soundproofed room to counterbalance the darkness.
Some soundproofed rooms have better R-value insulation. While soundproofing materials aren't as temperature insulating as temperature-rated insulation, they provide a bit of regulation. You'll notice the room holds the ambient air conditioner or heater temperature a bit better than neighboring rooms.
Professional soundproofing prices fluctuate drastically. Again, we highly suggest getting several quotes in the area. Some companies include more surfaces (such as the glue they use) to increase their value. Never cut corners when it comes to professional soundproofing; One gap can make a world of difference.
You can DIY most of the work after the company modifies the walls. If you want to save money, consider only using professional installers for the studs and drywall. Once they handle the heavy lifting, you can add foam insulation panels, acoustic caulking, bass traps, soundproof curtains, and door sweeps.
Final Thoughts
It's up to you to decide if professional soundproofing is worth it. If you want to limit the sound leaving or coming into a space, it's more than worth the project. You can have professional soundproofing on one wall or throughout an entire home. Keep in mind that the materials and quality of work largely depend on the experts at the site.
Was this article helpful?
Recent Posts
link to How To Allow QuickTime To Access Microphone 🎙️  
QuickTime is a vital app for many Mac users, and if you've recently bought a new microphone, you might wonder how to use it optimally. QuickTime cannot record audio content if it doesn't have...
link to How Do I Test My Microphone? 🎙️
Every microphone leaves a unique signature on the quality of its output. If you're a podcaster trying to melt your way into your audience's hearts, a muddy, distorted recording won't cut it....