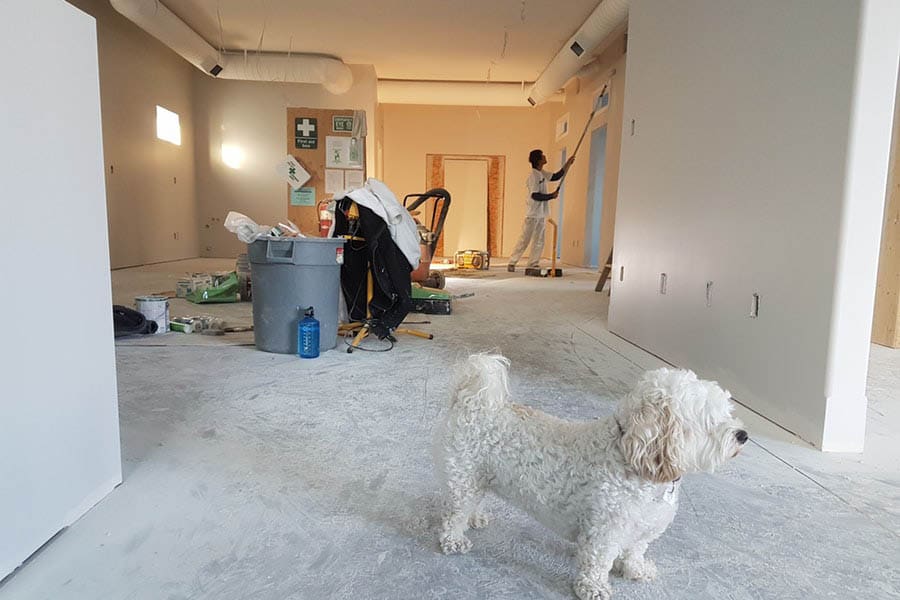 You can reduce the noise in your room or studio by just strengthening the walls and ceilings. You can also use foam tiles, MLV, or install extra sheets of drywall layers to your outer walls and ceilings.
Putting underlayment and thick carpet padding on your floor can reduce the number of sound waves coming through it. There are many ways you can do it
But if you intend to make a room where there is no disturbance from the outside world, you don't want to hear street and traffic noise coming into the room then, simple methods won't be that effective.
Or maybe you are going to build a recording studio. Then it would help if you prevented the unwanted sound waves from coming inside the studio and vice-versa.
That's when you build a separate isolated room inside the original one. So, we will discuss some of the best and simple ways we can build a soundproof room within a room.
Some of the Topics covered –
1. When and Why you need this?
2.Design of the room
3.Construction of the room
4.Cost of building
When and Why you need this?
Let's say you have done some simple soundproofing, but still, you are not satisfied with the result and want more and better isolation. This may arise due to the loud outside environment, noisy neighbor, or apartment.
And in these situations, simple noise reduction or soundproofing methods like reinforcing the existing walls, floors, and ceilings, adding layers or sheets of drywall might not work.
To achieve superior results, you should consider building another room within the room. This will give you more significant sound isolation.
For more information, check out 5 ways to soundproof hardwood flooring.

Design of the Room Construction
There are 3 methods of approaches to the design of room construction.
Method 1
The ideal design for a room within a room is to start with a large enough solid-walled building, constructing one or more inner rooms that should be self-contained, built on a floating floor, and should not touch the main outer shell of a house.
The greater the space between the inner and outer rooms – the better you will block the low frequencies.
Method 2
For smaller studios with excessive outside noise levels to contend with, a simpler lightweight, room construction design can be used.
The walls' wood frame is made from 2 by 4-inch wood and built directly onto a floating floor, with the ceiling joist being fixed to the wall frames. The ceiling joists should be 2 by 6 inches or deeper.
Method 3
Another option, convenient, for the do-it-yourself is not to build the walls directly onto the floating floor but rather, to support it on felt or neoprene strips laid on the real floor.
A floating floor can then be built inside the inner room with felt or neoprene strips between the floor and the walls. The sound isolation may not be as good because of the coupling between the walls and the real floor.
But it will be quite enough if the floor doesn't have much impact vibrations coming from other parts of the house that can potentially ruin the setup.
Constructions
Construction of this type of room involves several steps. Let's have a look at each of them and how to do it properly.
Step 1 : New Decoupled walls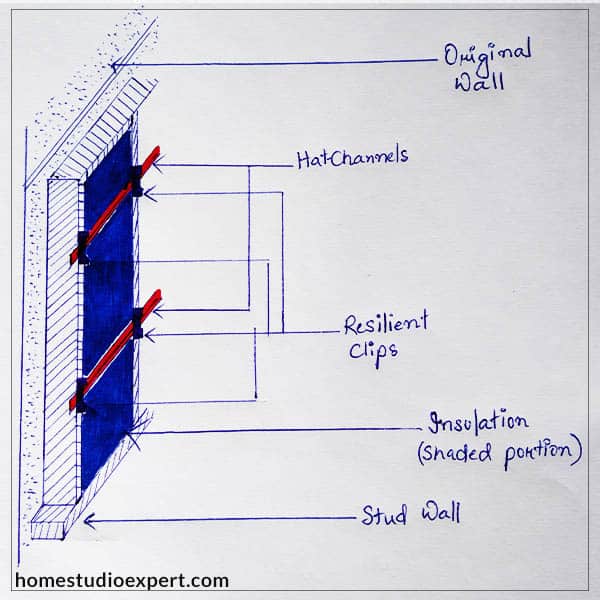 You can construct decoupled walls in various ways. Here, we will look at the two main ways you can consider while building your own.
Single Stud Wall Design
Double Stud Wall Design
The Double Stud Wall Design will provide more room for air. Consequently, it will provide more isolation to low-frequency sound waves. This results in maximum noise isolation and less sound bleed (your neighbors will be thankful).
But it's not a compulsory thing, and the single-wall design may still be enough for the room. Consider your investment budget to how much the room blocks sound.
And you also can add more insulation. It would help if you used resilient clips and hat channels

in both designs when installing the first layer of drywall on the stud wall.
Start by building the new wall framing leaving some space or a large space from the original wall (if you are building a completely new small room), as the principle of building the walls will be the same.
The resilient clips must be installed first on the frames, and after that, you can snap the hat channels on them.
The resilient clips and hat channels will prevent the sound from outside from transmitting through the walls and ceiling assemblies.
Note: Use 2×6 or 2×4 wall studs
Ceilings
For ceilings, you can't build something like the double walls from above. What you should do – is use the same decoupling method that we used above. (soundproof clips)
If you have old ceilings then, you need to remove them. After that, install the resilient clips uniformly on the joists and install the hat channels to the clips.
And you are ready for the installation of the first layer of the ceiling.
Step 2 : Insulating the cavity
Before we do the drywall's actual installation, we need to insulate the cavity in the walls and on the ceilings.
This step will further provide more absorption of different sound waves coming from outside or above.
"Soft and thick" is one of the main characteristics of sound-absorbing material. And for this process, we can use something like Fiberglass batts.
You can even use two types of materials (if you can) in two different layers for filling the cavities on the walls – a layer of fiberglass batts and a layer of Rock Wool or Acoustic foam

(or any). As they are of different materials, they will provide absorption to a wider range of the spectrum.
This leads to absorption of unwanted frequencies of sound and limits the frequency range.
Don't compress them when you are placing them in the cavity. Just do it gently and where it fits.
Note: Use Acoustic putty pads

for insulation over outlets and switch or electrical boxes to make them soundproof. You can use any brand, and it's cheap too.
SpecSeal SSP Putty Pads - Case of 20-7-1/4" Square
PERFORMANCE: Highest UL and STC ratings of any putty pad on the market. Numerous 1 hour and 2 hour...
EASY INSTALLATION: Just peel-and-stick to the back of any plastic or metal electrical outlet.
UNIVERSAL: Cut or tear pieces to create whatever size you need, bigger or smaller.
Last update on 2023-09-25 / Affiliate links / Images from Amazon Product Advertising API
Step 3 : Dampening
This is the last second step for building the new walls and ceilings. All we need to do is – install the drywalls and dampen them.
And the most effective way to do this is by installing two layers of drywall with Green Glue's help, a dampening compound.
You should use Green Glue Noise Proofing Compound

as it is less expensive, effective, and easy to install than using other commercial soundproof walls.
Green Glue Noiseproofing Compound - 6 Tubes,net wt 28 fl.oz(828 ml)

6 (28oz) tubes of Green Glue Damping Compound w/nozzles
Big Wipes Cleanup Included - TMS Installation Guide Included
Soundproof Walls/Floors/Ceilings with the highest rated damping compound
Last update on 2023-09-25 / Affiliate links / Images from Amazon Product Advertising API
Here is a video on how to apply it properly –
Install the first layer of drywall by screwing them on the hat channel (only), and make sure you are not screwing them on the wooden frame of the stud wall.
Then, apply the Green glue on the second layer of the drywall and fix them on the wall by screwing them on the hat channel through the first layer of drywall.
The same goes for the ceilings. Use dry walls with decent thickness and mass on them, as more mass points to – better sound blocking capacity.
Floating Floors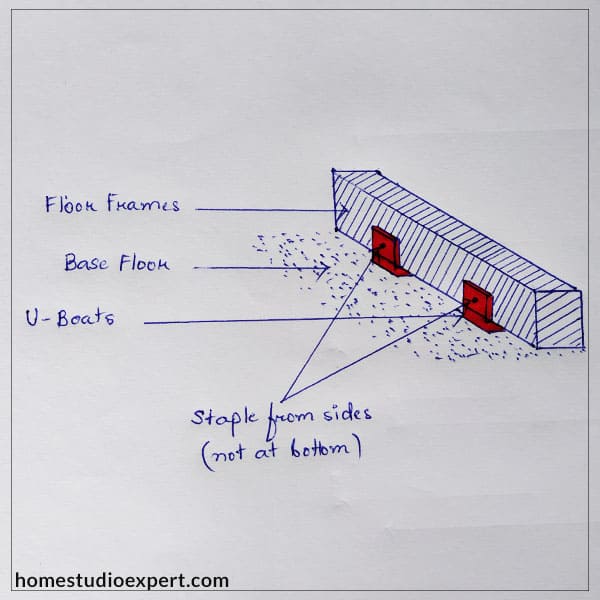 For the construction of floating floors, the principle is the same as above. But, you are going to need some special design and decoupling material.
The new floors' frames must be decoupled from the original base layer of the floor, and for this, you need U-Boat

.

Auralex U-Boat Floor Floaters (50-pack)

U-shaped Flo Decoupler
Made of a specially-formulated, vibration-isolating rubber
Use U-Boats with Sheet Blok to ensure good isolation
Last update on 2023-09-25 / Affiliate links / Images from Amazon Product Advertising API
U-Boat – It's a piece of specially formulated rubber that support frames to isolate them from the surrounding environment
The frames will rest on the U-boats and the U-Boats on the base floor. You need to install as many evenly as possible on the frames as the whole weight will be pressing down to them.
And they fit perfectly with any "2/x" wood frames of the floor. While fixing them on the wood frames, make sure you staple them from the two sides and not from the bottom as they will be resting on the floor.
Now you can fill the cavities with insulation materials before installing the floors over them, and here is a short video on installing floating floor (the black material you see below the wood frame is the U-boat)
Step 5 : Finishing
The final step is to fill the walls' perimeters and the ceilings or holes, cracks with an acoustic sealant like the Green Glue sealant

.

Last update on 2023-09-25 / Affiliate links / Images from Amazon Product Advertising API
You can then do the finishing touches – decorating or painting the walls and ceilings as you like.
Note: If the new wall you are building is far away from the original wall, you are building a small separate room (inside the room), then don't forget to add a layer of drywall on the outer surface of the walls.
You can install the frames above the new walls for the ceilings and add a layer of drywall above it.
The other part, such as adding insulation and dampening, pretty much goes the same.
Here's my step by step guide to soundproofing an apartment for drums.

Doors
It would help build a solid core door for the inner room to better block the sound waves. After that, you can hang a Fiberglass Soundproofing blanket

over the door for better insulation.
Last update on 2023-09-25 / Affiliate links / Images from Amazon Product Advertising API
Adding this will greatly improve the sound absorption process. Or you can use only the blanket with a normal door.
Ventilators
For vent openings, you can reduce the sound waves passing through them using the Sound Maze technique.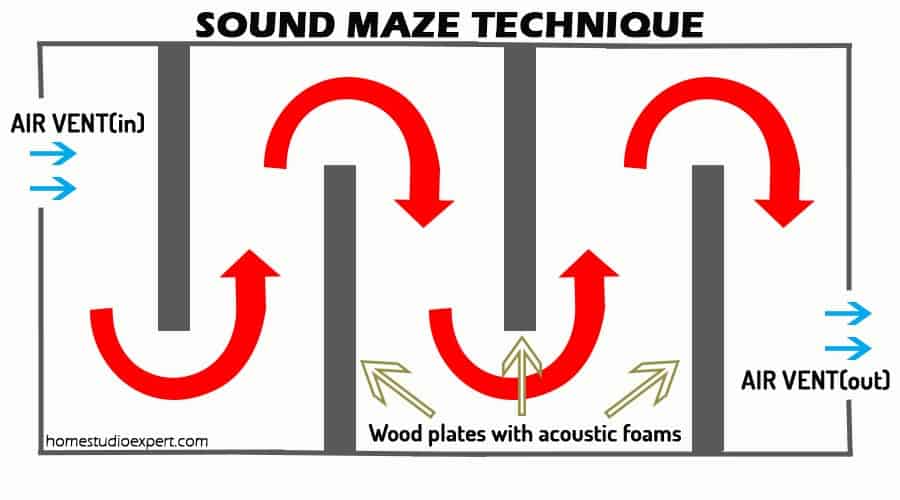 It is the technique where you fix a frame at the opening, in which the frame has acoustic panels fitted on it in a zig-zag manner so that air can still move in but sounds waves get dampened when they travel through it.
Cost of the construction
I can't say the exact number as it depends on many factors – like what type of wood you are using, size of your room, type of insulation you use, type of flooring, etc.
But it will roughly go around from $5k – $20k (it can go higher). If you are doing the job yourself then, you can save some decent amount too.
Here are some costs that you can look into –
Lumber charges
Labor or Installation charge
Finishing the drywall, which runs $9.80 for each 4×8 ft. sheet
Insulation
A single door can cost 150$ and above.
Molding for the ceiling-$3 per ft.
Hard Wood floor – 10$-15$/square foot
Laminate Floor – 2$-5$/square foot
Sound Proofing Blankets
Acoustic Putty pads
Green Glue Noise proofing Compound (buy them as a set)
Green Glue sealant
Resilient Clips and Hat Channels
U-Boat
Note: All prices are estimates.
For more information, check out this article about getting rid of ground hum in a home studio.

Now, it has come to the end of the post. Hope you like it!
Was this article helpful?
Recent Posts
link to How To Allow QuickTime To Access Microphone 🎙️  
QuickTime is a vital app for many Mac users, and if you've recently bought a new microphone, you might wonder how to use it optimally. QuickTime cannot record audio content if it doesn't have...
link to How Do I Test My Microphone? 🎙️
Every microphone leaves a unique signature on the quality of its output. If you're a podcaster trying to melt your way into your audience's hearts, a muddy, distorted recording won't cut it....