Playing loud drums in an apartment is one of those undocumented felonies that could earn you a direct ticket to Evictionville. That's unless you soundproof your apartment for drums to keep the noise away from neighbors and the landlord. So, how do you soundproof an apartment for drums?
Here's how you can soundproof your apartment for drums:
Seal off gaps on your door.
Block sound leaks on windows.
Carpet the floor and use a drum rug.
Cover walls and ceiling with acoustic foam.
Minimize the volume of your drum kit.
In the rest of the article, I'll explain the practical strategies that each of these steps has.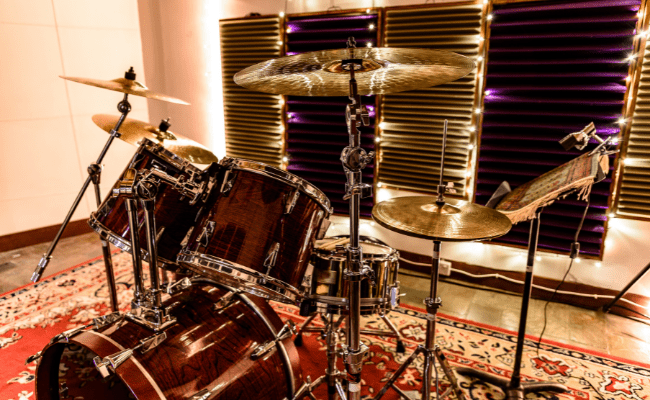 1. Seal Off Gaps on Your Door
Sound travels faster through the air, around 332 meters (0.21miles) per second

, and doors have plenty of air gaps. From the space under the door to the tiny gaps between the hinges and the hollow space in the interior, sound has plenty of air space to pass through.
Here are a few ways you can soundproof your door:
Install a Door Sweep
It's common practice for interior doors to be fitted with an opening beneath for ventilation. This opening is a good escape point for drum noise.
You can use a door sweep to block sound from passing through the air space. Find a door sweep that you can adjust to fit the situation with your door.
The Suptikes Door Draft Stopper

from Amazon.com is a superb option. It's made with flexible, durable, and easy-to-fit silicone. You can easily attach the draft stopper to the door to seal in sound and quickly remove it any time you want.
Suptikes Door Draft Stopper Under Door Seal for Exterior/Interior Doors, Door Sweep Strip Under Door Draft Blocker, Soundproof Door Bottom Weather Stripping, 2 Inch W x 39 Inch L, Black

【HEAVY DUTY AND DURABLE MATERIAL】- Made of flexible and adjustable silicone for a snug fit,...
【ALL SEASON PROTECTION】- Protects your home and family from adverse weather conditions, stopping...
【INSTALLATION GUIDE】- 1)Measure the bottom of the door and cut the excess seal; 2)Clean and dry...
Last update on 2023-09-26 / Affiliate links / Images from Amazon Product Advertising API
Add Mass to Your Door
Heavy mass acts as a block to sound. Since you're most likely to be using a room in your apartment to play drums and most interior doors have a hollow core, you can add mass to your door to block sound.
You have three options here:
Give your door a solid core by installing soundproofing panels inside the door. Installing soundproofing panels will reduce the air gaps that let in sound and help deflect it. You'll most likely need the consent of your landlord to do this.
Replace your hollow door with a new metal or solid wood door. For this option, metal is a better choice as it deflects sound while wood dampens it. But a metal door inside your apartment might not be allowed by your area's fire code or your landlord. That leaves you with the wood door option.
Increase the mass on your door by applying a soundproofing blanket or Mass Loaded Vinyl over the door. Try the SoundproofingMLV Premium Soundproofing Mass Loaded Vinyl from Amazon.com. It's easy to cut and install and is non-toxic and odor-free. You can choose from several available sizes according to your room space.
Noise Grabber Mass Loaded Vinyl - 1 LB, 4' x 4', 16 Square Foot Roll of MLV - Dozens of Options, Soundproof Barrier, Reduces Noise, Installs Anywhere, Made in the USA
Soundproof your home, bedroom, bathrrom, office, conference room, basement, apartment, car, pipes,...
Best soundproofing product with proven results, high sound reduction rating (26 STC), heavy duty...
Easy to cut and install in numerous areas, make soundproofing projects easier with Noise Grabber...
Last update on 2023-09-26 / Affiliate links / Images from Amazon Product Advertising API
Use Weather Stripping
Weather stripping is an optimal air and sound blocker at the point where the door and frame meet. You can find both metal and vinyl weather stripping.
I would suggest you go for vinyl or foam as they're more affordable and easier to install. Consider MAGZO Foam Strips

from Amazon.com. The stripping is waterproof, has a strong adhesive, and sticks firmly without leaving marks when it's time to remove it.
Sale
MAGZO Adhesive Foam Pad 1/8 Inch Thick X 4 Inch Long X 4 Inch Wide, High Density Foam Sheet Square Rubber Pad Anti-Slip (10 Pcs)

SIZE - 1/8 inch T x 4 inch L x 4 inch W x 10 Pieces. You can cut the anti-slip foam pad into any...
STRONG ADHESIVE - The foam padding adopts a stronger adhesive backing which ensures the foam sheet...
DEFORMATION RESISTANCE - The foam pad is made of high-quality neoprene closed-cell foam, which...
Last update on 2023-09-26 / Affiliate links / Images from Amazon Product Advertising API
2. Block Sound Leaks on Windows
If you're soundproofing a room in your apartment, chances are you only have a single window to deal with. But it would help if you still blocked any sound leaks. You have a few options here:
Replace Single-Pane Windows With Double/Triple Glazed Panes
If your proposed drum-room in the apartment has a single-pane window, consider replacing it with double or triple-glazed panes. Replacing window panes is a costly option and will require the approval of your landlord. However, the argon gas between the panes will work as an excellent soundproofing material.
Install Window Inserts
Window inserts are made with laminated glass and are installed in the window frame on the interior side. They're often preferred over complete window replacement because:
They're cheaper and easier to install.
They require minimal maintenance once done.
They'll leave the original look of your windows intact.
As a soundproof option, window inserts will keep most of the noise from your drums in the room, up to 60% more than just having double window panes.
Seal Any Gaps on Windows
Seal any gaps on your windows with weather stripping or acoustic caulk. Sealing the gaps will prevent most of the drum noise from escaping the room.
If you opt for acoustic caulk, go for the Flex Shot White

from Amazon.com. This all-gaps-sealer comes in a free extension tube and doesn't require the use of a caulking gun. It'll contract and expand to seal any gaps on your windows.
Flex Shot Rubber Adhesive Sealant Caulk, 8-oz, White

Caulks, bonds and seals virtually everything!
No need for a caulking gun! The free extension tube makes even hard-to-reach repairs easy.
Gives you a perfect bead, every time. No running, no dripping, no mess.
Last update on 2023-09-27 / Affiliate links / Images from Amazon Product Advertising API
Hang Acoustic Curtains
Acoustic curtains are soundproofing curtains made with heavy fabric like velvet and a vinyl lining. They don't block sound but will work by absorbing and dampening the sound from your drums.
Also, acoustic curtains reduce the reverberation and the echoes from your drums. They work best when used with other window soundproofing methods, such as window inserts.
Use Double-Cell Shades
Double-cell shades, also called honeycomb shades or cellular shades work like acoustic curtains. They're tubes of fabric piled together to create a light, heat, or sound barrier.
Unlike single-cell shades, double-cell shades are better at absorbing noise. They're best used as complementary window soundproofing with other more effective options like window inserts.
See the CHICOLOGY Cellular Shades

on Amazon.com for an idea. They're made with 100% polyester yarn, and you can order according to size or make a customized order to fit your window frame.
Last update on 2023-09-26 / Affiliate links / Images from Amazon Product Advertising API
Here's my guide on How to Record Drums and Guitar simultaneously

.

3. Carpet the Floor and Use a Drum Rug
Playing drums on a bare floor will send amplified noise to anyone living on the floor below yours. Carpets are effective sound absorbers and will reduce the noise from your drums by a good number of decibels.
In addition, placing a drum rug over the carpeting is an even better option. Alternatively, cover the floor directly with drum rugs.
Go for rugs designed for drumming like the Meinl Cymbals Drum Rug

on Amazon.com. The drum rug has a tight grip on drum stands and spurs which means it won't slide when you play. It comes with a travel bag to carry the rug when using the drums in a band.
Last update on 2023-09-26 / Affiliate links / Images from Amazon Product Advertising API
Find out more on Drums Set Up on Carpet.

4. Cover Walls and Ceiling With Acoustic Foam
Sound bounces off of hard surfaces like walls and concrete ceilings. The back and forth bouncing of drum sound from one wall to the other will amplify the sound. To prevent this, cover the walls and ceiling with acoustic foam. You could even use the form as a form of interior designing, mixing and matching colors artistically.
A good option is this XIN&LOG Wall Panels

from Amazon.com that can serve both soundproofing and interior design purposes. They absorb high-range frequencies and are available in different colors.
Last update on 2023-09-26 / Affiliate links / Images from Amazon Product Advertising API
5. Minimize the Volume of Your Drum Kit
Your drum kit doesn't have a sound reduction knob or remote control. But you can use soundoff mutes to decrease the sound from your drum set when you play.
Go for a set that's known for efficiency, like the Evans Drum Mute Pak

from Amazon.com. These soundoff mutes will reduce drum noise by 95% without significantly altering how you hear your music. They go by drum size, and you can choose between a Standard, Fusion, or Rock pack or go for a box set for each of the three options.
Evans SoundOff by Evans Drum Mute Pak (4pc) – Provides 95% Volume Reduction Without Drastically Altering Drums' Feel – Quietly Practice Directly on Drum Sets – For Standard-Sized Kits 12, 13, 14 (Snare), 16

PRACTICE ANYTIME, QUIETLY – SoundOff by Evans Drum Mute Pak provides a 95% volume reduction, so...
DURABLE – The textured drum mutes sit directly on top of the drum head and do not drastically...
FOR STANDARD-SIZED KITS – The standard-sized pack of four drum mutes includes sizes to fit a drum...
Last update on 2023-09-26 / Affiliate links / Images from Amazon Product Advertising API
Check out my other article on Best Overhead Drum Microphones

for your own recording studio.
Final Thoughts
If you go professional, soundproofing a room can cost you a fortune. Since not every drummer has the buck for the job, we thought of giving you a simple and affordable DIY step-by-step method.
We hope your neighbors and landlord have nothing to complain about here when you roll your drums.
Find out more on my drum recording guide

article.
Sources
Was this article helpful?
Recent Posts
link to How To Allow QuickTime To Access Microphone 🎙️  
QuickTime is a vital app for many Mac users, and if you've recently bought a new microphone, you might wonder how to use it optimally. QuickTime cannot record audio content if it doesn't have...
link to How Do I Test My Microphone? 🎙️
Every microphone leaves a unique signature on the quality of its output. If you're a podcaster trying to melt your way into your audience's hearts, a muddy, distorted recording won't cut it....