Whether there's a live concert or rehearsal in the garage, you'll always find the drummer stationed in the back. They're always with their trusty drum set parked on a rug, but is that the right trick?
Drums should always be set up on carpet. Rugs and carpets dampen vibrations which prevent the drum set from moving around when being used. The cushioned flooring also absorbs more sound, keeping the reverberations low and sound from leaking.
Let's have an in-depth look at why drums should be on carpets in this article.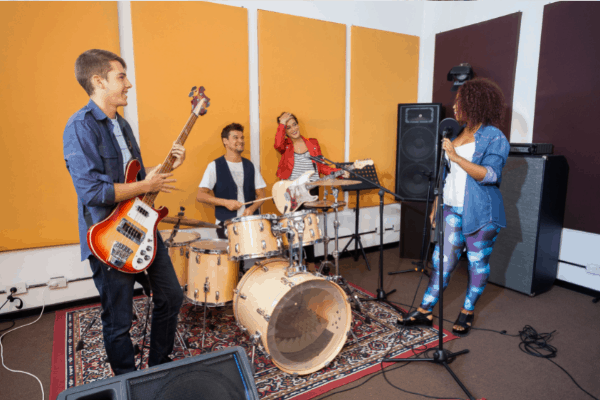 The Benefits of Keeping Your Drums on a Carpet
Let's look at it from a practical point of view. 
One of the most significant reasons drummers keep their drum set on carpets is to have something that resists movement. That's because beating on the drum causes shock waves and vibrations that can make the drum move. The carpet helps hold it in place.
Carpets Keep Drum Sets in Place
Drumming involves striking a drum on the dome with a stick, sometimes using multiple drums and producing sounds simultaneously using two sticks. Sound is produced through the shockwaves that occur when you strike the drum with the drumstick. 
But these shockwaves provide more than just an aural shock. The reverberations also create vibrations, which travel through the drums down to the floor. 
When that happens, unless the drumset is fitted to the floor with screws, the set begins to move. And with every movement, different components of the set begin to move further away or inward.
Drummers prevent this from happening by putting a thick, cushy carpet under their drum set so the drums don't wander. 
Carpets Help With Acoustics
This hidden benefit is another reason why many musicians use carpets and rugs on stage at live concerts and in recording studios.
If you consider the echo effects of any space, open or closed, the sound will bounce off horribly and create an echo that will disrupt performance quality. 
Rugs and carpets act as dampeners, soaking up excess sound and essentially providing further cushioning so the sound isn't as distorted. The sound of the drums is not as affected by surrounding gear either because the carpet dampens their sounds and vibrations too.
This is especially useful for those who like to practice at home or in private areas. Having carpets or rugs underneath your drum set prevents sound from leaking into other areas of the house and provides the right level of sound absorption. Hence, you don't have to rely on special headphones or equipment to listen to the different notes in your music.
Carpets Help Protect Your Drum Set
This is not only to protect your drumsticks if they ever accidentally fall from your hands.
While drum sets are generally long-lasting and durable, components such as their hoops do undergo a lot of damage if you get a set that's cheap or a little damaged. For example, if your bass drum has a broken leg or sits on the ground, the floor might damage its hoops.
Combine vibrations, a hard floor, and scratches to the drum set—over time, your bass drum's hoops will get damaged.
Check out my ultimate guide to the best flooring for home recording studios.
Types of Carpet for Setting Up Drums
Drums require durable and more rigid rugs that can withstand heavy use. For that purpose, you can choose from the following options:
Isolation mats
Indoor/outdoor rugs
Portable drum rugs
Permanent drum rugs
Isolation Mats
Isolation mats or isolation pads are specifically designed to reduce vibrations in musical or acoustic instruments.
Unlike rugs that offer a greater surface area, these isolation pads are wedged around the instruments, preventing the vibrations from flowing through. These pads are widely used for small and large speakers and monitors, but you will find specific mats for drum kits too. 
But, be warned. These mats are not as cheap as you think. 
Consider the many corners and feet that a drum set has. You must spend a significant sum to make sure every nook and cranny of your drum set is appropriately fitted with an isolation mat.
Also, there's a need to double-check whether each pad or mat has a non-slip bottom. While a drum rug or non-slip rugs have this feature, we can't say the same for isolation mats or pads.
Indoor/Outdoor Rugs
An indoor or outdoor rug is the next best thing for anyone who wants a cheap and durable, no-nonsense option for a drum rug.
Outdoor rugs are high-quality, weatherproof, resistant to mold, mildew, and stains, and made using durable polypropylene materials. They're easy to wash and clean. Some even come with reversible features, so it's not as tricky keeping them neat.
Indoor rugs are soft, durable, and comfortable. Although these are made with different materials, you'll want to opt for the most durable ones, namely, nylon, jute, sisal, seagrass, wool, and polypropylene.
Brand-new or second-hand rugs work well. But check whether they come with a non-slip base. There's no need for a rug if the rug itself keeps sliding about on a smooth hardwood floor.
Portable Drum Rugs
As the name goes, drum rugs are designed to provide stability for your drum set. Drum rugs are made using non-slip/skid materials. They're also durable and lightweight and are available in a range of styles and sizes. 
Drum rugs—whether they're permanent or portable—are made using a tightly woven fabric, so it doesn't split, tear, or flake when used. 
The portable drum rugs are limited in size, which comes in handy because it's easier to store or transport the rug with your drum kit. These rugs also typically come with velcro straps for easy handling. If not, you can always tie a rope around the rolled-up mat when needed.
Permanent Drum Rugs
Permanent drum rugs are more oversized, harder to move, and heavier as well. 
Because permanent rugs are not intended for travel, these come in a range of larger sizes, some of which can fit entire rooms. These rugs come with no unique feature, except that they're also made using durable, tightly woven fabric.
This allows musicians to place their drum sets on the rug and other musical instruments that may need a cushioned floor.
Why You Should Have Multiple Drum Rugs
Buy a permanent drum rug for home, but always keep a portable rug for gigs, just in case. 
With time, you will get used to drumming on a carpet. But you can't be guaranteed a carpeted floor wherever you go to perform. Rather than risk your set, buy a quality drum rug, and keep it in your vehicle or with other storage options for your drum kit, so you always have it.
What Not To Use for Drum Set Ups
If you already have a large carpet stored in the attic, you might think it's best to put that to good use. Check the carpet thoroughly before taking this step, though.
Shag carpets, polyester carpets, loop pile carpets, and plush pile carpets might look aesthetically pleasing. But these are not durable for heavy-traffic spots like a drum set.
Keep in mind that you'll have plenty of things besides your drums crowding your carpets. Cymbals, drum racks, kick pedals, various drum hardware, throne—there's plenty that needs space and a durable but soft base.
Your average shag or plush pile carpet is not designed to contain such things. With excessive use, these rugs will become damaged and will flake.
If you have a durable carpet that fits the description of an ideal drum rug, that's great. Otherwise, consider the rug an investment in your future.
Conclusion
If you want to retain the quality of your drum set and improve your skills, too, your drum should always be on a carpet. Buy the right one with some help from the information given above, and remember; pay attention to the quality and material from which the rug is made. You'll want to get the best product for your money.
Sources