Studiomanifesto.ca was a website that offered advice to independent recording artists and producers. The domain was recently acquired by Homestudioexpert.com, which is a site dedicated to helping people build home studios.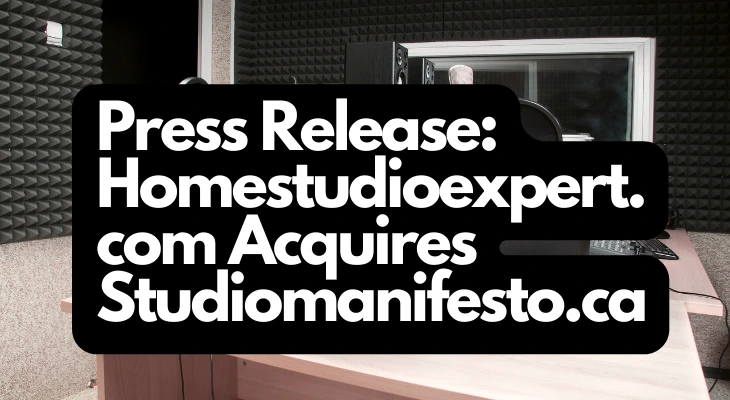 What Did Studiomanifesto.ca Do?
Studiomanifesto.ca provided helpful advice and strategies for those wanting to further their music careers. The content on the site was geared towards independent recording artists and music producers. The main topics included music production, online music promotion, and a discussion of music culture.
The music production articles focused on helping artists and producers set up their recording studios. Visitors could learn more about everything from setting up a studio for preproduction to recording and mixing a track.
Studiomanifesto.ca also included blog posts on online promotion. The site included articles on marketing music and reaching a wider audience. Some of the blogs covered using social media to connect with fans and how to build a larger following.
The website also discussed modern music culture and how the culture of music influences everything from production to promotion.
Studiomanifesto.ca was managed by a producer with an independent studio. Along with blog articles, the website offered updates on the studio's latest releases. Other content included podcasts, photo galleries, and services. The website was most active from 2009 to 2016. After several years of minimal activity, the domain name was acquired by Homestudioexpert.com.
What Does Homestudioexpert.com Do?
Homestudioexpert.com is a website with informational blogs for those interested in setting up home studios. The blogs revolve around the steps involved in setting up a home studio for:
● Audio and music recording
● Video recording
● Video streaming
● Podcast recording
● Photography
The website covers a variety of topics and includes in-depth information for people of all experience levels. Here are some of the details to consider when creating a home studio:
● Choosing the ideal spot for your home studio
● Comparing studio equipment and gear
● Learning how to soundproof your studio
● Setting up your audio and recording equipment
A home studio is a great investment for musicians, videographers, and producers of any type of media. Setting up a home studio saves you the hassle of needing to drive to a separate location to record.
You no longer need to schedule studio time or transport bulky equipment to another location. You also save time by avoiding the need to rearrange everything to suit your needs. Everything is already set up and ready for use in your own home.
The time that you save means that you can devote more time to recording. Whether you want to make music, videos, or podcasts, a home studio is convenient but involves a lot of work.
Homestudioexpert.com gives you the tips needed to ensure that your studio meets your requirements. You can avoid making common mistakes and learn how to select the right equipment so that you can produce professional results.
The acquisition of Studiomanifesto.ca and other domains shows that the team at Homestudioexpert.com is dedicated to building a helpful site and reaching as many people as possible.
Learn More
To learn more about recording studios, check out:
To learn more about video recording and streaming, check out:
Home Studio Expert has also acquired the following:
To learn more, visit Homestudioexpert.com

Was this article helpful?
Recent Posts
link to How To Allow QuickTime To Access Microphone 🎙️  
QuickTime is a vital app for many Mac users, and if you've recently bought a new microphone, you might wonder how to use it optimally. QuickTime cannot record audio content if it doesn't have...
link to How Do I Test My Microphone? 🎙️
Every microphone leaves a unique signature on the quality of its output. If you're a podcaster trying to melt your way into your audience's hearts, a muddy, distorted recording won't cut it....