An easy way to improve the audio quality while streaming on the Xbox Series X is to get a USB microphone. But if you have something like the Blue Snowball and tried to connect to your console, it may not work. Does that mean you have to get a new microphone that will work with your Xbox, or is there a workaround?
To use a Blue Snowball on an Xbox Series X, you need to connect the USB microphone to another device, like a Windows laptop or phone. Open the Xbox app, connect to the Xbox Series X, and select Stream or remote play. This is because Xbox Series X does not have native support for USB microphones.
This guide will explain how you can use a Blue Snowball with your Xbox Series X. It also covers other topics like the accessories and devices you need to make it work.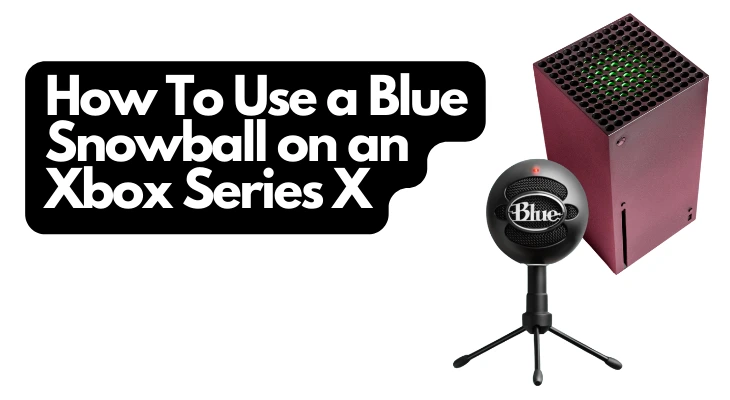 1. Get Another Device Like a Laptop or Smartphone
Unfortunately, the Xbox Series X doesn't support USB microphones natively. This means that if you try to connect your Blue Snowball to your console, it won't work. Fortunately, you don't have to buy a new and more compatible microphone.
The workaround is to connect it to another device and use your microphone through it. To do this, you'll need a Windows laptop or a smartphone that runs Android or iOS. Note that this method won't work with Macbook Air or Macbook Pro models, as you can't install the Xbox app on macOS.
Luckily, there's a straightforward solution to this problem. You can use Boot Camp and install Windows 10 on your device. Here's a handy guide from Apple

to help you set up Boot Camp and Windows.
Depending on your model, you may need a USB drive with a minimum of 16 GB of storage space.
Either way, the process is easy, and you can get Windows 10 running on your Apple laptop in no time.
If you plan to use your smartphone to connect the USB microphone, or your laptop only has USB Type C ports (so you can't plug in the microphone), follow the instructions in Step 2. Otherwise, skip Step 2 and start from Step 3.
2. Get a USB Adapter for Your Laptop or Smartphone
You need to get an appropriate USB Type A adapter depending on your device.
For example, if you have an Android smartphone, it will require a USB Type A to USB Type C adapter. On the other hand, older models may need a micro-B adapter instead of a USB Type C. Since iPhones have a lightning port, you should find an adapter with the same connector.
Another option for laptops is a USB hub, which allows you to connect different devices to your computer. This can further expand the functionality of your device.
There are many places online where you can get adapters. However, you should avoid using cheap third-party accessories as they may not always work. And because of their lower quality, you'll likely have to replace them frequently.
Instead, opt for adapters from your phone's manufacturer or certified third-party brands. This way, you won't have to worry about it not being compatible with your device or failing within a short period.
If you want to know how to identify counterfeit third-party adapters for Apple devices, read this guide

.
3. Connect the Blue Snowball to the Laptop or Smartphone
Connect the Blue Snowball to your device. Keep in mind that smartphones or laptops without USB Type A ports need an adapter to plug in the USB microphone.
For laptops, all you have to do is connect the provided cable to the Blue Snowball and the other end to your device. If you're using a smartphone, connect the supplied cable to the adapter and plug it into your handset.
Check whether the Blue Snowball's LED lights up. That means the device is receiving power.
Proceed to Step 4 if you're using the USB microphone with your laptop. Otherwise, jump to Step 5. I recommend using your laptop as you don't need any adapter to connect the microphone.
4. Change the Input Device to Blue Snowball on Windows
Sometimes, Windows may use your laptop's built-in microphone instead of the Blue Snowball. Since your laptop's microphone doesn't sound as good as the USB one, there will be a massive difference in quality.
Here's how you can change the input device on Windows 10 and 11.
Windows 10
Press the Windows button from your keyboard and select Settings from the Start Menu.
Navigate to System>Sound. You can also reach this menu quickly from the home screen. Right-click the speaker icon from the taskbar and choose Open Sound Settings.
Find Input>Choose Your Input Device.
Open the drop-down menu and select Blue Snowball.
Windows 11
Press the Windows button from the keyboard to open the Start Menu and choose Settings.
Navigate to Settings>System>Sound.
Scroll down until you find Input.
Choose Blue Snowball from the drop-down menu. You'll find Test Your Microphone under Device Properties on the same Settings page.
If you connect the Blue Snowball properly, you'll see Test Your Microphone pick up the audio as you speak.
You don't have to install any additional drivers to make the Blue Snowball work

. However, if you're experiencing issues with the microphone, select Troubleshoot under Input>Device Properties. This will run a series of tests and suggest solutions to fix problems with your microphone.
Also, while you're on the Sound page, make sure you change the input volume per your requirements. Test out the USB microphone at different volumes and choose the best one so it isn't too loud for your listeners.
5. Download the Xbox App to Your Device
After you've connected the Blue Snowball to the laptop or smartphone, you need to install the Xbox app.
For Windows laptops, it may already be pre-installed. Search for Xbox Console Companion on your device. You can also download it from the following links if you can't find it.
For Apple Boot Camp, you can use the Windows Laptop link. There's also the option to download it directly from the Microsoft Store. As this is a lightweight app, it can run on most devices with little to no issues.
6. Connect the Xbox App to the Xbox Series X
After installing the Xbox app on your device, you need to connect to your console. The specific steps to do so depend on the device you're using.
Android and iOS
Open the Xbox app on your device.
You'll see two options: Sign In and Set Up Console. Select Sign In. This will take you to the Microsoft page.
Enter your Microsoft account details and sign in.
The app will guide you through the setup process. Follow the instructions.
Sign in to relevant accounts when you're on the Find Your Friends page. This will allow you to add your friends to the party chat if they also use the Xbox app. You can link Discord and Twitch on this page. There's also the option to skip this part of the setup.
After you've completed adding friends to your Xbox Friends List, select Set Up A Console and follow the instructions. If you already set up your Xbox Series X, skip this step and go to step 7.
Select Skip when it asks you to Set Up A Console and go back to the home screen.
Tap on the icon that looks like an Xbox in the top right corner next to the notifications icon.
You'll see two options: Set up a new console and Add an existing console. Select the second option.
Follow the instructions to connect your Xbox Series X to the Xbox app.
Enable Turn On Remote Features if you want to keep your console on standby. This is a handy feature for keeping your console up-to-date as it downloads and installs the latest firmware when you're not using the device.
For Windows Laptops and Apple Boot Camp
Download the Xbox Console Companion (if it isn't available) and open it. This app is different from Xbox, which is only for downloading and playing games on your laptop.
From the sidebar on the left, look for Connection. It looks like an Xbox and is just above Settings.
If your Xbox is on the same wi-fi network, you'll see it appear in the pop-up. You can find the name of your console by navigating to Profiles & System>Settings>System>Console Info.
You must enter the IP address if you cannot find your console. This information is available in Settings>General>Network Settings>Advanced Settings on your Xbox Series X.
7. Start Streaming from the Xbox App
The streaming process differs depending on whether you're using the Xbox Console Companion or Xbox app on your smartphone.
Xbox Console Companion
After you've connected your console to the Xbox Console Companion app, follow the steps highlighted below.
Select Stream, which you can find in the top right corner of the app. Make sure your controller is connected to the console.
Hold Windows Key and G on your keyboard to access the Game Bar.
Choose Widgets, which is the first icon from the left.
Select Xbox Social from the Game Bar.
Choose Start a Party, which has a headphone with a microphone icon.
Tap the Audio icon on the Game Bar to open the Audio menu.
Select Voice and check whether the Windows Default Input is Blue Snowball. If it's your laptop's microphone, change it to the USB microphone.
Scroll down and select Xbox Party Chat under More Settings. This opens up Audio Settings.
Find Audio Input and make sure that it's Blue Snowball.
Uncheck Enable Push to Talk.
If the USB microphone picks up noises other than your voice, check Enable Noise Suppression in the Audio Settings menu.
How To Check if Your Blue Snowball Microphone Is Working
Here's how you can test the Blue Snowball microphone.
One way to check whether the microphone is picking up your audio is to look at your profile picture in the party chat. You're good to go if it lights up every time you speak.
You can also invite one of your friends to the party chat and ask them if they can hear you clearly.
Xbox App (Android and iOS)
Here's how to start using the Blue Snowball microphone with the Xbox Series X.
Open the Xbox app on your smartphone.
On the top right corner, select the icon that looks like an Xbox. It's next to the notifications (bell-shaped icon).
Select Remote Play On This Device from the pop-up menu and choose Continue.
Connect your controller to the Xbox Series X. If you see another pop-up menu, select Continue Anyway.
Select the three-dot menu (horizontal) and tap on Unmute.
Now, your Xbox Series X can use the Blue Snowball.
How To Check if the Blue Snowball Microphone Is Working
Follow these steps to ensure your microphone is working properly.
Press the Xbox button on your controller.
Navigate to Parties & Chats.
Check whether there's a headphone with a microphone icon next to Your Xbox User Name Party.
If you can see the icon, it means the USB microphone is working. You'll also notice that your profile picture lights up every time it picks up your audio.
The best part about using the Xbox or Xbox Console Companion app is that you can switch from party audio to game chat. This is helpful if you're playing with random players who aren't on your friends list.
While you can use Discord and Twitch to connect your Blue Snowball, the downside is that it only works inside the app. If you want to play with players who aren't your friends, they won't be able to hear your audio.
Final Thoughts
Although the Xbox Series X doesn't have native support for USB microphones, you can still connect your Blue Snowball. You need to connect the USB microphone to your laptop or smartphone and open the Xbox or Xbox Console Companion app. As long as you follow all the steps highlighted, it will work flawlessly.
Sources
Was this article helpful?
Recent Posts
link to How To Allow QuickTime To Access Microphone 🎙️  
QuickTime is a vital app for many Mac users, and if you've recently bought a new microphone, you might wonder how to use it optimally. QuickTime cannot record audio content if it doesn't have...
link to How Do I Test My Microphone? 🎙️
Every microphone leaves a unique signature on the quality of its output. If you're a podcaster trying to melt your way into your audience's hearts, a muddy, distorted recording won't cut it....