If you're involved in the world of broadcasting and audio, you've probably heard of the GoXLR, a product by TC Helicon revolutionizing broadcasting and sound. The machine comes with hardware and software to edit voices and mix sounds without a dedicated computer. While it sounds like a must-need product in the industry, is it really worth the purchase?
All in all, the GoXLR is worth it. It comes in full sizes and a mini option with additional accessories. While the price tag is a bit steep at over $500, the product features and convenience of having all of your audio hardware and software in one machine make the product worthy of investment. 
With hundreds of raving reviews and a 4.8-star rating, the product is truly a game-changer for those interested in audio broadcasting. In this article, we will dive into many of the reasons the GoXLR is worth buying!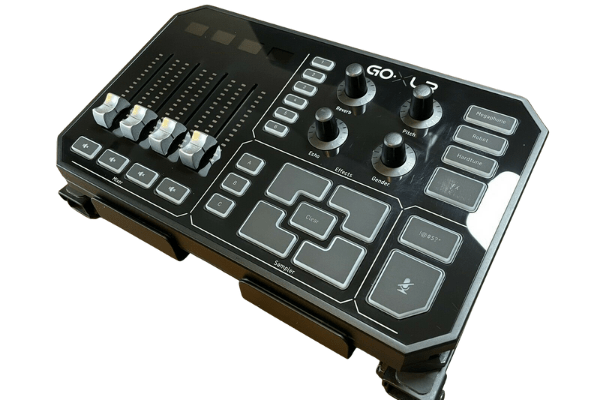 What the Is GoXLR Used For
The GoXLR by TC Helicon is equipment intended for audio broadcasting in fields like streaming, mixing, and gaming. It has many sound effects and mixing options, which make it popular among users.
While originating in radio, audio streaming has expanded with the rise of social media and streaming services. It has become more popular among amateurs through streaming services like Twitch. 
Many broadcasters are fans of the GoXLR products since they help them stream clear and professional-sounding audio. 
How To Determine if You Should Purchase a GoXLR
The Go XLR is useful for many things, but its features are definitely intended for particular needs. If you have a home recording studio or are an active streamer, the GoXLR is an excellent purchase. If you enjoy creating sounds and mixes as a hobby, you may also benefit from the GoXLR! 
The product is intended for professional or experienced streamers and broadcasters but can be enjoyed by anyone once you learn how to use it. However, it is a hefty price tag to invest in, so it is most recommended for those who intend to use it regularly. 
Features of the GoXLR
In the past, you needed multiple different pieces of equipment to do what the GoXLR does. The product has many features that will improve the quality of your audio broadcasts, whether it's for streaming, music, or more.
One of the best features of the GoXLR is the 4-channel mixer, which allows you to mix your audio even quicker. It also has studio-quality effects that professionals in the music industry use. 
Even if you're an amateur at studio broadcasting, these features will allow you to mix and perform at the same level as the professionals. 
The GoXLR also has an instant mute option, full RGB lighting control, and a soundboard and recorder. Most importantly, you get a three-year warranty with purchase just if anything happens to your equipment. 
Which GoXLR To Purchase
There are a couple of different GoXLRs on the market right now. These include the original GoXLR and the GoXLR Mini. 
The GoXLR Mini (available on Amazon.com) is a slightly more basic model of its big brother, the GoXLR. The Mini has fewer buttons and sliders on the front panel but makes up for it in sound quality. 
Last update on 2022-06-24 / Affiliate links / Images from Amazon Product Advertising API
While the features may be more limited, it still produces the same great audio that people are looking for at a lower price. The Mini typically retails for about $230, compared to an average of $500 for the full-sized model. 
The dimensions of the Mini are approximately 6.6 x 5.5, and it weighs about 2 lbs (0.9 kg), making it ideal for travel. Using the GoXLR Mini app on your phone or desktop, you have access to other features as well. 
The GoXLR Mini is geared towards people editing audio quickly and those shopping on a budget. It is also popular among Twitchers since you can very quickly clean up your audio while streaming. 
The full-sized model is easily used by anyone but will cost you slightly more. The full-size product retails around the $550 range, depending on the seller. 
The dimensions of the full-sized product are approximately 6.5 x 11, and it weighs about 4.5 lbs (2.5 kg). The brand new accompanying app will also give you access to many other features. 
Overall, the choice between the original GoXLR and the GoXLR Mini is up to your preference. It depends on your lifestyle and your intended use of the equipment. But both products are great investments for audio broadcasting! 
GoXLR Accessories
There are various accessories you can purchase alongside your GoXLR to personalize the experience. Some of these products include different lengths of cables, microphones, and desk stands for easier access to your product. 
You can purchase a 10 ft (3 m) or 6 ft (1.8 m) cable with your GoXLR or GoXLR Mini. The cable size depends on your preference and the space used for broadcasting. 
If your setup is a bit further from a power outlet or you plan to move your product around a lot, I would recommend the 10 ft (3 m) option.
An ideal accessory you can purchase for a home studio is a microphone to widen the dynamic range. I recommend the Audio-Technica AT2020 Cardioid, available on Amazon.com. It features a low-mass diaphragm to extend the frequency response. Moreover, the cardioid polar pattern allows it to pick up sounds in all directions. 
Last update on 2022-06-25 / Affiliate links / Images from Amazon Product Advertising API
A desk stand is also a good purchase, both for the GoXLR and the GoXLR Mini. I recommend the TC-Helicon Mixer Stand GO XLR Desk, also available on Amazon.com. It features rubber pads for protection and works to prop up your device to make using it easier and more accessible. The stand also tilts and securely holds your device for your convenience. 
Last update on 2022-06-24 / Affiliate links / Images from Amazon Product Advertising API
Where To Buy the GoXLR
The GoXLR and the GoXLR Mini are available at various retailers across the country. Wherever you're shopping, there's a simple way to get the GoXLR into your hands!
TC Helicon
The parent company of the GoXLR, TC Helicon, has the product description available on their website. While you cannot buy the product straight from their page, they have a menu listing all the retailers currently selling the product on the right-hand side. 
Companies like Sweetwater, Thomann, and Amazon currently have GoXLR listed on their websites. You can easily click the individual retailers' names to purchase the GoXLR from them.
This website is also where you will find the most detailed information on the product and its features. It lists all the features and customer reviews, so you can see how popular it is among buyers.  
Amazon
As we mentioned previously, Amazon has both the GoXLR and the GoXLR Mini for sale. You can also buy accessory options such as a microphone and the TC-Helicon Vocal Effects Processor, available on Amazon.com, which features a multi-channel mixer and a sampler.
Sale
TC Helicon GoXLR Revolutionary Online Broadcaster Platform with 4-Channel Mixer, Motorized Faders, Sound Board and Vocal Effects, Officially Supported on Windows
Multi-channel mixer: Motorized faders let you control mic, game, music, chat, and more for the perfect Broadcast mix
Studio quality MIDAS preamp: Make your XLR mic sound great with 48V phantom power, equalizer, compressor, limiter, de-esser, and Gate
Sampler: Record samples on-the-fly or load your own audio files to engage and entertain your community
Last update on 2022-06-24 / Affiliate links / Images from Amazon Product Advertising API
I also recommend buying the TC-Helicon DJ Mixer GoXLR Mini, available on Amazon.com. It includes accessories like different length cables, a desk stand, and a microphone. 
The price of the product depends on the package and accessories purchased. 
Last update on 2022-06-24 / Affiliate links / Images from Amazon Product Advertising API
Conclusion
The GoXLR is a product worth investing in! It contains dozens of different features, which allow you to make sounds and features unique to you. 
Additionally, the accessories you can purchase make the product even more personalized to you and your needs. 
While there are both the GoXLR and GoXLR Mini, both products are helpful in your audio broadcasting journey. The Mini is smaller, more travel-friendly but has fewer features and switches on the tablet. 
In summary, if you are interested in audio broadcasting, streaming, and creating your mix of sounds, it is worth investing in a GoXLR. 
Check out my article about whether you can produce music on a Chromebook.
Sources