As technology becomes more readily available to the public, more and more people are beginning to record music, podcasts, and videos at home. Building a recording studio is a complicated process. The acoustics are essential for sound quality, and each of the construction materials is liable to affect acoustics.
Vinyl flooring is a good choice for a recording studio. The best flooring material for recording studios is vinyl, which is laid on top of concrete subflooring because it has a unique ability to insulate sound, which increases the quality of recordings.
Recording studio design theories have changed over the years. Most of the current research about building a recording studio revolves around trial and error. This article will discuss the different types of vinyl flooring, its effect on sound quality, and other considerations regarding recording studio flooring.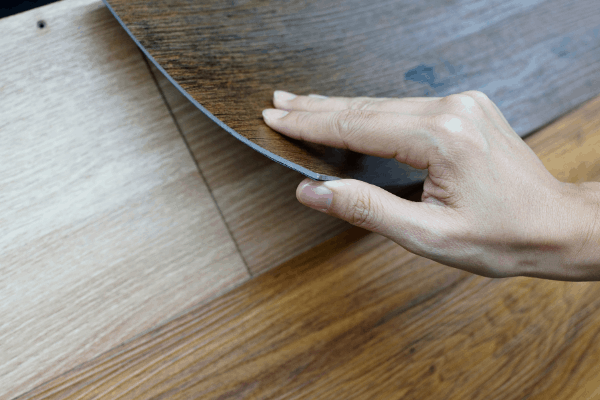 What Are the Different Types of Vinyl Flooring?
For beginners, figuring out how to navigate the options inside of a construction store can be complicated. After all, there are multiple options for every type of flooring, and each will have its strengths and weaknesses and different prices.
While vinyl is one of the top choices for recording studio flooring, not all vinyl flooring is created equal. This is why understanding the type of vinyl flooring you're purchasing is critical to making the optimal sound quality in a recording studio.
According to The Home Depot

, there are three main types of vinyl flooring. You can choose from planks, sheets, or peel and stick flooring. Each of these types of flooring has advantages and disadvantages to your recording studio that you should consider.
Vinyl Plank Flooring
Plank vinyl is designed with an insulated core that makes it an excellent insulator for recording studios. Most vinyl plank flooring is designed to click and lock into place with the other pieces making it relatively easy to install.
Of the three types of vinyl options, plank flooring is the best choice for a recording studio. It's exceptionally durable and has acoustic benefits beyond the other types of vinyl. Installing a plank vinyl will ensure that there's no further acoustic treatment needed

during the construction of your studio. 
Plank vinyl can be placed on top of a sound-insulating underlayment. This is just one of the reasons that plank flooring is considered the best option for a recording studio. However, it's also typically the most expensive vinyl flooring option, but the advantages make the purchase worth the money.
Vinyl Sheet Flooring
Sheet vinyl comes in extraordinarily large rolls of flooring. Some of these options include an adhesive backing that makes it easier to install. However, these sheets often require intricate cuts and measurements to install the flooring correctly.
Further, sheet flooring doesn't have the acoustic benefits in a recording studio that plank flooring will have. Although the surface is complex and the flooring can be installed on concrete, adjustments may need to be made after installation to boost the quality of your sound recordings.
Vinyl sheet flooring can be placed on top of an insulated sheet to enhance sound insulation. This is made complicated by the size of sheet flooring, which typically has to be cut before installation.
If you choose to go with sheet vinyl, you'll need to make sure that all of the tools necessary for installation are available during construction.
Vinyl Peel and Stick Flooring
Peel and stick vinyl flooring is the most popular choice for people attempting do-it-yourself projects for the first time. It's straightforward to install and comes in smaller pieces that are much easier to work with.
The biggest downfall of the peel and stick option is durability. Because these floors are much more affordable than other vinyl floorings, they tend to be less durable. The peel and stick option also doesn't have the insulated core that plank flooring has, making it the least practical vinyl option.
Laying peel and stick vinyl flooring can be a lengthy process—most people who choose to purchase it plan to apply the flooring on their own. The price point is appealing, but labor will undoubtedly take longer with this choice.
Peel and stick vinyl is also not able to be placed on top of an underlayment. This means that additional soundproofing will be challenging to accomplish if your first choice is the peel and stick variety.
Sometimes, an area rug can be used to absorb any unwanted sound. Although carpeting an entire room is detrimental to sound quality, small carpets can help control unwanted background noise.
Does Vinyl Flooring Affect Sound Quality?
According to Build Direct

, the most important factor in sound quality doesn't relate to the actual vinyl flooring—it has to do with what's under the flooring.
Vinyl flooring doesn't directly affect sound quality in most situations. However, the subfloor or underlayment can have a significant impact on sound quality.
If you haven't yet installed the vinyl flooring, then you can limit the amount of sound interference by choosing high-quality vinyl. Vinyl that's backed by thick foam insulation is most likely to reduce the impact of noise.
How Do I Soundproof Vinyl Flooring?
To soundproof vinyl flooring, use an underlayment for sound insulation in your recording studio. Most underlayments can be laid on top of concrete or wooden floors. They're easy to install and help the flooring lay level.
MP Global Products Laminate Flooring

from Amazon.com underlayment is a famous option for sound insulation, and professionals highly recommend it. Quietwalk is made for beginners and creates soft sound insulation. If you're looking for something easy to install and highly recommended, this product is worth checking out.
Sale
MP Global Products QW100B1LT Laminate Flooring Underlayment with Attached Vapor Barrier Offering Superior Sound Reduction, Compression Resistant and Moisture Protection, 100 SQFT, Blue, 99 Sq Ft

✔ Use with laminate and floating engineered
✔ Superior sound reduction ‐ recycled fibers absorb sound and keep it from traveling to other...
✔ Compression resistant ‐ dense recycled fiber structure supports the click-together mechanism...
Last update on 2023-02-02 / Affiliate links / Images from Amazon Product Advertising API
If you're laying vinyl flooring on top of existing wooden flooring, there's an added benefit. With the extra layer of underlay, the original wooden flooring is protected from any potential damage during installation.
What Are the Benefits of Soundproof Vinyl Flooring?
When you choose to soundproof your vinyl flooring, you're helping to ensure that your recording studio has the best of both worlds.
The benefits of soundproof vinyl flooring include pure, undistorted sound and a reduction in background noise. Soundproof vinyl is an ideal option for recording studios and ensures the best sound quality. Carpet, on the other hand, absorbs too much sound and isn't ideal for recording studios.
Adding an underlayment to your vinyl flooring will allow you to get all the benefits of a carpeted floor without the negative impact on sound quality. This is especially true when your recording studio has multiple people working inside it at any given time. The underlayment will prevent the sound of movement from becoming an issue during recording.
Carpet is considered the "quietest" flooring in terms of walking, background noise, or even playing music. This is why many at-home recording studios utilize hanging tapestries or floor rugs to control the sound in the room.
However, carpet flooring absorbs sound, which can distort the quality of sound recordings for professional studios. This is also why carpet is the very last choice for a recording studio because an entirely carpeted floor will negatively distort the recording.
Final Thoughts
Vinyl flooring is an excellent choice for recording studios. This rings true whether you're looking to build a professional sound studio or simply including a recording studio in your home.
With the proper treatment and planning, vinyl flooring can protect and not negatively impact the sound quality in your recording studio. To achieve this, you can use an underlayment for sound insulation.
Sources
Was this article helpful?
Recent Posts
link to Are USB Microphones Good For Recording Vocals?
There are many microphones that can be used to create excellent vocal recordings, but not every mic is well-suited for recording the subtleties of the human voice. Getting the most from a vocal...
link to Are Microphone Stands Universal?
There are many different types of microphones in the world of music and audio, and every one has its own design and purposes, but they all have something in common: every microphone needs a...