Carpets and rugs are one of those polarizing items in recording studios. Some musicians and sound engineers swear by them, while others claim that they are the worst thing to have when recording music. So, what are the pros and cons of recording in a carpeted room?
Recording in a carpeted room has the benefit of reducing treble, stopping instruments and equipment from sliding, improved aesthetics, and you can add more rugs for better acoustics. However, the carpet can deaden the sound, prevent wheels from rolling, and having a carpet isn't practical.
If you want to record in a carpeted room, there are a few things that you can do to improve the sound. Keep reading to learn more details about the pros and cons of recording new tracks in a carpeted room.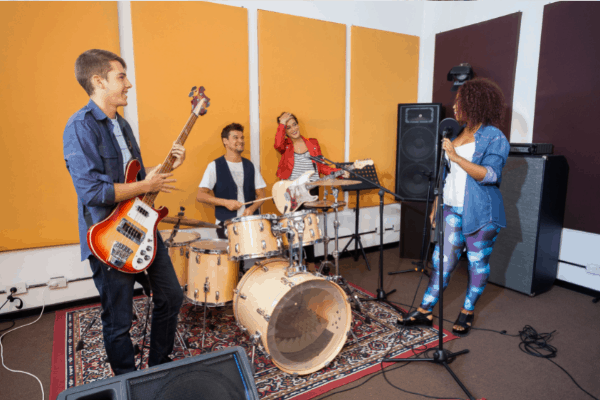 The Pros of Recording in a Carpeted Room
Carpets have unique acoustic

features that make them a decent choice for your floor and your ceiling. Here are a few reasons why you may stick to cozy carpets.
Carpets Are Good at Absorbing Higher Frequencies
Most carpets are very dense, which means that they reflect lower frequencies while simultaneously absorbing higher frequencies. How much they absorb sound varies from carpet to carpet, though.
Carpets typically cover the whole room, so you probably won't take it out every time you want to record. Thankfully, you can combine your carpet with a few JBER Acoustic Foam Panels (available on Amazon) to get the sound you're looking for.
Sale
Last update on 2023-06-03 / Affiliate links / Images from Amazon Product Advertising API
Carpets Stop Instruments and Equipment from Sliding
If you have ever slipped on a vinyl or hardwood floor, you know that it hurts. Likewise, instruments like drums and cellos can slide around when you play.
And I didn't even mention other equipment like amps and guitar pedals. If you want to use a guitar pedalboard, it's best to put it on a rug or carpet to stop it from sliding around the studio.
Carpets can also prevent chairs from sliding around. If you prefer to sit when playing bass as I do, you will appreciate the chair staying in one place in the middle of a riff.
Carpets and Rugs Combined for Better Acoustics
A study of acoustic and thermal properties of polypropylene carpets

has found that pile length affects sound absorption significantly. In other words, the thicker your carpet, the more sound it absorbs.
If you have a thin carpet and need more sound absorption, grab a rug or two and put them on top of your carpet. You don't have to cover the whole room with colorful rugs.
Instead, put one or maybe two thin rugs directly under your instrument. Both you and your neighbors will appreciate the added sound absorption from the cozy rugs.
Carpets Look Good
One of the primary purposes of carpets is to improve the aesthetics of a room. If your "recording studio" is actually your bedroom or guest room, taking the carpet out every time you want to record something is not very practical.
Moreover, a recording studio must be at least somewhat pleasant to look at. If you feel good in a room, your creativity and performance will improve significantly. This is why many professional recording studios have paintings or other types of art on the walls.
Check out my guide to flooring for home recording studios.

The Cons of Recording in a Carpeted Room
You've now heard some reasons why you might consider carpets in a recording studio. However, there are many downsides to recording in a carpeted room as well. Here are a few things that you should be aware of.
Carpets Aren't Practical
First and foremost, you can't get a carpet out of your room that easily. That's the last thing you want in a professional recording studio.
Paul White explains

that the choice of your floor being reflective or not is essential, especially when it comes to acoustic guitars and drums.
You can solve this issue by using smaller rugs instead of carpets that cover the entire room. Or, even better, use some Self Adhesive Carpet Tiles

(available on Amazon) that you can put wherever you please.
Self Adhesive Carpet Tile, Easy to Peel and Stick Carpet Floor Tile - 12 Tiles/12 sq Ft.

YWSHUF Self Adhesive Carpet Tiles are a quick way to upgrade your space with a modern take to...
Mix and match colors to form patterns or stick with solids to create a unique look. Tiles are ribbed...
Carpet tiles are ideal for your home, office, basement or garage. Each tile is 12" x 12", 12...
Last update on 2023-06-03 / Affiliate links / Images from Amazon Product Advertising API
Carpets Can Deaden the Sound
I've mentioned earlier that carpets absorb higher frequencies. While that can be a good thing, it might not be what you're after. Treble's crucial because it makes music sound awake and bright.
If you have a particularly thick carpet, it'll deaden the sound and create a booming echo.
The effects of this deadening quality can be great or horrible, depending on the carpet and instrument. Think of your expectations.
Perhaps you want to reduce the higher frequencies to get a well-balanced sound out of your electric guitar, or you need more treble to make your jazz bass come alive.
Carpets Prevent Wheels from Rolling
If you like to use recording equipment with caster wheels, like the LyxPro Professional Microphone Stand

(Available on Amazon), having a carpet will cause problems. You probably know this already, but the thicker the carpet, the harder it is for wheels to roll.
Even if you don't have mobile gear, you may have an office chair in the room. If your equipment is on wheels, think twice about adding a carpet into your recording room.
Last update on 2023-06-03 / Affiliate links / Images from Amazon Product Advertising API
How to Improve Acoustics in a Carpeted Room
Now you know the pros and cons of having a carpet for recording. If you're stuck with a carpeted room, don't worry.
There are many ways to improve the sound of your carpeted room without having to replace the flooring. Let's look at a few easy modifications.
Add Soundproof Curtains
Windows are very smooth, and they reflect all the sound that hits them. The result is horrible, especially if the windows are directly opposite to your studio monitors. I admit it. I struggle with this problem myself.
Thankfully, you can buy these Lordtex Soundproof Curtains

(Available on Amazon) that look incredible. The heavier the curtains, the better they work.
I'm speaking from experience. Soundproof curtains are the best and easiest modification that you can do today. Moreover, the curtains can block direct sunlight and have more privacy.
Last update on 2023-06-03 / Affiliate links / Images from Amazon Product Advertising API
Add Bass Traps
I'm not going to explain it in great detail here, but corners are bad for acoustics

. You can put a pile of random stuff like pillows in the corners to make the bass sound better on your tracks.
But the best and easiest thing to do is to use bass traps. All professionals have it in their recording studios and, when you hear the difference, you'll know why.
You don't have to spend a ton of money either. Get these 16 PCS Foam Bass Traps

(Available on Amazon) for an instant upgrade.
Last update on 2023-06-03 / Affiliate links / Images from Amazon Product Advertising API
Cover Your Walls
Walls are yet another highly reflective surface in your room. Decorate it with some posters and paintings to improve the acoustics.
However, if you want to get the most out of your room, you need acoustic foam panels. Here is a Pack of 52 Acoustic Panels

(available on Amazon).
52 Pack Acoustic Panels 1 X 12 X 12 Inches - Acoustic Foam - Studio Foam Wedges - High Density Panels - Soundproof Wedges - Charcoal

★ Professional Sound Absorbing Properties - Acoustic foams are installed to reduce noise pollution...
★ Quality - Our Acoustic Foam Panels are made with flexible, professional grade acoustic foam,...
★ More Comfort/Less Stress - The most common problem in large rooms with high ceilings is that of...
Last update on 2023-06-03 / Affiliate links / Images from Amazon Product Advertising API
Note that you should install the panels in the right places instead of gluing them randomly all over your wall. Here is a YouTube video of an audio engineer explaining how to mount the panels correctly:
Final Thoughts
You can make exceptional recordings in a carpeted room. Many producers prefer carpet floors over hardwood, laminate, or vinyl.
Carpets absorb the mid and high-end, so the bass sounds better. But it can create booming if the bass becomes overpowered. Carpets can also deaden the music's bright, natural sound.
Don't rush out to buy one if you don't have a carpet in your recording room. Instead, experiment with rugs that you can move around.
If recording in a carpeted room is your only option, don't worry. You can do several upgrades to make the room sound better right away.
Sources
Was this article helpful?
Recent Posts
link to How To Allow QuickTime To Access Microphone 🎙️  
QuickTime is a vital app for many Mac users, and if you've recently bought a new microphone, you might wonder how to use it optimally. QuickTime cannot record audio content if it doesn't have...
link to How Do I Test My Microphone? 🎙️
Every microphone leaves a unique signature on the quality of its output. If you're a podcaster trying to melt your way into your audience's hearts, a muddy, distorted recording won't cut it....