One of the most critical aspects of streaming is good audio. You want a high-quality microphone that will capture your voice clearly; both USB and XLR microphones are high-quality microphones that fit the bill for many streamers. But which option is better? 
USB mics are better for beginner streamers or those who prefer a simple setup. Meanwhile, XLR microphones are better suited for more professional streamers who wish to create a more complex and enhanced streaming experience. XLRs also need an interface and mixer, which are a larger investment. 
This article will explain what XLR and USB microphones are. You'll also learn the pros and cons of each and which microphone is best for your setup. In the end, we'll recommend a few high-quality, popular microphones.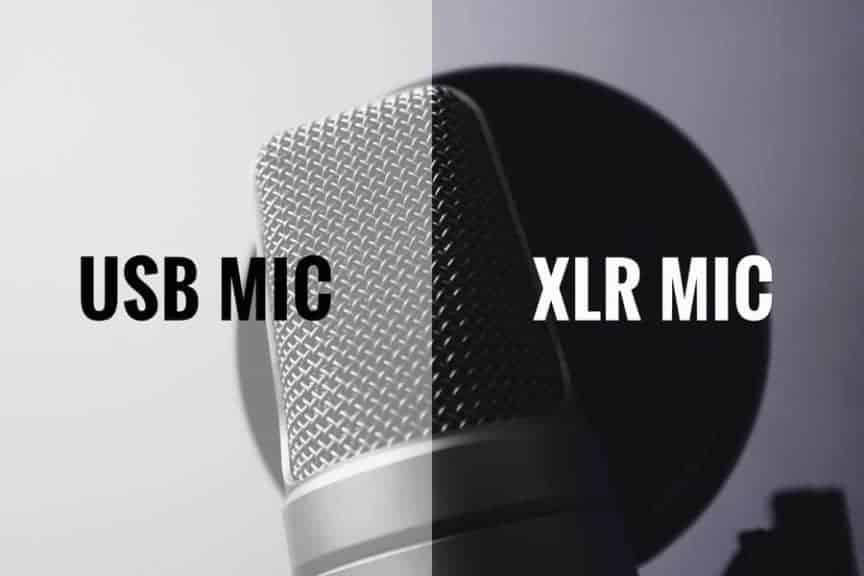 What Is an XLR Microphone?
XLR microphones are stereotypical mics used in radio stations and live performances. These microphones are for professional audio, which is why you'll see professional streamers use XLR microphones along with more complicated audio setups. 
XLR stands for either "X Connector, Locking Connector, Rubber Boot" or "External Line Return." The connectors send a balanced signal that isolates noise and passes large electrical currents cleanly. They're compatible with standard connectors found with speakers, microphones, mixing boards, amplifiers, and other audio equipment. 
These XLR microphones are harder to set up than a USB microphone. First of all, the connectors come in many forms. The most common XLR connector is the XLR3, which consists of three pins. Since there are multiple variations, you should make sure you have the right connector connected to both your microphone and audio interface. 
You'll also need an audio interface or mixer and a digital audio workstation. All these components make for a professional setup but can be costly and complex. 
XLR microphones are best for professional streamers who want to give their audiences an exceptional audio experience. It's only worth it if you're serious about your streaming career as it requires more accessories and has a bit of a learning curve. 
Many streamers start with a USB microphone but graduate to XLR when they reach a certain level of success and become more professional.
What Is a USB Microphone?
While XLR microphones require a complex setup, you can simply plug a USB microphone into your computer. There's no audio interface, mixer, or any other gear required. All you have to do is plug in your microphone and install the device driver on your computer. 
The audio is processed on the microphone itself, unlike an XLR microphone which needs an interface or mixer to take care of the processing. Therefore, if you do any audio editing on your computer, the audio has already been digitally processed by the microphone. 
USB microphones are best for novice streamers who want a simple audio setup. Though not as great as XLR, USB microphones can produce high-quality professional audio without much hassle. Furthermore, this setup costs much less because you won't need as many accessories.  
So Which Is Better for Streaming?
The answer to this question depends on what you want to stream and how much audio quality you need. 
Do you have a simple setup where you only need your voice recorded? Then a USB microphone would be best. Do you plan on using multiple microphones and instruments? An XLR microphone will be better for you. 
USB microphones are best for those who want to plug and play. There is minimal setup or installation, and you don't have to play around with advanced controls and settings. However, you're limited if you want to do more with your setup than talk into a microphone. 
On the other hand, XLR microphones are best for those who plan to stand out from the crowd. These microphones have better quality, and you can connect them to an audio interface, mixer, and other gear to create a more enhanced streaming experience. The downside is that there's more of a learning curve, and the setup is more complex. You also need to make a larger investment up front. 
Both types of microphones are high quality and popular in the streaming world. You can't go wrong with either option. Choosing the best microphone depends on your needs and what you plan to get out of your streaming experience. 
Check out this article about which microphones are better for streaming: dynamic vs condenser.
Best Microphones for Streaming
Now that you know the difference between XLR and USB microphones, it's time to start shopping for the best microphone for your setup. Below are some microphones we recommend for streaming, and each is high-quality, highly rated by your fellow streamers, and produces a crisp and clear sound that will keep your audience engaged. 
XLR Microphones
You can't discuss microphones without mentioning Blue products. Though Blue is better known for its USB microphones, this company also makes XLR microphones of incredible quality. 
The Ember XLT microphone captures your voice clearly and crisply without unwanted background noise. It uses off-axis sound suppression to minimize background sounds. You'll also receive headphones and a windscreen in the package. 
The TONOR XLR Condenser Microphone is the best-priced item on this list but still provides incredible audio quality. This microphone uses excellent off-axis sound suppression to minimize background noise from the sides and rear of your studio. Furthermore, it comes with a mount, suspension stand, and other accessories to help you create your professional streaming studio. 
Sale
TONOR TC20 XLR Condenser Microphone with 12 inch Selfie Ring Light
External Power Source Required: Note: Condenser microphones have active electronics that need an external power source. In order to function properly, you need to connect the TC20 to 48V phantom power, audio interface, mixer, or preamp. Designed for studio recording, home studio, podcasting, voice-over, streaming, YouTube video production, etc.
Professional Sound: The upgraded mic capsule with low-noise FET preamplifier, high SPL handling, and wide dynamic range provides smooth, high-end clarity, warm and natural sound.
Dimmable Ring Light: TRL-20 features 3 color modes (cold, warm, natural) along with 10 brightness levels. The color temperature ranges from 2700K-6500K. Suitable for Zoom Conference, TikTok, YouTube, Makeup, Photographer.
The Audio-Technica XLR Microphone is a superb choice for a reasonable price. Designed for studio and home use, this microphone picks up a wide range of frequencies while minimizing sounds coming in from the sides and rear. It's one of the most highly rated microphones on Amazon and comes at an affordable price. 
Sale
USB Microphones
Your favorite streamer probably uses a Blue Yeti. The Yeti is by far one of the most popular microphones among streamers and YouTubers. This incredible microphone uses four pickup patterns: bidirectional, omni, cardioid, and stereo, it can do the job of multiple microphones. The Yeti also provides studio controls for instant mute, pattern selection, headphone volume, and microphone gain.
Blue's Yeti may be the most expensive microphone on this list, but it's worth the price. If you want a high-end professional product with the ease of a USB microphone, then the Yeti is for you. 
Blue Yeti USB Mic for Recording and Streaming on PC and Mac, Blue VO!CE Effects, 4 Pickup Patterns, Headphone Output and Volume Control, Mic Gain Control, Adjustable Stand, Plug and Play – Blackout
Custom Three-Capsule Array: Produces clear, powerful, broadcast-quality sound for YouTube, game streaming, podcasting, Zoom calls and music.
Blue VO!CE Software: Craft the perfect broadcast vocal sound and entertain your audience with enhanced effects, advanced modulation and HD audio samples. Advanced Blue VO!CE is compatible with Yeti, Yeti Nano and Yeti X. To access Blue VO!CE, please download Logitech's free G HUB software.
Four Pickup Patterns: Flexible cardioid, omni, bidirectional, and stereo pickup patterns allow you to record in ways that would normally require multiple mics.
The Stilnend USB Streaming Microphone provides a rich and clear sound at an affordable price. It focuses on the sound right in front of it while minimizing the noise from the sides and rear. This ensures that your viewers hear only you and not any background noise. The microphone is a simple plug-and-play option and comes with easy-to-setup accessories. 
The Fifine USB Microphone is perfect for streamers who are just starting. It has an easy plug-and-play setup, minimizes background noise, and captures a clear and crisp sound. This microphone is simple, powerful, and the most affordable option on this list. If you're just starting and want something high-quality yet affordable, this is the perfect option for you. 
Sale
Final Thoughts
Both XLR and USB microphones are great options for streamers. Both provide quality sound, minimize background noise, and create a professional ambiance for your streaming studio. Though professional streamers prefer XLTs, USB microphones are just as capable of providing a great streaming experience. Choosing the best microphone depends on what you need for your streaming setup. 
Sources
Last update on 2021-10-04 / Affiliate links / Images from Amazon Product Advertising API