One would think buying a microphone would be simple, but as a potential streamer, you'll come across terms like USB microphones, condenser microphones, dynamic mics. But is the mic attached to your headset good enough for streaming?
Headset microphones are good for streaming as long as you invest in a quality gaming headset. Most online gaming involves talking to your teammates, and so these headsets are designed to minimize delay and facilitate high-quality live correspondence.
In this article, you will learn more about using headset mics for streaming. More importantly, you will find our top three headset recommendations that are affordable and reliable for creating online content.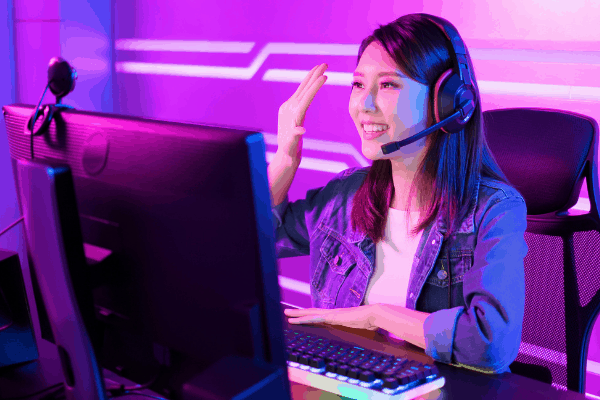 Why Do Streamers Use Headset Mics?
If you have watched Twitch streamers, in particular, you may have noticed a trend towards headsets. Unlike podcasters, gaming streamers rely on headsets because their hands are occupied with controllers; as you may know, a headset microphone functions as a two-in-one piece, consisting of both a microphone and a speaker.
This allows the streamer to get immersed in the game (or a conversation) while effortlessly speaking into the mic. One doesn't need to worry about mic position or whether the audio

is getting picked up or not. But are these benefits limited to online gamers?
Check out my article about whether you need two key lights for streaming.

What Are the Benefits of Headsets for Streaming?
Quality
For starters, for the price of a headset, it promises quality. A built-in computer microphone and headset is pretty decent, but it is not enough, especially when you want to upgrade your performance. A separate sound system will also be pretty expensive, and if you are just starting your streaming journey, you might not be willing to spend so much and just start with the basics.
Sound Quality
Gaming headsets do have superior sound quality as well, especially compared to traditional speakers. With the speakers propped up right next to your ear, the listening range is another plus factor that delivers crisp and smooth audio quality. To play an accurate and fast reflex game, a player needs to rely heavily on sound queues.
Headsets offer both stereo sounds and surround sound to create the ultimate auditory gaming experience that makes a player feel like a part of the gaming world. The speakers' cushioning also blocks out any external disturbances that might distract you or disturb other people in the room.
Price
Headsets are cheap, at least less expensive than a separate microphone, so if you are looking to go easy on your pocket while also getting its worth, then a headset is probably the best way to go. You can buy a decent quality headset within the $50 to $100 range. Of course, if you are looking for something fancier with more features and a certain appeal to fit your channel's aesthetic, then those are available as well.
Functionality
Gaming headsets come in handy in situations and games with team communication, such as Overwatch. The built-in microphone helps you play easily online while chatting with your teammates while discussing strategies. In team games, communication is vital, and headset mics make it a ton easier. All you need to do is put it on and speak normally without being conscious or careful of where the mic is.
Storage Space
Lastly, headsets save up space. If your computer and other gaming equipment are taking up space on your desk, you might find it challenging to move around stuff to find the right place for your microphone. And let's face it, most of us hate clutter and want to avoid it. A headset microphone is a quick solution to all of these problems. With the headset placed on your head, you do not need to worry about much else.
Check out the BEST ASMR MICROPHONES

.
Top Headset Recommendations
This microphone has a couple of unique features. It is a USB microphone, for starters, which makes the setup and understanding of the functioning of the microphone much easier. It is also convenient as you will not need any extra equipment to make this headset work.
Secondly, the padded ear pads focus on noise cancellation, and the cushioned headset makes it comfortable. The microphone's frequency response is 100 Hertz to 10 Kilohertz, and the sensitivity of the headphones is 94 dBV/Pa +/ 3 dB. It comes with a two-year limited warranty at an affordable price.
However, if you are the type who thinks of cables and wires as a hindrance and prefer a wireless gaming experience, you should steer clear of this USB headset. Many users have complained about the microphone's reliability. Regardless of the two-year warranty, it does not seem to have a very long lifespan, making it unattractive for many streamers.
As the name suggests, this headset is pretty bulky in its design. However, it is made with a lightweight aluminum frame, so while it may seem large, it is actually pretty light on your head. The bauxite and aluminum frame is not just easy on your head, but it is also durable. 
It has an immersive, 7.1 surround sound that promises positional audio, inline audio controls with a built-in analog volume control wheel, a mute switch, and a cooling gel-infused cushioning for all-day comfort and to withstand overheating and pressure built up. Lastly, the retractable microphones make this piece of equipment lasting and more comfortable to store.
With its price point, this headphone leaves a lot to be desired. Another downside that many gamers have complained about is how the headset cannot be worn for long periods regardless of the added comfort features.
Razer Kraken Gaming Headset: Lightweight Aluminum Frame, Retractable Noise Isolating Microphone, For PC, PS4, PS5, Switch, Xbox One, Xbox Series X & S, Mobile, 3.5 mm Audio Jack – Green
Immersive, 7.1 Surround Sound for Positional Audio: Outfitted with custom-tuned 50 mm drivers,...
All-Day Comfort: Oval, cooling gel-infused cushions that prevent overheating and pressure build-up.
Retractable Noise Isolating Microphone: An improved cardioid mic reduces background and ambient...
Last update on 2023-12-08 / Affiliate links / Images from Amazon Product Advertising API
The woven mesh material in the earpads of this headset gives a more resonant bass and a smoother audio experience. It is wireless, making it an attractive feature for those who prefer to stay connected via WiFi or Bluetooth. The 6mm microphone relays back your voice clearer to your teammates or your viewers.
The 7.1 surround sound positional audio along with a 3D soundscape will give you a more realistic gaming experience allowing better accuracy in shooting down enemies and impressing your viewers. A little added fashionable touch to the headset is the customized lighting it offers that flashes in sync with your gaming performance.
The lighting might be attractive to some players, but others might label this RGB lighting as unnecessary and distracting when playing. The earpads are almost a bit too large, causing a reduction in noise cancellation and sound clamping. External noises easily filter in through the headset. Additionally, looser grips often cause it to fall down easily.
Sale
Logitech G935 Wireless DTS:X 7.1 Surround Sound LIGHTSYNC RGB PC Gaming Headset - Black/Blue

The most advanced wireless gaming headset yet from Logitech G. 2.4 GHz wireless delivers premium...
Large 50mm Pro-G drivers lets you hear more of the game environment in greater detail
Lightsync RGB game-driven lighting, EQ settings and more can be customized through downloadable...
Last update on 2023-12-08 / Affiliate links / Images from Amazon Product Advertising API
Check out my picklist for the Best Condenser Mics for Under $200.

Should You Use a Headset Mic to Stream?
If you're producing content meant for consumption with headphones on, a headset mic is good enough. You'll have excellent quality audio with the perfect volume, provided that you choose the right headset. But suppose your ambition is to license your content like Joe Rogan or get a radio syndication deal. In that case, you should go for a condenser mic so your content can be played on speakers and has high-quality retention upon conversion.
Final Thoughts
Ultimately, we can say that headset microphones are suitable for streaming. There is nothing about them that is specifically not to like; the audio quality is good, they are not very expensive, and they save up space. However, they are not the best.
If you are looking for an upgrade from traditional speakers, then a headset microphone is the ideal choice.
Still, if you are willing to splurge on a microphone investment, a USB condenser microphone will deliver a better audio experience. If you do, find out where to best place a microphone for streaming in this article here!

Sources
Was this article helpful?
Recent Posts
link to How To Allow QuickTime To Access Microphone 🎙️  
QuickTime is a vital app for many Mac users, and if you've recently bought a new microphone, you might wonder how to use it optimally. QuickTime cannot record audio content if it doesn't have...
link to How Do I Test My Microphone? 🎙️
Every microphone leaves a unique signature on the quality of its output. If you're a podcaster trying to melt your way into your audience's hearts, a muddy, distorted recording won't cut it....