ASMR has exploded in popularity over the last few years, and as it has grown so too has the number of people looking to produce their own ASMR content and help deliver relaxation to viewers across the globe.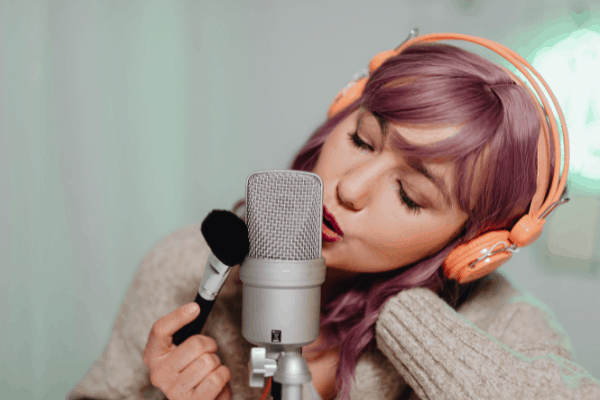 ASMR is of course a visual and auditory experience and stands for Autonomous Sensory Meridian Response, a non-scientific name for the strange sensation some people feel inside their head when listening to certain audio 'triggers' such as whispering and other gentle sounds.
So, naturally, ASMR relies on high-quality audio and recording devices to pick up these delicate sounds and reduce feedback and noise which can ruin the ASMR experience.
To this end, ASMRists will of course need a slightly better microphone if they want to improve the quality of their audio and thus their ASMR content.

While many ASMRists start out by using their phone or camera's inbuilt microphone and this is a great way to get started, many creators quickly realize that a good microphone is the best way to invest in their continued growth and improvement.

But for some reason, finding a good microphone can actually be really difficult. This is because they come packed with features and are often surrounded by confusing jargon which can make it difficult to understand without an existing interest in audio devices.
This can lead to creators not getting the best microphone for their needs or massively overspending on features they'll never really use.

However, there are some excellent ASMR microphones that are very popular within the community, some of which are easy to use and of amazing value for beginners, while others are a bit more of an investment but will take your sound quality to the next level.
In this article, we're going to look at some of the best ASMR microphones out there, all of which come with a varied array of features and capabilities suitable for ASMR producers.
We're also going to include a buyer's guide below, with some helpful tips on what to look for in a great ASMR microphone and an FAQ to respond to common questions beginner ASMRtists tend to ask.
Now let's take a look at the microphones themselves as well as their core features.

The Blue Yeti

is one of the most popular microphones for ASMR creators and is often the first one purchased by those starting out.
This is because the Blue Yeti is incredibly easy to set up and control, has great value and also produces very decent audio quality with a host of excellent features such as cardioid, bidirectional and omnidirectional stereo which can be used to create binaural audio experiences, as well as a headphone jack for active audio monitoring.
The Blue Yeti uses a USB output which is convenient but not as high quality and professional as an XLR cable, but it is compatible with most popular operating systems meaning it can be used very easily with a vast array of devices and software.
In terms of actual sound quality, this mic has a signal-to-noise rating of 100dB and a Bit Depth/Sample Rate of 16-bit/48Khz which delivers excellent performance at this price point.
Pros
Great value
Multiple pattern selection – cardioid, bidirectional, omnidirectional & stereo
Gain control, mute button, and a zero-latency headphone output
Compatible with Windows 10, Windows 8 (including 8.1), Windows 7, Windows Vista, Windows XP (Home and Professional), and Mac OS X (10.4.11 or higher)
2-Year Limited Warranty
Cons
No XLR compatibility, USB only
Blue Yeti USB Mic for Recording & Streaming on PC and Mac, 3 Condenser Capsules, 4 Pickup Patterns, Headphone Output and Volume Control, Mic Gain Control, Adjustable Stand, Plug & Play - Silver
Custom Three-Capsule Array: Produces Clear, Powerful, Broadcast-Quality Sound For Youtube, Game...
Blue Voice Software: Craft The Perfect Broadcast Vocal Sound And Entertain Your Audience With...
Four Pickup Patterns: Flexible Cardioid, Omni, Bidirectional, And Stereo Pickup Patterns Allow You...
Last update on 2023-09-25 / Affiliate links / Images from Amazon Product Advertising API

Rode is one of the most famous and well-respected audio brands in the world, so it's no surprise that their microphones have become a staple choice for content creators and ASMRists who want studio-quality audio.
The NT-USB is a great microphone that is a bit of a step up for users who want to work with a prestigious audio brand.

In terms of sound quality, this mic is amazing, with very crisp quality and great sensitivity to pick up the most delicate sounds in beautiful detail, helping to create superbly high-quality ASMR content.
This mic is still of great value despite the prestige of this brand, as it comes with an array of accessories.
The pop filter

is an excellent addition that will help keep your plosives from blowing out your audio, while the tripod and storage pouch will help keep your mic safe when it's in use and when it isn't.

There's also a standard 3.5mm headphone jack for zero-latency monitoring, allowing creators to keep track of their content and make sure that the triggers they're using are creating a satisfying sound which can help save time and effort when editing later on.
Pros
Studio-quality sound
Great build quality
Pop shield, Tripod desk stand, ring mount, a storage pouch, and 6m (20') USB cable included
3.5-millimeter stereo headphone jack for zero-latency monitoring
Cons
RØDE NT-USB Versatile Studio-Quality Condenser USB Microphone with Pop Filter and Tripod for Streaming, Gaming, Podcasting, Music Production, Vocal and Instrument Recording

USB Condenser Microphone with Tripod Base
Carrying Case
Mic St Mount
Last update on 2023-09-25 / Affiliate links / Images from Amazon Product Advertising API

Shure is another very prestigious name in the audio world, known for producing studio-quality devices which are commonly used by professional artists and engineers.
There are many tell-tale signs of the studio pedigree this microphone has, the first being the XLR compatibility which is a far better option for connectivity over USB outputs.
The mic is also electromagnetically shielded to help prevent interference, noise, and hum from other nearby electronics interfering with the audio and ruining your balance which is perfect for creating crisp soundscapes in which to build ASMR content.
The audio quality is truly outstanding with 150-ohm impedance

and a unidirectional sensor for extremely precise pickup.
It's a very sensitive mic that perhaps isn't as versatile as mics such as the Blue Yeti, but provides a more focused and cleaner sound. It has a very wide range with excellent and clean mids and good bass management which is perfect for close-up usage and excellent vocal clarity.
There are no included accessories which is a shame, however, the 2-year warranty speaks to the superb reliability and craftsmanship in this microphone which makes it a great choice for content creators who really want to step up their game.
Pros
Outstanding sound quality
Superb build quality
Professional XLR compatibility
Electromagnetic Shielding to Defeat Hum From Computers
2-year Warranty Included
Cons
Shure SM7B Vocal Dynamic Microphone for Broadcast, Podcast & Recording, XLR Studio Mic for Music & Speech, Wide-Range Frequency, Warm & Smooth Sound, Rugged Construction, Detachable Windscreen - Black
ONE MICROPHONE FOR EVERYTHING - Studio Recording, Home Recording, Podcasting and Streaming. The SM7B...
STUDIO VOCAL RECORDING - The SM7B's Dynamic Cartridge With Smooth, Flat, Wide-range Frequency...
PODCAST and BROADCAST - Found In The Top Podcasting Studios Around The World, The SM7B Air...
Last update on 2023-09-25 / Affiliate links / Images from Amazon Product Advertising API

Back to the more entry-level options, we have the Audio Technica AT2020USB which is a very strong offering for those looking at alternatives to the Blue Yeti.
Featuring a 20 – 20,000 Hz frequency response and 16 bit 44/48kHz sampling rates this is a mic with excellent audio quality and a host of additional features such as real-time monitoring via a 3.5mm jack and mix control.
It also comes with several great accessories such as a soft protective pouch, USB cable and desk stands to get your recording straight away.
Pros
Good sound quality – with 16 bit, 44.1/48 kHz sampling rate
Headphone jack with volume control for easy monitoring
Mix control allows you to blend your microphone signal and pre-recorded audio
Smooth, Extended Frequency Response
Several accessories included such as; Pivoting stand mount, soft protective pouch, tripod desk stand, and USB cable.
Cons
Last update on 2023-09-25 / Affiliate links / Images from Amazon Product Advertising API

At the very top of the range, we have the Neumann TLM 102 which represents some of the best sound quality it's possible to get outside of an actual professional recording studio. Indeed many studios will use Neumann mics due to their superior design and quality.
The mic uses an integrated pop shield and has very low self-noise thanks to its build quality, however, it requires a lot of additional accessories and a working knowledge of digital audio workstations to be used most effectively, making it a more suitable choice for experienced content creators.
Pros
Compact design
Best in class sound quality
Best in class build quality
Integrated pop shield
Very low self-noise
Cons
High-end performance comes with a high and price
Neumann TLM 102 Condenser Microphone, Nickel

Large-diaphragm microphone with cardioid directional characteristic (pressure gradient transducer)
Compact Neumann design
Very high maximum sound pressure level (144 dB)
Last update on 2023-09-25 / Affiliate links / Images from Amazon Product Advertising API
Buyers Guide
As you can see, there are some amazing microphones available to suit all budgets, however, there is also an awful lot to understand about headphones, and it can be really difficult to grasp what level of sound quality is going to be good enough, as well as which features are essential and which are less important.

To help you make an informed decision we're going to look at some of the most important features to pay attention to when it comes to ASMR microphones to make sure you're able to find one that perfectly fits your requirements.
If you have further questions feel free to check the FAQ below which may have the answer to any additional questions you may have.
Sound Quality
You'd think that all microphones would have to at least have a decent sound quality in order to be usable, however, even those who don't know much about audio will be able to tell that some microphones are a lot worse than others when it comes to picking up and recording good quality audio.

For ASMR this is the most important aspect of the experience, and while visuals are important, nothing trumps the audio experience creators want to deliver to their listeners.
This is why it's really important to make sure your microphone can at least provide you with decent audio quality even if it's lacking in other features.
The key things to look for are how sensitive your microphone is and whether the sound is omnidirectional or not.
These are both key, as ASMR uses very low and delicate sounds, so having a microphone that can detect these in good detail is very important to creating a satisfactory sound, while the omnidirectional nature of the mic will make is much easier for you to move around the microphone, delivering a comforting experience which surrounds the listener and gives them what's known as a binaural experience, where they can feel you speaking into each ear at different volumes and detail levels depending on where you're standing around the microphone.
This gives listeners the illusion that you're in the room with them, calming them into a meditative and relaxed state of mind.
While it is still possible to achieve similar effects to this without these features, having access to them will make creating ASMR much easier and more precise for the creator.
Build Quality
The build quality of a microphone is a sure sign of its overall quality but is also useful for defeating hum and external noise which can affect the quality of your audio.
If your microphone is well built it will have a well-fitted body and a good quality stand, and accessories will fit nicely into the outputs and threaded slots for easy use.
Other signs of good build quality are clear labels on outputs and controls, well-milled threads for stands and attachments, and well-fitted filters.

Top-of-the-line microphones will have the ability to use XLR cables too, which are a more professional output for clearer audio quality, while slightly lower-quality mics will use standard USB outputs.
Accessories
A lot of good ASMR microphones will come with a host of great additional accessories to help get you started. Not all mics come with these, but it's worth keeping an eye out for extras as they can save you some money and get you producing content as soon as your mic arrives.

Common accessories that are included are USB cables, tripods, cases, pouches, pop filters, and pivot stands.
All of these accessories are a must-have, without them your microphone won't be able to be positioned properly and cared for, and as a sensitive electrical device, it needs to be looked after to keep it working properly into the future.
It's quite typical for entry-level mics to come with more accessories as brands understand that beginners are more likely to need the extra bits and pieces to get you started, while more professional quality microphones tend to come with less as it's expected that they will be used by better-equipped studios with existing equipment.
Controls
Different mics will come with various different controls, some using simple gain and volume dials, while others will include additional controls, particularly microphones such as Tascam's which have digital displays and a range of useful options to set it up correctly.
Depending on where you plan to record your audio, the acoustic, surrounding, and ambient noise levels and the type of audio you want to record-setting up your microphones can be a deep topic to research.
Aside from on-mic controls, many content creators will use editing software and Digital Audio Workstations (DAWs) to more carefully and effectively manage the audio and edit it.
Compatibility
While most mics will be compatible with the popular operating systems of the day, not all of them will be immediately compatible. Depending on the system you're planning to use, it's definitely worth checking that your microphone is compatible.
For example, not all microphones will be capable of working with different versions of Windows, and some won't always work with all versions of iOS and macOS.
Ensuring you check this before you buy is the best way to avoid frustrating incompatibility issues and having to update or even change your OS which can be a time-consuming and sometimes expensive process.
F.A.Q
What is ASMR?
ASMR stands for Autonomous Sensory Meridian Response, and it's a phenomenon in which listeners and viewers of ASMR videos and other ASMR triggering behaviors feel a sensation inside their heads known as 'tingling' which feels like a light and pleasurable tickle inside the head.

ASMR is a non-scientific term that was chosen by the earliest members of the ASMR community to label this mysterious phenomenon.

Very little is known about what causes this sensation or what its purpose is, but many who experience ASMR find it extremely beneficial for their mental health, helping people deal with anxiety issues, insomnia, depression, ADHD, and many other conditions.
While ASMR isn't a cure for any medical problem and isn't a suitable replacement for proper medical care, it's widely used to help ease these conditions and is one of the fastest-growing genres of content on the internet.

Not everyone who uses ASMR has mental health issues, however, and many people simply find it helpful for relaxation and even concentration.
How do binaural microphones work?
Binaural microphone setups work by creating a soundscape that surrounds the listener, giving them a 360 degree sound experience that is very realistic and high quality.
It gives the listener, particularly the ASMR listener, a sensation of being surrounded or accompanied by an actual person, and when combined with appropriate visual content and cues binaural microphones can create a very convincing and realistic experience.
Can I use my camera or phone Microphone?
While it is possible for you to use the camera and microphone on your mobile device to make content for ASMR, and many of the biggest creators started out this way, few continue to use these for very long.

While phone cameras are always improving, microphones in mobiles are far less high quality and cannot compete with even entry-level recording devices in terms of quality and features.

Even the cheapest dedicated microphone will likely produce a more satisfying and high-quality audio experience, and many ASMR creators graduate to the Blue Yeti very quickly as a means to get great audio as a beginner.
Was this article helpful?
Recent Posts
link to How To Allow QuickTime To Access Microphone 🎙️  
QuickTime is a vital app for many Mac users, and if you've recently bought a new microphone, you might wonder how to use it optimally. QuickTime cannot record audio content if it doesn't have...
link to How Do I Test My Microphone? 🎙️
Every microphone leaves a unique signature on the quality of its output. If you're a podcaster trying to melt your way into your audience's hearts, a muddy, distorted recording won't cut it....