The goal of every ASMRtist is to leave the audience awestruck and craving for more content. Having great content and using the right condenser microphone gets you halfway there. Using the best ASMR audio recording app to clean up each track is the cherry on top.
The best ASMR recording apps enable you to remove any disturbances or annoying noises in an ASMR video. They allow you to perfect the frequencies and create harmoniously riveting ASMR videos. Audacity, Pro Tools, Cubase, Nuendo, and Adobe Audition are some of the best ASMR recording apps.
Whether you're recording ASMR on your phone, a top-rated condenser microphone, or a high-end audio interface such as Scarlett 2i2, there might be some unwanted elements.
The rest of the article will review each of the top ASMR recording apps to help you pick one that will help you record excellent ASMR videos and result in an amazing ASMR experience with great sound quality.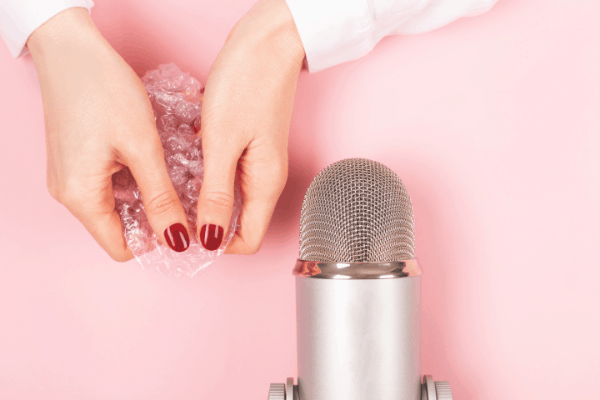 Hailed as the best base ASMR recording app by many ASMRtist, Audacity is a free open source software that lets you record 16-bit or 24-bit audio. It's compatible with macOS, Windows, and Linux. To its credit, Audacity enables you to record ASMR sounds using your PC's in-built microphone or attach an audio interface.
Audacity comes with an intuitive user interface and will let you import, combine and mix audio tracks, even multiple tracked recording, and render the final output as a single track. It comes with a spectrogram and spectral views to let you analyze frequency response.
When recording, you can set Audacity to record only the sound that attains a certain threshold. A timer lets you start recording after a short time interval if you need it. The app allows you to cut, combine, and convert any sounds with a quick drag and drop.
Audacity offers preset EQ curves with real-time previews, high and low pass filters, and Treble and Bass Adjustments. The app also supports batch processing, making it easier to handle repetitive tasks.
For more information, check out this guide on how to make your voice sound better with Audacity.

Pro Tools from Avid is a popular sound recording app with musicians, music producers, and recording engineers. It's right at home in a professional music studio or a tiny bedroom studio. Pro tool is one of the best audio editing apps on the market and boasts a flawless workflow.
Pro Tool boasts an intuitive user interface comprising two main windows – Edit and Mix. You can record, arrange, and carry out detailed MIDI and audio editing in the Edit window. The app allows for loop recording, sample level editing, and comping with all the bells and whistles.
You can adjust the volume on the fly, apply crossfades, fix timing issues on multiple instruments. With its 64-bit architecture and low latency buffer input, Pro Tool allows matchless audio clip editing and manipulation.
Pro Tool comes with a built-in Video Engine to let you edit HD videos in various formats, which is vital when shooting ASMR video for your YouTube channel.
Cubase is a smooth digital audio workforce with excellent audio editing and post-production capabilities. The app boasts VariAudio 3, a powerful tool to let you manipulate audio time and pitch. The tool gives you precise control over your vocal drifts and transitions since it lets you edit sound at a micro-pitch level.
You also get to adjust the timbre of your voice after converting audio clips to different formats.
Steinberg Cubase Pro 10 Music Production Software

Award-winning 64-bit floating-point Steinberg audio engine with up to 192 kHz, 5.1 surround,...
Complete suite of over 90 high-end audio and MIDI VST effect processors, including Quadrafuzz V2,...
Comprehensive set of 8 outstanding instruments with over 3, 000 sounds, including HALion sonic SE 3,...
Last update on 2023-09-25 / Affiliate links / Images from Amazon Product Advertising API
When building intricate vocal harmonies, the tool boasts an Audio Alignment feature to let you sync all tracks together to the reference track. It enables you to adjust each phrase's timing and end up with a smooth, flawless final product, which is a huge plus when recording ASMR videos.
Cubase's 64-bit audio engine supports 32-bit, 192KHz recording, and 5.1 stereo surround, while the VariAudio lets you correct off-key vocal lines and correct the pitch.
Check out how Cubase compares with Logic Pro here!

Unlike Audacity, Logitech Capture lets you capture both audio and video in a single take when shooting an ASMR video. This all-in-one content creation suite lets you shoot professional-quality video right from your PC.
The app features a user-friendly and intuitive user interface that boasts a minimal learning curve so you can get started quickly. The app allows for multi-source recording from two webcams then seamlessly combines them into a single scene.
In addition to letting you live stream and add text overlays, Logitech Capture comes with impressive studio controls. You can adjust the video layout, personalize the content, and apply transitions.
Logitech allows numerous camera customization such as aspect ratio, field of view, and recording resolution to let you shoot professional footage. Additional options include autofocus, white balance, and frames-per-second settings. You can save up to six profiles and streamline your shooting sessions.
Sony's previously owned Vegas Pro is an excellent video editing suite for newcomers in the ASMR video production scene. It's popular with YouTubers, and it comes jam-packed with superior, built-in effects that lend themselves to commercial and professional use.
This ASMR recording app boasts an intuitive user interface that lets you manipulate video and audio clips with a drag and drop feature. Cutting, editing, or splitting a clip with Vegas Pro is quick and easy.
VEGAS Pro 18 - Video Production, Audio Editing and Media Management

Industry-leading hardware acceleration
Sophisticated color grading options
Planar motion tracking
Last update on 2023-09-25 / Affiliate links / Images from Amazon Product Advertising API
Vegas Pro comes loaded with advanced effects to add sound to any media and edit any given clip's properties. The app comes bundled with Sound Forge Audio Studio 14, which allows excellent manipulation and editing to create crystal-clear sound.
Vegas Pro allows you to edit each video clip, adjust zoom level at different portions, add event markers, and mask unwanted bits. Event markers are critical in lengthy ASMR compilation videos as they let you label individual segments.
Another entrant from Steinberg, Nuendo, picks off where Cubase leaves off. While Cubase is primarily an audio production app, Nuendo is a post-production software. It allows you to create and edit audio for films, games, videos, and more.
One of Neundo's notable features is the Video Cut Detection feature that analyzes cuts from different cameras for market placement. It allows for quick and efficient sound effect placement, a crucial factor in ASMR videos.
Nuendo allows meticulous planning to sync audio clips to their accompanying video takes, which dramatically improves your workflow.
The VoiceDesigner plug-in will transform your voice to give it a warm and fuzzy feeling, a critical feature that helps people resonate with ASMR sounds. You can also create a range of voice personalities and give your audience a broad range of content.
The Destroyer plug-in lets you add a distortion effect to any audio to achieve the desired outcome. The Doppler plug-in lets you add the right sound effect to any clip to give it a realistic feel.
Adobe Audition is a powerful and intuitive digital audio workshop that lets you create professional ASMR videos. The app enables you to record audio straight to your PC using a USB condenser microphone or several of them. You get to set the gain on your voice as you record and give it a unique EQ during the post-production processing.
When editing an ASMR clip in Adobe Audition, you can apply effects including reverb, EQ, or compression to individual clips or the entire recording. Unlike many audio editing apps, Audible allows non-destructive editing that won't damage or edit your recordings.
This ASMR recording app boasts excellent noise reduction to help you clean up your clips. This app lets you identify, pick out, and erase the unwanted sounds in your recordings with its powerful spectral analysis feature.
You can also add keyframes to envelopes in your recordings. That gives you total control over the volume levels, which allows you to switch out different clips. The Essential Sound Panel provides a guided way to add effects to audio recordings, making the app more intuitive for absolute beginners.
Check out which is a better video editing tool between PowerDirector and Adobe Premiere here!

Conclusion
Having the right ASMR recording app can make or break your ASMR video. You can record on just about any recording device at your disposal, including your smartphone. However, it's the editing process that determines the quality of your finished products.
ASMR recording apps come with various pricing points, features, and capabilities. For the best results, it's advisable to pick one app and learn it inside out. Having the best ASMR microphone will be important too. The link below will delve into that. I personally am a big fan of the Blue Yeti microphone.
The quality of your ASMR video hinges on your editing skills rather than the recording apps used.
Sale
Blue Yeti USB Microphone for PC, Mac, Gaming, Recording, Streaming, Podcasting, Studio and Computer Condenser Mic with Blue VO!CE effects, 4 Pickup Patterns, Plug and Play – Blackout

Custom three-capsule array: This professional USB mic produces clear, powerful, broadcast-quality...
Blue VOICE software: Elevate your streamings and recordings with clear broadcast vocal sound and...
Four pickup patterns: Flexible cardioid, omni, bidirectional, and stereo pickup patterns allow you...
Last update on 2023-09-25 / Affiliate links / Images from Amazon Product Advertising API
Sources
Was this article helpful?
Recent Posts
link to How To Allow QuickTime To Access Microphone 🎙️  
QuickTime is a vital app for many Mac users, and if you've recently bought a new microphone, you might wonder how to use it optimally. QuickTime cannot record audio content if it doesn't have...
link to How Do I Test My Microphone? 🎙️
Every microphone leaves a unique signature on the quality of its output. If you're a podcaster trying to melt your way into your audience's hearts, a muddy, distorted recording won't cut it....