If you have always wanted to edit videos but never knew where to start, Adobe Premiere Pro might be a good video editing software for you. It is scalable and has many features that are simple to use. But is Premiere Pro suitable for beginners?
Adobe Premiere Pro is a good editor for beginners because it's extremely versatile. As the industry-standard video editor, numerous tutorials are available to help new users understand the software's tools and features. Premiere Pro also lets beginners learn how to edit a video's audio and graphics.
Let's talk more about why Premiere Pro is appropriate for beginners. I'll lay out all of the components of the program that make it unique and give you some tips for getting started.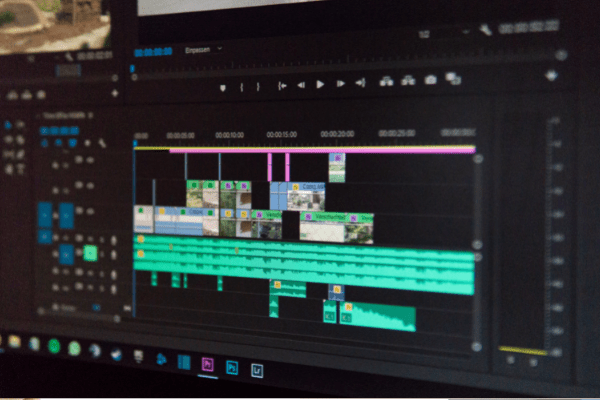 What Can You Do With Adobe Premiere Pro?
Adobe Premiere Pro allows you to edit non-linear

videos, audio, and images offline. The software enables you to overlay one video on top of another to create a unique masterpiece.
Adobe Premiere Pro has been one of the best video editors for over 30 years

, and the platform is constantly being updated to keep it cutting-edge and seamless. With this video editor, you can create anything, and it is often the go-to software for professional music video production teams, professional YouTubers, and advertisers.
For more information, check out which is better: Adobe Premiere Pro vs PowerDirector

Why Should You Use Premiere Pro?
You should use Adobe Premiere Pro because it has all the features you will ever need to edit videos. Whether you want to learn the basics or use the advanced features, Premiere Pro has you covered. It has some features

that are difficult to find in any other software program.
Some of these features include:
Premiere Pro is an industry standard. Although Premiere Pro is beginner-friendly, it is also one of the best professional video editors on the market. Many people use Premiere Pro to make professional YouTube videos, commercials, short films, and movies, so you can be sure that you will only get the highest quality features and output with this program.
There are plenty of tutorials available: Because Premiere Pro offers almost any feature or tool that you would want from a piece of software, many options are available on the program. Luckily, Adobe has released many beginner-level tutorial videos, and there are even more videos on youtube that will lead you through creating, editing, and finishing any project!
Easy file formatting: Premiere Pro allows you to import video from almost any file format, even VR, making it highly versatile. You can also choose from a wide range of file formats to export your project, so you won't have to worry about file conversions and to lose video quality with Premiere Pro.
High-quality audio editing: Premiere Pro also has more audio editing options than most other video editors on the market. You can edit voiceovers, use audio effects, and add background music to any clip. When you're ready to learn some of the more advanced features, you can even balance soundwaves, adjust pitch and speed, and more.
Transitions and effects: Beginners will also love the premade transitions, text options, and special effects that Premiere Pro supplies. Still, if you are not satisfied with the premade features, you can always learn how to adjust them or make your own.
Lumetri color correction: Premiere Pro has some stunning coloring features, too, and they are relatively straightforward to use. The software's coloring and special effects options are on par with Photoshop's, so you can only expect high-quality footage through Premiere Pro. Premier also works very well with all other Adobe creative cloud software, making it easy for you to finish your projects to your liking.
Works on various operating systems: Unlike much other video editing software, Adobe Premiere Pro works on macOS, Windows 7 and up, and VR operating systems, so you probably won't have to get another computer or operating system to run Premiere Pro.
It can work with almost any type of codec: When you use Premiere Pro, you will be able to use footage from any file type filmed on any camera without converting or compressing the files. Premiere Pro automatically decompresses codecs, which help you store your video files, making it easy to join older footage with new videos.
You can even use your phone or tablet: When you subscribe to Adobe Premiere Pro, you also get the Premiere Rush app, which allows you to film and make fundamental changes to your Premiere video projects on any smart device.
Collaboration and group projects are made easy: Since Premiere Pro works with Adobe Creative Cloud, collaborating is simple. Teammates can access any project that you invite them to edit, and they can even leave notes on the video roll for you!
So, overall, Adobe Premiere Pro is an excellent program to get started with. Using the software will teach you many skills, and over time, you will be able to locate and use any feature you can imagine.
You may want to start with importing files for beginners, organizing them on a play-head, adding transitions and audio, and exporting. Then you can begin to learn about color correction, audio editing, and advanced transitions.
Premiere Pro: The Drawbacks
As with any software program, there are a few drawbacks that you may want to consider before purchasing Adobe Premiere Pro.
Premiere Pro does have many advanced features, so getting started can be overwhelming if you have absolutely no experience with video editing. However, with all of the free tutorials available, it will take a bit of dedication, trial, error, and practice to master the program.
As a bonus, as you get better at using Premiere Pro, you will have access to all of the advanced features, too, allowing you to keep improving your video-editing skills.
On some computers, Premiere Pro can freeze or glitch. Luckily, the program auto-saves your progress, but it can be frustrating if you have to keep restarting the program. Usually, the freezing happens when your graphics card is not good enough or your computer's RAM can't keep up with your editing.
To learn more about Adobe's system requirements and recommended settings, click here

.
On the same note, Premiere Pro will take up a lot of space on your hard drive since it is such an extensive program. Generally, keeping the program on an external hard drive is an excellent idea if you want to save space.
One of the significant downsides to using Premiere Pro is that it is a monthly subscription service. So, to get access to the program, you will have to pay a monthly rate. Several packages are available, including one that gives you every Adobe app, so you may want to look at their offers, available here on the Adobe website

, before making your decision. 
Getting Started With Adobe Premiere Pro
If you are interested in Premiere Pro, you might want to try it using this free 7-day trial available on the Adobe website here

to ensure that you want to purchase the program.
For some easy-to-follow video tutorials, check out Adobe's help site here.

You can also use this excellent beginner tutorial from Vince Opera on YouTube, which I find to be easier to follow than the Adobe tutorials:
Final Thoughts
Adobe Premiere Pro offers professional-level video editing, so it is a good choice for beginners dedicated to learning new editing skills and producing the best video possible. With so many features, it can be easy for beginners to become overwhelmed with the program at first. However, once you understand the basics, the organization becomes more intuitive, and you can expect to learn a lot about video editing very quickly.
Check out whether you can edit videos in Adobe After Effects

.
Sources
Was this article helpful?
Recent Posts
link to How To Allow QuickTime To Access Microphone 🎙️  
QuickTime is a vital app for many Mac users, and if you've recently bought a new microphone, you might wonder how to use it optimally. QuickTime cannot record audio content if it doesn't have...
link to How Do I Test My Microphone? 🎙️
Every microphone leaves a unique signature on the quality of its output. If you're a podcaster trying to melt your way into your audience's hearts, a muddy, distorted recording won't cut it....