If you are a video creator, you know how important it is to have a great editing tool at hand. However, some tools can be quite complicated to use and take a lot of your time to achieve what you wanted. 
But, Premiere Rush came out just a few years ago and changed the game for content creators, especially for social media. It's a simple but effective video editing tool developed by Adobe that you can use on multiple platforms: desktop, mobile, or tablet. The question is, is Premiere Rush easy to use?
Premiere Rush is designed as an all-in-one editing tool for simple, easy-to-use editing. Although it doesn't have all the features and abilities as some other, more robust editing tools such as Premiere Pro, it has everything you need to create amazing content.
If you want to become a video creator but lack editing skills, Premiere Rush would be an excellent starting point to learn the basics and develop your skills from there. Here's everything you need to know about Premiere Rush to begin creating stunning videos quickly and effectively.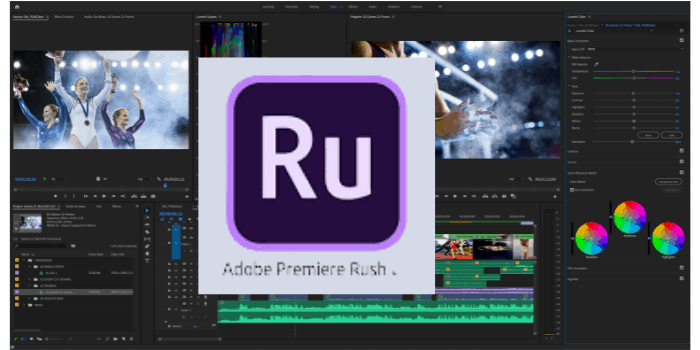 What Is Premiere Rush?
Premiere Rush is a new editing software developed by Adobe designed for multi-platform use. It's designed for social media content creators (YouTube, Instagram, Facebook). You might say that Premiere Rush is a simplified version of Premiere Pro. Premiere Pro has more options and is more robust, but the principles are the same.
Rush enables you to edit clips, audio, and text in a simple yet professional way. You can use the program on desktop, mobile, or tablet devices, enabling you to quickly edit and upload great videos, no matter where you are.
What's also great is how you can seamlessly switch between platforms while editing and continue your progress where you left of. You can start editing on your mobile phone and then finish on your PC later.
You get all the core features from Premiere Pro, After Effects, and Audition placed in one professional editing tool for a fraction of the price. You can even go with the free plan to get all the action the tool can provide, but limited to three exports a month.
Adobe Premiere Rush Requirements
Even though Adobe Premiere Rush is virtually a simplified, less robust Premiere Pro, you'll still need to satisfy some system requirements for it to work properly. Rush will work on Windows, macOS, Android, and iOS operating systems if your device meets the requirements.
Windows requirements
You'll need a multicore 64-bit processor and 8 GB of RAM running a Windows 10, 64-bit operating system. If your hardware limits you to a lower-level operating system, you can still have Premiere Rush on your phone or tablet.
Also, you have to have 8 GB of free space on your hard drive and some extra room during the installation. Internet connection is required as well because you'll have to register to Adobe Creative Cloud and validate your subscription to Rush, as well as to access their online services.
When you finally get it installed, a 16:9 display is advised, going from 1920×1080 and higher.
macOS requirements
You'll need similar performance requirements to install Premiere Rush on macOS, with few more details. You'll need the Apple M1 chip, including a multicore processor and macOS X v10.14 or later, to run Rush.
Everything else is the same as for Windows; only the required sound card isn't the ASIO protocol-compatible or Microsoft Windows Driver Model card, but rather a sound card compatible with APlle Core Audio.
iOS
On your iOS-running devices, be it phone or tablet, you'll need iOS13 or later to run Premiere Rush properly. You'll also need an iPhone 7 or newer, as well as an iPad running with A9 ARM chips or higher.
Android
Rush runs well on every device running Android 9.0 or higher. Those devices include Samsung S8 or newer, Note 8 or newer, A50 or newer, etc.
For more information, check out which is better: PowerDirector vs. Adobe Premiere.
Is Premiere Rush Easy to Use?
The whole point of Premiere Rush was to make a simple, easy-to-use editing tool for creators. It's a highly intuitive tool that automatically does some things you would usually have to do manually. 
The graphic animations, transitions, and sound manipulations are all made to be one-click commands. The video resolution changes depending on the imported content, so you don't have to change it every time you make another video manually. 
The editing is timeline-based with multiple channels for video and audio, making everything much more simple.
It doesn't have as many options and effects as Premiere Pro, but when it comes to ease of use, Rush is a clear winner. It's designed for beginners to help them kickstart their editing skills and make professional-looking videos, regardless of what the content is for.
Is Premiere Rush Free?
Unlike their robust, professional editing tools like Premiere Pro and After Effects, what makes Premiere Rush so great for content creators is that it comes with a free plan. The starter plan gives you access to all the editing tools and features but limits you to three exports.
I recommend you start with the starter plan and then upgrade as you see fit. You'll figure out where you like to edit the most and how many exports you plan to do every month.
As for the available plans, the Premiere Rush mobile plan is one of the most popular. You get access to all the premium features, unlimited exports, 100 GB cloud storage, new fonts, and more, available on all mobile devices.
Then there's the Premiere Rush Single App plan, giving you access to all the premium features of Premiere Rush on both mobile and desktop platforms, as well as the option of syncing projects between mobile and desktop devices. You'll also get 100 GB of cloud storage to go with Adobe Fonts, Adobe Portfolio, and Adobe Spark.
If you take the Premiere Pro Single App plan, you will get all the features you get with the Premiere Rush Single App plan, but instead of getting the only Rush, you'll get access to all the premium features of Premiere Pro as well.
Finally, you can choose the Creative Cloud All Apps plan, giving you premium access to all the CC apps, including Premiere Pro, Premiere Rush, After Effects, Audition, and Photoshop.
The plans come with ascending prices, with the free starter plan being the least expensive and the CC All Apps plan being the priciest.
Is Premiere Rush Good for Editing?
So, is Premiere Rush a good tool to choose for editing? The answer is yes, but it all comes down to what you need. It has very simple yet rich features, but it can't even be compared to Premiere Pro when it comes to editing options.
If you're an editing beginner and want to ease into the game, Premiere Rush is your best option. It's easy to use and highly intuitive, making the editing process a lot faster and easy. However, if you want to make real professional movies and have more advanced editing options, I highly recommend going for Premiere Pro.
To conclude, Premiere Rush is an incredible all-in-one editing tool that allows you to quickly and easily create stunning content. You can make amazing content with it for a small price, but you won't have as much control over the effects as you would with Premiere Pro, which is more robust but desktop-only and more expensive.
For more information, check out why Premiere Rush is so slow.
Sources:
https://www.adobe.com/products/premiere-rush.html
https://helpx.adobe.com/premiere-rush/kb/starter-paid-rush-upgrade.html
https://www.adobe.com/products/premiere-rush.html#:~:text=Wherever%20you%20are%2C%20from%20your,Windows%2C%20iOS%2C%20and%20Android.