Adobe Premiere Pro is part of the Adobe Creative Cloud. This video editing software is a popular tool within roles ranging from graphic designer to instructional designer. Yet, this software is notoriously difficult to master.
Premiere Pro is so hard to use as many editors are misusing the software. Hobbyists or designers new to editing are selecting Premiere Pro as their first step instead of recognizing that this Adobe tool is more appropriate for advanced users.
With the allure of the Adobe brand, many consumers first turn to the highly advanced Premiere Pro application and soon find themselves overwhelmed because it is hard to use. Read on to understand why it is hard to use, especially for beginners, and where you can learn how to use it online. We will also talk about other editing software that is more user-friendly.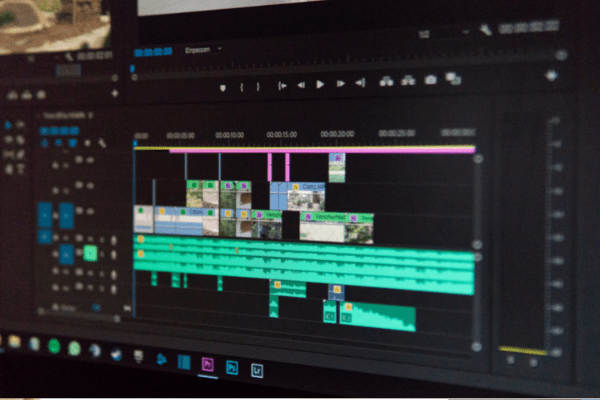 Premiere Pro Is Not for Beginners
Premiere Pro is notoriously a complex program with many bells and whistles.
The strength of this video editing software is the flexibility it provides media designers. However, this is a flexibility that is likely appreciated primarily by more experienced editors.
Those individuals who attempt to dive into the world of video editing by beginning with Adobe Premiere Pro tend to feel overwhelmed by the lack of structure.
More User-Friendly Options for Beginning Video Editors
More straightforward software options are more appropriate for first-timers. Beginners can benefit from developing their video editing skills in a more structured environment first before moving on to Adobe Premiere Pro.
Here is a list of more beginner-friendly options:
For more information, check out which is better: Premiere Pro versus PowerDirector.

Premiere Pro Is Somewhat Non-Intuitive
One complaint about Adobe Premiere Pro is that the use of many features can be non-intuitive. Tools within the software program are difficult to find compared to other video editing software choices.
The somewhat scattered arrangement of features in Premiere Pro creates a steep learning curve. Even for simple tasks, users often find themselves needing to locate online tutorials.
For users who would like to proceed to Premiere Pro, these video editors will need to spend a significant amount of time preparing in advance and studying essential functions before moving on to creating projects.
Educational Sites Offering Premiere Pro Learning Support
If you want to learn how to use Premiere Pro, even if you're a beginner, here are several sites that offer learning support.
Deciding on a Video Editing Software Option
Different video editing tasks favor different software tools.
Some graphic designers and instructional designers may only encounter more straightforward editing tasks. For these tasks, a more straightforward video editing tool may be all that is needed.
However, Adobe Premiere Pro is unrivaled for handling such an immense order for larger, more complex projects. This level of task and software knowledge is more appropriate for a senior designer.
Premiere Pro is difficult to use–but it is a valuable tool. As such, graphic designers and editors should proceed with this awareness in mind and take time to prepare and familiarize themselves with a range of video editing tools before moving on to this more advanced option.
Premiere Pro Experiences a Lot of Lag
The rendering process is the step that converts all of your video edits and additions into a streamlined final product.
In Premiere Pro, users often report a slow rendering process. Adobe has created troubleshooting pages

specifically to provide support on this issue.
This delay in such a crucial aspect of the video editing process can increase the level of difficulty in using the software tool.
The Everyday Computer Can't Handle Premiere Pro
A significant contributing factor to the slowness and consequent difficulties in using Premiere Pro is that the everyday computer is not equipped to handle such heavy-duty software.
Adobe lists minimum specifications of 8 GB of RAM

on both Windows and Mac with recommendations of 16 GB for high-definition media and 32 GB for 4K media

.
The average laptop

has a RAM size of 8 GB. Desktop RAM sizes

range from a minimum of 2 GB to a standard 8 GB to a more advanced 16 GB.
In short, the standard desktop or laptop computer may meet the minimum Adobe Premiere Pro RAM size requirements. Still, it will likely not have the recommended RAM size needed to render videos quickly in Amazon without significant lag.
Developing an Optimized Computer Set-Up
Some individuals plan to make video editing a career. Others want to add a new hobby to the list.
In either case, editors need to take the time to develop an optimized computer set-up. A flimsy laptop can save money in the short run but cost a great deal in frustration later on down the road. An optimized computer set-up that supports advanced video editing software takes time, research, and money to build.
There are several key components to consider when selecting a computer for video editing purposes:
Sale
LG 32MN600P-B 31.5′′ Full HD 1920 x 1080 IPS Monitor with AMD FreeSync with Display Port and HDMI Inputs (2020 Model)

LG32MN600P-B 31.5'' Full HD IPS Monitor with AMD FreeSync | Full HD (1920 x 1080) IPS Display | AMD...
IPS technology highlights the performance of liquid crystal displays. Response times are shortened,...
Flicker Safe reduces invisible flickering on the screen and provides a more comfortable working...
Last update on 2023-09-25 / Affiliate links / Images from Amazon Product Advertising API
Final Thoughts
Premiere Pro is hard to use, especially if you attempt to begin your video editing hobby or career with one of the most challenging design software options available on the market.
Hobbyists and graphic designers alike can recognize that the use of Premiere Pro is an advanced skill. Video editors should first begin to practice with simpler platforms, review educational content on Premiere Pro, and develop an optimized computer set-up.
Sources
Was this article helpful?
Recent Posts
link to How To Allow QuickTime To Access Microphone 🎙️  
QuickTime is a vital app for many Mac users, and if you've recently bought a new microphone, you might wonder how to use it optimally. QuickTime cannot record audio content if it doesn't have...
link to How Do I Test My Microphone? 🎙️
Every microphone leaves a unique signature on the quality of its output. If you're a podcaster trying to melt your way into your audience's hearts, a muddy, distorted recording won't cut it....