In 2010, South Korean internet personalities took to streaming platforms to broadcast mukbang, the latest viral trend. Stars live-streamed themselves binge-eating noisy, crunchy, and fizzy cuisine while interacting with their loyal viewers. This odd ASMR-infused trend still exists today, inspiring many to create their own mukbang channels and earn $10,000s a month.
The best setup for recording mukbang videos includes an ASMR microphone to capture food sounds, a DSLR camera for high-end video, a tripod for multiple angles, and a ring light for artificial brightness. A high-end laptop, video editing software (Final Cut Pro), and food menu finish off the setup.
Creating mukbang videos doesn't require a pro studio, high-end eateries, or millions of online subscribers. It could cost less than $1,000 to complete your home studio and begin streaming on Twitch or YouTube. To learn about the best setups for recording mukbang videos, read on!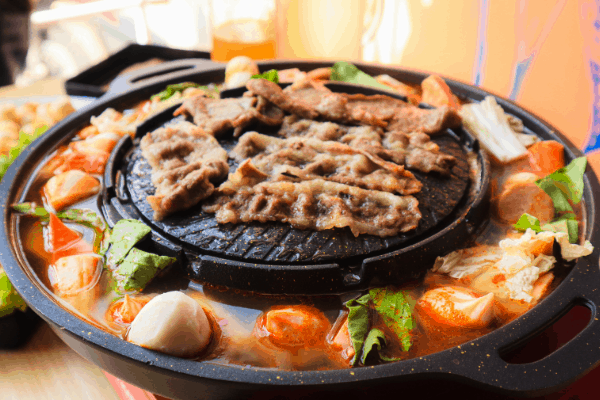 ASMR or Binaural Microphone
ASMR — autonomous sensory meridian response — is a tingling and borderline euphoric reaction triggered by relaxing sounds. Half of mukbang's allure is the classic food noises:
Tearing open a chip bag
Gnawing on crunchy bread
Slurping noodles
Swallowing and chewing
Whispering to the viewer
An ASMR

mic can record these noises (and more) without distracting crackles, hums, or hisses. The Blue Yeti USB Mic

also has four distinct pickup patterns, including an omnidirectional setting for 360° recording to capture every gulp, smack, crunch, and slurp. 
Sale
Logitech for Creators Blue Yeti USB Microphone for Gaming, Streaming, Podcasting, Twitch, YouTube, Discord, Recording for PC and Mac, 4 Polar Patterns, Studio Quality Sound, Plug & Play-Blackout
Custom three-capsule array: This professional USB mic produces clear, powerful, broadcast-quality...
Blue VOICE software: Elevate your streamings and recordings with clear broadcast vocal sound and...
Four pickup patterns: Flexible cardioid, omni, bidirectional, and stereo pickup patterns allow you...
Last update on 2023-12-08 / Affiliate links / Images from Amazon Product Advertising API
Resist the urge to lean in too close, breathe directly into the mic, or wear loud clothing (like jangling jewelry or rustling jackets). It's like a long-distance invite to an online dinner party.
A high-end ASMR microphone can create a full sensory experience as viewers listen to you chew, slurp, and breathe. The video below shows just how vital this audio can be:
High-End Video Camera
Most of your mukbang viewers are foodies themselves looking to satisfy their cravings

through your videos. A well-crafted mukbang video will bring your favorite menu items to life:
A pound cake's internal lusciousness (and ensuing crumble)
Lemonade's vibrant yellow pigment
Fried chicken's rigid, crunchy texture
Syrup's drip, drip, drip with each bite
While iPhone cameras are now like mini Nikons in your pocket, nothing captures the visual charm quite like a pro DSLR camera — like the Canon EOS Rebel T6 Digital SLR Camera Kit

.
Sale
Canon EOS Rebel T6 Digital SLR Camera Kit with EF-S 18-55mm f/3.5-5.6 is II Lens (Black)

180 Megapixel CMOS (APS C) image sensor and high performance DIGIC 4 plus Image Processor for...
ISO 100 6400 (expandable to H: 12800) for shooting from bright light to low light compatible with...
Built in Wi Fi and NFC connectivity provide easy sharing to compatible smart devices, select social...
Last update on 2023-12-07 / Affiliate links / Images from Amazon Product Advertising API
This HD camera is a sensory haven. It boasts a wide-angle lens to capture the entire four-course dinner on the table in front of you (in true binge fashion). The 18-megapixel sensor will add the texture, color, and detail that allow your viewers to taste the dish from afar.
Transfer each take over the Wi-Fi to avoid the traditional USB/memory card debacle.
Check out which is a better video editing tool between PowerDirector and Adobe Premiere here!

Compatible Tripod
If a mukbang clip feels strangely inviting, it's no accident. With an HD camera feet away, angled slightly downward, and on the opposite side of a tasty pasta platter, it's like you're sharing a meal with an old friend.
Every up-and-coming mukbanger needs an adjustable tripod to secure their camera in place and achieve this comforting vibe. The Polaroid 72″ Premium Tripod stretches an astounding 28″ to 72″ (71 to 183 cm) to get that perfect, welcoming angle. 
Attach your camera, extend the legs, experiment with angles, and hit "record."
Last update on 2023-12-07 / Affiliate links / Images from Amazon Product Advertising API
Soundproofing
Nothing robs a video of its ASMR allure like unexpected distractions. Squealing brakes, a noisy air conditioner, and a coughing neighbor can ruin a take and leave it on the cutting room floor. Soundproofing your home studio can drown out those sounds and shun retakes for good.
Soundproof Store Acoustic Wedge Soundproofing Studio Foam Tiles

will turn that basement studio into a legitimate recording studio. With 144 sq. ft. (13 sq. m.) of coverage, these tiles will return purity to your food noises while also preventing reverb (distracting echoes). The burgundy/grey checkerboard pattern also makes an edgy backdrop for your new mukbang clips.
Soundproof Store 4492 Acoustic Wedge Soundproofing Studio Foam Tiles, 2 X 12 X 12-Inch, Pack of 12 (Charcoal Black and Burgundy Maroon)

Class A Fire Rating, unlike other brands with no fire retardant
6 Charcoal Black and 6 Burgundy Maroon acoustic studio room soundproofing tiles
Each tile is 2"x12"x12" and covers 12 Square Feet
Last update on 2023-12-07 / Affiliate links / Images from Amazon Product Advertising API
Ring Light
Mukbang videos can make even the least-delectable foods look lively, delicious, and radiant. Yet, a dim or dreary room can convert HD recordings into grainy nightmares. It can even look creepy, uninviting, or like you filmed in an abandoned shed.
Return some class to mukbang with the UBeeSize Selfie Ring Light

. With this nifty tool, you can choose between three color modes (3000-6000K) and 11 degrees of brightness. This ring light will liven up your next shoot with the perfect amount of artificial light. Position the ring strategically to add glow to your face, highlight crunchy textures, and detail every spice or herb.
Check out to find out more about why ring lights are good for food photography here!

UBeesize Selfie Ring Light with Tripod Stand and Phone Holder, Portable and Circle ringlight for Phone (Black)

Dimmable Ring Light Featuring 3 Color Lighting Modes: Warm Light (3000K), Cool White (4500K), And...
Upgraded Tripod Stand : 1, No-Twisting-To-Lock That Collapses Over Time, Belsize New Tripod Adopts...
Rotatable Phone Holder: 1, You Can Easily Adjust The Phone Holder To Find One Angle You Desire...
Last update on 2023-12-08 / Affiliate links / Images from Amazon Product Advertising API
High-Speed Laptop and Editing Software
A mukbang clip doesn't exist until it's thoroughly edited and ready to upload onto social media. However, that finalized ten-minute video could take three hours (or more) to record because of:
Interruptions, distracting noises, or mishaps (i.e., dropped utensils)
Bathroom or Instagram breaks
Recording flubs (saying the wrong phrase, tripping over your words, etc.)
Cooking or ordering more food
Once you've recorded hours of footage, you'll transfer it directly to your Apple MacBook Air

. The 8-core CPU is nearly four times faster than other processors. Where a standard PC might lag or crash, the Macbook Air allows you to upload, edit, and cut long mukbang videos. Pairing your Mac with Apple's finest editing software — Final Cut Pro

— only sweetens the deal.
Never sacrifice video quality (up to 4K) again, infuse seamless transitions, add text subtitles, and perfect every pixel (hue, saturation, and all) for your next upload!
Sale
Apple 2020 MacBook Air Laptop M1 Chip, 13" Retina Display, 8GB RAM, 256GB SSD Storage, Backlit Keyboard, FaceTime HD Camera, Touch ID. Works with iPhone/iPad; Space Gray

All-Day Battery Life – Go longer than ever with up to 18 hours of battery life.
Powerful Performance – Take on everything from professional-quality editing to action-packed...
Superfast Memory – 8GB of unified memory makes your entire system speedy and responsive. That way...
Last update on 2023-12-07 / Affiliate links / Images from Amazon Product Advertising API
Delectable (and Noisy) Food Menu
No mukbang setup is complete without a bottomless meal to film yourself eating. Before ordering or cooking your next mukbang inspiration, weigh these three concepts:
How the food tastes (even if the taste makes you wince, make sure it looks tasty!)
How the food sounds (prioritize crunch, slurp, gulps, goop, and fizz)
How the food looks (every color, texture, and microscopic detail matters)
Experiment with new menu items as often as possible. Order from classic fast-food joints, make a homemade dish, or try global cuisine to broaden your scope.
Recording Mukbang Videos on a Budget
Famous mukbangers like Zach Choi

and Eat with Boki

boast over 15 million combined followers and potentially millions in ad revenue. However, for a casual mukbang hobbyist like yourself, spending $2,500+ on authentic recording equipment could be pricey.
To record mukbang videos on a budget:
Film short clips on a smartphone (4K video quality preferred).
Record in a quiet room with good acoustics (a bathroom with tiled walls, for example).
Create a DIY tripod with a lampshade, piled books, or household items.
Choose sunny days and film videos near uncovered windows.
Look for local restaurant discounts and freebies for a low-cost menu.
Tinker with free video editing software like DaVinci Resolve.
If you're going to "splurge" on any mukbang gear, always prioritize an ASMR or binaural microphone. Modern smartphones capture HD video quite well, and a mic is the other must-have for a future viral hit.
If you are looking for budget microphone ideas, check out this post here!

Check out my picks for the Best Cheap Camera for Filmmaking or Video Recording

Conclusion
Learning how to record mukbang videos takes time and patience. You'll experiment with various mic positions, light intensities, and rooms until you can find the perfect combination. The sensory (video and sound) aspects are only the first steps for a successful streamer.
To lure viewers into watching and subscribing, you'll need to:
Show your personality (humor, empathy, inquisitive).
Bring excitement and surprises.
Make engaging facial expressions (laugh, cry, wince).
Talk directly to the viewer.
A DSLR camera and a ring light won't magically ignite your mukbang channel. Your personality brings the viewers; the tech setup keeps them around.
Sources
Was this article helpful?
Recent Posts
link to How To Allow QuickTime To Access Microphone 🎙️  
QuickTime is a vital app for many Mac users, and if you've recently bought a new microphone, you might wonder how to use it optimally. QuickTime cannot record audio content if it doesn't have...
link to How Do I Test My Microphone? 🎙️
Every microphone leaves a unique signature on the quality of its output. If you're a podcaster trying to melt your way into your audience's hearts, a muddy, distorted recording won't cut it....