ASMR eating videos have become the in-thing lately, drawing in viewership by the droves. Its fans claim these recordings are an immense satisfaction and pleasure to watch. These videos are not only a source of entertainment for viewers worldwide, but they have become a major online cash cow—so you might be wondering how to make ASM eating videos.
To make ASMR videos, choose foods, aesthetics, and sounds to encourage ASMR from your viewers. Use the microphones effectively to produce high-quality, noise-free sound. Then, record in a quiet acoustic environment, with professional lighting, sound, and camera equipment.
If you have also jumped on the bandwagon and want to create your own ASMR, fret not. Below is a complete guide that you need to create the most captivating ASMR eating and Mukbang videos taking over the internet by storm. You can learn more about setting up a recording studio for Mukbangs in my article here.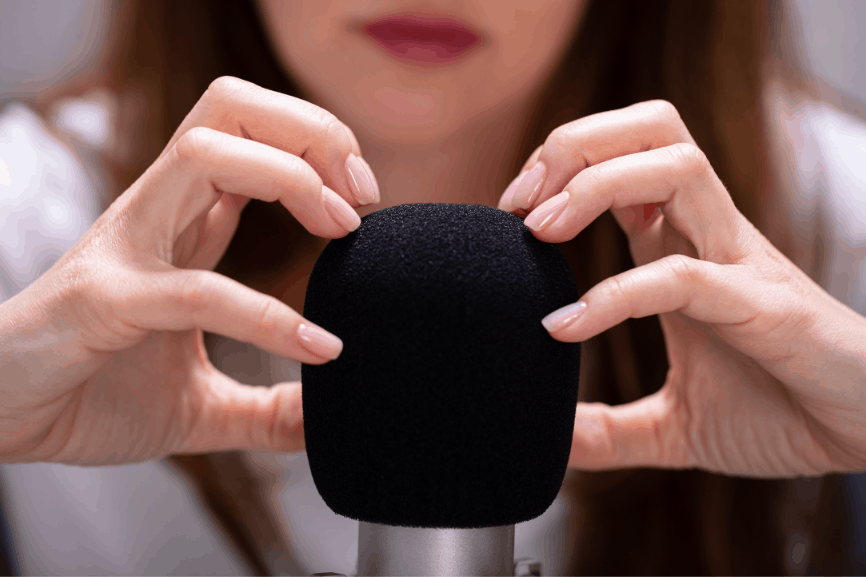 Understand How ASMR Videos Work
ASMR

is an acronym for an Autonomous Sensory Meridian Response. It is a tingling sensation that viewers feel when watching the videos. The pleasant feeling begins on the scalp, moving down the neck and the back.
A big component of the ASMR eating video

is the sound. Slurping, crunching, or chewing sounds are just but a small part of the cacophony of sounds people make when eating their food. Some Mukbang devotees say these sounds give them hypnotic tingling sensations.
Some viewers find them a bit gross or weird, so ASMR is not everyone's cup of tea. In its essence, an ASMR video is a sensory-stimulating recording. The Mukbang video involves the consumption of large amounts of food at a go.
The food will be gargantuan but deliberately delectable. There will be dozens of food textures and rainbows of sauces to complement them. These combinations and the sounds draw crowds to Mukbangs.
The eating ASMR video might not have the tons of cheesy ramen and fish food of the Mukbang. The pure ASMR eating video focuses on the sound, visuals, and textures of food. They cater to the aesthetics, allowing the viewers to taste the food they would normally not encounter.
Therefore, the ASMR eating video is highly scripted to captivate viewers the relaxing effects of the sensations they produce. ASMR artists produce a variety of videos. Some simply soft talk or whisper to their audience while others make sounds with their hands.
They may tap a glass with their fingernails or leaf through a book. There are role-play ASMR videos and makeup types that trigger popular sounds. The ASMR eating video focuses on food and the sounds you make while eating to trigger ASMR. The opportunities are endless.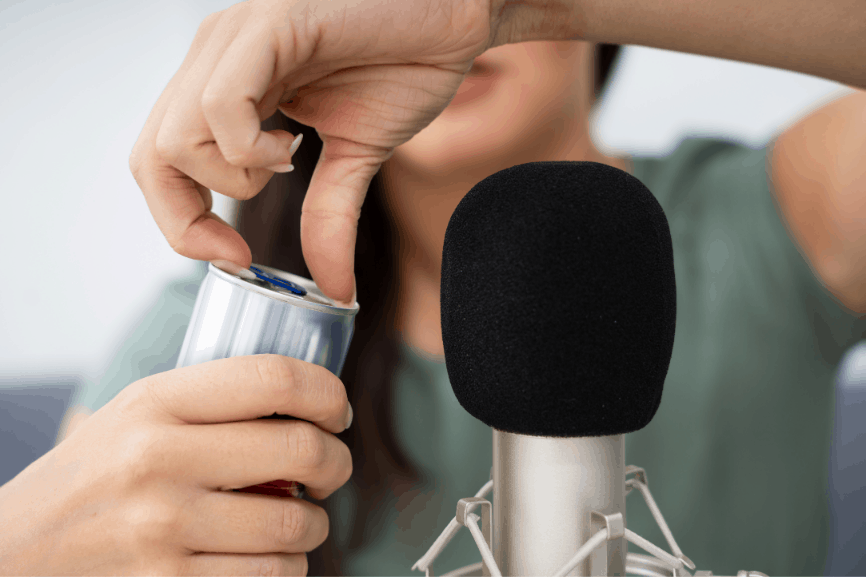 Check out my picks for the Best Camera for Filmmaking or Video Recording on a Budget

!
Observe Microphone Discipline
Your recording will only be as good as your performance. You, therefore, need to have a lot of microphone expertise and discipline. Many minor details contribute to the making of the perfect eating ASMR video. These include:
Breathing away from the mic to ensure that you do not capture uncomfortable breathing sounds. If you breathe directly into your ASMR mic, you will have that sensation overpowering every other attractive sound you might have on the set.
Most eating videos are quiet. Some of the most popular eating ASMR recordings are devoid of talk. That said, if you want to talk to your audience, take note of sibilance. Sibilance is the hissing sound that crops up when the 's' sounds become repetitive.
To cut down on the hissing, avoid directing your sounds directly to the mic. Be a bit off-axis. This action will also reduce other annoying sounds such as plosives from the letters B, P, or T. Plosive sounds often sound like bursts of air and can be very distracting. You can go for a windshield or purchase a pop filter to ward off these sounds.
A microphone has a proximity effect. Get too close to the microphone, and you will have a lot of bass boost. Unless you want to sound like Barry White, observe some distance between the source of the sound and the microphone. The closer you are to the mic's membrane, the muddier the sounds will be.
Your clothing will also affect your ASMR eating video's sound quality. Some clothing materials produce loud sounds on movement. So, wear comfortable cotton that breathes well and is silent.
Steer away from nylons and polyesters and stick to your well-worn denim. Avoid jewelry as well, as its jingle-jangle will adversely affect your audio. You can wear studs, but dangly items will be a problem.
If you are looking for two great budget microphone ideas that are still great quality, check out the Blue Snowball and the Razer Seiren Mini here!

Pick the Right Recording Environment
You will probably record your ASMR eating videos in the comfort of a lovely room at home. There is an enormous difference between recording in an acoustic studio environment and simply winging it.
A professional recording studio will produce to die for sounds. That said, you could modify your recording room at home to ensure that it produces professional-quality sound. Eliminate background noise by shutting down all noisy electronic equipment such as the fans or washing machine.
To minimize the street's background noise, make your ASMR eating videos in the late hours of the night when there is little vehicular traffic and interference. Sound waves bounce off reflective surfaces, so to enhance acoustics, add sound absorbers to your room.
Have thick carpets, curtains, and open your wardrobe to lessen the effect of empty facing walls on your audio.
Have the Right Recording Equipment
While you can use a phone's camera to record a video, ASMR eating videos need professional equipment. Lighting, video, and audio quality of the recording are important, to begin with, good lighting apparatus.
Purchase a good camera and microphone and go for editing software for the last touches. If you can afford it, have a professional digital audio workstation to clean up your audio. A simple ASMR eating video equipment kit should have:
High-quality connectors
A recording camera of choice
Lighting equipment. Ring lights and softboxes are great; check out which one is better between ring lights and softboxes here!
A minimum of two ASMR mics. Go for binaural microphones to ensure that your sound connects you to your community. They should have a high sensitivity to capture all subtle details. They also should be capable of low self-noise for quiet sources.
Connect one mic to your left and the other to your right. The best condenser ASMR mics will immerse your viewers in a 3D stereo sound environment. They will feel as if they are in the recording room with you.
The Blue Yeti is my best pic of microphone for ASMR

recording:
Sale
Blue Yeti USB Microphone for PC, Mac, Gaming, Recording, Streaming, Podcasting, Studio and Computer Condenser Mic with Blue VO!CE effects, 4 Pickup Patterns, Plug and Play – Blackout

Custom three-capsule array: This professional USB mic produces clear, powerful, broadcast-quality...
Blue VOICE software: Elevate your streamings and recordings with clear broadcast vocal sound and...
Four pickup patterns: Flexible cardioid, omni, bidirectional, and stereo pickup patterns allow you...
Last update on 2023-09-26 / Affiliate links / Images from Amazon Product Advertising API
Use ASMR-Producing Sound Sources
ASMR eating videos can feature all kinds of food items. Some foods have more autonomous sensory meridian response effects than others. You also have to keep in mind that different people experience ASMR differently.
One person could encounter ASMR by listening to a video of a person taking a sip of a fizzy beverage. The sound may put off another person. Some viewers love the sound of teeth crunching down on crispy veggies, fruit, or potato chips.
Others will experience sensory overloads when listening to the sound of the tongue wrapping itself around the thick, soft, and goopy textures of puddings. Some foods make the production of top-notch ASMR experiences much easier. They include:
Chicken wings
Popcorn
Honeycombs
Nuts and seeds
Hard crackers
Crunchy fruits and vegetables such as lettuce, carrots, and apples
Noodles
Candy
Chocolate
Raw pasta
Aloe vera
One of the most popular ASMR eating videos ever made is the 12-minute sticky honeycomb eating video by SAS-ASMR. The popular artists has 46 million views gaining popularity for the soothing noises made while the artists chew on delicious looking sticky honeycombs.
You can watch the video here:
SAS-ASMR has been such a successful producer that tons of new entrants in the field model their recording process after hers. She combines excellence in sound with perfect visual expressions that increase the ASMR tones in her videos.
Check out to see if ring lights are good for food photography here!

Conclusion
ASMR eating videos are a delight to their fans. They are an internet sensation that is creating huge fan bases for the artist that is keen on:
High-quality, clutter-free sound
Excellence in visuals
Meaningful facial expressions
Exciting food items
Great lighting
Sources
Was this article helpful?
Recent Posts
link to How To Allow QuickTime To Access Microphone 🎙️  
QuickTime is a vital app for many Mac users, and if you've recently bought a new microphone, you might wonder how to use it optimally. QuickTime cannot record audio content if it doesn't have...
link to How Do I Test My Microphone? 🎙️
Every microphone leaves a unique signature on the quality of its output. If you're a podcaster trying to melt your way into your audience's hearts, a muddy, distorted recording won't cut it....