There are thousands of different types of microphones in the world, and each of them has its own characteristics and produces unique sound qualities when used for recordings and performances. Binaural microphones have become more popular with the development of ASMR content, as well as ambient soundscapes, 3D music, and virtual reality. If you are interested in this type of microphone, which is best?
The best binaural microphone on the market is the 3Dio Free Space Pro II. This mic has excellent dynamic range, frequency response, and sensitivity. It features two silicone ears to ensure sound enters the mic the same way it enters an ear, producing the most immersive binaural audio possible.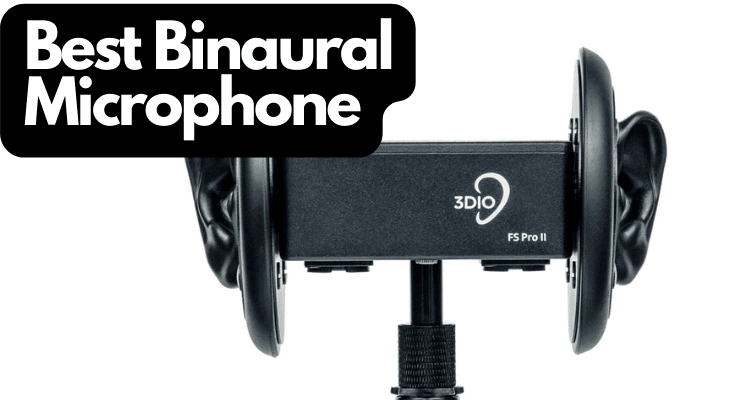 Binaural mics need to be very well made, highly sensitive and calibrated well. They must be made to capture audio closely to the way a human ear hears it. This is no small undertaking. Therefore, most binaural mics are very well-made and high-quality, making choosing the best model challenging. With that said, there are a few stand-out models to look at.
What To Look For In A Good Binaural Microphone
Before we explore the best binaural microphones on the market, let's take some time to explore what makes a binaural mic good and how to find a good one.
All microphones function in the same basic way. The real difference in microphone types is the quality of the components that are used in the hardware, the casing and surrounds that are used for the mic, and the sensitivity of the components of the device.
All binaural microphones are designed for the same function, but not all binaural mics are equal. The design of the mic can completely change the recordings that can be made with it and how the microphone can be used practically.
This means there are some crucial aspects of binaural microphones to look for if you want to buy a good one.
The first consideration to make when buying a binaural mic is what you want to use the mic for. As an example, a mic that is designed for recording speaking in 3D space and a mic that is designed for recording binaural ambient sounds may not have the same features and design.
The same is true for mics made for ASMR content and those made for recording 3D music. the first step is to always determine what you will use the mic for.
When looking for a good binaural mic, it is crucial to find a unit with the most sensitive microphones you can find, but always with the right mic housing for your applications.
A good binaural mic will be very sensitive but also have good mic filters and casings. The best binaural mics have a housing shaped like a human ear to enable the microphones to pick up sounds the same way the human ear does.
It is also important to find a binaural mic with the right connectors for your purposes, as some can only plug into a mobile device.
A good binaural mic has an XLR or 3.5mm jack output that is capable of sending the audio to a microphone preamp.
Another thing to look for in a good binaural mic is how it can be mounted, worn, or moved. A mic like this should be able to remain as stable as possible when recording, but it should also be easily mobile to ensure that you can use it wherever you want to.
These mics should also have good noise suppression and high-quality noise cancellation where applicable, and they should be made as durable as possible with high-quality construction.
All of these features add up to make a good binaural microphone. If the mic that you are looking for that suits your purposes also has these features, it should be a safe one to buy.
Which Binaural Microphone Is Best?
Now that we have established what goes into a good binaural microphone, we can consider which of these mics is the best available right now.
At the time of writing, the best all-around binaural microphone available is the 3Dio Free Space Pro II.
This is a professional binaural microphone that is designed to produce the best binaural audio possible right now.
The FS Pro II is equipped with two DPA 460 CORE microphone capsules, which are two of the most sensitive but smallest condenser microphone capsules available. These mics are perfect for binaural uses, as they have a wonderfully flat frequency response and high sensitivity, and a great dynamic range.
These microphone capsules are mounted within two silicone human ears that are mounted to the microphone unit. These ears are specially sculpted to match the shape and form of a human ear. The mics capsules are mounted in the same location and at the same depth within the replica ear canals as the eardrum is within our own ears.
This means that sounds enter the microphone capsules in the same way that it enters our ears.
This feature, combined with the sensitivity and dynamic range of the mic capsules, means that the FS Pro II is the closest microphone to the human ear that is possible.
The mics are set up as stereo input devices, and each has a dedicated balanced XLR output. This enables you to capture audio from each capsule independently, allowing the audio from the FS Pro II to be mixed well in stereo for the best possible binaural results.
The FS Pro II also has a 3.5mm (1/8") output, which sends a mic-level audio signal.
The entire unit can be powered with a 9V battery that should last for many hours of continuous use, or the mic can be powered with phantom power from an interface, console, or mixer.
The FS Pro II has an adjustable mount adapter that allows it to be used with any microphone stand. It also ships with a custom hard-shell travel case for transport and storage and an output cable for the 3.5mm jack output that splits the signal from the mic into stereo channels.
There are no better commercially available binaural microphones available on the market. The FS Pro II captures the truest-to-life sound possible, with immense clarity, high audio quality, and reliability, and produces a highly useable audio signal.
3Dio Free Space Pro II Specifications
We have learned that the FS Pro II is the best mic of its type on the market right now, but to demonstrate its full capabilities and features, here is a breakdown of the specifications of the FS Pro II.
Specifications of the 3Dio Free Space Pro II:
| | |
| --- | --- |
| Dimensions | 7.5" x 4.5" x 4.5" |
| Weight | 755g |
| Output | 3.5mm Stereo Output (Mic-Level) |
| Output | 2 x Balanced XLR Outputs |
| Directional Pattern | Omnidirectional |
| Cartridge Type | Pre-Polarized Condenser |
| Frequency Range | 20 Hz – 20kHz, 3dB Soft Boost at 8 – 20kHz |
| Sensitivity | 20mV/Pa; -3dB re 1V/Pa |
| S/N Ratio | 71dB(A) |
| Total Harmonic Distortion | 126dB SPL RMS, 129 dB SPL Peak |
| Dynamic Range | 106 dB |
| Maximum SPL | 134dB |
| Output Impedance | 30 – 40W |
| Power Supply | Min. 5V – Max. 50V; 48V Phantom for full performance |
| Microphone Diameter | 5.4mm |
| Temperature Range | -40°C – 45°C |
| Relative Humidity | Up to 90% |
| Battery | 9V Alkaline |
Other Good Binaural Microphones
The 3Dio FS Pro II is the best binaural mic on the market, but there are several other excellent options if this mic is not quite what you are looking for or if it is out of your price range.
The trouble with the FS Pro II is that it is designed for professionals, and it is not well-suited for beginners or for those who have no experience with using binaural mics. This mic can be challenging to use.
For this reason, there are several other good options to consider when looking for a binaural microphone.
Some of the best alternatives to the 3Dio FS Pro II include:
3Dio FS (FS-2W-001)

Immersive 3D audio with a stereo signal! 3Dio mimic human hearing to create an incredible audio...
Our customers use them for a wide variety of applications such as: - Field recordings and nature...
The output of the FS binaural microphone is a stereo 3.5mm (1/8") output jack. Simply plug it in to...
Last update on 2023-09-26 / Affiliate links / Images from Amazon Product Advertising API
The 3Dio FS
The 3Dio FS XLR
The SonicPresence SP15C
The Zoom H3 VR 360° Audio Recorder
The Rode NT-SF1 SoundField
The Roland CS 10-EM
The DPA 4560 Binaural Headset
All of these binaural microphones are good at what they do, however, if you are looking for some options for studio use pr for recording ASMR content, then the mics from 3Dio are your best option, and the Zoom H3 will work well too.
If none of these mics provide what you are looking for, then it is a good idea to consider using a high-quality condenser microphone. These mics are very sensitive, provide high-fidelity clear audio that is easy to use, and are used by musicians and content creators everywhere as a very good alternative to binaural mics.
Some good options for this microphone type include the following:
Almost any condenser mic from Blue Yeti
The HyperX QuadCast
The Rode K2 Multi-Pattern Condenser Microphone
The Audio-Technica AT2020
Check out: Best Blue Yeti Mic
Which Binaural Microphone Is Best For You
We have established that several excellent binaural microphone options are available, but the reality is that not every binaural microphone is good for all binaural recording purposes.
There are plenty of binaural mics to choose from, but they are not all built the same, and they each have their own strengths and weaknesses.
This is why it is best to consider which binaural microphone is best for you and your purposes rather than which binaural microphone is best regarding its specification.
For example, if you want to use a binaural mic for recording ambient audio in a city or in nature, then a 3Dio mic may not be the best option. These mics can be very difficult to use in these situations. A good option for this use is a binaural microphone headset that places the mics in your own ears and records what you hear.
However, if you want to use a binaural mic for recording 3D music, soundscapes, audio from video games, or virtual reality, or if you are generally using the mic in a studio environment, there are no better microphones to use than 3Dio binaural mics.
These mics are made for this purpose and excel in this environment.
Condenser mics and binaural mics, such as those 3Dio, are also excellent for content creation in studios or studio environments, such as creating ASMR content.
This means that it is crucial to consider which binaural microphone is best for you rather than which mic is best on paper. Consider what you want to do with the microphone and make your decision based on your own requirements, and you are sure to find the best microphone setup for you.
Check out: Best ASMR Mic
Is It Worthwhile Using A Binaural Microphone?
Binaural microphones are an excellent microphone option, but if condenser microphones work well for similar purposes, is it worthwhile using a binaural microphone?
The reality is that while condenser microphones are more versatile than binaural mics, and they can be used for more purposes and capture high-quality audio, there are no mics other than binaural models that can capture true binaural, truly 3D, and immersive sound.
A condenser mic will capture high-quality audio, and it will hear everything in a room well, but even if you use an omnidirectional mic, all of the recorded audio from the mic will sound as if it is coming from a single point in space, regardless of where the sound source was in relation to the microphone.
If you want to capture audio in 3D space and have the audio that the microphone captures sound like it is coming from various locations, there is no other way to do it than using a good binaural microphone.
Conclusion
There are many microphones on the market capable of recording binaural audio, but none is better for the job than the Free Space Pro II by 3Dio. This mic is the industry-leading binaural mic, especially for studio recording environments.
Take the time to consider what you want from a binaural mic and find the mic that best suits your intentions. The best mic on the market is not necessarily the best binaural mic for you.
References
Was this article helpful?
Recent Posts
link to How To Allow QuickTime To Access Microphone 🎙️  
QuickTime is a vital app for many Mac users, and if you've recently bought a new microphone, you might wonder how to use it optimally. QuickTime cannot record audio content if it doesn't have...
link to How Do I Test My Microphone? 🎙️
Every microphone leaves a unique signature on the quality of its output. If you're a podcaster trying to melt your way into your audience's hearts, a muddy, distorted recording won't cut it....