The best videos are the ones with exemplary audio quality. If it's a song or podcast you're working on, the quality of your audio becomes paramount. There are different methods and equipment to get the audio of your recordings right such as a microphone isolation shield.
The 5 best microphone isolation shields for studios to try out are the Monoprice 602650, Axcessables SF-101KIT, Aston Halo, LyxPro VRI-10, and Neewer Microphone Shield. Others not far behind include the S.E. Electronics RF-X, CAD Audio AS16, Pyle PSMRS08, LyxPro VRI-20, and the Auray RFDT-128.
If your home is anything but ideal for recording audio, the microphone isolation shields or filter would come in more than handy. Keep on reading if you have no clue what a microphone isolation shield is or how it works and would like more information about the isolation shields mentioned above, etc.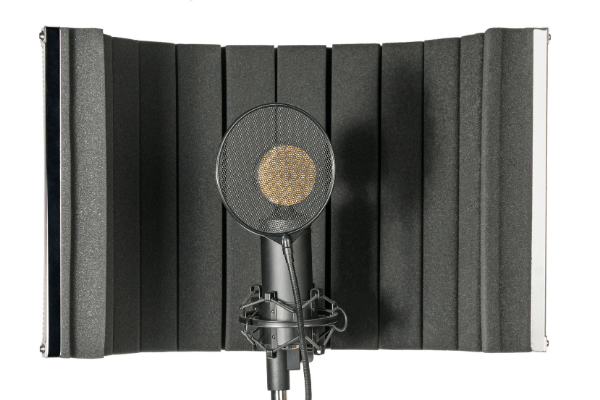 A Microphone Isolation Shield: A Brief Introduction
A mic isolation shield is a filter you need to reduce unwanted sound, ambient noise, and sound wave reflections

from your audio. By isolating your mic from its surroundings, a mic shield improves your recording's quality considerably.
These audio reflection filters are made of dense acoustic materials that absorb and dampen sound wave reflections. If facing an untreated wall while audio-recording, or if your space has hard surface floors, unwanted artifacts

are likely to creep into your final audio, making mixing

an unnecessary chore and ruining the tone of your audio altogether.
An isolation shield helps mitigate any sound wave reflection from the walls or other surfaces of your studio. By semi-enveloping your microphone, the audio produced is clean, dry with zero coloration

.
Do Microphone Isolation Shields Work?
A microphone shield does work, but whether you end up finding it useful or not depends on what your expectations are from the audio filter.
First things first, a mic shield will not replace a recording booth fully treated for acoustics. It has its place because it's an affordable, easy-to-set alternative to permanently altering your space.
If you're looking to control harsh hard-surface reflections that are usually common in spaces not ideal for recording, microphone shields will more than do the job. Even if you're recording audio using a cardioid microphone

, a microphone shield will still make its presence felt.
The mic shield will help you counter undesired echoes, reverbs, etc., at the recording stage so that you don't need to deal with unexpected noises and audio harshness during the editing phase.
Another major point before moving ahead is the audio equipment you primarily use. If your microphone is sub-par or not right for your kind of recordings, or your preamp

is not up to the mark, a microphone isolation shield won't save the day.
Most amateur recording artists have it covered with their mics, but the preamp is something they usually cheap out on or do not pay much attention to. A clean and neutral preamp paired with a reasonably priced microphone is a much better combination than the other way around. This explains how necessary the equipment is.
If you're not sure how preamps work and whether you need one, watch this video:
Long story short, the electronics you use for recording are critical, more so than the room you're recording in.
Now that you know how microphone shields work and their importance within an audio recording setup, let's look at the best five microphone isolation shields for a recording studio.
Monoprice Microphone Stand, Desktop Adjustable (602650)

Includes all assembly and mounting hardware | Branding/Logo on Product May Differ
Dual clamp mount attaches to mic stands or booms up to 1.25" diameter.
Features a standard 3/8" microphone threaded mount and includes a 3/8" to 5/8" thread adapter
Last update on 2023-09-26 / Affiliate links / Images from Amazon Product Advertising API
Founded in 2014, Monoprice

is a company known for making high-quality audio gear and related equipment and tools for relatively affordable prices. With the 602650, the company proves again why it's a name to reckon with in its niche. The microphone shield in question is well-designed, solidly built, and looks a lot premium for what its price might suggest.
The shield's front is high-quality foam

, supported by a vented back metal plate so that your microphone could breathe, and there are no audio reflections caused by the shield's arc design. The two outer panels are foldable for a tighter acoustic isolation chamber. The inward folding of the panels also helps with storage.
The shield certainly looks bulky, particularly when you try to take it out of its box and set it up for the first time. However, once the shield is assembled and ready to roll, it doesn't look too overwhelming at all. It's relatively compact and travel-friendly. Not to mention, the shield can be set in multiple ways based on the level of isolation you need for your mic.
The term "best" is subjective, and the Monoprice 602650 is undoubtedly not the best mic isolation shield around. The fact that it's not very effective at eliminating unwanted sounds from entering in from its top and bottom is a case in point.
Note: If you need a reasonable level of horizontal isolation, the Aston Halo mentioned will fit the bill perfectly.
For the price, you cannot fault the Monoprice 602650 much. It's relatively safe to say that this microphone shield offers the best bang for the buck of all the shields featured on this list. Whether it's right for your specific requirements or not is something you need to consider.
Last update on 2023-09-26 / Affiliate links / Images from Amazon Product Advertising API
The AxcessAbles

SF-101KIT is, as the name suggests, a kit ideal for people who are just getting started with recording and have no equipment whatsoever to boot, let alone a microphone shield. Besides the mic isolation shield, the kit consists of:
The items mentioned above can be bought separately. But people who have little idea about what equipment an audio recording studio will need to get started and who are not too keen on doing their research will find this audio recording bundle convenient and time-saving.
For the price and the other items it comes with, the shield is not bad at all. In fact, it's much better than most of the audio filters in its price category. The manufacturer claims the kit is great for professional acoustic/vocal recording and podcasting.
To get rolling, perhaps the only thing you'll need is a portable audio recorder

or an interface, for instance, the PreSonus AudioBox USB 96

, along with some budget studio monitors or headphones. AxcessAbles has certainly done a commendable job putting these things together and offering them for a reasonably competitive price.
Aston Microphones Halo Portable Microphone Reflection Filter, Black

Radically improved isolation
360 degree filtering (vertical, Not just horizontal plane)
Much bigger surface area (approx. 40 percent bigger than main competitor)
Last update on 2023-09-26 / Affiliate links / Images from Amazon Product Advertising API
The Aston

Halo Portable is perhaps the most unique and also stylish-looking shield of the bunch. It doesn't just look different. It does a great job of isolating vocals too.
The mic isolation shield choice of many professional voice artists, the Aston Halo stands out from its competition by covering both the vertical and horizontal planes from where sounds could come. To help it do its magic, you only need to set your mic right.
The design and isolation on offer work great for recording vocals, music, and similar recording requirements. Though it looks small or a bit too compact in pictures, the shield is fairly substantial in real life. It's dimensions are 23x13x20 inches (58.5x33x50.9 cm).
The excellent design and function don't come cheap, however. Priced at more than $300, this Aston Halo is everything but affordable. If you're buying a mic isolation shield for the first time, it's advised you do not start with the Halo. But if you've worked with multiple mic shields before and also have the budget, go ahead and splurge.
Besides the less accessible price, another negative aspect of the shield, and maybe a dealbreaker for some, is the non-folding design. Unlike other shields on this list, and even when compared to most isolating guards in general, this one does not fold from its sides.
Therefore, if you think it's a bit too large for your requirements, you cannot do much about that, except for sending it back. However, carrying the shield around, if you're not packing it in, should not be much of an issue as it's quite light for its size, thanks to the patented PET felt

material used in its construction.
LyxPro VRI-10 Vocal Sound Absorbing Shield For Studio Home And Office Recording Acoustic Isolation Microphone Foam Panel Shield – Portable And Adjustable Stand Mount or Desktop Use

MAKE ANYPLACE YOUR PROFESSIONAL RECORDING SPACE : This high end sturdy lightweight aluminum and foam...
ACOUSTIC SOUND VOICE AND LOCAL TRACKS RECORDING : Preserve the clarity of your voice and instrument...
ELIMINATE AUDIENCE CHATTER AND NOISE INTERFERENCE : High quality Acoustic sound absorbing foam...
Last update on 2023-09-26 / Affiliate links / Images from Amazon Product Advertising API
The LyxPro

VRI-10 is a five-panel, sound-absorbing microphone shield for audio recordings in a range of environments. The shield is made of high-density foam, which along with the rear-positioned panels, does an excellent job of decreasing bounce-back and blocking out background noise.
The three panels in the middle are fixed, and the two outer panels can be folded in like with most mic isolation shields. The rear plate is aluminum and not steel, making the shield lighter or a tad more portable. The silvery hue of the aluminum also lends the shield a more modern, non-industrial vibe.
VRI-10 comes in two sizes: large (16.5×15.3×8.3 inches or 41.9×38.9×21 cm), and extra-large (16.9×12.8×15 inches or 42.9×32.5×38.1 cm). The shield can be mounted (required mounting equipment comes bundled in with the product) or laid on the table when you're podcasting or doing voiceovers. Most importantly, the stand's stability doesn't take a hit irrespective of how you set it up.
Neewer Portable Foldable Adjustable Microphone Voice Isolation Board Aluminum Microphone Shield with High Density Foam, Non-slip Feet (NW-9)

Made of metal alloy and professional acoustic foams, breaks chamber reflection and absorbing noise,...
3/8" and 5/8" thread adapter for tripod and microphone stand
Foldable, save space during transportation
Last update on 2023-09-26 / Affiliate links / Images from Amazon Product Advertising API
Made of lightweight metal alloy, this foldable microphone shield from Neewer

is perhaps the cheapest of all shields that have made the list. The shield is easy to mount onto most microphone stands and is lug-friendly, weighing just over 6 pounds (2.7kg).
The sharply curved design provides you the feeling of working from within a vocal booth

. Not to mention, the curvature helps reduce unwanted echoes in your recordings considerably. The shield's back is a perforated aluminum shell, featuring soundproofing acoustic foam on the inside and the sound-absorbing panel has a foam absorption lining and folding diffusion shell.
The shield is foldable, as mentioned above, but the angle cannot be played with much. For some recording artists, this could be a big drawback. The shield angle, however, has been ascertained after great deliberation during its testing stage. As a result, most people who have used the shield have had no complaints with it so far. Even those who find the angle hindering have considered it to be only a minor annoyance.
The aforementioned mic isolation shields are some of the best shields for the money. But those aren't the only good shields around. The ones that are worth an honorable mention include the:
Things to Consider When Looking to Buy a Mic Isolation Shield
If you're considering upgrading your audio rig, you should not just look for product recommendations online but also know how to shop for the right mic shields in the first place. The following are the things to consider when you're out in the market shopping for a microphone isolation shield:
Mounting and Placement
A mic isolation shield can be mounted or set on a desktop. A desktop shield works if you're going to be seated during recording. If you like to stand while recording, a shield that can be mounted to a standard mic stand will be ideal.
If you need both functionalities so that you can have options to play with in the future, make sure the shield you buy is capable of both.
Positioning and Adjustability
The mic shield mount and mounting brackets should be adjustable. Such flexibility helps with adjusting the mic's height, depth, and angle so that you benefit from optimal audio recordings in any kind of environment.
If you carry your audio recording rig around, you will appreciate this flexibility the most. Even if you're not always moving around, look for this flexibility.
Weight and Size
Buy a microphone shield that your mic stand can hold without breaking a sweat. If your stand is rated to hold a certain weight without tipping over, don't look to buy a mic shield that pushes your stand to its limit. A lightweight stand also helps if you travel frequently or record audio in different environments. In short, light mic shields are manageable and portable.
Besides weight, also consider the shield's size. There is no ideal mic shield size as such. The right size is the one that completely curves around your mic. When the shield is viewed from its sides, the mic should not be visible. The deeper the mic in the shield, the better the isolation and the resulting noise reduction or cancellation. Know your microphone's size before zeroing in on the physical dimensions of the shield.
Build Quality
The materials used to make the shield and the overall construction quality matter too. Ensure the shield is made of high-quality, durable materials so that it doesn't easily break or get damaged when you're traveling or carrying it around in the house.
The rear should be made of metal, preferably steel or aluminum. Aluminum is lighter than steel, but it's also less durable. Coming to the shield's front, make sure the foams are relatively thick and dense so that the sound isolation and absorption effects work optimally.
Compatibility and Connection
You don't want to purchase a microphone shield and have it be incompatible with the microphone and stand you bought it for. Make sure both the isolation shield and the mounting hardware it comes with are compatible with your current recording equipment!
Working on Your Room's Acoustics
Apologies for sounding like a broken record, but a room treated for acoustics has no replacement yet. By throwing in a mic isolation shield, the output becomes better.
If your space is already designed to work as a studio, the contributions of a shield may not be significant. But if your room is like every other room in the house with zero consideration to room acoustics

, the difference in sound quality using a shield will be like night and day.
However, that doesn't imply you should not work on improving your room's natural sound signature, if and when you get the chance to.
To improve the acoustics of your room, you need not completely rehaul your space. Strategically attaching a few foam pieces to your walls is a good start, and mostly that's good enough.
The Basics of Room Acoustics
Before you go ahead, try to understand that absorbing sound or cutting off reflections isn't the only indicator of good room acoustics. In fact, if a room's various surfaces were just absorbing all sounds they got hit with, the resulting audio will be lifeless, which is something you don't want. In other words, diffusion

matters too.
When a room is not treated for optimal sound, reflections could get trapped in a particular area of your room, causing specific frequencies to amplify and some other frequencies to cancel out. Diffusers address this by scattering the multiple audio reflections and preserving a room's natural tone.
Absorption is still the central cog in the "room acoustics" wheel, with diffusion primarily complementing things.
Conclusion
A microphone isolation shield is an excellent investment if you're serious about audio recording. It may not be as effective in eliminating unwanted sound reflection as a sound booth

or a room treated for acoustics, but it comes mighty close. Your audio with a mic filter will sound discernibly better than the recordings produced without a mic isolation filter.
If you're looking to buy an isolating shield for your microphone, it doesn't get better than the products mentioned above. You may even consider the products featured in the "honorable mentions" category if our top five recommendations lack in some way.
FAQs
How do you maintain and store an isolation shield?
Ideally, you should not leave your isolation shield attached to your microphone or sitting around on a desk when you're not using it – keep it in a plastic bag to protect it from dust, possible spillage, and any other type of flying debris.
Are microphone isolation shields worth it?
If you are recording audio in an environment that is not optimally set up for doing so, then a microphone isolation shield is most definitely worth it. This includes having no at-home acoustics and recording in a space that is not completely silent. However, it's important to ensure you are selecting the best isolation shield for your needs.
A microphone isolation shield will also greatly improve your audio quality if you are recording with smaller, less powerful instruments, helping you achieve amplified sounds and overall cleaner recordings.
Which disadvantages must you keep in mind?
There are no distinct disadvantages to using a microphone isolation shield if you ensure you have purchased a shield that is compatible with your current equipment. If you are recording in a studio that is optimally set up for recording, then a microphone isolation shield may be an unnecessary purchase.
Sources
Was this article helpful?
Recent Posts
link to How To Allow QuickTime To Access Microphone 🎙️  
QuickTime is a vital app for many Mac users, and if you've recently bought a new microphone, you might wonder how to use it optimally. QuickTime cannot record audio content if it doesn't have...
link to How Do I Test My Microphone? 🎙️
Every microphone leaves a unique signature on the quality of its output. If you're a podcaster trying to melt your way into your audience's hearts, a muddy, distorted recording won't cut it....