To get a clear sound for your recordings, you need to get rid of the often-present hissing and popping sounds from your microphone. You can do so by using some convenient pop filters or shields available for precisely this purpose. However, the question is: how do you set it up for maximum effect?
To properly use a pop filter, ensure it is securely attached to your microphone stand and use the flexible neck to move it in front of the mic, setting it about two to six inches away. Angle the filter and mic to two or ten o'clock for optimal sound. The filter should sit between you and the mic.
This article will show you all the ways to attach the pop filter to your microphone's boom arm stand for the best effect and results. We will also discuss the benefits of having a pop filter as part of your recording setup.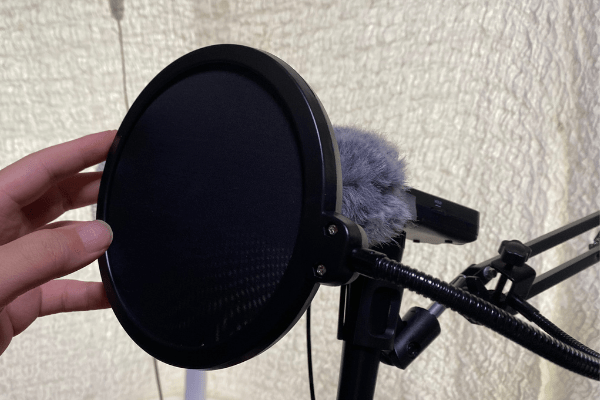 Why People Use Pop Filters
A pop filter (also called a pop shield or pop screen) is a type of cover you use to protect the microphone from saliva. It is also a filter that can help to protect the microphone from being overloaded by sounds forced out from the mouth.
These filters are typically used in recording rooms to provide a much clearer vocal sound without distortions over the microphone. The pop shields are made with a filter of different layers of materials that will disperse harsh sounds

and fast winds caused by these sounds.
The pop filter's purpose is to disperse all the harsh sounds made by the 'p' and 'b,' as well as hard 's' sounds. The sound coming from your mouth will move through the filter, and by the time it reaches the microphone, it will be much smoother and easier on the ear.
Types of Pop Filters
There are two primary sound filters used on microphones in recording studios worth mentioning in this post. The ones pulled over the microphone are called pocket filters or microphone covers and are usually made from foam

materials.
Microphone cover pop filters are available in various sizes, so you will easily find one that fits over your microphone.
The other ones are called dragon pad pop filters. This is a piece of gear attached to the microphone stand arm with a clip. On the other side of the flexible arm, you have the filter positioned between the mouth and microphone that looks like a small dish.
The dragon pad pop filter consists of three parts:
The clip with a screw to tighten around the boom arm.
The very flexible arm used to maneuver the filter into place.
The filter part is placed in the way of the noise.
How To Install a Pop Filter
In the case of a microphone cover, you simply pull it over the mic part of the microphone, and it will stay in place. The dragon pad pop filter needs to be attached to your microphone's boom arm stand via the clip.
Follow these easy steps to install this pad filter on your microphone stand:
Place the microphone on the microphone stand and adjust it to the preferred height.
Loosen the screw of the pop filter so it will easily fit over the round section of the boom arm.
Place the clip at a position where it can easily be manipulated to be placed between the vocals and the microphone, then tighten the screw.
Now bend the flexible arm, so the pad filter part is positioned between your mouth and the microphone.
The distance away from the microphone should be about two inches (five centimeters).
For a look at how it's done, watch this video on how to set up your pop filter:
How To Use a Pop Filter
Using the pop filter should be very easy from here on; direct your voice through the filter, and it will disperse the harsh popping sounds. Doing this will allow you to have much clearer and quieter recordings as well as much nicer sounds.
After installing the pop filter on your microphone, you need to position it at the right angle if you are using the pad filter type. Some people find the pad filter a bit cumbersome, but they are, in principle, much better for eliminating the plosive sounds from recordings.
By adjusting the flexible gooseneck, position the filter close to the microphone, but be sure to do so without the filter touching the microphone. Now angle the filter and the microphone to the two o'clock or the 10 o'clock position to further prevent plosive sounds.
Now make sure the distance between the pop shield and the microphone is two to six inches (5 to 15 cm) for the best effects. After you set this up, you do not need to do anything else, and it should be perfect for recording normally.
After every recording session, you should take down the pop filter and rub it with a cloth to eliminate moisture build-up. These pop filters are reasonably affordable, and you should find many choices at online retailers for a fair price, like the HGGH Upgraded Pop Filter Mask Shield

.
7pack Upgraded Pop Filter Mask Shield Compatible with All Mic,Dual Layered Wind Pop Screen with Flexible 360° Gooseneck Clip Stabilizing Arm,6pcs Foam Mic Windscreen for Bonus

【2 in 1 upgrade version Designed for you】Providing customers with a full range of quality...
【protect for your Blue Yeti 】If you are worrying about how to improve recording quality indoor....
【immediately improve the sound】Use one of our microphone pop filter with double layer mesh, it...
Last update on 2023-05-30 / Affiliate links / Images from Amazon Product Advertising API
What Are the Advantages of a Pop Filter?
There are several benefits to using a pop filter when recording for a podcast or vocals for music recordings, including:
You have much better sound quality when you are speaking into the microphone.
It will help to reduce and eliminate those popping, hissing, and lisping sounds caused by being too close to the microphone.
Your microphone will stay hygienic for longer, with no saliva ending up on it.
Pop filters are easy to use and can be installed by anybody without any experience.
Completely prevent plosive sounds that will overload the diaphragm of the microphone while doing voice-overs and recordings.
It will also cut out the problems that occur on the high as well as the low end.
Recording with a pop filter installed will also help to make the editing much easier.
In the end, it will also provide you with much better quality finished recording work.
Pop filters are great for use with indoor recording sessions for a much clearer and crispier recording.
For more information, check out our guide on how to clean a microphone diaphragm.

Do You Really Need a Pop Filter?
As mentioned before, to have a much clearer sound coming over your microphone, you need to get rid of certain noises. Of course, we don't always realize that we make these sounds, and it can feel almost impossible to avoid them when speaking.
It does not matter whether you are a professional or doing recordings in a vocal booth at home; you need to be aware of plosive sounds. These plosives will make your recordings sound unprofessional, and they will not fall nicely on the ear.
To prevent those plosive sounds, a pop filter, as well as your microphone placement, are the most critical factors when recording.
Final Thoughts
For clear voice recordings, it is necessary to use a pop filter between your mouth and the microphone when recording. A filter is an excellent tool for making podcasts and other voice-overs and editing for clear recordings.
There are many different brands of these pop filters available on the market, but the pad and cover types are the most popular ones. You can try out both to see which one will be good for you, also remember that the pad pop filter is the most effective of the two.
Sources
Was this article helpful?
Recent Posts
link to How To Allow QuickTime To Access Microphone 🎙️  
QuickTime is a vital app for many Mac users, and if you've recently bought a new microphone, you might wonder how to use it optimally. QuickTime cannot record audio content if it doesn't have...
link to How Do I Test My Microphone? 🎙️
Every microphone leaves a unique signature on the quality of its output. If you're a podcaster trying to melt your way into your audience's hearts, a muddy, distorted recording won't cut it....