The Blue Yeti is an excellent microphone at an affordable price, making it the go-to device for most YouTubers and streamers. But the microphone doesn't come with a pop filter by default. So, do you need a pop filter for your Blue Yeti?
Blue Yetis don't need a pop filter, but using one can improve the sound quality significantly. Pop filters block the puff of air that escapes your mouth when speaking, preventing clipping and making the Blue Yeti sound clearer.
Read on to learn more about pop filters and how your Blue Yeti mic can benefit from using one. I'll also explain the differences between metal and nylon pop filters.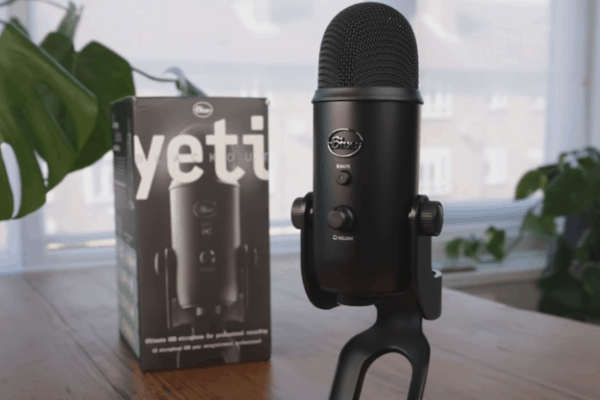 Should You Use a Pop Filter With Your Blue Yeti Mic?
You don't have to use a pop filter with Blue Yeti mics, but they benefit from using one. The harsh plosives like "b" will sound softer and won't cause clipping, which happens when a soundwave exceeds the max amplitude, causing distortion.
If you want your amazing Blue Yeti to sound as it should, you can't do it without a pop filter.
A pop filter blocks the excess air that comes out of your mouth when speaking. Only the actual sound of the phonemes goes through it, giving a much clearer sound.
I understand that a pop filter isn't exactly the most appealing thing in the world. Also, it can be very annoying because it has to sit a few inches away from the microphone, so it takes up additional space.
But you can fix that using an arm stand. Blue has the Compass Premium Boom Arm from Amazon.com.
Last update on 2022-11-25 / Affiliate links / Images from Amazon Product Advertising API
Blue designed this stand to work with the Yeti and other high-end microphones. You can mount it with any standard shock mount and hide the cable inside the tube for a cleaner look.
I love having a microphone arm stand because it allows me to bring the microphone close to my mouth no matter how I sit.
An arm stand makes the pop filter very effective at blocking unwanted noise because it sits right where it's supposed to.
For more information, check out how to attenuate background noise on a Blue Yeti microphone.
How Does a Pop Filter Work?
When you pronounce certain sounds, a puff of air escapes your mouth. Plosives are the worst offender because they create sound by blocking and then releasing air to make sounds like /b/ and /k/.
You can feel this yourself by pronouncing words like "pepper" or "pop" against your hand. You'll feel the air release rapidly, which doesn't happen with other consonants.
A pop filter blocks the noise by decreasing the mechanical energy of the air.
Virtually every serious studio and broadcast radio use a pop filter to prevent clipping. Clipping is when a soundwave is cut off, causing distortion that your audio engineer can't fix whatsoever.
You can see what clipping looks like and how a pop filter blocks it in this short video by FrenchToast Philip:
Clipping is visible on the soundwave. It looks like a flat, vertical line.
If you attempt to fix clipping using audio editing software, you'll quickly realize that it's impossible because you lose the sound.
It's especially frustrating when you finish recording a video or podcast, only to realize that the sound quality is horrible because you forgot to use a pop filter.
Types of Pop Filters
There are two primary pop filters that you'll come across: nylon and metal. I'll also talk about windscreens as an alternative to pop filters. Read more about them to learn which one is best for your Blue Yeti.
Nylon Pop Filters
When somebody mentions a pop filter, most people think of the nylon variety. It's usually one or multiple layers of thin nylon mesh that sit inside a round plastic bezel.
They are very cheap and effective at blocking unwanted noise. For a pop filter to work properly, it has to sit a few inches away from the microphone.
If it's too close to the mic, it won't be able to break the air in time to stop the mic from picking up the unwanted noise.
The nylon is extremely sensitive and easy to tear, so pop filters are not very durable. Also, it can collect dust over time that might get stuck in between the layers.
Also, they often get in the way because they are relatively large, and you have to mount them between you and your microphone.
Metal Pop Filters
Metal pop filters used to be more expensive, but the price is about the same nowadays. So, it's worth considering a metal pop filter as well.
Some metal pop filters are much better than others. Thin, low-quality pop filters introduce a whistling noise to the recording after a while.
But this isn't a problem with high-quality metal pop filters. They also have the advantage of being smaller and sleeker, making them your only option if you don't have any free desk space.
They sit closer to the microphone than a nylon pop filter. That's why they're easier to mount.
Metal pop filters collect dust, which can get trapped between the metal panel and metal mesh. If possible, get a metal pop filter that you can disassemble for easy cleaning.
Windscreen
Although a windscreen isn't exactly a pop filter, I'll briefly talk about them. Windshields also have the function of reducing unwanted noise.
Windshields are microphone covers made of thick foam that you can see on microphones that journalists on TV use.
However, unlike pop filters that block the puff of air from one direction, windscreens isolate the whole mic from wind and other noise.
You shouldn't use a windscreen in conjunction with a pop filter because the sound will become muddy and hard to understand.
Windscreens are perfect if you're recording outside, but they can help at home too. If you don't have a pop filter right now, a windscreen may reduce clipping.
Best Pop Filters for the Blue Yeti
This metal pop filter is perfect if you want to prevent clipping without sacrificing desk space and esthetics.
It has three layers that filter out any pops and crackles that might escape your mouth during a stream or when speaking to your friends on Discord.
You can mount the Moukey pop filter in a minute using the handy thumbscrew. It's very compact and made of durable materials, so it's a perfect choice for anyone.
Moukey Microphone Pop Filter, Metal Mic Pop Filter for BLUE YETI, AT2020, AT2050- MPFUBK1 with Upgraded Three-Layer Filter Foam, Metal Panel& Metal Mesh, Microphone Windscreen Shield Mask
Wide Application - Moukey pop filter includes two adapter rings so it is suitable for 49-54mm & 66-70mm diameter microphones. (Note: Not suitable for Blue Yeti Nano, Samson g-track pro /G-Track/Meteor, Scarlett CM25 and handheld microphones)
Three Layers Filter Mic Shield - Three layers design include metal panel layer, matal mesh laye and filter foam layer can effectively reduces the plosive, crackles, pops, wind interference, breath sounds when recording vocals. Absolutely necessary for recording, speaking or singing. This studio mic shield isolation helps to get your best vocal recording.
Easy To Set Up - Two adapter ring match pop filter in a special appearance design. Functionally prevents saliva, keeping cleanness for your microphones and protecting your microphone.
Last update on 2022-11-26 / Affiliate links / Images from Amazon Product Advertising API
If you're a fan of traditional pop filters, you're going to love this one.
It's basic, but the sound you get when recording with it is perfect. It stops all sorts of hisses, pops, crackles, and lisping sounds.
The Lilaliwa pop filter has a 360° gooseneck arm that stays in place no matter how you adjust it.
If you don't mind the filter sitting between you and the mic, you can get slightly better sound quality using this nylon filter than a metal one.
Last update on 2022-11-26 / Affiliate links / Images from Amazon Product Advertising API
Final Thoughts
If you have a Blue Yeti, you can record high-quality sound that is guaranteed to impress all your friends and fans. Add a pop filter to the mix, and you got yourself a perfect microphone.
You don't need a pop filter for the Blue Yeti to sound good, but I strongly encourage you to at least give it a shot. There are no downsides to using a pop filter.
The pop filter blocks any cracks, pops, and other sharp sounds that occur when you speak.
Sources