The Blue Yeti is a great microphone, and there's no doubt about that. Virtually every YouTuber and streamer recommends the Blue Yeti as a great budget-conscious microphone that can make you sound like a pro. But if you notice that your Blue Yeti sounds bad on Discord, certain things must have caused it.
The Blue Yeti sounds bad on Discord if it isn't configured correctly or if a Discord microphone feature isn't working as intended. Ensure that the Blue Yeti's gain is balanced, the microphone is straight up, and you set the sound mode to Cardioid. Also, disable all Discord microphone features.
Since a large number of issues can cause your Blue Yeti to act up, it's best to go through all of them until you find a solution. Read on to learn how to fix all the possible issues to make your Yeti sound good again.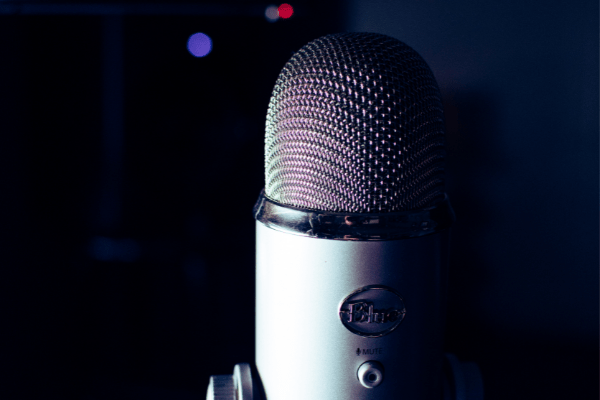 Why does Blue Yeti sound bad on Discord?
The reasons why the Blue Yeti sound bad on Discord are due to the following reasons:
Blue Yeti is placed incorrectly
Discord settings are wrong
Blue Yeti mode and gain are wrong
Blue Yeti is not set as default input
USB cable or microphone needs replacing
Blue Yeti drivers need reinstalling
Place the Blue Yeti Correctly
Let's start with the easiest solution. If your Blue Yeti sounds horrible and has an echo, then it could be an orientation issue. The Blue Yeti's Blue emblem has to be facing you, not away from you.
Also, the microphone has to sit upright on the table. You must situate the microphone so that the top of the dome is directed toward the ceiling, not your mouth.
This is because the actual microphone part of the Blue Yeti is oriented only to work horizontally. iFixit's teardown shows the microphone from the inside, so you can better understand how it works precisely.
Additionally, you need to put the microphone far enough from your mouth to make it sound good. Conversely, it won't pick up what you're saying if it's too far away.
You can use a microphone stand like the Pipishell Mic Stand with Pop Filter

(available on Amazon.com) to get the perfect mic placement. The stand also prevents knocking the microphone off the table, sliding, and accidental spills from damaging the microphone.
Pipishell Microphone Stand, Mic Stand with Pop Filter and Mic Holder, 5/8"Screw for Blue Yeti, Snowball, Spark, Yeti x and All Other Microphones -PIMS01

PREMIUM-GRADE MATERIAL BOOM ARM MIC STAND: The upgraded super-strong spring prevents your microphone...
HIGH-QUALITY DOUBLE LAYRED POP FILTER: The microphone windscreen is used for filtering the...
UNIVERSAL COMPATIBILITY WIDELY USED: This desk microphone stand applicable to any can be installed...
Last update on 2023-12-02 / Affiliate links / Images from Amazon Product Advertising API
The included pop filter

is an incredible piece of audio equipment. It works by blocking the puff of air that escapes your mouth, especially when pronouncing plosives like /b/ and /p/.
If you don't want a mic stand, but the pop filter sounds appealing, you can buy the EJT Pop Filter

from Amazon.com at a very affordable price.
Sale
EJT Upgraded Microphone Pop Filter Mask Shield for Blue Yeti and Other Mic, 6 Inch Dual Layered Pop Wind Screen with Enhanced Flexible 360° Gooseneck Clip Stabilization Arm

WHAT IS DUAL-LAYER POP FILTER?-Ever seen footage of your favorite artist recording their vocals in a...
WHY DO POPING SOUNDS OCCUR?-Generally, plosive sounds are those heard on letters like P, B and S,...
HOW DOES THE POP FILTER WORK?-Popping sounds can be heightened if you have your mouth too close to...
Last update on 2023-12-02 / Affiliate links / Images from Amazon Product Advertising API
Check Discord Settings
I like Discord a lot, but it has a massive number of technical issues. Many of them have to do with those microphone features (that supposedly help).
Thankfully, you can disable all of them. Experiment by turning only one or two features off and testing it with your friends to ensure you didn't disable a feature that actually works.
Here is how to find microphone features on Discord:
Open Discord and click on User Settings (cogwheel icon next to your profile in the bottom left corner).
Click Voice & Video and go to Advanced.
Disable/enable the following:
Noise Suppression
Echo Cancellation
Noise Reduction
Advanced Voice Clarity
Automatic Gain Control
I strongly recommend that you disable the Automatic Gain Control. Your Blue Yeti already has a knob for changing gain, so use it instead.
If something goes wrong, the Reset Voice Settings button is located at the bottom of the page.
For example, if your family is sleeping, turn the gain up, and your friends will hear you loud and clear.
Change Your Blue Yeti Microphone Mode and Gain
Your Blue Yeti is more than just a Discord microphone. For example, you can use it to capture omnidirectional sound

to create a high-quality ASMR video or group recording.
But you don't need the Omnidirectional mode for a Discord call. Instead, use Cardioid because it captures sound only from the front part of the Blue Yeti.
Cardioid mode reduces background noise

and improves voice clarity significantly. Plus, it won't pick up your mouse and keyboard clicks while playing.
The other knob that sits above the mode selector is for gain. Arthur from My New Microphone explains

that microphone gain amplifies the sound signal that the microphone picks up.
In other words, the higher the gain, the more sound your Blue Yeti picks up. Of course, turn it up too much, and your friends will complain about your cat's constant meowing or the sound of traffic from the street next to you.
I can't tell you what the optimal gain is for your specific setup and usage scenario, so play with it a bit until you find a sweet spot.
Hint: you can mark the gain amount for various scenarios using AmazonCommercial Multi-Color Electrical Tape

(available on Amazon.com).
AmazonCommercial Electrical Tape, 1/2-inch by 6.66-yard, Multi-Color, 20-Pack

20-pack of multicolored vinyl electrical tape rolls; 1/2 inch width by 6.66 yard length
Flexible, stretchable construction ideal for electronic repairs, color-coding, cord and cable...
Strong adhesive bonds to a wide variety of surfaces and materials; ideal for use in homes,...
Last update on 2023-12-02 / Affiliate links / Images from Amazon Product Advertising API
Ensure Your Blue Yeti Is the Default Input Device
What's the point of buying an expensive microphone if your headset's microphone is the default device in Discord or Windows?
Thankfully, this is an easy fix. You just have to pick the Blue Yeti as your default device in both Windows and Discord settings.
Here is how to pick the Blue Yeti as the default input device on Windows:
Go to Start and type Settings.
Go to System > Sound.
Under Input, go to Choose your input device and pick the Blue Yeti as the default device.
Save and exit settings.
Doing this should automatically change the input device in Discord too, but it only takes a second to check.
Here is how to change the default input device on Discord:
Open Discord and go to User Settings.
Open Voice & Video.
Under Voice Settings, you'll see Input Device.
Click on the box and choose the Blue Yeti or leave it on Default. The Default option will pick the Windows default input device.
If your Blue Yeti is already the default device, go to the next step.
Replace Your USB Cable or Blue Yeti Microphone
USB Cable
One of the easiest things to check on a Blue Yeti is the USB cable. If it isn't working as intended in one port, just plug it into another port. This issue happened to me the other day, so it's not an old wives' tale.
And if that didn't help, troubleshoot the cable by bending it in different spots. If something changes in the sound, you need a new cable.
Thankfully, you can get a cheap replacement like the Amazon Basics USB 2.0 Cable

(available on Amazon.com).
Amazon Basics USB-A to Mini USB 2.0 Fast Charging Cable, 480Mbps Transfer Speed with Gold-Plated Plugs, 6 Foot, Black

IN THE BOX: 6-foot high-speed USB 2.0 A-Male to Mini-B cable
DEVICE COMPATIBILITY: Connects Mini-B-equipped external hard drives, smart phones, and peripherals...
GOLD-PLATED CONNECTORS: Corrosion-resistant, gold-plated connectors for optimal signal clarity
Last update on 2023-12-02 / Affiliate links / Images from Amazon Product Advertising API
Bad Microphone
If the microphone is brand new, it could be that it's DOA. Troubleshoot the microphone using a different computer and software to confirm.
If it isn't working, contact the store you bought the microphone from or reach out

to Blue directly. You'll get a replacement Blue Yeti quickly, so it's not a big deal. Make sure you have your Blue Yeti warranty with you to request a free mic replacement.
Reinstall Your Blue Yeti's Drivers
According to Blue, the Yeti is

a plug-and-play device that doesn't need manual drivers to work.
But if something went wrong with Windows, you'll have to roll back and update drivers for the Blue Yeti.
Here is how to reinstall the Blue Yeti's drivers:
Go to Start and type Device Manager.
Expand Audio inputs and outputs.
Double click the Blue Yeti.
Go to Driver.
Click Roll Back Driver and wait for it to uninstall.
Unplug and plug the Blue Yeti in.
Press on Update Driver.
Now that your drivers are working, you can test the mic. If it still isn't working, try some of the previous steps.
Final Thoughts
The Blue Yeti is a great microphone, but Discord and Windows often cause issues with sound devices. Thankfully, you now know the possible causes and fixes. If your microphone sounds terrific in all programs except for Discord, it's not your fault, and you can learn more about using audio interfaces with Discord here. Even if you fine-tune the settings, Discord may still ruin the sound quality.
Sources
Was this article helpful?
Recent Posts
link to How To Allow QuickTime To Access Microphone 🎙️  
QuickTime is a vital app for many Mac users, and if you've recently bought a new microphone, you might wonder how to use it optimally. QuickTime cannot record audio content if it doesn't have...
link to How Do I Test My Microphone? 🎙️
Every microphone leaves a unique signature on the quality of its output. If you're a podcaster trying to melt your way into your audience's hearts, a muddy, distorted recording won't cut it....