Have you been playing some games with your friends recently using a Blue Yeti, and they keep complaining about you cutting out mid-conversation? If that always happens to you, you're not alone. The Blue Yeti is a fantastic microphone, but it's susceptible to random cutouts.
Here are 6 reasons why your Blue Yeti cuts out:
You're not using a high-quality USB hub.
Your USB port is not working correctly.
You didn't configure your microphone sensitivity correctly.
The Blue Yeti is not your default input device.
You're using the wrong mode on the Blue Yeti.
Your Blue Yeti gain is set too low.
Read on to learn more about these common microphone problems and ways on how to fix them.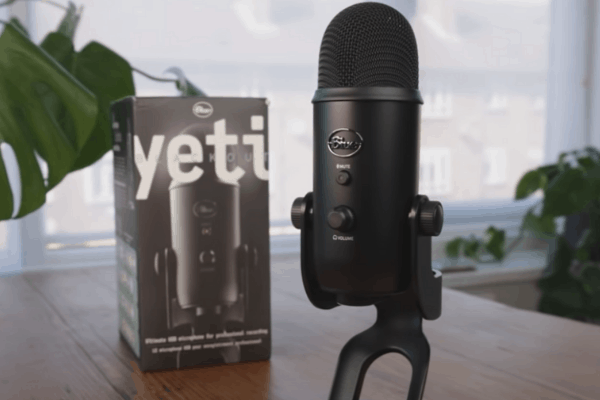 You're Not Using a High-Quality USB Hub
Microphone issues typically happen when you plug a microphone into a USB hub. It's common for this to happen as many laptops and PCs don't have enough USB ports for the mouse, keyboard, web camera, microphone, and other peripherals.
I'm not saying that you should stop using your USB hub altogether, but don't plug your microphone into it. The Blue Yeti needs enough power to function.
Suppose there isn't enough electric current going into the Blue Yeti. In that case, it'll cut out all the time and cause horrible distortions.
Use a high-quality USB hub like the Anker 4-port USB 3.0 Hub (available on Amazon.com) with all your peripherals like a mouse, web camera, and speakers. Reserve a free USB port on your PC for the Blue Yeti to stop it from cutting out.
And that's pretty much all you got to do. It's tricky to figure out, but it only takes a few seconds to fix once you know the trick.
Sale
Anker 4-Port USB 3.0 Hub, Ultra-Slim Data USB Hub with 2 ft Extended Cable [Charging Not Supported], for MacBook, Mac Pro, Mac mini, iMac, Surface Pro, XPS, PC, Flash Drive, Mobile HDD
The Anker Advantage: Join the 80 million+ powered by our leading technology
SuperSpeed Data: Sync data at blazing speeds up to 5Gbps—fast enough to transfer an HD movie in seconds.
Big Expansion: Transform one of your computer's USB ports into four. (This hub is not designed to charge devices.)
Last update on 2022-11-26 / Affiliate links / Images from Amazon Product Advertising API
Your USB Port Is Not Working Correctly
A few reasons can cause your USB port not to work as intended. Bad USB ports cause issues with all peripherals, but microphones are especially susceptible to them.
Let's take a look at a few causes and fixes.
Your USB Port Is Dirty
If a USB port is full of dust and other nasty stuff, it won't work as intended, no matter which peripheral you plug into it. Carefully inspect the port visually to check for dust buildup.
If you see a ton of gray stuff, the safest way to clean it is to use a can of compressed air. Falcon Dust Compressed Gas (available on Amazon.com) is a good bet because it comes with a nozzle.
Last update on 2022-11-26 / Affiliate links / Images from Amazon Product Advertising API
Here is how to use compressed air to clean your USB port:
Attach the red nozzle (plastic straw) into the can.
Press the trigger to check if the air is coming out of the nozzle.
Put the nozzle close to the USB's surface and blow air into it. Don't force the nozzle into the USB port because it won't blow out the dust and cause issues.
Your USB Port Is Damaged or Broken
If the USB port is permanently damaged, you could return the motherboard if it's under warranty.
Lifewire recommends that you insert a USB cable into the port and wiggle around to see if it'll connect and disconnect.
If the device appears to connect for a second or two, the USB port is physically damaged.
I don't recommend that you go out and replace the broken USB port on the motherboard or laptop, even if it's possible unless you have no other USB ports left on the PC.
Instead, I'd say you use a USB hub with many ports for all other devices like the USB Hub 3.0 Splitter by Likorlove (available on Amazon.com).
USB Hub 3.0 Splitter,7 Port USB Data Hub with Individual On/Off Switches and Lights for Laptop, PC, Computer, Mobile HDD, Flash Drive and More
✅[Multiple USB Port] Turn one USB port into seven, including support for USB Flash drive, Mouse, Keyboard, Printer or any other USB Peripherals. And it's backward compatible with your older USB 2.0 / 1.0 devices.
✅[5Gbps Data Transfer Speed] Each port is equipped with USB 3.0 technology, capable of transferring data at speeds of up to 5 gbps fast enough to transfer HD movies in seconds
✅[Wide Compatibility] USB hub is compatible with most operating systems: Windows XP / Vista / 7/8/10; macos-8/9 / X, Unix, Linux.
Last update on 2022-11-26 / Affiliate links / Images from Amazon Product Advertising API
Use a Different (Back) USB Port
If your USB port works just fine with all peripherals but the Blue Yeti, I recommend you try other ports.
This trick is fundamental if you've been using the front USB port.
The front USB ports don't have nearly as much power and bandwidth as the back USB ports. They are part of your PC case and are connected to the motherboard through an internal cable.
On the other hand, the back USB ports are soldered directly onto your motherboard, meaning your Blue Yeti gets more power and bandwidth when you plug it in the back.
Some trial and error are involved in this step. So go through all the USB ports on your PC or laptop until you've found one that works.
You Didn't Configure Your Microphone Sensitivity Correctly
Virtually all programs and video games that use your microphone have an input sensitivity setting.
In a nutshell, you can modify the activation threshold of the microphone so that it doesn't pick up some random background noise.
However, if the threshold is set too high, your friends will hear only one part of what you're saying.
Your speaking volume goes up and down a bit as you speak.
If your friends complain that they didn't hear the first or last part of your sentence, then this is most likely the issue you're facing.
You can change the input sensitivity of your microphone in various programs like Teamspeak and OBS, but here is a step-by-step guide on how to change it in Discord:
Open Discord.
Go to User Settings > Voice & Video.
Under Input Sensitivity, turn off Automatically determine input sensitivity and change the threshold manually. Hint: you can press on Let's Check under Mic Test to make sure you've changed your input sensitivity correctly.
The Blue Yeti Is Not Your Default Input Device
For some weird reason, Windows 10 loves to change your microphone volume or default input device at random.
Thankfully, you can choose the Blue Yeti as your default microphone and increase the volume to 100 in four easy steps. And here's how:
Go to Start, type Sound Settings, and click on it.
Scroll down to Input and choose the Blue Yeti under Choose your input device.
Press on Device properties.
You'll see a volume slider here. Change it to 100 and close the window.
You're Using the Wrong Mode on the Blue Yeti
The Blue Yeti has several pattern modes for recording sound. If you are using any mode other than Cardioid, your Blue Yeti will cut out from time to time.
On top of that, the microphone will pick up a ton of background noise if you use a mode like Omnidirectional.
You can choose the mode on your Blue Yeti by turning the knob on the back of the Yeti to the one you want. Cardioid mode's symbol resembles a heart shape.
The Cardioid mode will only let the Blue Yeti pick up sound from the front, so your friends will hear only you.
For more information, check out how to reduce background noise for Blue Yeti mics.
Your Blue Yeti Gain Is Set Too Low
The Blue Yeti has a volume knob on the front and a gain knob on the back. The two may look similar, but they are entirely different.
You can think of gain as a control that changes how much the incoming sound is amplified as it travels to the computer. The higher the gain, the more sound your microphone picks up.
Set the gain too low, and you'll start cutting out.
But if you set it too high, your friends will cringe when they hear every single sound and puff of air that exits your mouth.
If you want to set your gain high but don't want the microphone to pick up puffs of air, this Aokeo Professional Microphone Filter (available on Amazon.com) will block it.
Sale
Aokeo Professional Microphone Pop Filter Mask Shield For Blue Yeti and Any Other Microphone, Mic Dual Layered Wind Pop Screen With A Flexible 360° Gooseneck Clip Stabilizing Arm
Double Layered Screen Pop Filters: The first screen blocks air blasts as any pop filter normally would; The gap in between then disperses any remaining air pressure, so by the time it passes the second screen, the blast is easily contained to produce great quality recordings.
Universally Compatible: Adjustable screw rotating clamp with scratch-proof gripper can secure variety tubular mounting booms or microphone stands. Eliminates anyone's extra elements that prevents them from recording/projecting their best vocals to the public or their audience.
Adjustable Gooseneck: The steel metal gooseneck holder fully supports the filter's weight and keep it in place. You can adjust the angle and distance between the screen and the microphone to best fit your needs for yours lovely voice.
Last update on 2022-11-26 / Affiliate links / Images from Amazon Product Advertising API
As a bonus, the pop filter improves sound clarity and quality.
Sources